Inability to challenge frustrates ejected Cash
Play in question would have scored tying run for Rays in 3-2 loss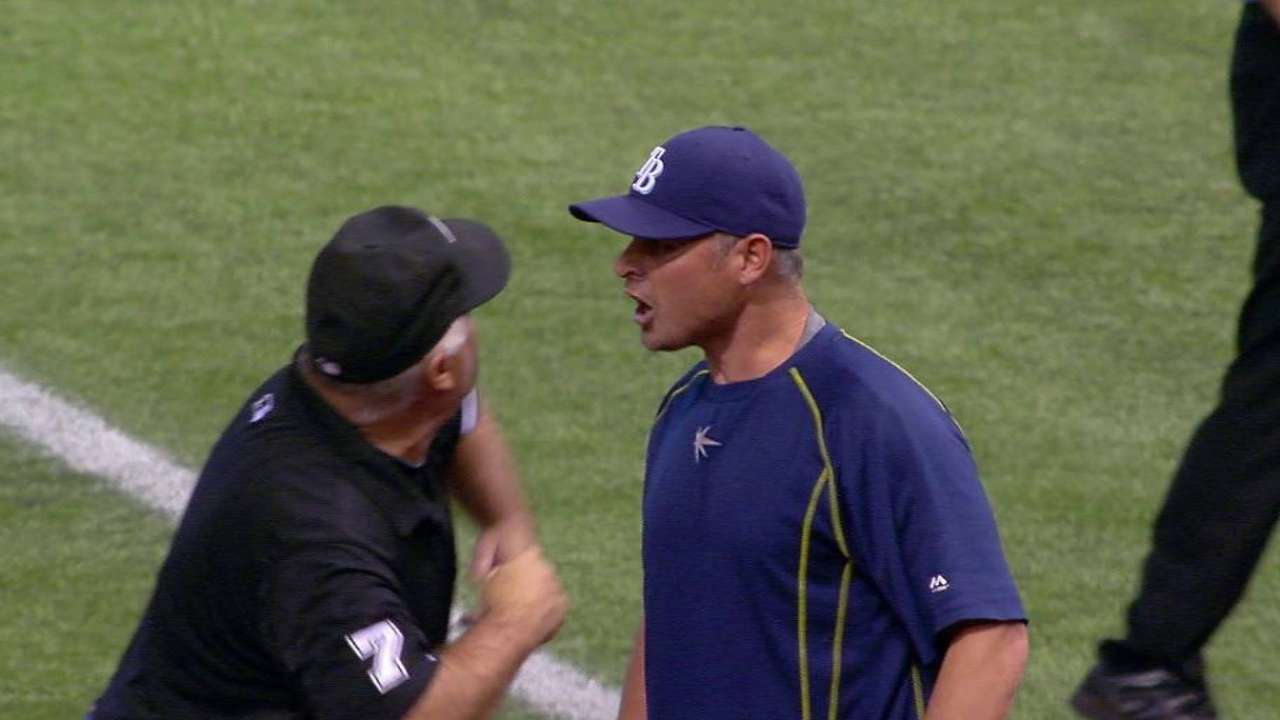 ST. PETERSBURG -- Sometimes a manager just has to unload. That's what happened with Kevin Cash on Friday night.
Frustration boiled over for the Rays' first-year manager when he got ejected for arguing with first-base umpire Brian O'Nora following the third out of the third inning during a 3-2 loss to the Royals.
With two outs in the inning, Logan Forsythe grounded to Royals shortstop Alcides Escobar and Forsythe appeared to beat the throw to first base. But O'Nora called him out, prompting Cash to spring onto the field to protest -- even though he knew there was nothing that could be done to right the wrong.
Because even though replays indicated that Forsythe had beaten the throw, Cash had no recourse since he was out of challenges after losing a challenge in the first inning. Umpire challenges can take place in the seventh inning or later.
Cash briefly went jaw to jaw with O'Nora before getting thrown out of the game. Adding frustration to the call was the fact Evan Longoria would have scored the tying run on the play and an even bigger inning might have transpired.
"You know what, it stings, but it's baseball," Cash said. "That's part of what it is. I think the replay shows enough."
In the first inning, the Royals challenged the call when Ben Zobrist was called out at first by O'Nora, but the call got overturned. That explained why Cash barked to O'Nora about missing two calls on the night, holding up two fingers in the process.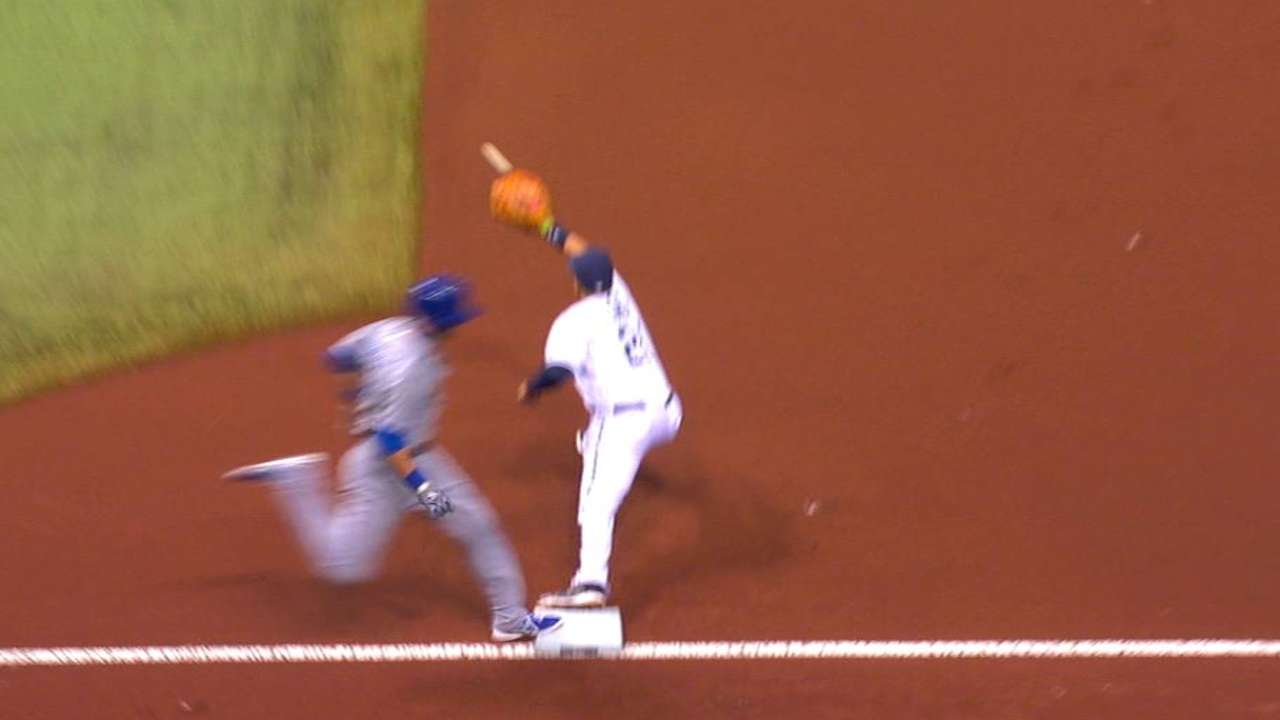 Cash clearly understands that replay is in its infant stages, and he explained that everybody involved is trying to refine the process.
"They're battling with, obviously, pace of play," Cash said. "The timing of the game. I think a lot of these issues. A lot of the rules will obviously be revisited this offseason.
"What they decide to do. What Major League Baseball decides to do, I have no idea. But I know Major League Baseball and the Players' Association are working very hard. They want to do everything they can to get it as consistent as possible."
Further frustration about O'Nora's call Friday night came in the fact that the Rays have seen many obvious calls not overturned this season due to lack of conclusive evidence that the call was wrong and yet one that obviously was wrong, as it was Friday night, did not get overturned -- because it could not get reviewed -- due to the circumstances.
Again, Cash brought the voice of reason with his answer.
"Yeah, but at the same time, all 30 teams play to that rule," Cash said. "Whether it shows up more for us or not, I have no idea. But everyone is playing to those rules."
Cash has now been thrown out of games three times this season. Prior to Friday night, his last ejection came on May 10 during a game against the Rangers.
The Rays have made 43 challenges on the season. Of those, 12 have been overturned, 15 have stood, and 16 have been confirmed.
Bill Chastain is a reporter for MLB.com. Listen to his podcast. This story was not subject to the approval of Major League Baseball or its clubs.