Thompson understands part-time role
Rookie outfielder to see most time against left-handers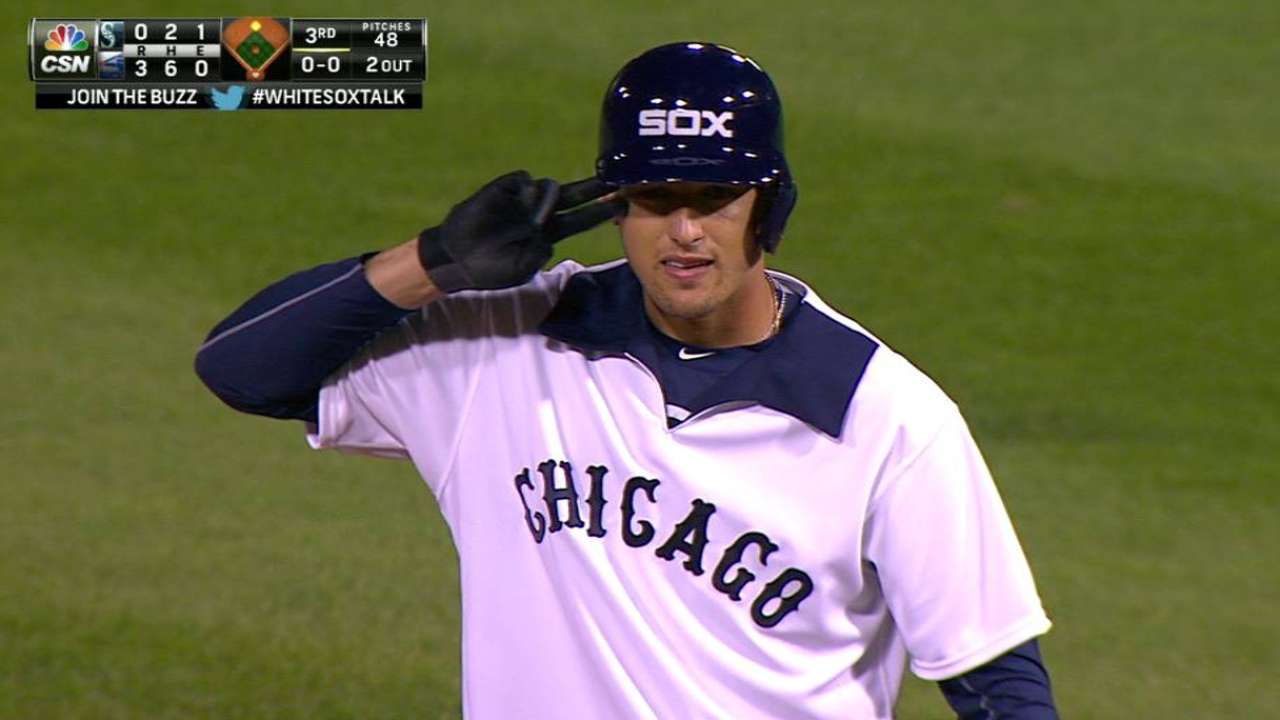 CHICAGO -- Even with 14 hits in his first 27 at-bats, don't look for Trayce Thompson to start campaigning for everyday playing time. Those increased at-bats would come against right-handed pitchers, with the right-handed hitter already posting 12 hits in 20 at-bats against southpaws.
"I don't have control over it, so I don't even worry about it, really. If I'm not in the lineup, then I'm not in the lineup," Thompson said. "I'll be ready to go in the game later if they need me. Just cheering these guys on.
"We're just trying to win games. We're only five games out, so whatever guys [White Sox manager Robin Ventura] thinks have the best opportunity to win that game, then that's who's going to play and that's who we want in there. We're just trying to win games because we're really close. This is baseball, anything can happen. We're only five games out, so we've got a good shot."
Some people would argue that Thompson's hot bat, not to mention his exceptional outfield defense, would give the White Sox the best boost to pull off an unexpected postseason run. But for now, Thompson will hit against left-handed pitchers and Adam LaRoche will get the at-bats against right-handers.
As for slowing his development in this scenario, neither Thompson nor Ventura seem worried that the part-time work will hamper his future.
"No. I don't think it's slowing his development," Ventura said. "There's a part of having him go in there against lefties where he continues to have the confidence that he tears up lefties. I think that's a strong factor as well."
"It's not about development here. It's about winning games," Thompson said. "That's what the Minor Leagues is for. I'm just here to help the team win any way I can. If I'm not in the game, if I'm not in for the best lineup on the day, then I'm not in. I'll be ready to go later in the game. It is what it is."
Worth noting
• Nate Jones made his first back-to-back appearances since returning to the Majors after rehabbing his way back from 2014 Tommy John surgery. He gave up Travis Shaw's game-winning homer Wednesday to the Red Sox, marking his first runs allowed this season, but tossed a scoreless inning Thursday, with two hits and one strikeout allowed against the Mariners.
"I don't think that's much of an issue as far as the mental side of it," said Ventura of Jones going back-to-back. "You'd like to see him get back in there, but physically for him to be able to do what he's done the last two days is a big hurdle, especially what he's come back from. You also want to protect against that and see him do it, but also not sit there and overuse him."
Scott Merkin is a reporter for MLB.com. Read his blog, Merk's Works, follow him on Twitter @scottmerkin and listen to his podcast. This story was not subject to the approval of Major League Baseball or its clubs.