Players understand role in Zduriencik's dismissal
Former GM constructed entire current roster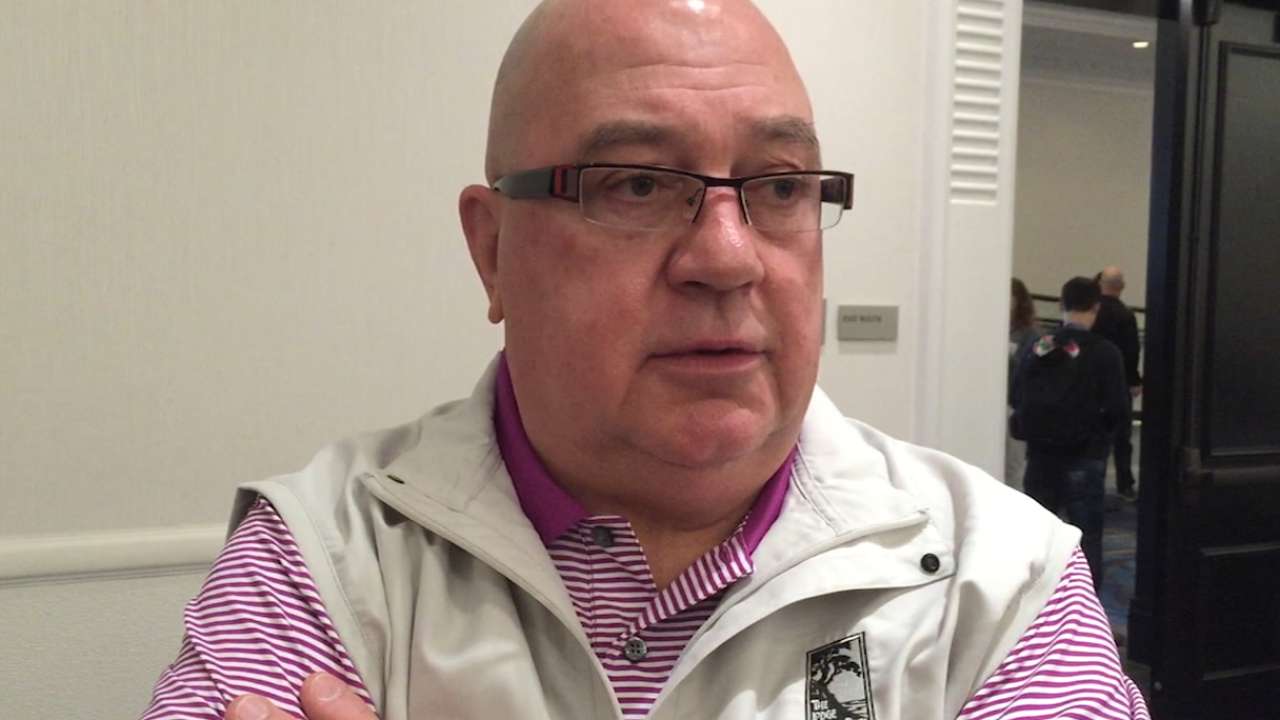 CHICAGO -- Former Mariners general manager Jack Zduriencik was described as a hands-on leader, someone who spent time in the clubhouse before games and got to know his players. He asked players how they were doing or if they needed anything to make their days easier.
And those players will miss those interactions after Zduriencik was dismissed on Friday and replaced by interim general manager Jeff Kingston. Zduriencik had been with Seattle for seven years and had a role in bringing every current player to the club.
"It hasn't been a good day for a lot of different reasons," said manager Lloyd McClendon, who was hired by Zduriencik in November 2013. "Obviously, Jack was very dedicated to this organization, and it's always tough when you lose a family member. And we consider Jack a family member.
"He worked extremely hard with myself, the coaching staff, as well as the players. It's just been one of those years where a lot of things have not turned out the way we thought they would."
• Zduriencik's 5 biggest moves, Draft history as Mariners GM
McClendon met with club at 3 p.m. CT to address the move before players returned to a quiet clubhouse at U.S. Cellular Field. Everyone from veterans to newcomers was surprised by the move, which came with a month left in the season.
Seattle is currently fourth in the American League West, sitting below .500 for much of the season.
"I think it was definitely a surprise to everyone," said third baseman Kyle Seager. "Jack is a guy that worked very hard. He's the only GM I've ever had, and I had a good relationship with him. I'm definitely sad to see him go and wish him nothing but the best."
Nelson Cruz had been in the league for 10 years before being brought to Seattle, but called Friday a "sad day" for the team. Cruz is in the middle of his first year with the club after being brought over from Texas in the offseason.
"It's tough," he said. "Everyone is here because of him. I don't think it's his fault at all. It's the players' job to do what we're supposed to do out there. If you look at the team, we should have all the pieces we need to be in a better spot. It's not his fault. It's all our fault. And unfortunately, he's the one who had to pay for this."
• New GM will make call on McClendon's future
Despite their surprise, most were still understanding of the "business" of baseball. Cruz called the decision, "something you have to live with," while McClendon said he wouldn't approach the day any differently.
"Obviously, you learn pretty quick that baseball people come and go," said shortstop Brad Miller. "He had a factor in all of us getting to this room right now, being Mariners. I guess, as a player, you're learning throughout out the year, especially a young guy, how to roll with the punches.
"You gotta go on. Our job is to play baseball. Whether it's guys moving or different baseball transactions, you just gotta make sure you're ready to go."
Greg Garno is an associate reporter for MLB.com. This story was not subject to the approval of Major League Baseball or its clubs.