A-Rod playing the field in Atlanta unlikely
Yankees DH expects better performances from club, himself moving forward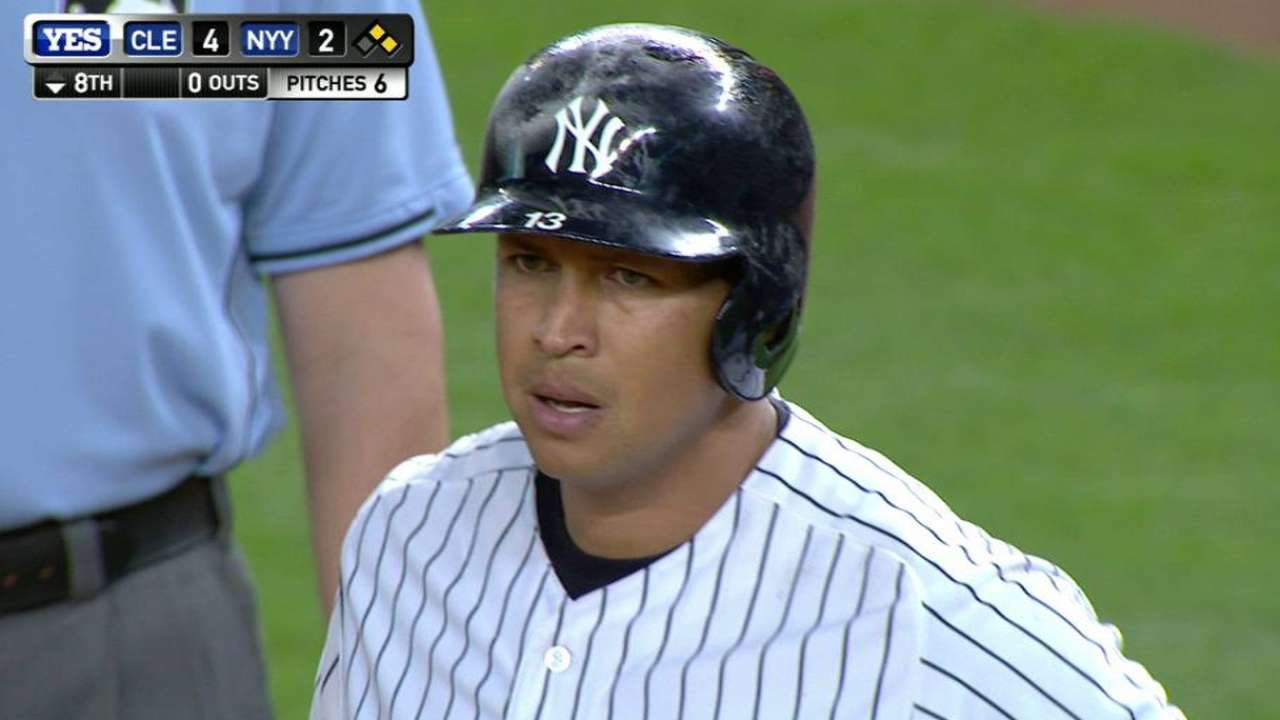 ATLANTA -- Yankees slugger Alex Rodriguez needed to check the bottom of his locker to see if his infielder's glove made the trip to Turner Field, finding it buried under a pair of gray road pants. He may no longer play the field, but in a broad view, the designated hitter seems to understand plenty about the importance of positions.
"I think you just have to look at the season, and it's hard not to get emotional," Rodriguez said. "You look at what's happening in the stock market this week -- up, down, people can't even sleep. In many ways, we've been like that this week. But long term, I'm very bullish on the Yankees.
"I'm bullish on what we can do, and I'm bullish on what I can do. You look at the whole season, you say, 'Can I get 140 games, 145 games, close to 600 at-bats?' If the answer is yes, you know you're going to do some good things to help the team win."
Rodriguez, 40, is hitless in his last 11 at-bats entering play on Friday and has 11 hits in his last 74 at-bats (.149), perhaps showing signs of being fatigued with 117 games under his belt coming off last year's suspension.
Before arriving in Atlanta, manager Joe Girardi had said that his working plan was to utilize Rodriguez only as a pinch-hitter during this Interleague series. Girardi said Friday that he might be forced to put Rodriguez in the field because of Mark Teixeira's lingering right leg injury.
"I might have to now, just because even if I'm able to pinch-hit Tex [Friday], I've still gotta put someone out there to run for him," Girardi said. "So there's a chance you would burn a couple players. There's a chance I might ask a pitcher to put some spikes on, too."
Rodriguez hasn't played the field since May 23, when he started at DH and finished the game at first base. Rodriguez hasn't started a game in the field since April 27 at Yankee Stadium, when he manned third base, and has happily transitioned to life as a full-time DH.
As such, he didn't sound like he would be banging down Girardi's office door to get any reps in the field.
"I haven't played this much in a long time," Rodriguez said. "This is all new territory for me. I think the four days off are going to be extremely important. It couldn't have come at a better time. ... In my younger days, I would do a lot more lobbying [to play]. I'm out of politics these days."
Bryan Hoch is a reporter for MLB.com. Follow him on Twitter @bryanhoch, on Facebook and read his MLBlog, Bombers Beat. This story was not subject to the approval of Major League Baseball or its clubs.