MLB.com Columnist
Tracy Ringolsby
Mariners make GM change at necessary time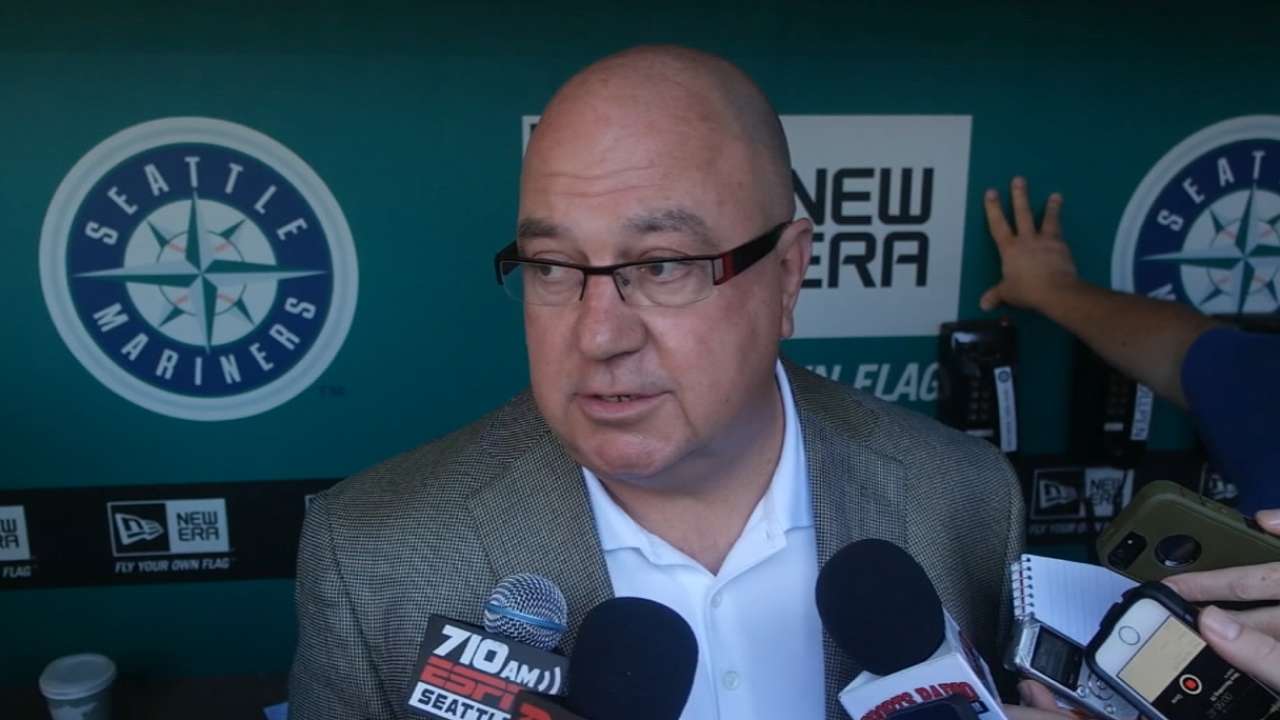 Mariners president Kevin Mather kept waiting for the team's sudden surge, like the one that in recent weeks has seen the Blue Jays rally from a sub-.500 record to first place in the American League East, or the recent rise of the Rangers into the middle of the AL Wild Card race. It never came.
And with time running out, the time came for the Mariners to make a change. General manager Jack Zduriencik, in his seventh year on the job, was dismissed Friday.
Is there a nucleus in place? You bet.
But there also is a window of opportunity for this roster to make its presence felt in baseball's postseason. Windows, however, don't stay open forever.
It was clear in Mather's announcement of a change that he was more concerned about the leadership for next year and the year after than about what has happened this year.
"As disappointed as the entire Seattle region is, it's about 2016, 2017, 2018, 2019 and beyond, and do we have the right leader to get us there?" said Mather. "That means Drafts, development, sabermetrics and analytics, Minor League coaching staff. Do we have the right person to lead us there? And I came to the conclusion on Tuesday and Wednesday with [CEO] Howard [Lincoln], I said, 'I think it's time to make this change.' ... I think we have a core base of talent here that should be successful for a long time."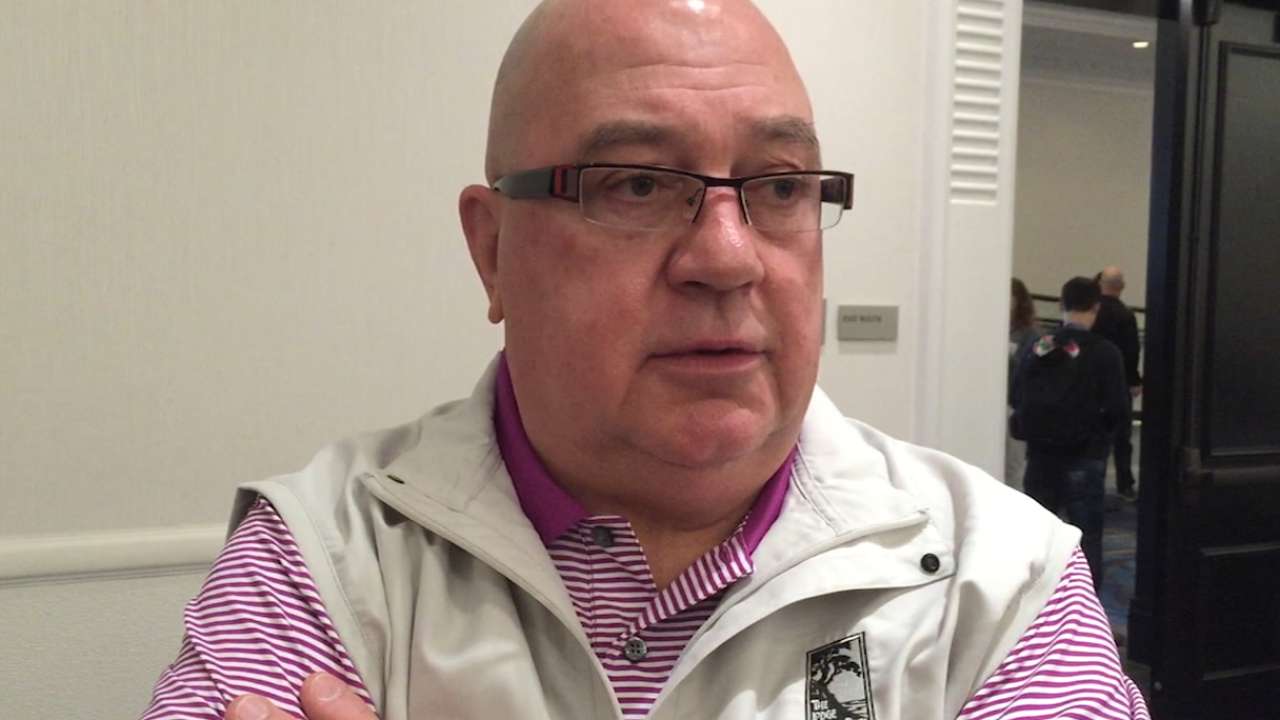 The first step has to come sooner rather than later.
Second baseman Robinson Cano may only be in the second year of his 10-year contract, but at the age of 32, he's in an area of peak performance. Right-hander Hisashi Iwakuma has the right to become a free agent at season's end, although there are indications Iwakuma and his family are very comfortable in Seattle. Nelson Cruz is signed through 2018 and Felix Hernandez through '19.
Catcher Mike Zunino was sent back to the Minor Leagues on Friday in hopes he can find a consistent approach offensively, and with center fielder Austin Jackson a free agent at season's end, there are questions about what's next for the Mariners with catcher, left field, center field, DH and first base.
And there are no sure answers awaiting down on the farm. Zduriencik was a wizard in finding talent for the Brewers in his days as a scouting director, but the results were mixed in Seattle. There were no first-round sensations like Prince Fielder and Ryan Braun.
With the expanded postseason, baseball has become a business in which long-term patience rarely passes the test. Fans and ownership want to see meaningful games played in the home park in October.
The Mariners haven't enjoyed that since 2001. The only team with a longer postseason drought is Toronto, but the Blue Jays are in a position to advance to the postseason for the first time since they won back-to-back World Series championships in 1992-93.
And no, Zduriencik cannot be held responsible for the errors of his predecessors. He, however, did pay for the inconsistency of his seven years.
• Zduriencik's five biggest moves, Draft history
It's not just a Mariners thing. It is how the industry has changed.
At the time of his dismissal, Zduriencik had the longest tenure of any general manager who had not overseen a postseason appearance.
Four top executives are on the verge of ending their postseason drought this October: GM Alex Anthopoulos, who is in his sixth season with the Blue Jays; GM Sandy Alderson, in his fifth season with the Mets; GM Jeff Luhnow, in his fourth season calling the shots with the Astros; and president of baseball operations Theo Epstein, also in his fourth season with the Cubs.
The Padres, denied a postseason appearance since 2006, changed leadership three times in five years beginning in '09. Kevin Towers was dismissed in favor of Jed Hoyer, who was replaced by Josh Byrnes, who last offseason was replaced by A.J. Preller.
The Mariners are ready to snap their drought, too. That is why they made the move with Zduriencik on Friday.
That is why Mather said he is inclined to pursue a replacement with experience as a general manager. And it is why Mather said he fully intends to have his new general manager on the job before the postseason ends.
Given the nature of the roster makeup, he understands that the Mariners' current window has another three years. They cannot afford to spend a couple of years waiting for a first-time general manager to learn from his mistakes.
Mather is more inclined to look for someone who has been through the wars and learned from failures that they are less likely to repeat.
It would seem he's inclined to kick the tires on the likes of a Towers or a Dan O'Dowd or a Jim Hendry. They have each had moments of success.
Towers saw the Padres advance to the postseason four times in his 14 years in charge. The Rockies earned the National League Wild Card twice in O'Dowd's 15 years, including the franchise's only World Series appearance in 2007. The Cubs made three postseason appearances in Hendry's nine years in charge.
The Mariners have a 14-year postseason itch. They are looking to scratch it -- sooner rather than later.
Tracy Ringolsby is a columnist for MLB.com. This story was not subject to the approval of Major League Baseball or its clubs.