Zunino sent to Triple-A to ease pressure
Catcher given opportunity to regroup offensively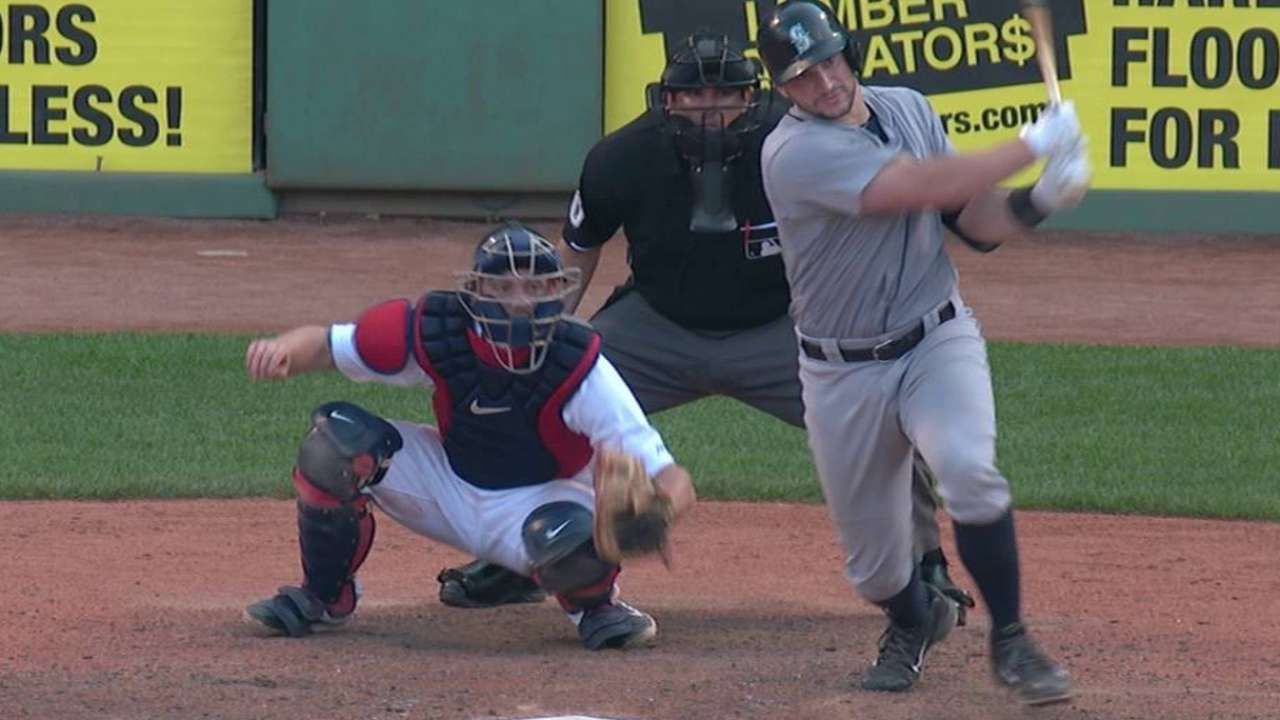 CHICAGO -- The Mariners optioned struggling catcher Mike Zunino to Triple-A Tacoma and purchased the contract of John Hicks from Tacoma on Friday.
The move is intended to help the struggling Zunino as he works through challenges at the plate, Mariners manager Lloyd McClendon said. Zunino started the season with Seattle, hitting five homers in the month of May, but batted .130 in August with a .175 on-base percentage.
This season, Zunino batted .174 with 28 RBIs and 11 home runs in 112 games. McClendon noted Zunino's last at-bat on Thursday against the White Sox, when he struck out with the bases loaded, as a factor in the decision.
"We hoped that he would come around, but I think it just got to the point where the offensive pressure and woes were starting to get to him," McClendon said. "It gives him a chance to go down for 10-12 days and take a breather, maybe regroup a little bit and get him going."
Tacoma has 11 games left before its season concludes, which McClendon hopes will be enough time for Zuninio to improve before a callup in September.
"There's just so many variables that go into catching, obviously," McClendon said. "Calling a game, following a game plan, blocking balls, working with your pitchers, taking charge in the game. And the offensive side of things as well, it just became overbearing for him."
Hicks will serve as comparable replacement, though, entering as the No. 23 prospect in the organization, according to MLB.com. In 83 games with Tacoma, Hicks was hitting .245 with 35 RBIs and six home runs.
He landed in Chicago on Friday afternoon and arrived at U.S. Cellular Field shortly before batting practice. Hicks said he found out about the move Thursday night when he was removed from his game in the sixth inning and told he'd be sent up.
"I had a little trouble sleeping," he said. "The flight this morning was probably the best flight I've had."
Hicks was not in the starting lineup against the White Sox -- that spot belonged to Jesus Sucre -- but could make his Major League debut on Friday. For now, he's set to learn signs and understand the routine before being tossed in.
McClendon said he intends to work the University of Virginia alum in slowly. For now, Hicks will be utilized for his strong defensive game, where he is best with an accurate arm behind the plate.
"Defense is obviously the most important," Hicks said. "Hitting is a bonus. Obviously, everyone wants to hit, but if I can work with the pitcher and we give up no runs, we can win every game.
"It'll be exciting. I'll definitely have a smile on my face [while watching] the whole game."
Greg Garno is an associate reporter for MLB.com. This story was not subject to the approval of Major League Baseball or its clubs.