Springer set to start injury rehab at Double-A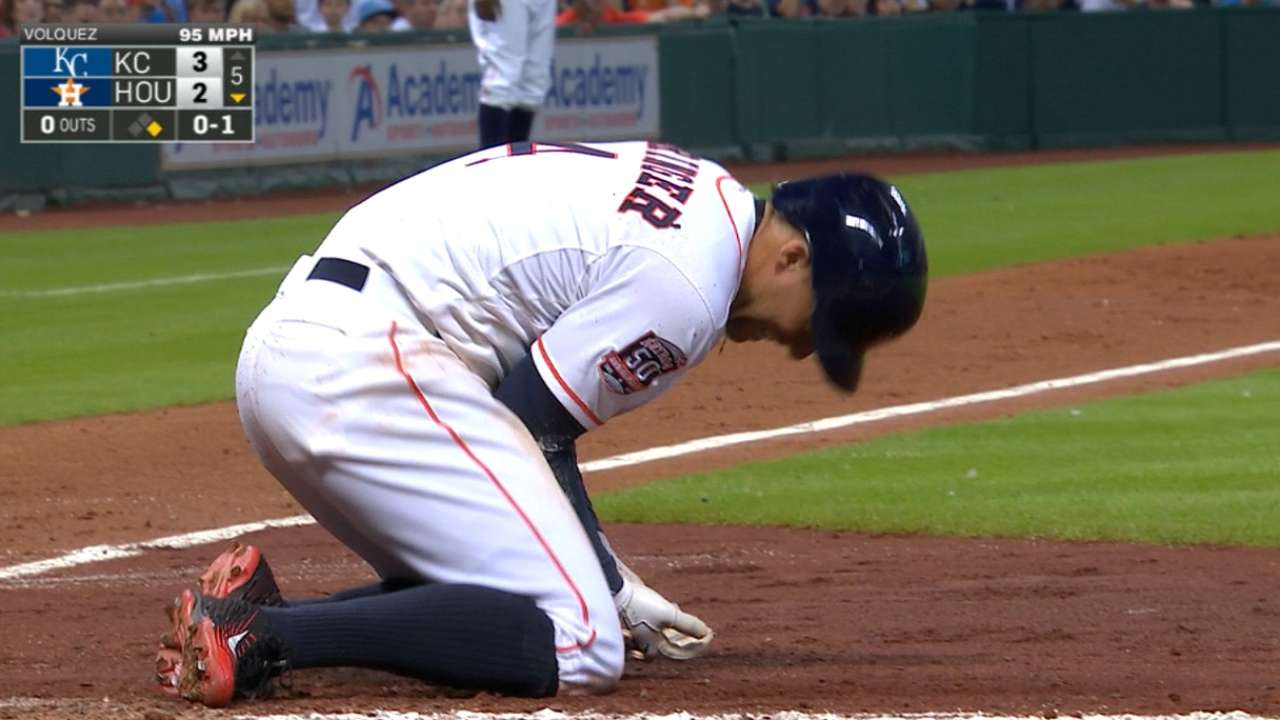 MINNEAPOLIS -- When Astros outfielder George Springer headed out of the visitors' clubhouse at Target Field on Friday, he said he wasn't sure where his rehab assignment would be -- he just knew that he was first heading back to Houston.
Not long after, manager A.J. Hinch confirmed that Springer would be going to Double-A Corpus Christi, where Springer will play right field and likely lead off. Springer has been on the disabled list with a right wrist fracture since July 1, when he was hit with a fastball from Royals starter Edinson Volquez.
"It's exciting to head out and get back out there after a long time of being on the bench," Springer said.
The rehab assignment comes after what Springer dubbed his "best day so far," and is one of the last big steps in his lengthy recovery process.
"He's been hitting for what accounts to eight or nine days, counting the times in the cage, in the tunnel underneath," Hinch said. "Today was one of the best days he's had in early work -- strength off the bat, bat speed, his resiliency from round to round. He's getting his strength back slowly but surely and the next test has to be against competition where he has to dial it up against 90-plus mph fastballs."
Hinch didn't set a timetable for the rehab assignment, but said the Astros have mapped out a plan where Springer could play a day, take a day off, play a couple more games and get another day of rest.
"We'll have a lot more information as the rehab assignment gets underway, so it's hard to tell whether it would take 1-3 days, 3-5 days, 5-7 days. We're going to make sure he's ready to compete at this level before we bring him back," Hinch said. "We don't want to give away any days where he could help us win up here, so we'll gauge it every day."
Either way, the Astros are ready to have Springer back in the lineup, whenever that might be. Before his injury, Springer was hitting .264 with 13 home runs, 29 RBIs and 14 stolen bases.
"We still don't know how he'll respond to the games, but hopefully there's light at the tunnel to get him back at a Major League level," Hinch said. "He's such a catalyst for us and [has] so much energy for how we play. It's hard not to think about what it will be like when he gets back, but he's got a few hurdles to clear before we get too excited."
Betsy Helfand is an associate reporter for MLB.com. This story was not subject to the approval of Major League Baseball or its clubs.