Double-A prospect Williams has a concussion
Catcher Alfaro to begin rehab assignment on Thursday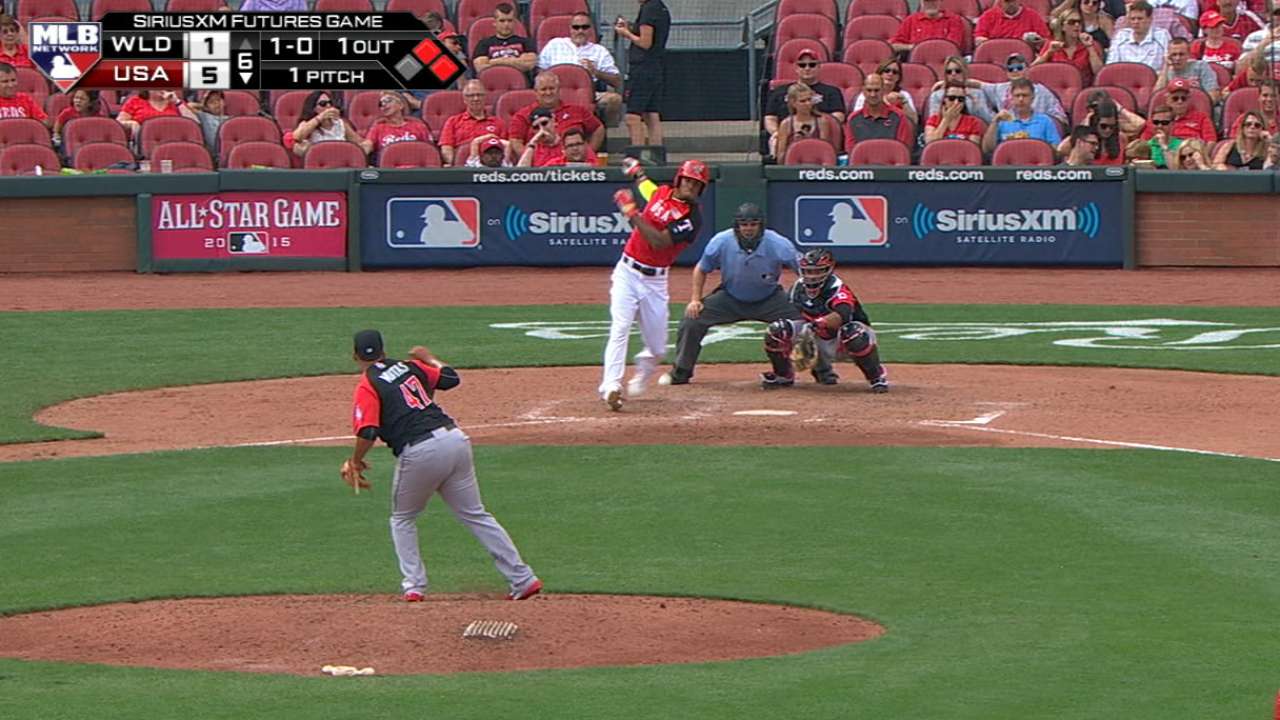 PHILADELPHIA -- Double-A Reading outfielder Nick Williams has looked like the real deal since the Phillies acquired him from the Rangers in July in the Cole Hamels trade.
But Williams, who posted a .902 OPS in 21 games since his arrival, suffered a concussion Wednesday when he collided with the Buffalo first baseman while running to first. The Phillies placed Williams on the seven-day disabled list Friday.
"Nick's fine," Phillies player development director Joe Jordan said Friday afternoon at Citizens Bank Park. "He had a headache after the game. It wasn't totally gone the following day. So just standard protocol anymore is seven days after a concussion DL. We don't expect it to be an issue. He didn't get hit in the head by a batted ball or pitched ball. He had a collision. We don't see it lingering at all. We're hopeful that when the seven days are up, he's ready to go. If it's seven to 10 days, we don't expect it to interfere with participating in the playoffs or anything like that. It's more precautionary than anything."
The Phillies also acquired catcher Jorge Alfaro in the trade. He has been sidelined following left ankle surgery, but he began a rehab assignment Thursday with the GCL Phillies.
"He caught three innings today and our guys were very impressed," Jordan said. "He's a terrific talent and we knew that going in. He threw a runner out in the first yesterday and I got some 'Wows' from the guys in Florida. The first impressions are very, very good. The way he's approached rehab we've been able to work him defensively extensively. His ankle is really close to 100 percent."
The Phillies plan to send Alfaro to Instructional League to help him make up for lost time. He then will play Winter Ball in Venezuela.
Williams is the No. 60 prospect in baseball, according to MLBPipeline.com. Alfaro is No. 64. Right-hander Jake Thompson, who the Phillies also acquired from Texas in the Hamels deal, is ranked No. 56. He is 3-1 with a 1.97 ERA in five starts with Double-A Reading.
"I've been impressed with him," Jordan said. "He's obviously done very well. I think there's room for development and room for improvement. I believe he's a guy we can help. But I'm really excited about what he's done. He's been pretty good."
Todd Zolecki is a reporter for MLB.com. Read his Phillies blog The Zo Zone, follow him on Twitter and listen to his podcast. This story was not subject to the approval of Major League Baseball or its clubs.