Jungmann, Brewers bullpen shut out Reds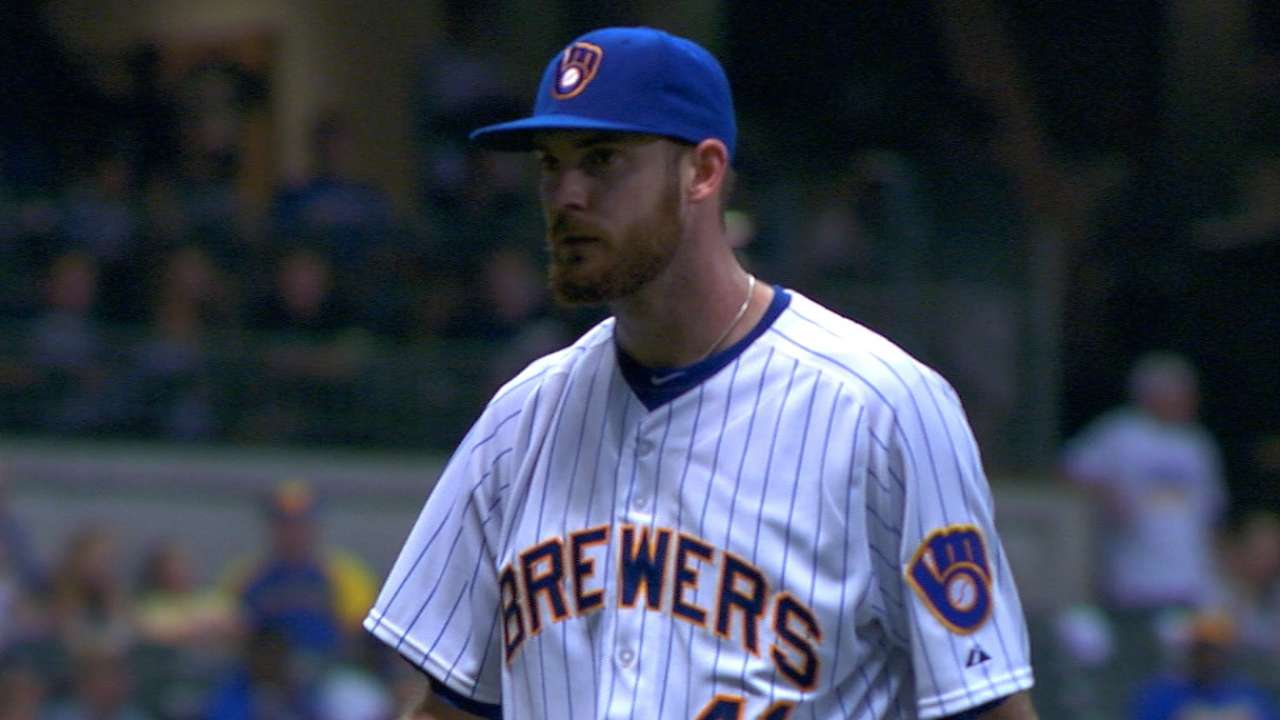 MILWAUKEE -- Domingo Santana homered in his Miller Park debut and Taylor Jungmann delivered a quality start in the Brewers' 5-0 win over the Reds on Friday night.
The Reds (52-75) lost for the 13th time in 14 games while the Brewers (54-74) snapped a four-game losing streak and avoided falling 22 games under .500 for the first time this year. Jungmann led the way with six scoreless innings on an even 100 pitches to snap Milwaukee's streak of eight games without a quality start.
"We just never were able to put any heat on Jungmann," Reds manager Bryan Price said.
Reds starter Raisel Iglesias made a quality start of his own, his sixth in a row for the longest such streak for a Cincinnati starter this season. He retired 16 consecutive batters in one stretch, but not before Milwaukee cobbled together a two-run rally in the first inning. Scooter Gennett started things with a leadoff walk and Jonathan Lucroy and Khris Davis cashed in with run-scoring hits.
"Man, we were lucky to get some runs off that guy," Jungmann said of Iglesias, a 25-year-old Cuban who signed a seven-year contract with Cincinnati last year. "That guy is disgusting. I did not want another at-bat against him, man. He's got some good stuff, and I think we were fortunate to get some runs early when he was struggling a little bit."
MOMENTS THAT MATTERED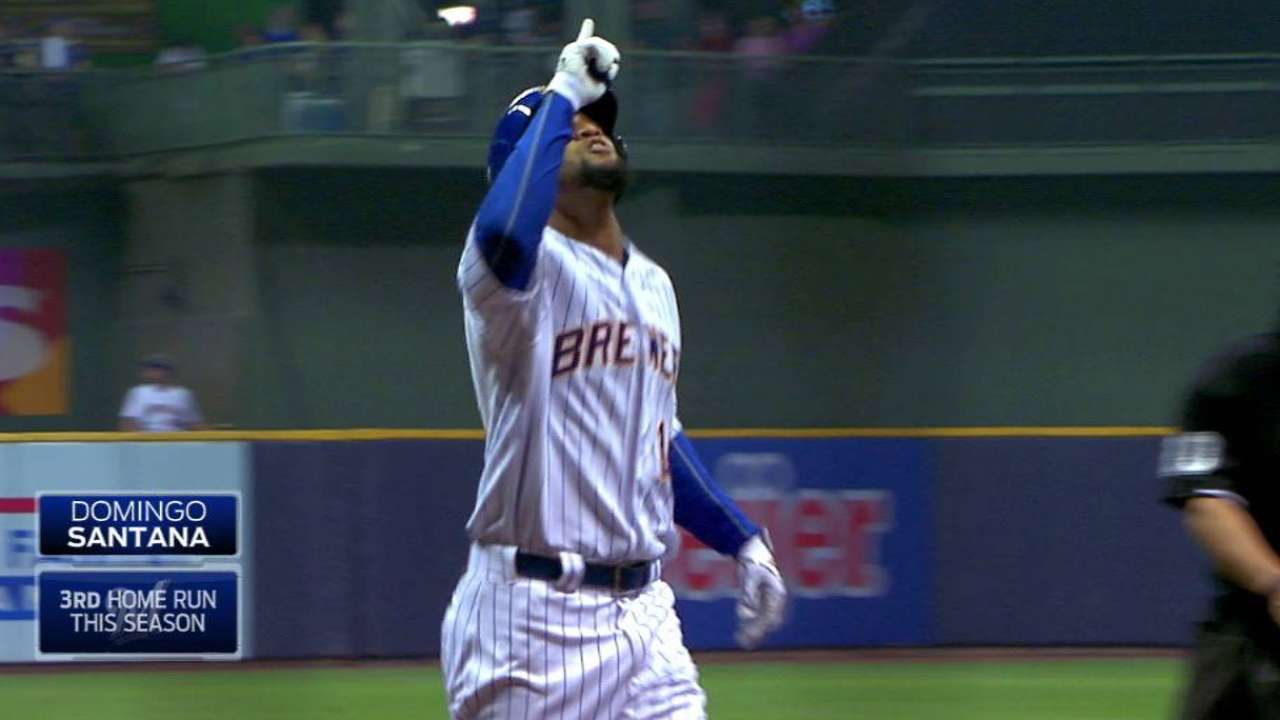 First impression: Santana, one of four prospects acquired in the trade that sent Carlos Gomez and Mike Fiers to the Astros on July 30, homered for the third time since the Brewers called him up to the Major Leagues last week. Friday marked Santana's introduction to the home fans, who saw the 6-foot-5 outfielder flash the same opposite-field power he used Tuesday to clear the right-center field fence in Cleveland.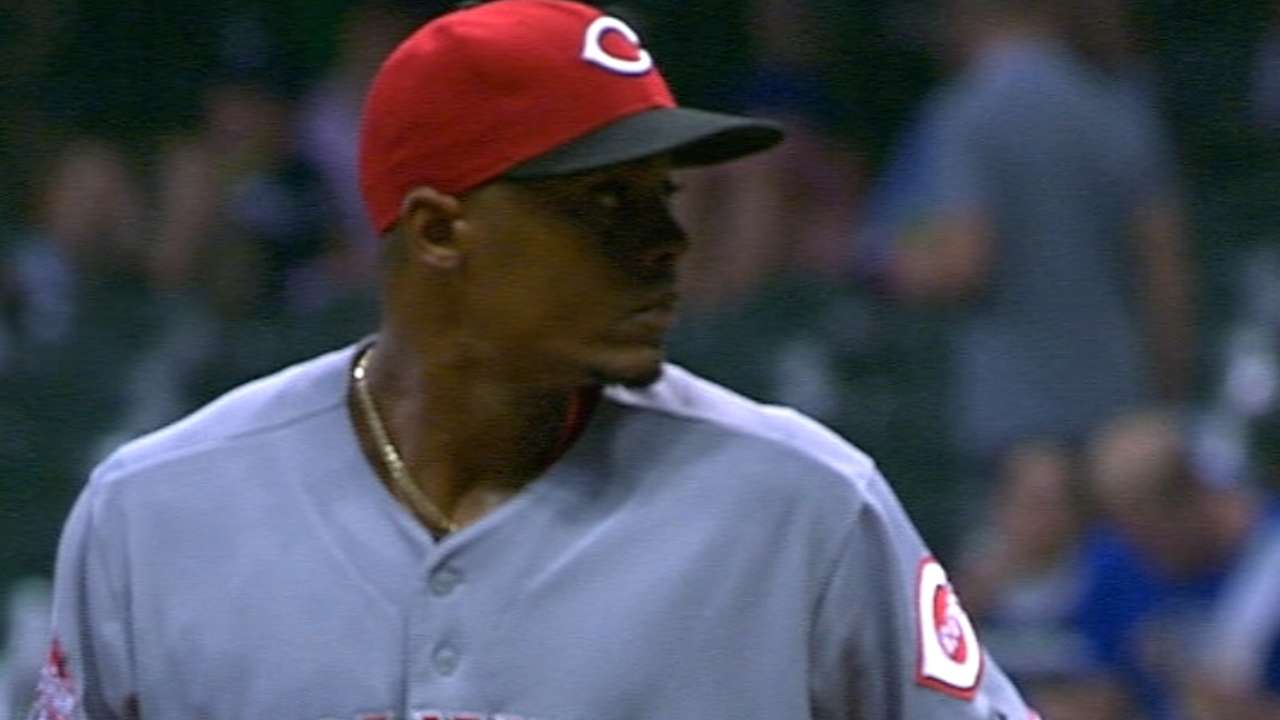 Iglesias turns it around: As Milwaukee took its early lead in the first inning, Iglesias kept the game from getting away from him. His streak of outs began when he got Santana to swing at a slider for strike three and the second out. It was also the first of his 10 strikeouts. According to the Elias Sports Bureau, Iglesias is only the third Reds rookie pitcher since 1900 to have consecutive 10-strikeout games. The others were Bruce Berenyi in 1981 and Gary Nolan in 1967.
"The first inning, I think I was rushing too much," Iglesias said through translator Tomas Vera. "I was going through the motions too fast. My pitches were not going the way I was expecting. They took advantage of that and they were really aggressive." More >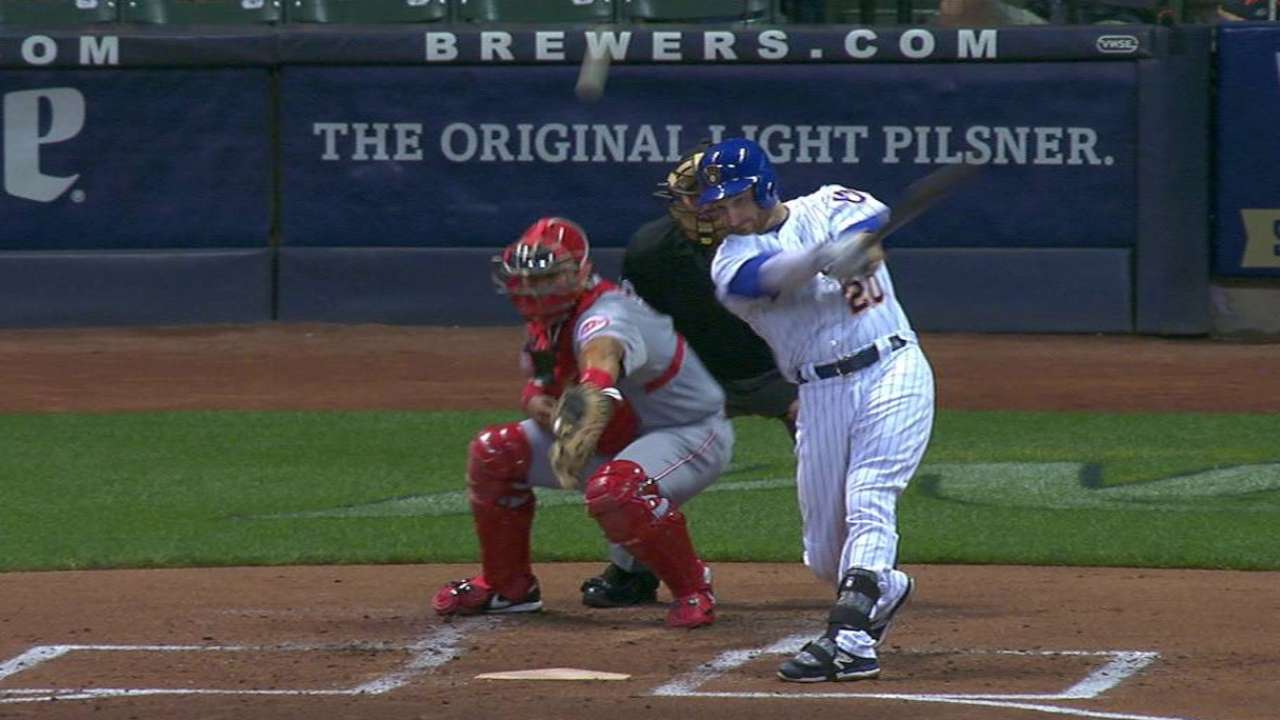 Lucroy in the swing: A frustrating season has taken an upturn for Lucroy, who wasted no time extending his hitting streak to six games by smacking an RBI double in the first inning. Lucroy has four doubles, three home runs and seven RBIs during his streak, shades of the hitter who finished fourth in last year's National League MVP balloting.
"We waited for him to kind of get going, but I fully expected it to happen," Brewers manager Craig Counsell said. "He's swinging the bat well right now. He's in a good place."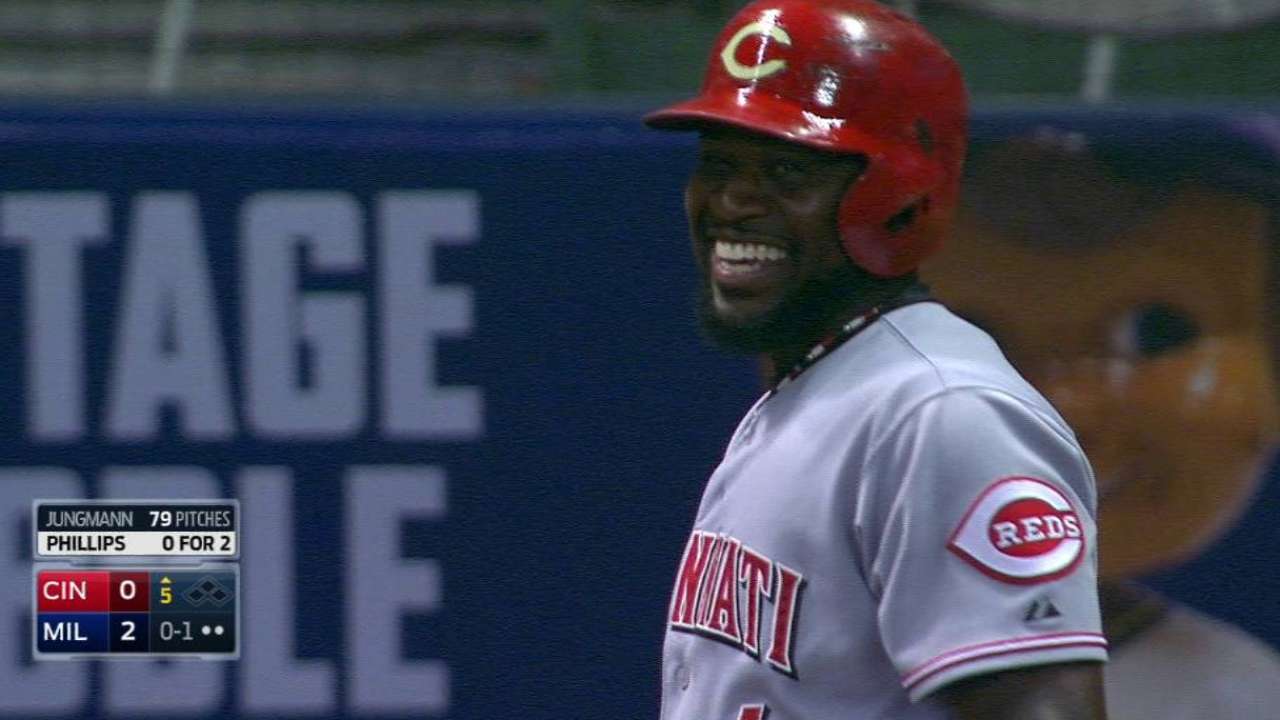 Oops: With two outs in the Reds' fifth, Jungmann offered a first-pitch curveball to Brandon Phillips. Despite it being about two feet short of the plate and in the dirt, Phillips swung and missed big. He could not resist smiling at his mistake, but he still came out OK as the at-bat would result in a single to left field -- Cincinnati's first hit since the first inning.
REDS OFFENSE MISSING
Friday's loss meant back-to-back shutouts for the Reds, who have been held scoreless over their last 19 innings. During this stretch of losses in 13 of 14 games, they have been outscored by their opponents, 71-42.
"We have to create more opportunities to score," Price said. "If you get five or six hits and a couple of walks, that's not a bevy of opportunities to score. We just haven't strung anything together outside of the big inning we had against Detroit [on Monday], just in a consistent way. It's been a challenge for not just this stretch, but for a good portion of this season and most of last season, in particular the second half."
The Reds have been shut out in all three of Iglesias' losses in August.
"I believe this is a group thing I'm just one single part of the game," said Iglesias, who has a 2.33 ERA in six August starts. "The team is going through a struggle and a bad situation right now. All I can do is to hope we at least finish in a better position."
WHAT'S NEXT
Reds: Keyvius Sampson will be back on the mound on Saturday at 7:10 p.m ET in the second game of the series. Sampson needs a strong outing, as do the Reds. He has an 8.03 ERA over his last three starts and has been hit hard and often.
Brewers: Matt Garza will look to avoid being the first Major League pitcher saddled with a 15th loss when he takes the mound on Saturday against the Reds. He's faced Cincinnati 10 times in his career, going 4-3 with a 3.96 ERA in those starts including an April 29 win at Great American Ball Park. His first pitch is scheduled for 6:10 p.m. CT.
Watch every out-of-market regular season game live on MLB.TV.
Adam McCalvy and Mark Sheldon are reporters for MLB.com. This story was not subject to the approval of Major League Baseball or its clubs.