Mets faithful fete Wright with rousing ovation
Third baseman collects two hits, scores once in return to Citi Field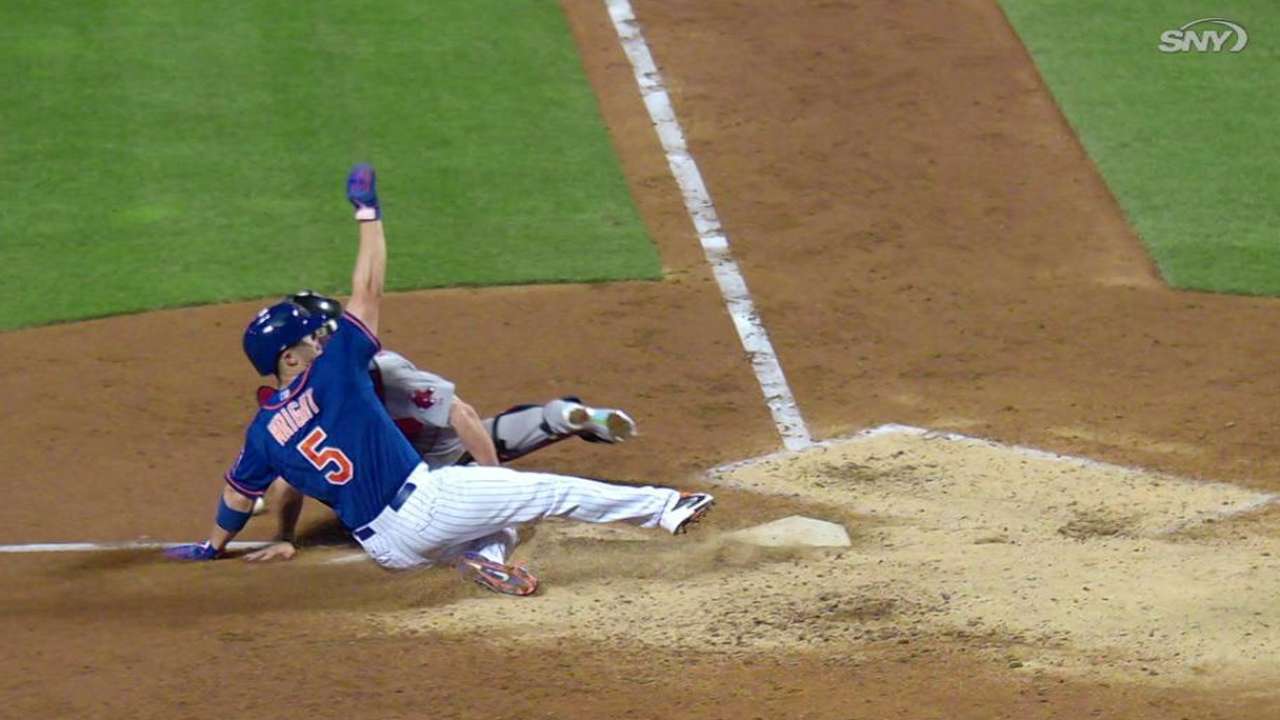 NEW YORK -- Somewhere between the second-base bag and Tim Teufel's left arm waving him around third, David Wright lost the nervous excitement that turned his late-August return to Queens into "almost like Opening Day." Then came the mad dash home, which Wright never expected to take when Michael Cuddyer's single to right sent him scurrying in the first place, and which Wright admittedly doubted at times he'd ever try again this season.
But Wright made it home safely after Rusney Castillo's error in right, and back to the dugout healthy -- the latter serving as probably the most important takeaway from Wright's first game at Citi Field since April 14, a 6-4 loss to Boston.
After hearing cheers from hordes of Mets fans in Philadelphia this week, Wright returned to the Flushing equivalent of a full welcome party. He received the loudest applause of any player during pregame introductions and a roaring hand from the 39,401 present before popping out in the first.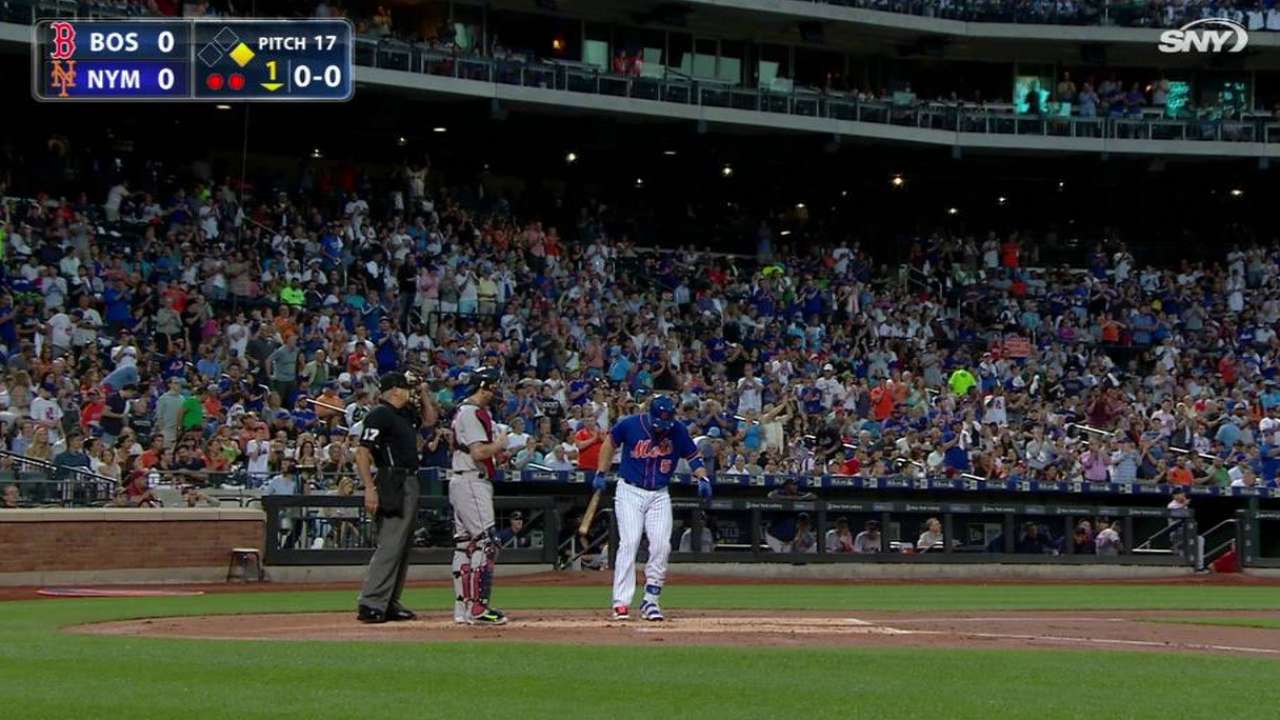 "Unbelievable. You kind of dream and you think and play it out in your mind, stepping into the batter's box the first time. This surpassed everything," said Wright, who finished 2-for-5. "I can't thank the fans enough for that support, that ovation. It kind of got me off my game a little bit. I had to step out and focus on the task at hand because I was overwhelmed by the support."
So much has changed since Wright left that April game with what was initially a standard hamstring pull -- New York's roster was overhauled, spring promise morphed into October expectations, news conferences grew into standing-room-only affairs -- yet the Captain's return came paired Friday with a semblance of normalcy. Sure, the Red Sox were at Citi Field for the first time. And also for the first time in the stadium's history, the fans can taste October.
But there was Wright, after so much time away, smiling, batting fourth and playing third base.
"Playing in front of a packed house, I haven't experienced that much since this place opened. The place was rocking," Wright said. "These fans deserve the type of season we are having. They deserve to root for an exciting team like this."
Wright punched a single up the middle and another to left, giving him three multihit games in four tries since coming off the DL. Mindful of Wright's condition, manager Terry Collins said he will sit him on Saturday as a precautionary measure. After that, Wright expects to play the remainder of the homestand, though the Mets now surely have the depth to handle themselves if he can't.
"I'm going to try," Wright said. "Physically, I feel pretty good. Each inning, each at-bat I'm getting more and more comfortable."
Likewise, the reemergence of each old routine represents another step for Wright. For example, Teufel circles the clubhouse each afternoon with printouts in hand detailing New York's intended defensive positioning for the coming game. For the first time in 136 days, Teufel's route Friday extended to Wright's home locker. Once the game started, Wright handled each grounder hit his way.
Other once normalcies, like going first to home, could take a bit more time.
"That's a long way," Wright said. "A lot longer than I remembered."
Joe Trezza is an associate reporter for MLB.com. This story was not subject to the approval of Major League Baseball or its clubs.