Talented outfield a good problem for Sox to have
Betts, Bradley, Castillo all in '16 mix; president of baseball ops Dombrowski continuing to take staff inventory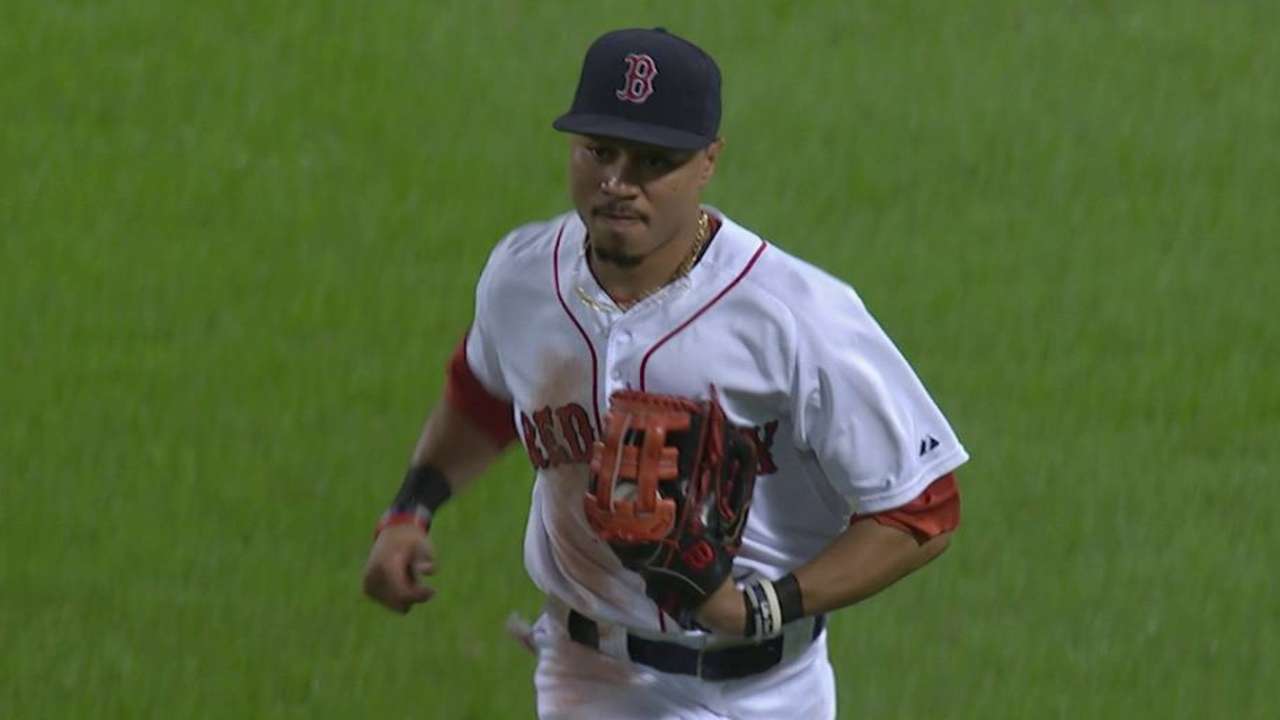 NEW YORK -- One key point of evaluation for the Red Sox in the coming days will be to decide how their highly-athletic outfield trio best fits together.
The Red Sox are a rare team that has three outfielders who can play center at an above-average level in Mookie Betts, Jackie Bradley Jr. and Rusney Castillo. The emergence of those three players has led the team to try transitioning Hanley Ramirez to first base.
Betts has been the primary center fielder this season while Bradley held down that spot for most of 2014. Who will play center for the Sox in '16?
"They're all good outfielders," said president of baseball operations Dave Dombrowski on Friday. "And in fact, we just spoke about it a little bit ago with the staff. Mookie's played center field very well. We know Jackie Bradley Jr. is an outstanding center fielder.
"I told them what they really need to think about is -- and nobody needs to make a decision today -- they know Fenway Park better than I know Fenway Park. I've only come in as a visitor. So what's the best alignment to play 81 games like that? You've got the Green Monster. Right field, some people tell me, is as hard a right field as there is to play in Major League Baseball, and I would agree with them if they tell me that.
"All three of them have good arms, they're all athletic. It's more of a thought process at this time to see what ends up happening. I don't have that answer right now."
Interim manager Torey Lovullo said he will keep an open dialogue with the three outfielders.
"Dave gave some great points of view," said Lovullo. "We shared a lot of good information. Before we really announce everything, I want to talk to the players and sit them down and just give them some thoughts. We're looking to see guys in different places at different times and move forward for next year. We want to make sure everyone is in the right place and we don't go backwards."
Notes from Dombrowski
• Dombrowski made it clear he doesn't plan on overhauling the baseball-operations department.
"The reality is the player-development, scouting, Latin American operations, I think have really run well through a time period," Dombrowski said. "Leaving those guys in charge is easy. And that's why I needed to meet with a lot of those guys this week to let them know that I don't plan any changes there, in those areas, and really I needed to talk to them so they could go out and start hiring their people that we don't want to lose. There's a lot of good people here."
• In the coming weeks, Dombrowski will find time to talk to Jason Varitek and Pedro Martinez, who were special assistants to former general manager Ben Cherington. Varitek, in particular, appeared on the rise, taking on more responsibilities each year.
"They're on my list but I haven't gotten to that point yet. I've been an advocate to those types of jobs in the past," Dombrowski said. "I don't know Jason Varitek well at all. I've met him but I don't know him. I only hear good things about him. Same thing with Pedro Martinez. There's a couple of other guys that fall under that category too. I'm looking forward to sitting down with them and [having] them be part of the operation."
• How much has Dombrowski spoken to manager John Farrell, who has been undergoing chemotherapy treatments for Stage 1 lymphoma?
"Quite a bit. At first I talked to him on the phone. But then we met [last week] for a good couple hours -- the day of the team picture," Dombrowski said. "I saw him over the weekend a couple times at the ballpark and visited him then. I don't want to bother him too much because of his circumstances, but I picked up the phone yesterday. I was at the ballpark and talked to him for close to a half-hour, just chit-chatting about different things, seeing how he's doing. I know he's going into some treatment this week the next couple days, so it's [going] to be a very difficult time frame for him."
Can Dombrowski say for sure that Farrell will manage the team in 2016, provided things progress well with his health?
"I'm impressed with John," Dombrowski said. "I like John. But I think for now he needs to take care of his health."
Ian Browne is a reporter for MLB.com. This story was not subject to the approval of Major League Baseball or its clubs.