Sano out of lineup with right hamstring strain
Molitor said he's hopeful the rookie will return as early as Saturday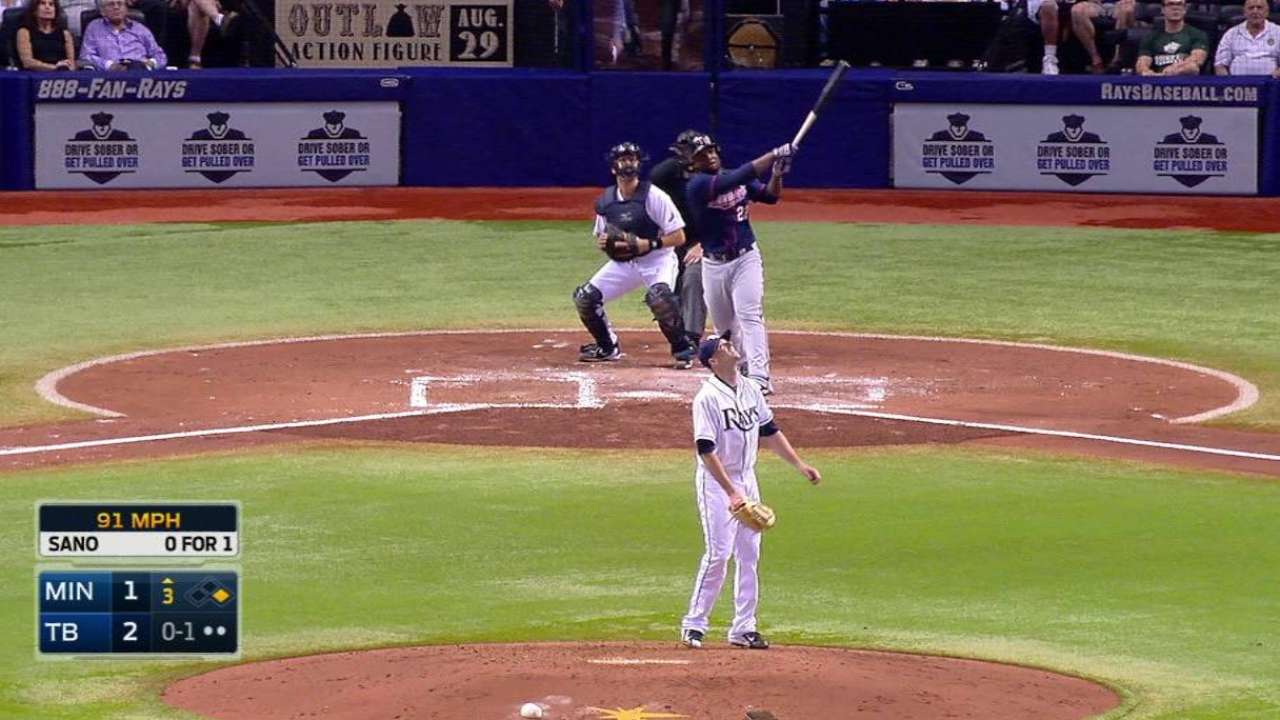 MINNEAPOLIS -- Twins rookie slugger Miguel Sano is dealing with a mild right hamstring strain, and he was held out of the starting lineup on Friday against the Astros.
Sano, who has been the club's best hitter since being called up on July 2, was originally slated to start at third base, but he told the training staff his hamstring has been bothering him, so manager Paul Molitor kept him out of the lineup as a precautionary move.
"I think it's been a gradual thing as far as I know," Molitor said. "I haven't heard anything specific other than that I had him in there originally playing third base today, but he came in and talked a little bit about his concerns about it and what he could and couldn't do."
Molitor added that Sano believes he can play through the injury, but it wasn't worth the chance of him injuring himself further. Eduardo Nunez started at third in his place.
"I just imagine him trying to extend himself out there, and having to shut him down for a large portion of the remainder of the season," Molitor said. "The risk is too high. He wants to play and thinks he can play through it in the DH role, but I think with the late flight last night and three days of playing on turf, the risk seems pretty high to me."
Molitor said he's hopeful Sano could rejoin the lineup as early as Saturday if everything progresses well. Sano also missed two games in mid-July with a mild right ankle sprain after he stepped on a baseball during batting practice.
"I hope it's day to day," Molitor said. "After going through treatment today they said it loosened up pretty well. We all know what he's done and what he means to the team. So to not see his name in there it's a different feel because that's the kind of presence he's brought in here. But hopefully he responds and gets back to the DH role as soon as tomorrow."
Sano, 22, is hitting .289/.394/.584 with 12 homers, 13 doubles and 38 RBIs in 47 games.
WORTH NOTING
• Twins closer Glen Perkins, who has been out with lower back spasms since Sunday, is expected to be available to pitch on Friday, according to Molitor. But Perkins won't return to his role as closer until he proves he's healthy.
• Center fielder Aaron Hicks, on the 15-day disabled list since Aug. 19 with a left hamstring strain, is expected to start a rehab assignment with Triple-A Rochester on Saturday, Molitor said. Hicks has been running without any issues at Target Field, and he is expected to be activated once he's eligible on Thursday if everything goes to plan.
Rhett Bollinger is a reporter for MLB.com. This story was not subject to the approval of Major League Baseball or its clubs.