Price welcomes former teammates to Toronto
Ace said Tigers' trade was 'probably best move' at non-waiver Deadline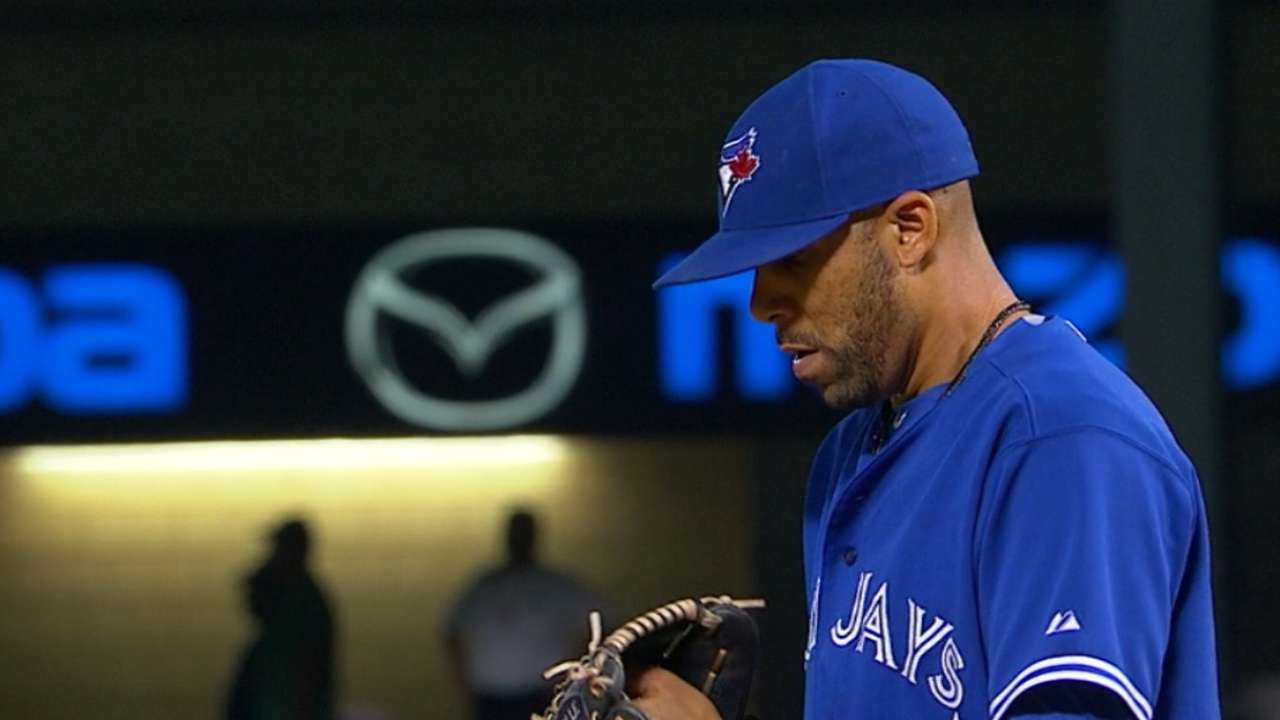 TORONTO -- David Price saw his former Tigers teammates Friday afternoon, and it was like he never left. He said hello to defensive coordinator Matt Martin and staff in the dugout long before batting practice. He made his way through the visitors' clubhouse at Rogers Centre and hugged just about everybody.
"One of the best people in the game," manager Brad Ausmus said. "Wish he wasn't wearing a Blue Jay hat, though."
And that was the reminder of where the two teams stand. The Tigers and Blue Jays were separated by 1 1/2 games in the standings when the trade went down on July 30. They entered Friday's opener 11 games apart. While Toronto sits atop the American League East with the second-best record in the league, Detroit is last in the AL Central.
Price was not surprised to be dealt at the non-waiver Trade Deadline for the second consecutive year. He was, however, surprised again by where he went.
"I always wanted to see the Rogers Centre sold out, and I've gotten a couple chances to see that," Price said. "It's been everything I've imagined, and probably a little bit more."
Price's trade was the first of three deals the Tigers made in less than 48 hours, sending veterans in contract years out for prospects. Asked if he was surprised, he took a big-picture view.
"Just kind of understanding everything in the organization, not really," Price said. "I thought that was something that teams have to do at certain times. It was just that time for the Tigers.
"The Tigers are never sellers. They're always buyers and they're always making playoff runs and stuff like that. But at that time, I thought that was probably the best move. ... With Miggy [Cabrera] being injured at the time, stuff like that, that was definitely tough."
The general manager who made the moves is in another city, too. Between the uncertainty of the team's standing in the postseason race and the lack of clarity on Dave Dombrowski's standing as the guy in charge, Price said it was an uncertain time near the end.
"It was Dave's free-agent year as well, so nobody knew what he was going to be able to do," Price said. "It was just a weird time, the last couple weeks that I was in Detroit -- not weird in the sense of in the locker room. We still had a great time in the locker room, in the dugout. We had a very good group of guys. But nobody really knew what was going to go on. It wasn't an uneasy feeling, but I think you like to know what's going to happen, and I don't think anybody knew that."
That is now cleared up. Price's standing against Tigers hitters, however, will have to wait. He's not scheduled to pitch in this series, so he's going to sit on holding Cabrera to 1-for-17 with seven strikeouts for his career.
"[Miggy's] been texting me: 'I hope you're not pitching,'" said Price. "'I want to keep my average up.'"
Jason Beck is a reporter for MLB.com. Read Beck's Blog, follow him on Twitter @beckjason and listen to his podcast. This story was not subject to the approval of Major League Baseball or its clubs.