Zobrist honored by Rays in return to St. Petersburg
Club shows video tribute for two-time All-Star before Friday's game vs. KC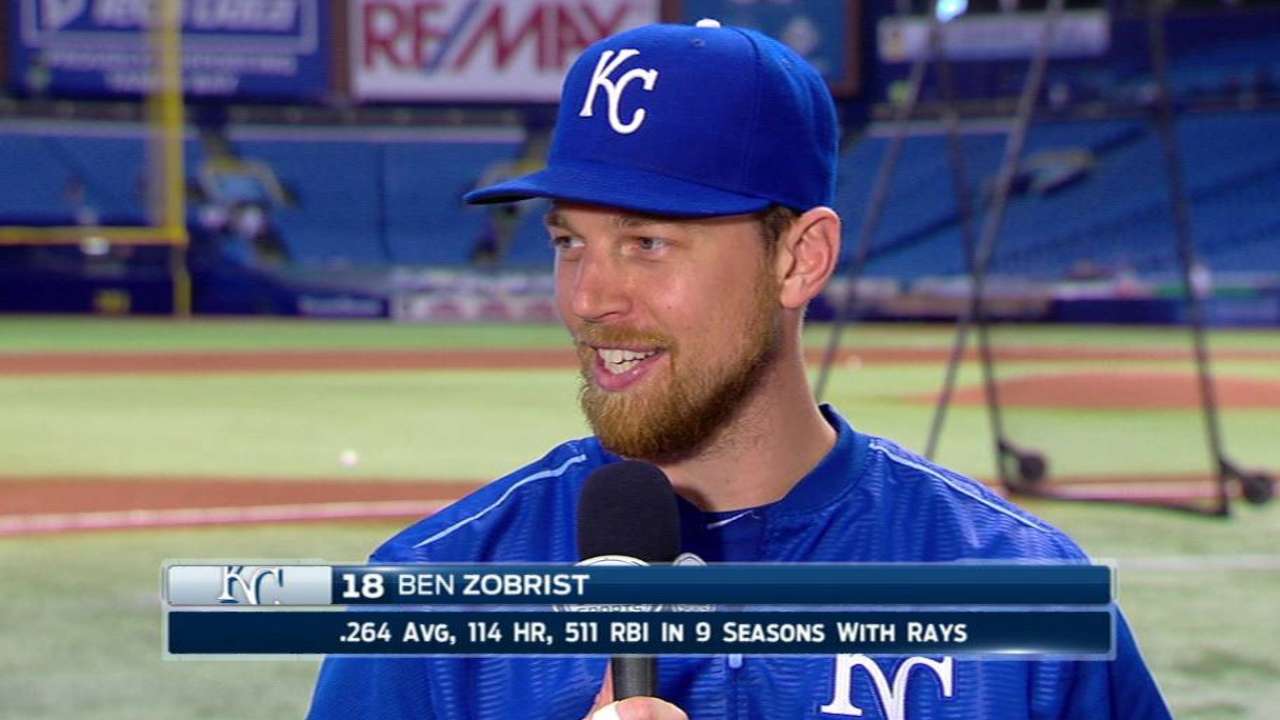 ST. PETERSBURG -- Ben Zobrist returned to Tropicana Field for the first time since getting traded last offseason and he felt a "little bit upside down being on the other side of the field."
But life is good for Zobrist, one of the most popular players in Rays history and now a member of the Royals. And even if things weren't going well, he'd find a way to make it better -- on and off the field.
"I've said this before, but I think [Zobrist had a huge impact] not only on the field, but off the field as well," said Evan Longoria, the longest-tenured Rays player. "And he came to be one of the most respected guys on the team and in the community. And he was a leader in this clubhouse. So it's pretty easy to say there should be a standing ovation for him and he should be well received."
The Rays honored Zobrist prior to the start of Friday night's game against the Royals with a video tribute on the Tropicana Field scoreboard. Those in attendance paid homage with a standing ovation.
Around game time, another familiar face popped onto the field. Juliana Zobrist, Ben's better half and professional singer, performed the Star Spangled Banner. Ben teased that all would notice a little more weight on her bones since she is pregnant with the couple's third child, due on Nov. 10.
Zobrist received another standing ovation as he came to bat in the top of the first inning of Friday's game, and he reached on an infield single overturned by replay. He then doubled in his second at-bat and finished 2-for-4 with a run scord in the Royals' 3-2 victory.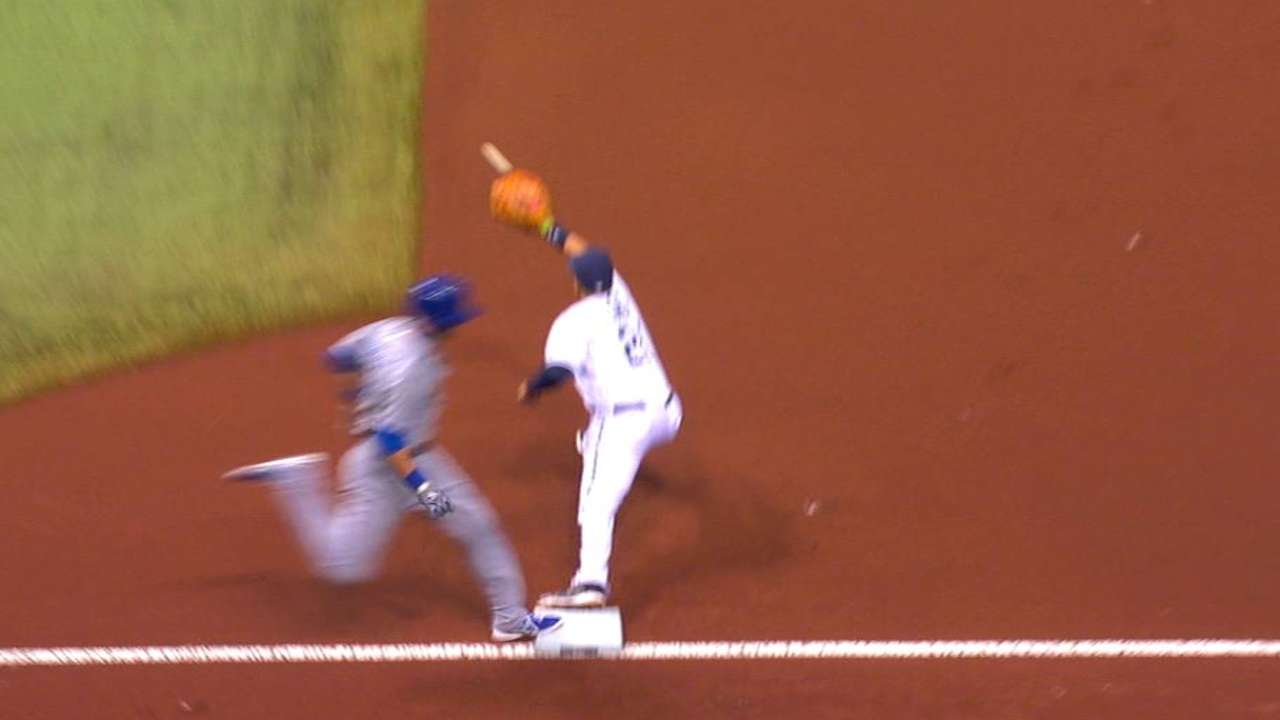 According to Zobrist, the scene on Friday was, well, weird.
"I felt like I'd never left when I was walking in, because everything is very similar and the same people," Zobrist said. "You know with maybe just a few aesthetic changes, everything felt the same. So I could have easily walked into the other clubhouse and started getting dressed in my old uniform."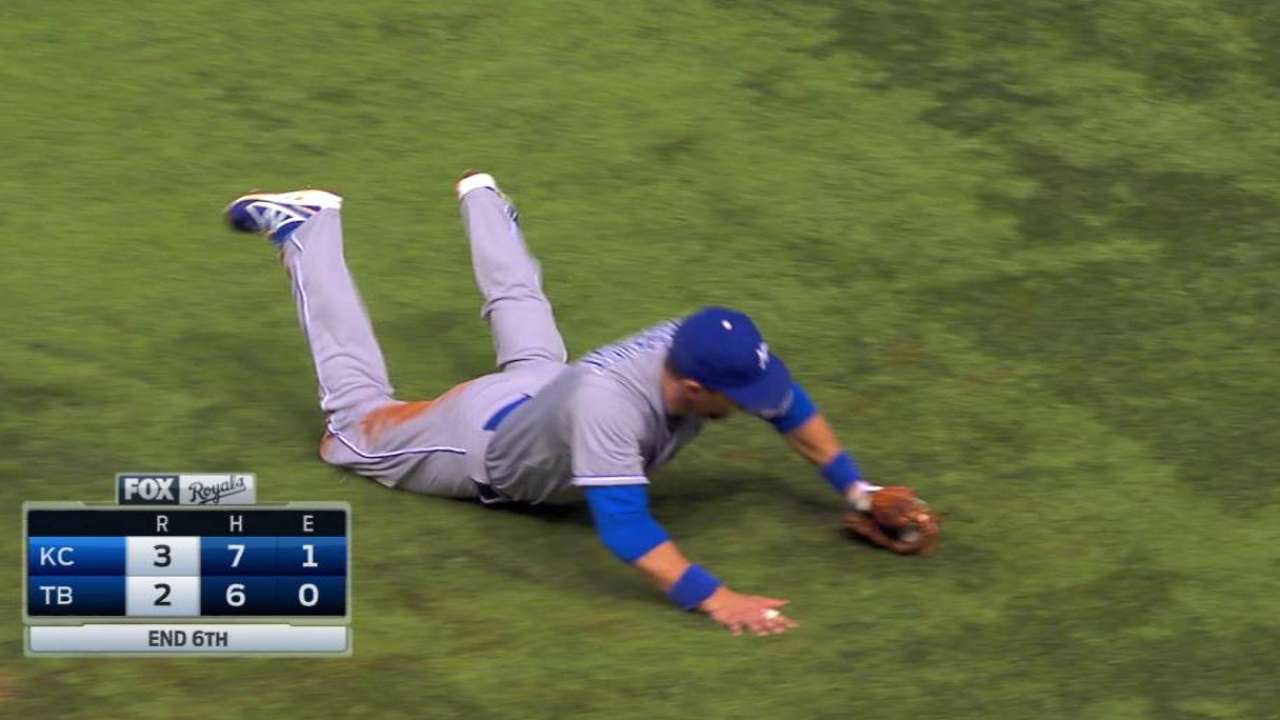 The Rays traded Zobrist to the A's on Jan. 10 in a deal that also sent shortstop Yunel Escobar west for John Jaso and a pair of prospects, shortstop Daniel Robertson and outfielder Boog Powell.
When Zobrist left the team he reigned as the franchise career leader in doubles (229) and walks (542) and he ranked second to Carl Crawford in games played (1,064), hits (1,016), triples (32) and runs scored (565).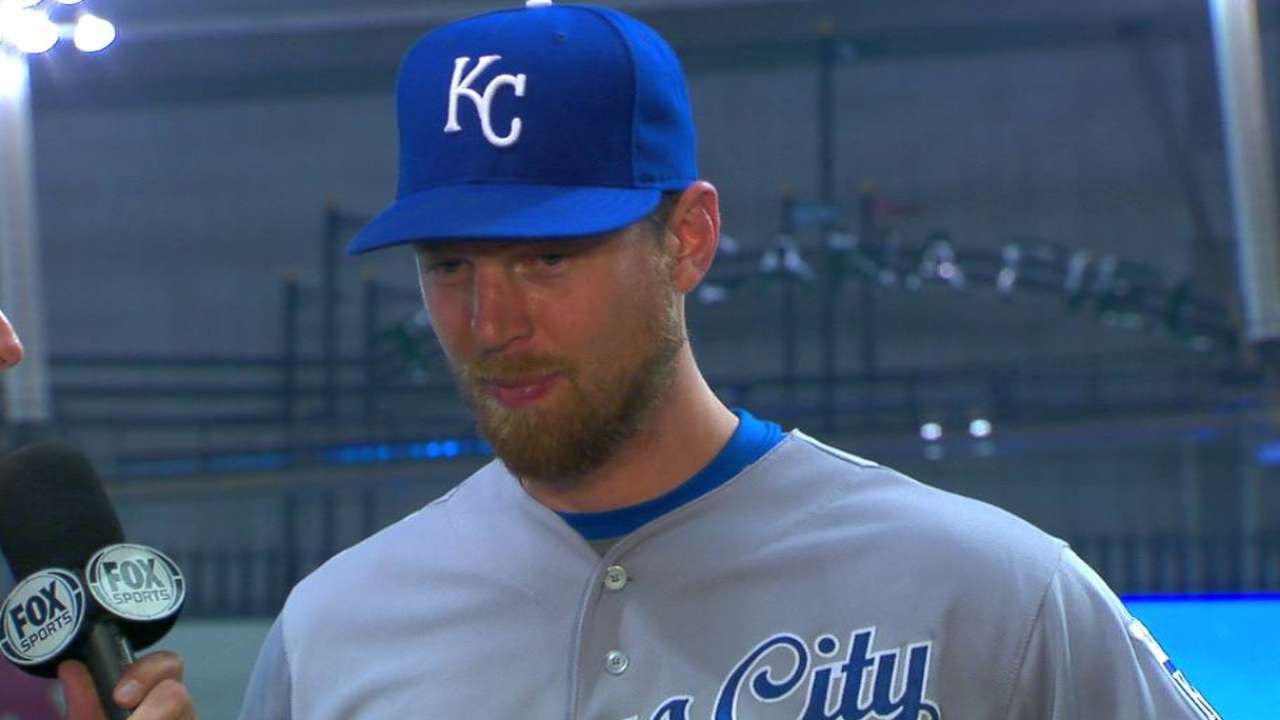 Acquired from the Astros in 2006, as part of a trade for Aubrey Huff, Zobrist grew into a two-time All-Star (2009, '13) and became the first Major League player on record to appear in 200 games at second base, shortstop and right field.
Zobrist said his time with the Rays "meant a lot."
"Because it represents a large period of my life," Zobrist said. "It's not just a stop along the way. We were here since 2006. Nine years and a lot of seasons. Seasons not only in Tampa Bay, but seasons in our life.
"Coming back just reminds me of all the good memories we have here. When I think back to the time here, it's all good. It's all exciting things. It's sad in a way to have to move on from those times. But it's also fun to come back and remember those things."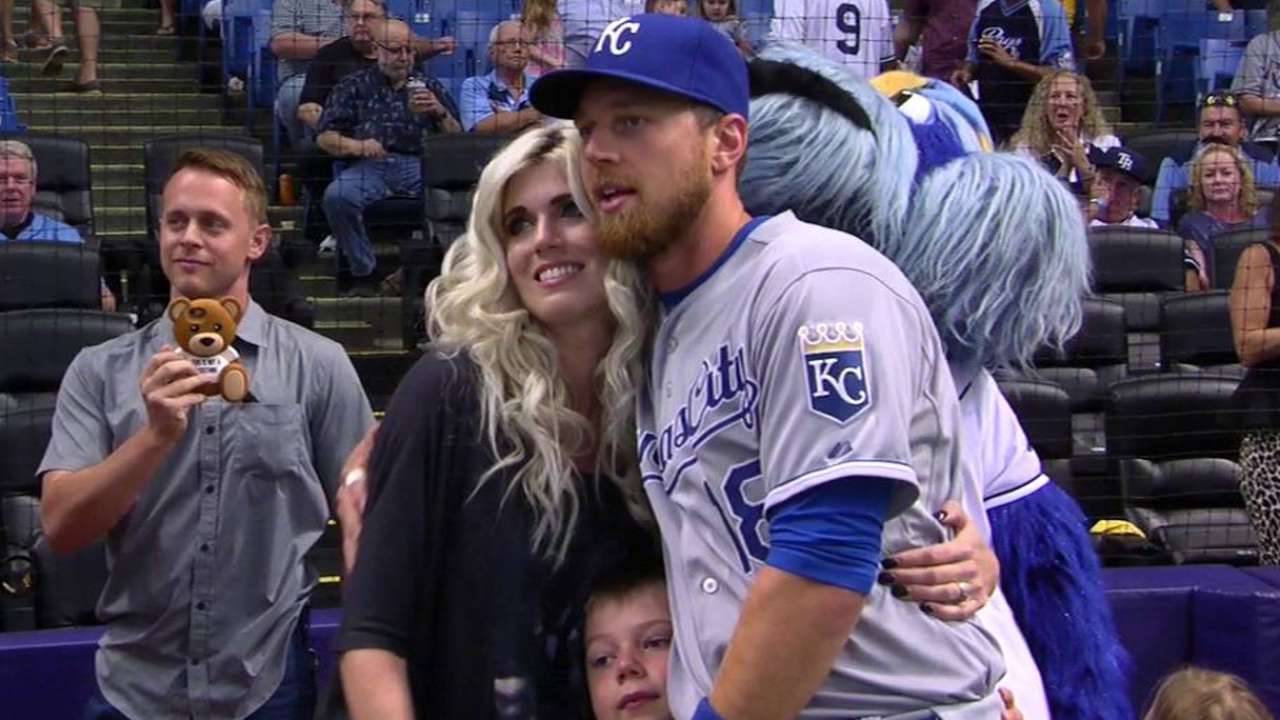 Zobrist smiled when a reporter pointed out that he's landed in a pretty nice situation with the Royals, the team the A's traded him to on July 28, and the team that has the best record in the American League.
"They've been geat," Zobrist said. "They've been very welcoming. And just made me feel like part of the team really quickly.
"I couldn't have asked to have been put in a better situation as far as where a team is at that point in the season. ... Just no pressure coming in, these guys have already been a winning ballclub this year. They've done really well."
While comfortable and beloved with the Rays, Zobrist allowed that "change" can give one "a little bit of an adrenalin shot."
"It all depends on how you look at it, and the situation you're going to," Zobrist said.
Asked about playing for a team with a big lead, Zobrist noted that it can "be good" for a team and it can be "dangerous."
"It can be good because everybody is relaxed and focussed on just playing every game and not worried about the standings," Zobrist said. "But when you get down to the end you obviously want to be playing your best baseball come the end of September, beginning of October.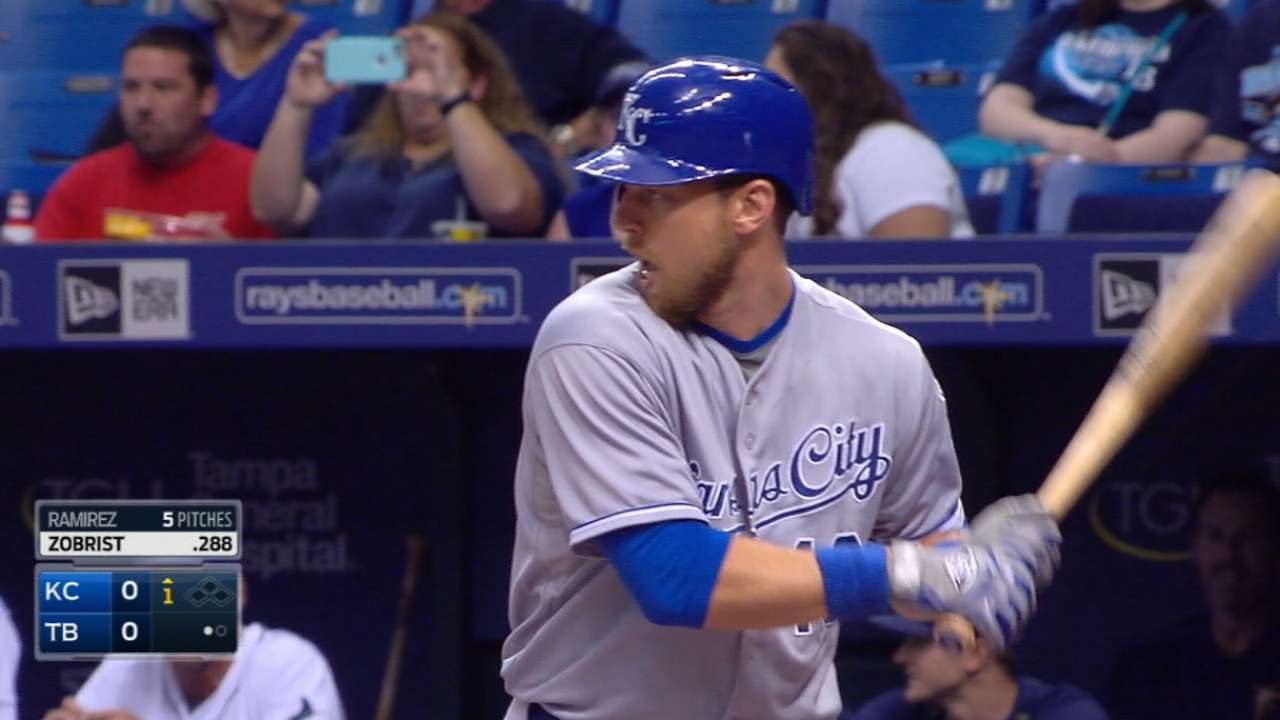 "And even then it's still up for grabs because what I've seen over my time, we got really hot in September in 2011 and snuck into the playoffs with that amazing Game 162. And then we got stopped in the first Division Series."
Yes, Zobrist brought up Game 162. The Rays icon played a role in that one and in countless others. Rays fans will not soon forget Zo.
Bill Chastain is a reporter for MLB.com. Listen to his podcast. This story was not subject to the approval of Major League Baseball or its clubs.