Tex still bothered by leg injury, says 'I can't run'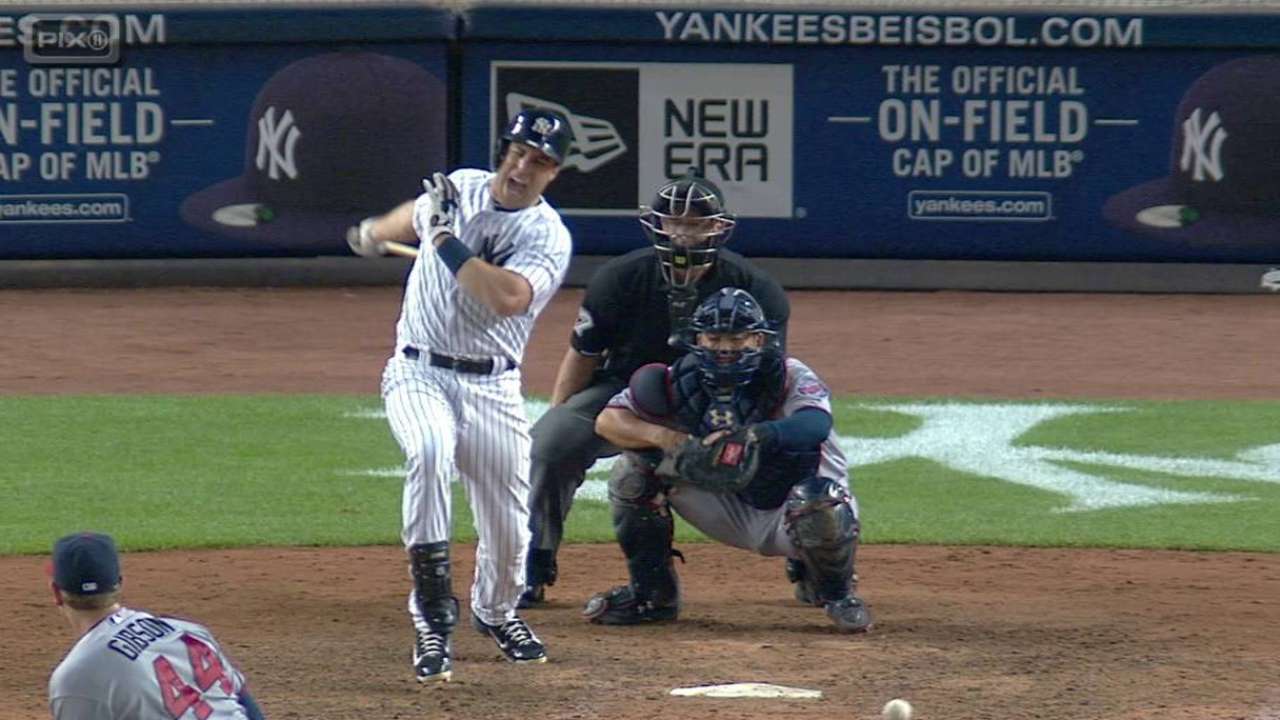 ATLANTA -- A discouraged Mark Teixeira said on Friday that the deep bone bruise in his right leg is not improving, but the Yankees first baseman has been assured that there is no fracture in the leg, only a significant amount of inflammation that will require more rest.
Teixeira sustained the injury fouling a ball off himself on Aug. 17 against the Twins at Yankee Stadium. He returned to the lineup on Tuesday and appeared as a pinch-hitter on Wednesday, but was hobbled when trying to run to first base. Teixeira is not sure when he will be able to play again.
"It's not as good as I would have hoped," Teixeira said. "Running is still a big struggle. I can't run. It's just as simple as that. It's very frustrating."
Yankees manager Joe Girardi said that he did not have Teixeira available as a pinch-hitter for the 15-4 win over the Braves. After having an X-ray, MRI and CT scan performed in New York, Teixeira and the Braves' team physician decided that no further tests were needed.
"I think we're all concerned, because we thought we'd have a player today," Girardi said. "For whatever reason, he's still sore so we'll continue to find out what's going on and continue to treat him and get him back on the field."
Teixeira said that the injury does not affect him much in day-to-day life, but it has made a 90-foot sprint impossible.
"I was probably a little too aggressive with it early on," Teixeira said. "It's kind of what caused some of the inflammation to not go away. It's serious pain. I know the difference between being sore and having serious pain. When I try to run, it's serious pain. That's what worried me."
Teixeira has been one of the most productive hitters in the Yankees' lineup, posting a .255/.357/.548 slash line with 31 homers and 79 RBIs in 111 games.
There is no reason to place Teixeira on the 15-day disabled list now, since rosters expand to 40 players on Tuesday, and Girardi said there is no regret in not doing so before putting Teixeira's name in this past Tuesday's lineup.
"We never thought it would be this long; we just didn't," Girardi said. "What we had in front of us and what we saw we felt it would be three or four days and he'd be back, but that's not the case."
Teixeira's injury will mean more playing time for rookie Greg Bird, who was 1-for-3 with two walks, two runs scored and an RBI on Friday.
"It's a big bat to take out, your cleanup hitter," Girardi said. "Anytime you take your cleanup hitter out, that's a big bat, so guys are going to have to step up."
Worth noting
• Jacoby Ellsbury said that his bruised right hip was feeling better following Thursday's off-day, and the center fielder was back in New York's lineup on Friday, making a key sliding catch in the first inning to take an extra-base hit away from Christian Bethancourt.
"I was just laughing to myself," Ellsbury said. "I was like, 'First play, first inning of the game, and I'm already landing on it.' I was just chuckling to myself. I thought I did well. Big win, obviously."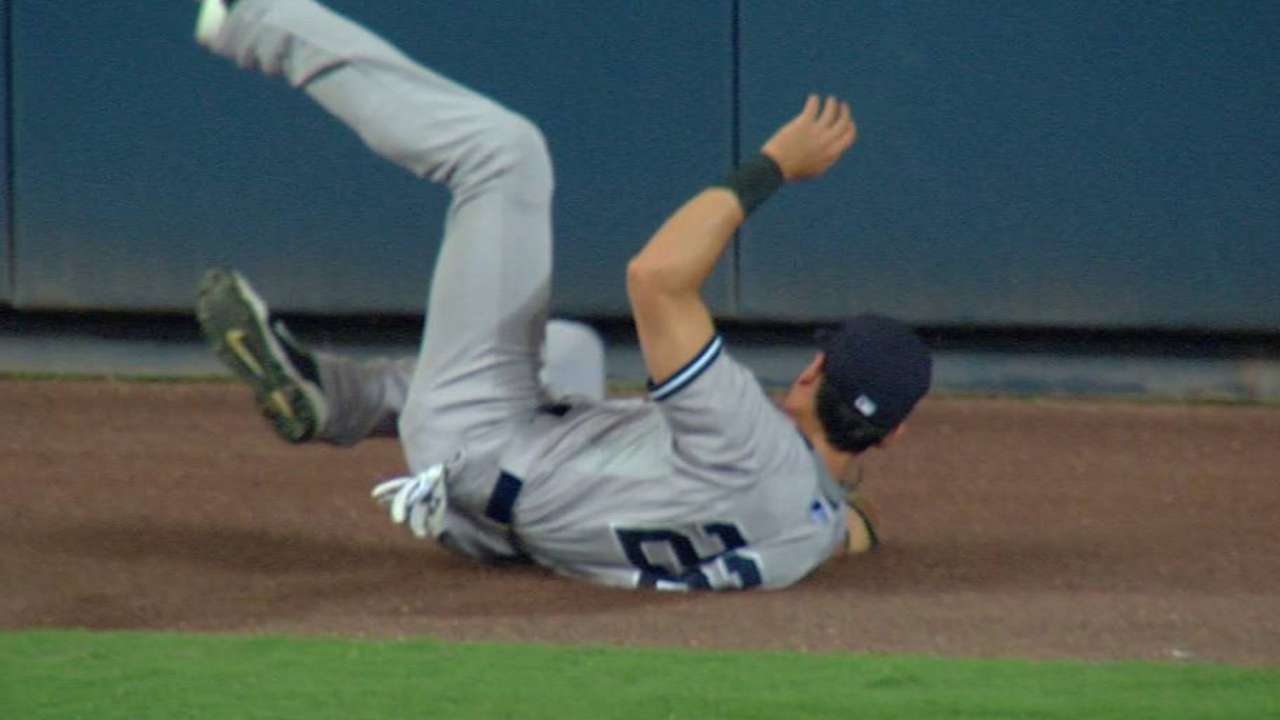 • Bryan Mitchell was activated from the seven-day concussion disabled list prior to Friday's game and pitched the final 1 1/3 innings, allowing a run on two hits. Mitchell sustained a broken nose on Aug. 17 when he was hit in the face by an Eduardo Nunez line drive.
"He did a pretty good job," Girardi said. "I think the important thing for a player when you have something happen like he did is that you get right back out there. Get your feet wet again and get comfortable. I thought he handled it pretty well."
Bryan Hoch is a reporter for MLB.com. This story was not subject to the approval of Major League Baseball or its clubs.