MLB.com Columnist
Terence Moore
Dee's talent only surpassed by his character
Miami second baseman is Gold Glove candidate, hitting .333 with 45 SB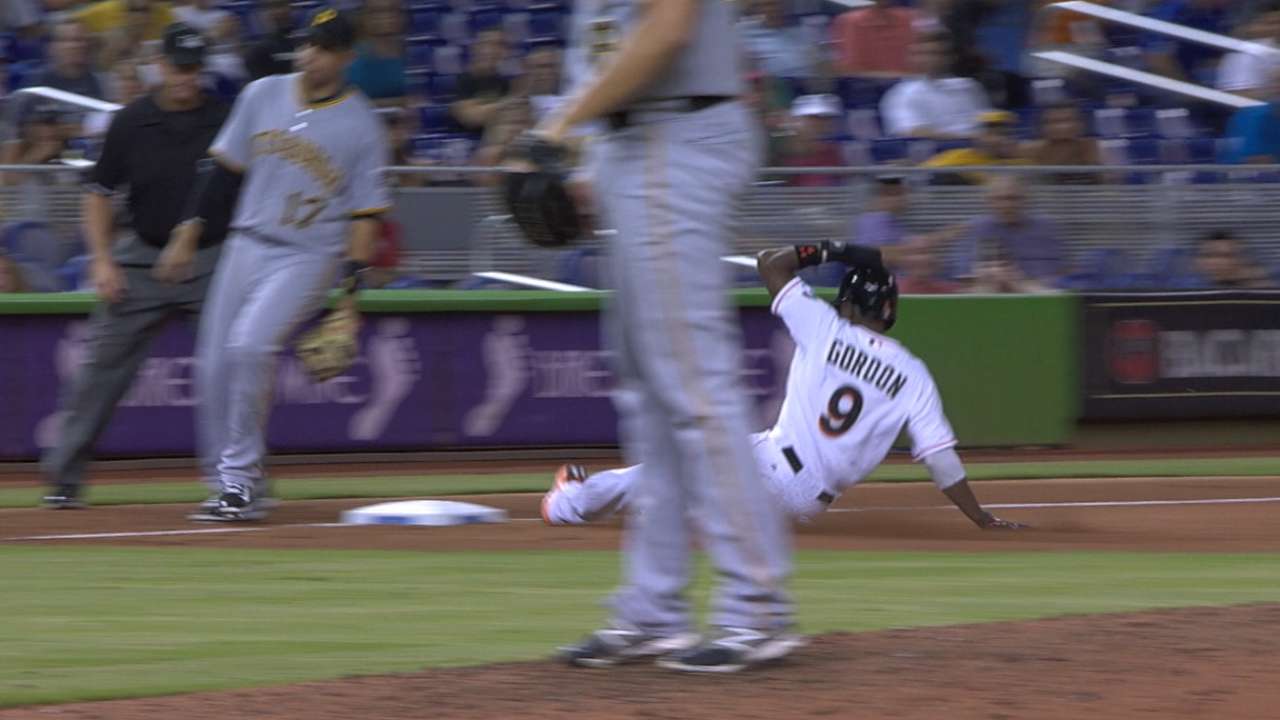 Since there are so many wonderful things to say about Dee Gordon, it's difficult to decide where to start.
OK, what about here? He's honest.
Earlier in the season, Gordon told the Miami Herald that he wasn't exactly the best fielding second baseman when he began his first Spring Training in February with the Marlins. In fact, Gordon confessed to the paper, "I was terrible. I was weird-looking, like an idiot. I remember the first double play I turned I was so ugly. I was like, 'Oh, gosh. I stink.'"
As for now, well, if Gordon isn't the leading candidate to capture the National League Gold Glove Award at second base, he is another diving stop or three away from that distinction. He shrugged, saying, "If I go out there and play good defense, I'll be fine. That's my main focus."
You've guessed it: Gordon also is humble. When he speaks, he looks you straight in the eye, and he gives you the impression that he is baffled as to why you wish to hear from a small-town guy from Central Florida about anything, even about his rise to stardom during his past two seasons in the Major Leagues.
"No, sir. I don't think that way about [how I'm progressing]," said Gordon, who's been in the Majors for five years. "I just try to help my team by trying to score runs."
He has done more than try.
Entering Friday's action, Gordon was tied for 20th in the NL with 62 runs scored, which is impressive when you consider the following: Only the Braves (464) have scored fewer runs in the Major Leagues than the Marlins (472). If you combine that with inconsistent pitching and significant injuries to superstars Giancarlo Stanton and Jose Fernandez, you have the reasons why the Marlins are battling the Phillies in the NL East to stay out of the cellar.
Still, throughout all of that cloudiness for Miami this season, there has been a 27-year-old shining light.
We're back to Gordon, and he can hit, too. His .333 batting average is just .001 points from tying the Nationals' Bryce Harper for the top spot in the Major Leagues. Nobody has more hits than Gordon's 157. He also can run, and he does so as well as anybody in the game.
Which makes you wonder: Who is faster, Gordon or Billy Hamilton, the blur for the Reds?
Gordon paused before he eased into a smile.
"[Hamilton] would say he is the fastest, and I would say me," Gordon said, now laughing. "I don't know. I really don't. I think we have two different running styles. We've never talked about it between ourselves, but I know we both just like to go out there and watch each other play and have fun."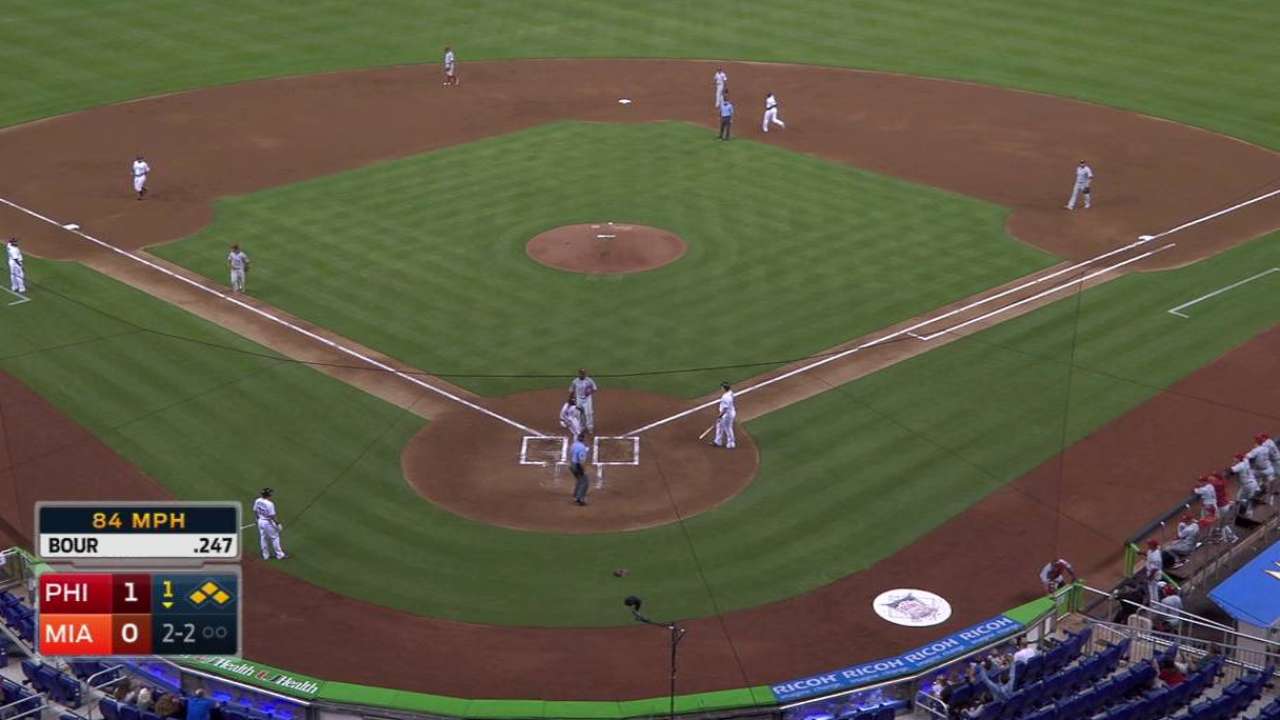 About those running styles ...
"[Hamilton] is more short and quick strides, and I've got a longer stride, so it may not look as if I'm running as fast most times," said Gordon, whose 45 stolen bases trail only Hamilton's 54 in the Majors.
Nobody else is close in steals to Hamilton and Gordon. While the D-backs' A.J. Pollock, the Rockies' Charlie Blackmon and the Astros' Jose Altuve are tied at 33, the Pirates' Starling Marte, the Blue Jays' Ben Revere and the A's Billy Burns are next at 25.
No wonder Gordon said he doesn't study other basestealers. Not even Hamilton.
"Nah, I don't look at any of them in terms of trying to study what they're doing out there," Gordon said. "It seems like I get different stuff from pitchers [when they are going into their stretch] than the other guys. So I try to make sure I do what I have to do."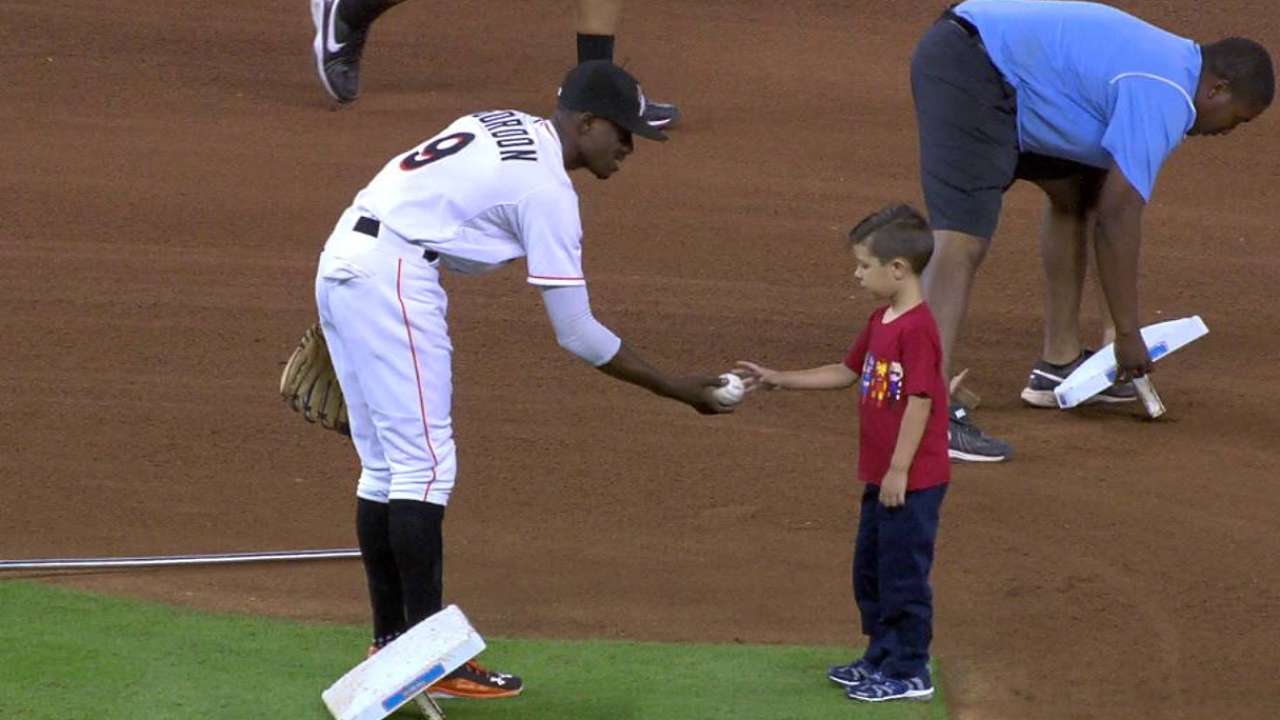 This isn't to say that Gordon hasn't allowed folks to whisper in his ears about baseball in general and stolen bases in particular. He is the son of Tom Gordon, who pitched in the Major Leagues for 21 seasons through 2009. Then the younger Gordon spent his opening four years in the big leagues with the Dodgers, where he encountered Davey Lopes, now coaching after ranking among the game's best all-time basestealers.
Gordon huddled often with Lopes.
"Oh, yes. [Lopes] was a big influence on me, and I watched a lot of [footage of] what he did," said Gordon, referring to the former Dodgers star second baseman who stole 557 bases and was caught only 114 times during his 16-year career.
Lopes led the Major Leagues in steals with 77 in 1975, and he paced the NL the following season with 63. So this wasn't surprising: Gordon led baseball with 64 stolen bases last season, with Lopes as the Dodgers' first-base coach.
It makes you wonder what Lopes said.
"I can't tell you that, because it's secret, inside stuff," Gordon said, showing that he is something else: Loyal. "I also talked to [former Dodgers infielder and prolific basestealer] Maury Wills, so I had two pretty good basestealers in my corner.
"Since Davey was our first-base coach, we talked every day. He is one of the best people I've ever been around."
Some say that about Gordon.
Terence Moore is a columnist for MLB.com. This story was not subject to the approval of Major League Baseball or its clubs.