MLB.com Columnist
Anthony Castrovince
Up for grabs: 5 AL Wild Card stories to watch
Angels, Twins, O's, Rays within 2 1/2 games of Rangers in second spot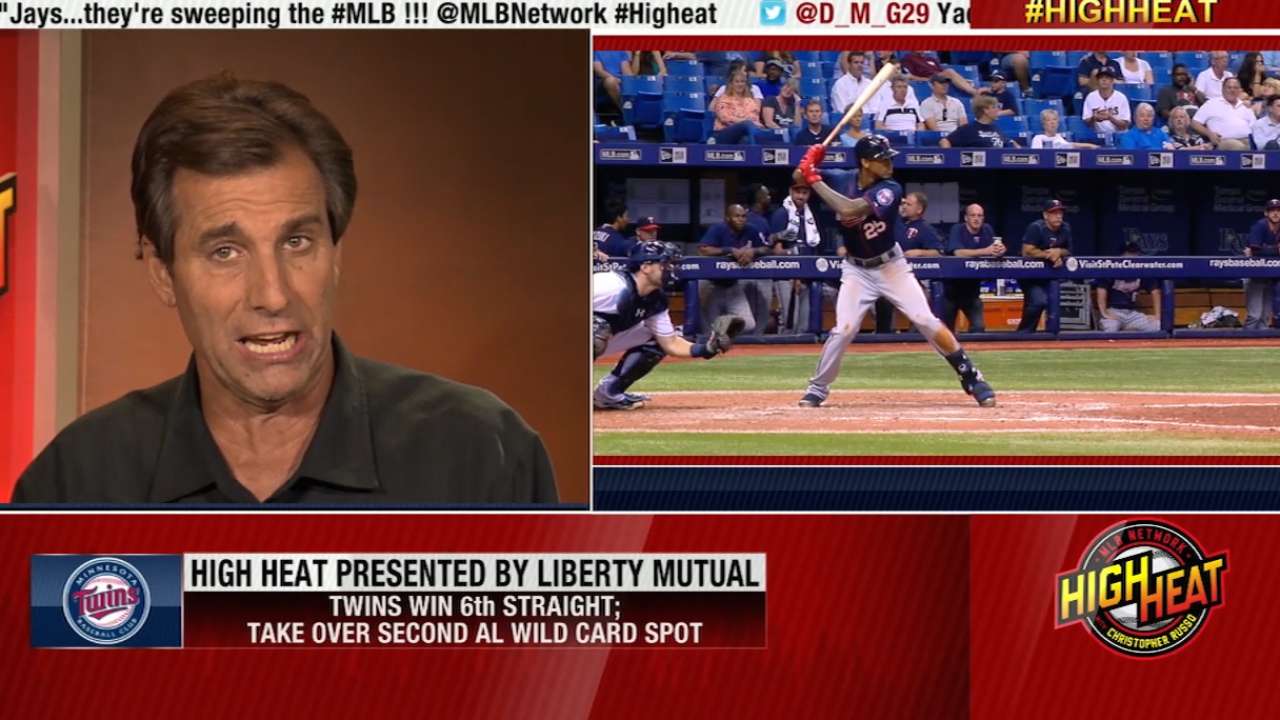 It's abundantly clear that the American League Wild Card race is perfectly content to be complicated. We enter the final weekend of August with four teams within 2 1/2 games of the second spot.
There is very little, if any, reason to believe this thing will be decided before the final day of the regular season (Sunday, Oct. 4), if then. The threat of a tiebreaker still very much looms. And while it seems likely that the top spot will go to the runner-up in the AL East (the Yankees or Blue Jays), there are representatives from all three divisions doing their part to ensure the second spot remains a source of discussion from coast to coast.
Here are five thoughts on the AL Wild Card race:
1. No matter the end result, the Twins have had a successful season
Phil Hughes regressed, Kurt Suzuki regressed, Joe Mauer's post-30 downturn continued, Ervin Santana was suspended for half a season and has an ERA north of 6.00 since his return, Kennys Vargas flamed out, Byron Buxton was hurt again, the shortstop position has generally been unsettled and Ricky Nolasco had another lost year.
That's a ton of blows for a team to take in the wake of a 92-loss season, and yet the Twins are still contending.
Much has been made of Torii Hunter's influence and Paul Molitor's strong work in his first year on the job, and those two men have contributed to a necessary culture change after four straight seasons of 90-plus losses. But nothing has the future looking bright quite like the development of Miguel Sano, whose 2014 was lost to Tommy John surgery. He's thrust himself into the AL Rookie of the Year Award watch despite very little service time this season, lighting up Statcast™ with his electric exit velocity and also racking up enough walks to quell concern over his high strikeout rate. If we can assume Buxton, who has been known to be a slow starter at each level, will eventually settle in at the Major League level, the Twins have two big pieces to build around, and they've come up into an environment where winning, not development, has been the priority, which is a nice bonus. Minnesota might get another injection of upside if the club promotes strikeout artist Jose Berrios in September. You've also got to love the strides taken by Kyle Gibson and Trevor May this season.
Overall, the Twins, in drastically exceeding 2015 expectations to date, have changed the conversation in Minnesota and made fans feel more than a bit better about their future. That's a Twin win.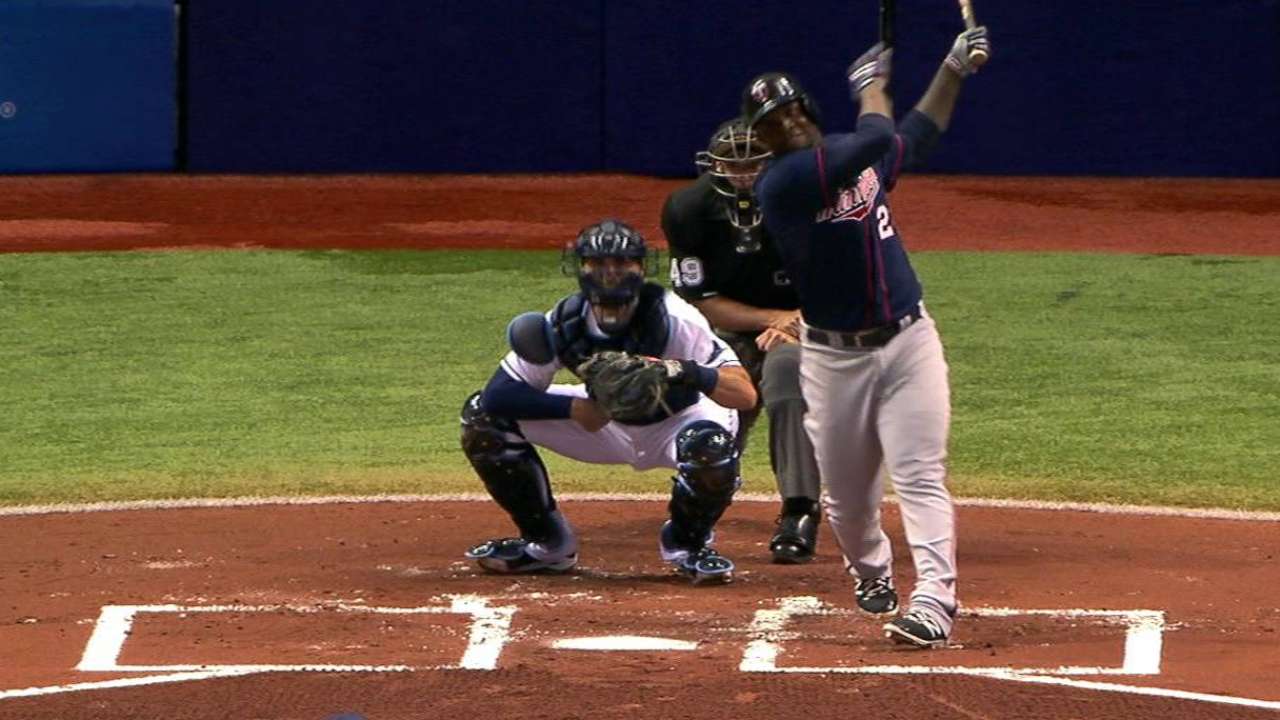 2. Tough stretch for the Orioles
Aug. 18 began a stretch of 25 consecutive games against fellow contenders (the Mets, Twins, Royals, Rangers, Rays, Blue Jays, Yankees and Royals again) for Baltimore. It hasn't started out promisingly, as the Orioles are 2-8 so far, and so when Adam Jones ran into that wall Thursday night, it had a figurative air about it. The O's have not had much offense, effective starting pitching or luck in this stretch.
They'll need all those things to turn around in a huge weekend in Texas. Hopefully Jones is no worse for wear and tear after getting his bell rung by that Kauffman Stadium wall, especially with J.J. Hardy already out with groin issues.
But the guy who's really the source of intrigue at the moment is Chris Davis. We saw earlier in the second half how he's still capable of carrying a lineup, but he's 6-for-37 with one homer and a .593 OPS in his last 11 games.
You don't count out a Buck Showalter team until it is mathematically eliminated, but the Orioles need to get hot -- and soon.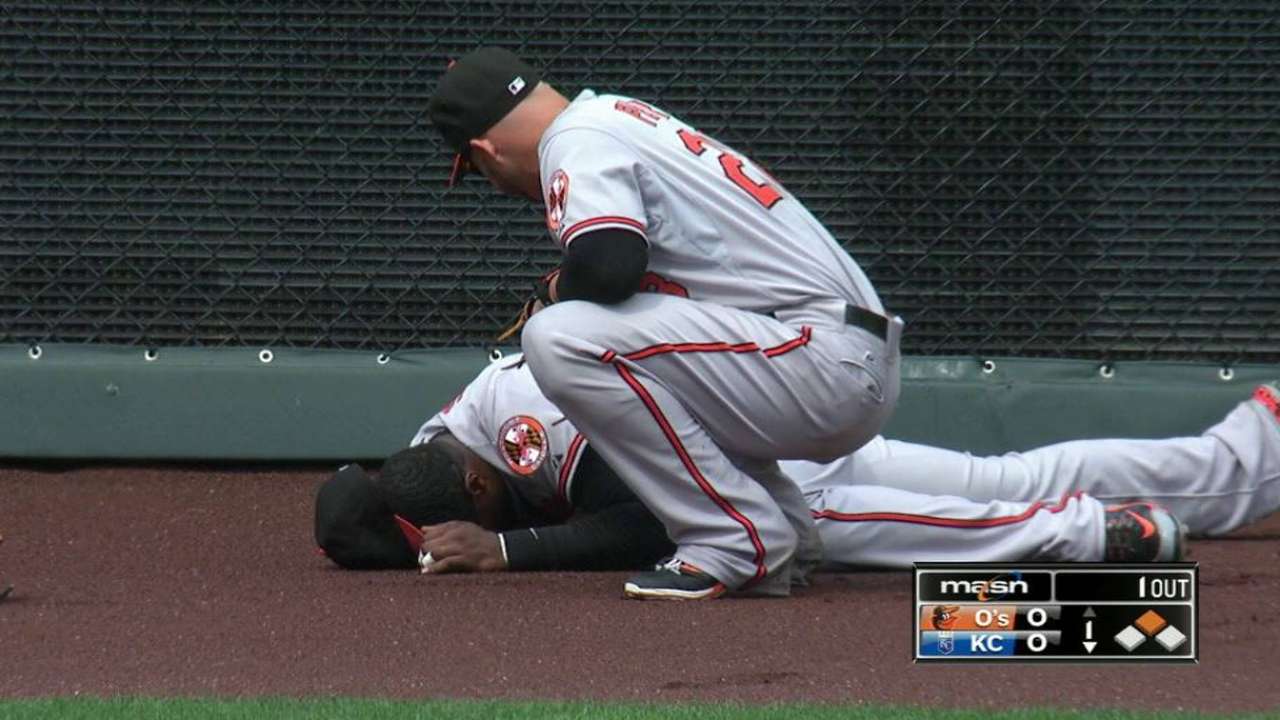 3. Innings piling up for Angels' young arms
As has been at times painfully clear this year, the Angels' offense is all-too-reliant on Mike Trout and Albert Pujols. And when you consider the 35-year-old Pujols has only had two months this season in which his OPS was north of .800 (May and June) and Trout has dealt with a second-half timing issue that has contributed to his unusually low .640 OPS in August, that's not good.
Of perhaps equal concern is the workload being taken on by the Halos' young starters, especially with C.J. Wilson out of the picture. His last start aside, Andrew Heaney has been a vital member of this rotation in his rookie year, and he has already pitched 144 2/3 innings between the Majors and Minors, entering Friday's start in Cleveland. All-Star left-hander Hector Santiago and right-hander Garrett Richards will likely surpass their career highs within the next week.
The Angels have Nick Tropeano as an option in the Minors and a few off-days to play with, but how those young arms hold up down the stretch is a big question for this club.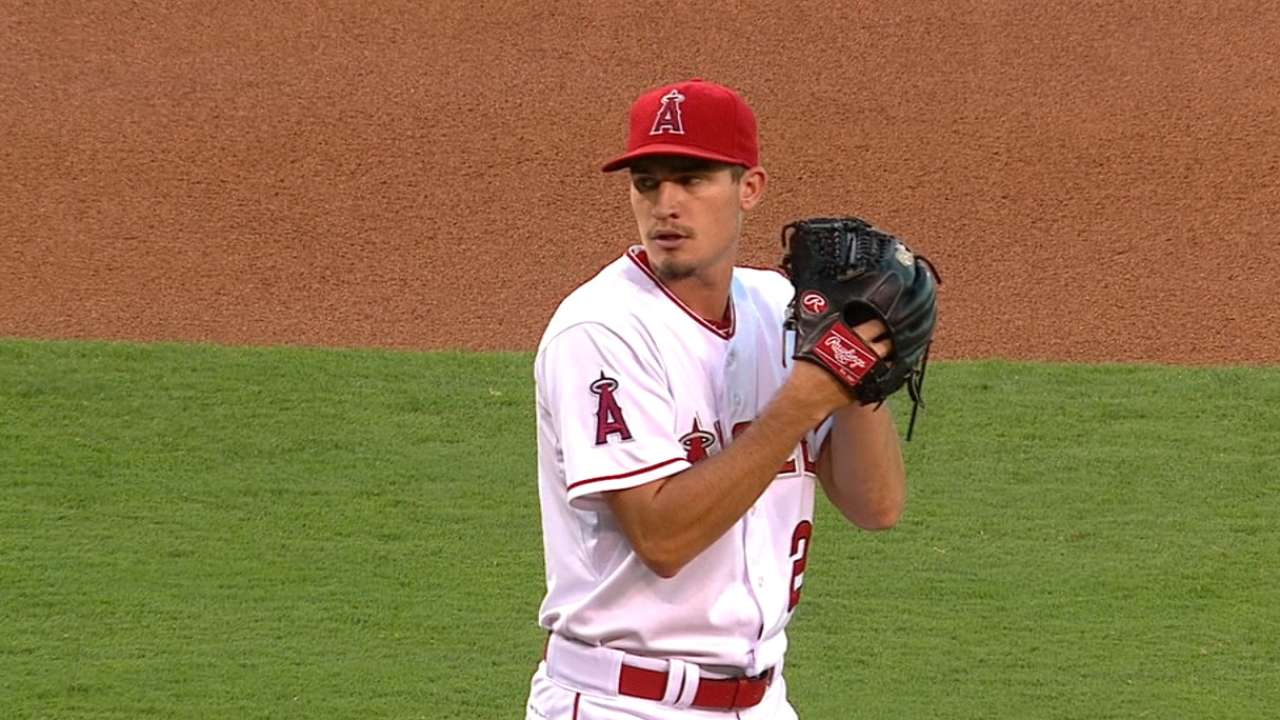 4. The Rangers' biggest upgrade has been the bullpen
Texas enters the weekend just four back of the Astros in the loss column in the AL West. This is a team that continues to amaze, in light of the early season injuries to Yu Darvish and Derek Holland and the fact that, just one month ago, we were wondering if they'd be sellers at the Trade Deadline.
Instead, the Rangers bought in a big way with the Cole Hamels trade. And his arrival, paired with Holland's return, has helped improve the late-season outlook for a club many people counted out before the season even began.
The biggest improvement, though, has come in the bullpen. A less-heralded part of the Hamels trade, left-hander Jake Diekman has come through with a 0.923 WHIP and a 2.08 ERA in 14 appearances. Right-hander Sam Dyson, acquired in a low-profile swap with the Marlins just before the Deadline, has been a ground-ball machine with a 2.40 ERA and a 1.00 WHIP in 14 appearances.
Bullpen consistency was an issue all year for the Rangers, most notably with Neftali Feliz flaming out. But a couple new power arms have changed the scope of the late-inning situation.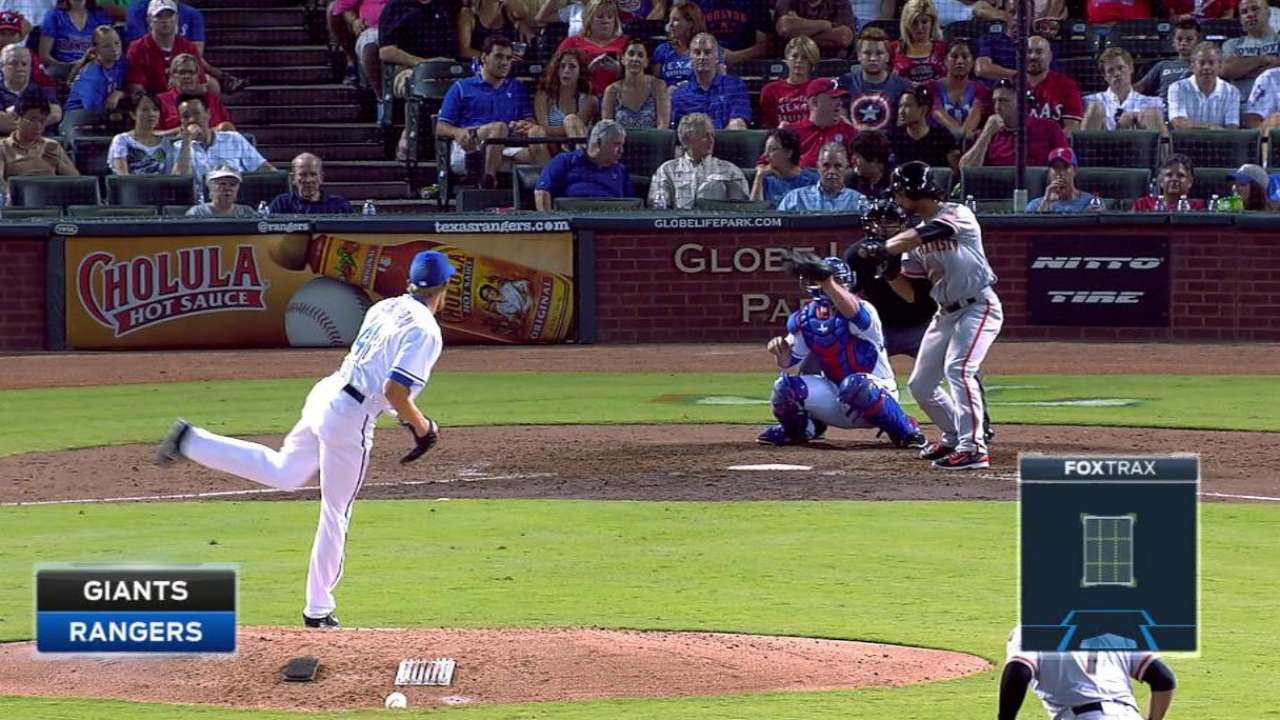 5. Did Francisco Lindor arrive too late to save the Indians?
The Indians and White Sox enter the weekend just five games back of a postseason spot but with four teams separating them from the second Wild Card. That's asking a lot down the stretch, not just of Cleveland and Chicago, but of the clubs in front of them.
Like their Central peers in Detroit, neither of these clubs has panned out as planned. But you can't help but wonder how different this situation might be in Cleveland, in particular, had Lindor arrived earlier than June 14.
Since his arrival, Lindor has contributed a .310/.349/.435 slash line and -- this is the important part -- four defensive runs saved in only 566 innings. That ties for the most defensive runs saved of any AL shortstop with at least 500 innings this year. So in his short time in the bigs, Lindor has already been worth 2.4 Wins Above Replacement, per Baseball Reference.
This is not a perfect science, because sometimes timing is everything when it comes to a player's developmental path. But if we could extrapolate Lindor's WAR over a longer period -- say, a May 1 promotion -- Lindor could have very well been worth another 1.4 wins.
The bottom line is that the improvement over what the Tribe was getting from Jose Ramirez in the season's first two-plus months has been massive. When Lindor had a hot stretch at Triple-A Columbus in late April, with Ramirez struggling, various people (myself included) were vocal about calling him up and giving him a shot. The Indians waited. And because every win is precious in this crowded Wild Card race, I wonder if they waited too long.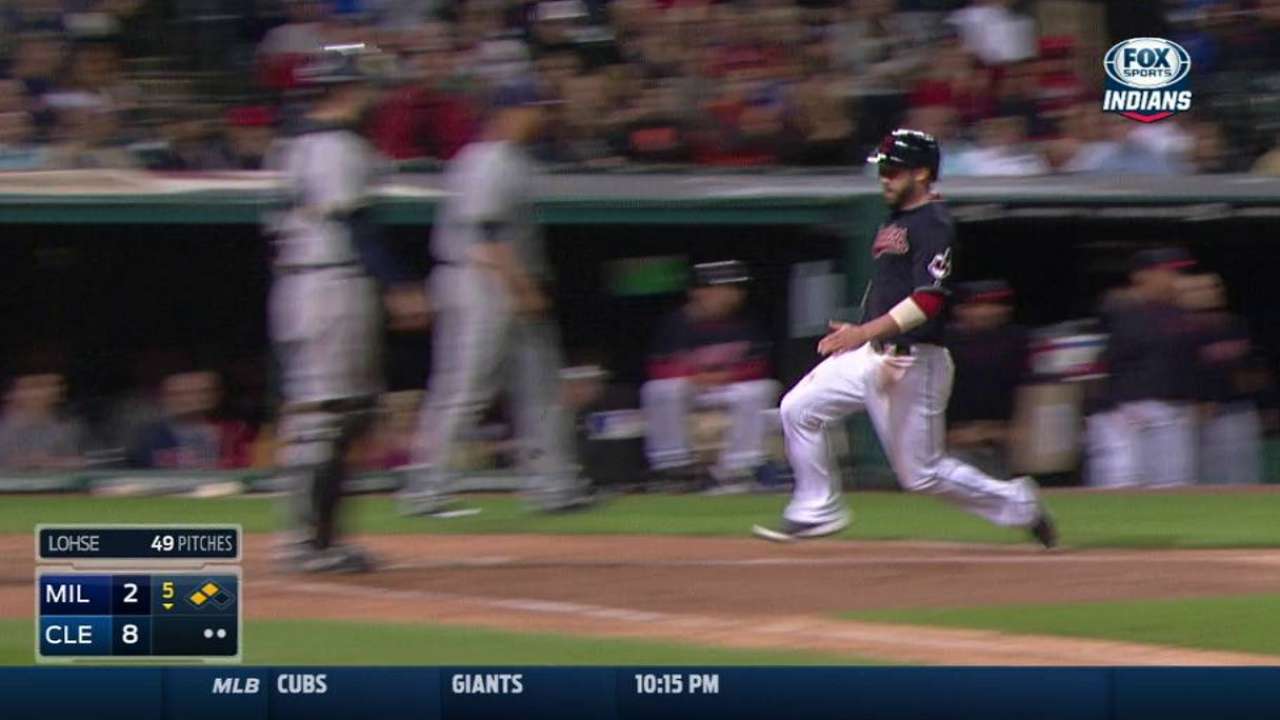 Anthony Castrovince is a reporter for MLB.com. Read his columns and follow him on Twitter at @Castrovince. This story was not subject to the approval of Major League Baseball or its clubs.