Salazar scratched from start due to illness
Bauer takes hill in his place; Johnson, Floyd beginning rehab assignments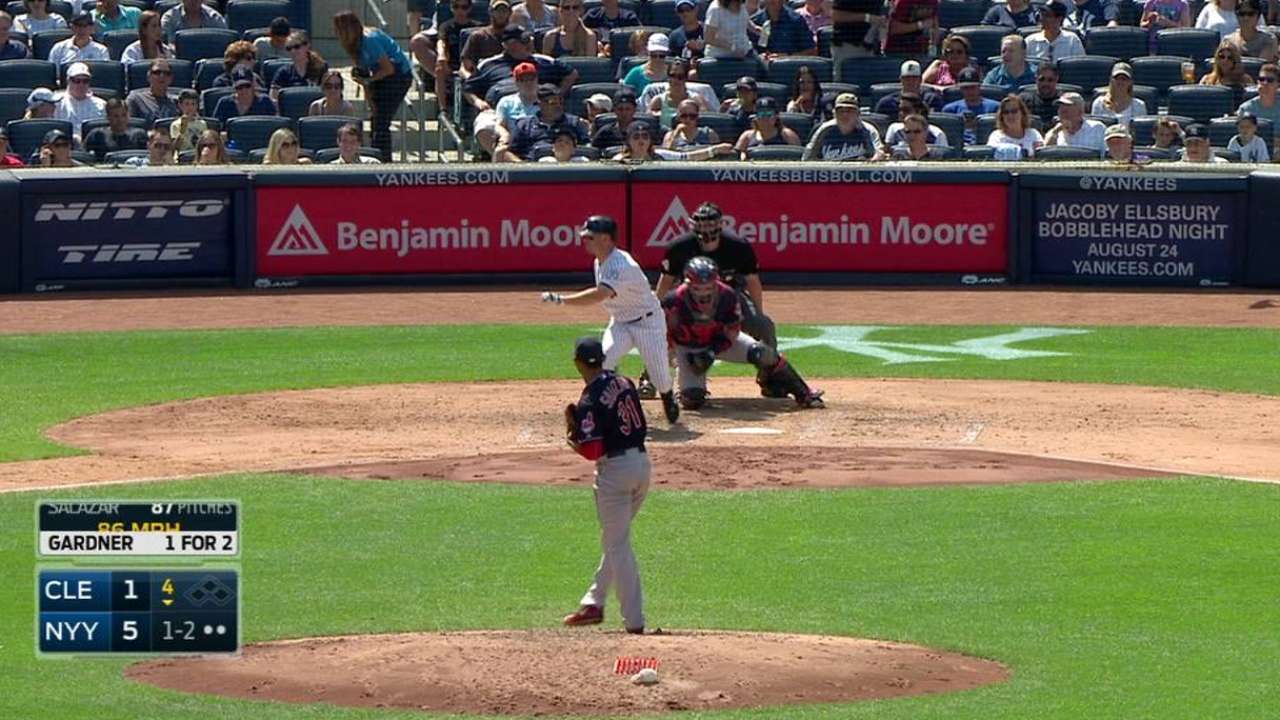 CLEVELAND -- Indians starting pitcher Danny Salazar was scratched from his scheduled series-opening Friday start against the Angels due to illness. Right-hander Trevor Bauer got the start on a normal four days' rest, thanks to an off-day on Thursday.
Salazar fell ill on Tuesday, following a Saturday start in New York. He has since lost "five or six" pounds, but he was at the park Friday feeling better and went through his normal routine.
"A couple of days ago, Danny got a virus and got pretty sick," Indians manager Terry Francona said. "Then he rallied the next day. Then we were like 'OK, he'll be OK.' But then he got sick again."
Despite a clunker his last time out, Salazar has pitched exceptionally lately, allowing a 1.99 ERA over his past eight starts, with 54 strikeouts in 54 1/3 innings.
Bauer, who was scheduled to start Saturday, has not yet faced the Angels this season. He was informed on Thursday that he would be starting the next day, so he was able to go through his full routine for Friday's start.
Corey Kluber will take the hill after Bauer, followed by Josh Tomlin on Sunday. Salazar will return to the mound Monday in Toronto.
"What it does is, it gives him a normal five-day where he has the side day and gets some of his strength back," Francona said. "That way he's not just going out there and going four and five and putting some stress on the bullpen. I think this has the chance to work out better for everybody, but we wanted to check with the pitchers first."
Worth noting
• Indians corner infielder Chris Johnson began a rehab assignment with Double-A Akron on Friday, where he will serve as the designated hitter for three at-bats. Johnson, recovering from an infected bug bite on his hand, will play again Saturday in the field, at either first or third base. He is expected to rejoin the Indians on Tuesday in Toronto.
• Pitcher Gavin Floyd is also set to begin a rehab assignment in Akron, where he is scheduled to throw three innings on Saturday. The team will then sit down with Floyd and evaluate his next step in the rehab process as he recovers from right elbow surgery in March. Francona has indicated that there is a possibility that Floyd will be used out of the bullpen down the stretch.
August Fagerstrom is an associate reporter for MLB.com. This story was not subject to the approval of Major League Baseball or its clubs.