MLB.com Columnist
Jim Callis
Olivera, Berrios top list of fantasy prospects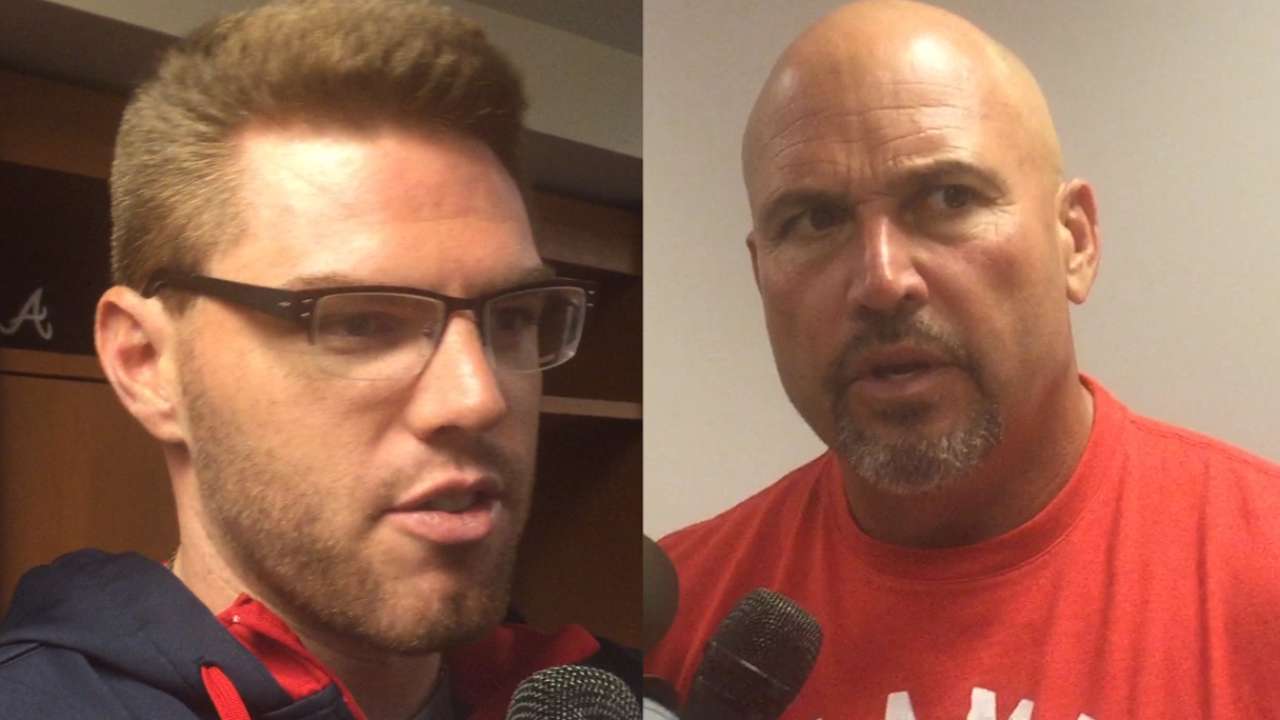 Every week, the MLBPipeline.com crew will rank the top 10 fantasy baseball prospects in the Minor Leagues. These rankings are based solely on expected 2015 fantasy production in the Major Leagues, in contrast to the MLBPipeline Top 100 Prospects list, which reflects long-term value in all phases of the game.
In the previous three seasons, five Cuban-born players placed in the top two in Rookie of the Year Award voting. Yoenis Cespedes finished second in the American League in 2012, Jose Fernandez won in the National League while Jose Iglesias and Yasiel Puig were the runners-up in each league in 2013, and Jose Abreu took top honors in the AL in 2014.
No Cuban will rank that high this year, but two of them have been among the hottest fantasy rookies -- and among the hottest fantasy players overall -- in August.
Red Sox outfielder Rusney Castillo, who signed a $72.5 million contract a year ago, has made the most of a lineup opening created when Shane Victorino was traded to the Angels last month. He's hitting .318/.417/.603 with three homers and two steals in 18 games, and he could be a 20-20 player as early as next season.
The Reds have used an all-rookie rotation this month that has produced mostly ugly results. David Holmberg, John Lamb, Michael Lorenzen and Keyvius Sampson have combined for a 7.63 ERA, while Anthony DeSclafani has been more respectable at 4.20. Raisel Igleisas has been the long bright spot.
Many evaluators envisioned Iglesias as a reliever when the Reds landed him with a $27 million deal last June, but he has looked very good as a starter. He has gone 2-2 with a 1.93 ERA, a 35/8 K/BB ratio and a .145 opponent average in 32 2/3 August innings. And Iglesias struck out a career-high 13 against the Diamondbacks last Sunday. He's relying mostly on his sinker and his slider, and his changeup also has been effective.
On the subject of Cubans, another occupies the top spot on our latest Fantasy Top 10 and should make his big league debut next week ...
1. Hector Olivera, 3B/2B, Braves (last rank: 1). Signed to a $62.5 million contract by the Dodgers in March, he was the key player Atlanta received in a 13-player trade with Los Angeles and the Marlins in July. Olivera has spent most of his time since recovering from a hamstring injury, but he has 20-homer potential over a full season and could provide more power than anyone in the Braves' lineup in September.
2. Jose Berrios, RHP, Twins (last rank: 6). Minnesota has treaded water in the AL Wild Card race by going 12-13 in August, while its starters have struggled. During the same time, Berrios has posted a 2.12 ERA and a 43/3 K/BB ratio in five Triple-A starts. He doesn't have to be protected on the 40-man roster until after the 2016 season, but shouldn't making the playoffs carry more weight?
3. Dalton Pompey, OF, Blue Jays (last rank: 8). Yes, he lost Toronto's center-field job by hitting .193/.264/.337 in April. But he has raked in the Minors for the past three months while Kevin Pillar has scuffled since the All-Star break. Pompey could provide a dose of speed and pop if he gets a second chance in September.
4. Richie Shaffer, 3B/1B, Rays (last rank: unranked). Tampa Bay could use some more power as it tries to stay afloat in the AL Wild Card chase, and Shaffer has gone deep 26 times in the Minors this year, and twice in eight games with the Rays earlier this month. Shaffer could at least platoon with James Loney at first base and provided an alternative right-handed DH in case Joey Butler turns back into a pumpkin.
5. Michael Fulmer, RHP, Tigers (last rank: 3). Acquired from the Mets in the Yoenis Cespedes trade last month, Fulmer has yet to pitch above Double-A and isn't on Detroit's 40-man roster. But the Tigers have all kinds of rotation problems with Shane Greene, Daniel Norris and Anibal Sanchez hurt, Buck Farmer and Alfredo Simon getting shelled and Randy Wolf nearing AARP eligibility.
6. Corey Seager, SS, Dodgers (last rank: 2). We've written this many times before, and here we go again: Seager is the best prospect currently in the Minors and would produce more than ancient Jimmy Rollins at shortstop or slumping Justin Turner at third base. But he doesn't have to be added to Los Angeles' 40-man roster until after the 2016 season and the club has resisted the temptation to call him up all season long. Still just 21, Seager is having his best month in Triple-A, with a .300/.342/.473 line and four homers in 27 games.
7. Joey Gallo, 3B/OF, Rangers (last rank: 7). It's impossible to ignore his strikeout numbers: 43 in 25 big league games in June, and 86 in 50 Triple-A contests since. But Gallo has as much raw power as anyone in baseball and could deliver six to eight homers for Texas in September if he gets an opportunity and heats up.
8. Rob Refsnyder, 2B, Yankees (last rank: unranked). Since he went 2-for-12 with a homer in four games with New York in mid-July, the club has resisted the urge to give the offensively gifted and defensively challenged Refsnyder more playing time at second base over light-hitting Stephen Drew and Brendan Ryan. That could change as the Yankees battle for playoff position.
9. Micah Johnson, 2B, White Sox (last rank: unranked). Defensive and baserunning miscues cost him the second-base job in Chicago in mid-May, but he has hit .331/.388/.485 with 27 steals in 68 Triple-A games since. Though a hamstring injury sidelined him earlier this month, Johnson is healthy now and clearly has more offensive upside than the White Sox current starter, Carlos Sanchez.
10. Jose Peraza, 2B/OF, Dodgers (last rank: 9). Los Angeles has more infielders than it knows what to do with, so he won't get many at-bats on September. However, Peraza is virtually guaranteed a callup because he's already on the 40-man roster and he has the well-above-average speed to take advantage of the stolen-base opportunities that come his way.
Dropped out: Archie Bradley, RHP, Diamondbacks (last rank: 4); Trea Turner, SS, Nationals (last rank: 5/promoted); Nomar Mazara, OF, Rangers (last rank: 10).
Jim Callis is a reporter for MLB.com and writes a blog, Callis' Corner. Follow @jimcallisMLB on Twitter. This story was not subject to the approval of Major League Baseball or its clubs.