Young Phils compete, but just can't solve Mets
Club was in multiple contests during four-game series with division rivals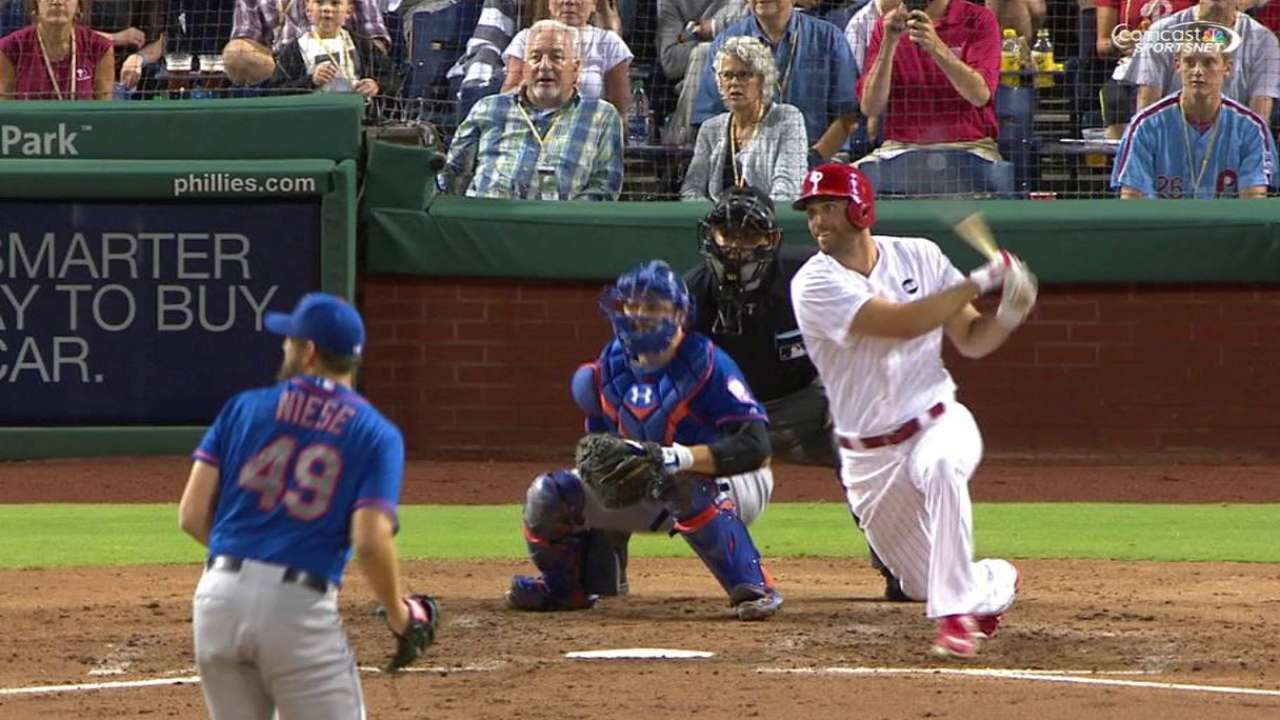 PHILADELPHIA -- Asked about the Phillies' week against the Mets, Jeff Francoeur just shook his head.
The Mets beat the Phillies in 13 innings Thursday night at Citizens Bank Park, 9-5, to complete the four-game sweep. It was the first time the Mets had swept the Phillies in a four-game series in Philadelphia since Sept. 6-9, 2002. The Phillies have lost nine consecutive games to New York, which is their longest skid against the Mets since a 10-game losing streak from Sept. 19, 1971, to June 28, 1972.
The Phillies also have lost 13 of their last 14 games to the Mets, and 23 of their last 28.
"We were legitimately in some games," Francoeur said. "We just had a tough time keeping them off the scoreboard. Our pitching has done a great job in the second half. But the Mets are swinging the heck out of the bats. They're feeling confident and good, you know?"
The Mets scored 40 runs and hit 13 home runs in the series. The Phillies scored 21 and hit six.
"That tells the story," Phillies interim manager Pete Mackanin said. "We know what our issues are and we have to improve."
They must improve their pitching. Phillies starters had a 7.29 ERA in the series. They allowed 27 hits, 19 runs, 17 earned runs, six walks, eight home runs and struck out 14 in 21 innings. Phillies relievers posted an 8.53 ERA, allowing 28 hits, 21 runs, 18 earned runs, 11 walks, five home runs and striking out 16 in 19 innings.
"We're a young team," Mackanin said. "Sure, we've got a lot of issues. We've got to improve. But we've got a good start. There are some good-looking players that are developing and showing signs of becoming pretty good players."
So the Phillies will try to put this series behind them. Besides the home runs the Mets hit and the runs they scored, each game lasted at least 3 hours, 16 minutes. Thursday night's lasted 4 hours, 32 minutes.
That made it a little more painful for Philadelphia.
"It stinks because of all the Mets fans coming in here and stuff," Francoeur said. "It stinks to get swept. It hurts a little bit. And the length of the games. Tonight going 4 [hours] ... whatever. Long enough, put it that way."
Todd Zolecki is a reporter for MLB.com. Read his Phillies blog The Zo Zone, follow him on Twitter and listen to his podcast. This story was not subject to the approval of Major League Baseball or its clubs.