Elias flashes potential in uneven return
Mariners lefty allows 4 runs, takes loss in first start since July 2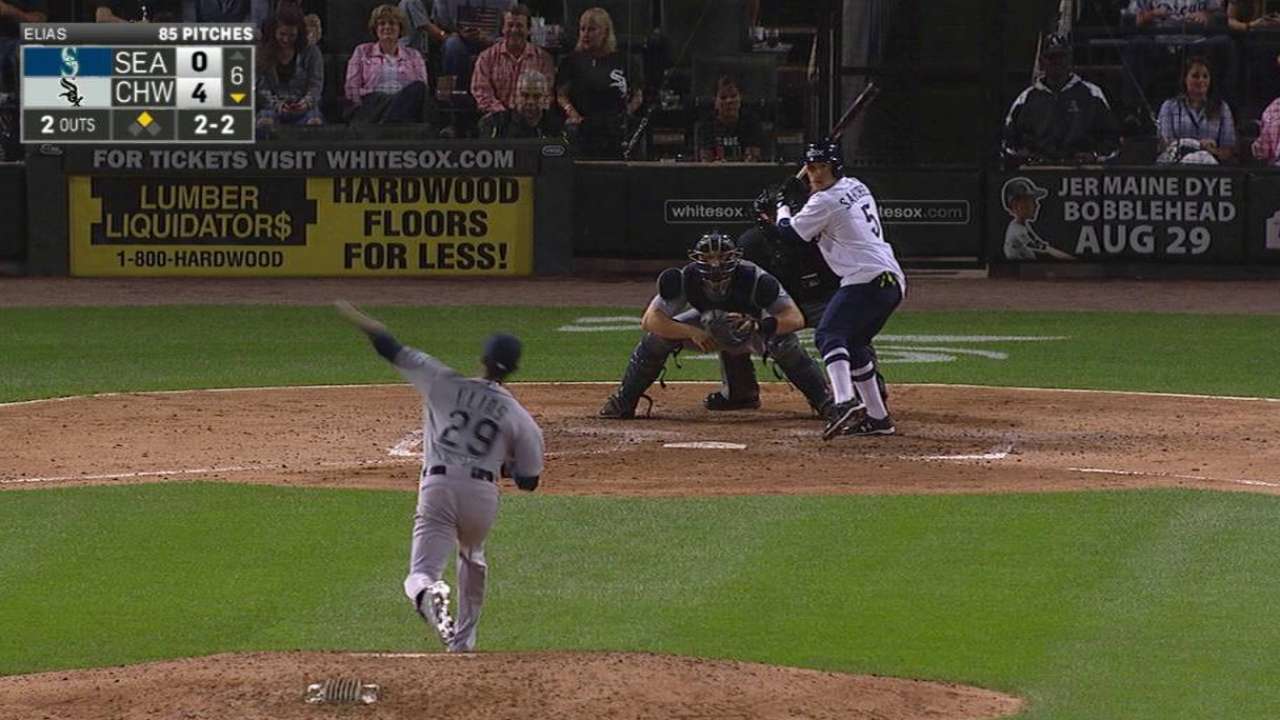 CHICAGO -- The results were mixed for Roenis Elias in his return to the Majors. Elias called his performance "inconsistent." His catcher, Mike Zunino, said he settled in "great," and manager Lloyd McClendon said he was "OK."
In his first start with Seattle since July 2, Elias pitched well enough to keep his team in the game but not enough for the win as the Mariners dropped the series opener against the White Sox, 4-2, on Thursday night.
Elias allowed four runs over 6 2/3 innings but gave up nine hits as he picked up the loss. After nine starts in Triple-A Tacoma, Elias didn't quite have all of his pitches working right from the beginning.
"I felt good. My fastball command was a lot better," Elias said through an interpreter. "My curveball was not very good. I'd try to throw it for a strike and it was in the dirt.
"Sometimes you lose focus on the first hitter. I was inconsistent."
His biggest struggle came with leadoff batter Adam Eaton, who reached base four times and scored three runs. The lefty has allowed left-handed batters to hit .246 off of him, but he hasn't been effective keeping the ball in the zone, Zunino said.
Elias settled down after a shaky start and used a double play to escape a jam in the fifth frame.
"The first inning, I thought his command was a little bit off, but I thought he settled into the later innings just great," Zunino said. "He threw all his off-speed pitches for strikes and really hit his spots with his fastball. I think those first two innings there were a couple of hiccups with his spots, but other than that once he got in his groove he was great."
Earlier in the day, McClendon joked he'd like to see the left-hander go nine innings while allowing one run, but he took the outing he got from Elias. In a rotation that has struggled for consistency, a confident Elias would give his team a much needed pickup.
"This kid is a competitor," McClendon said. "He loves to compete and he won't be afraid of the stage. If his stuff is on, if he's throwing strikes with all four of his pitches, he's going to be a bear out there."
Greg Garno is an associate reporter for MLB.com. This story was not subject to the approval of Major League Baseball or its clubs.