M. Upton puts on a show for Padres in OF
Center fielder makes three tremendous plays to help keep game close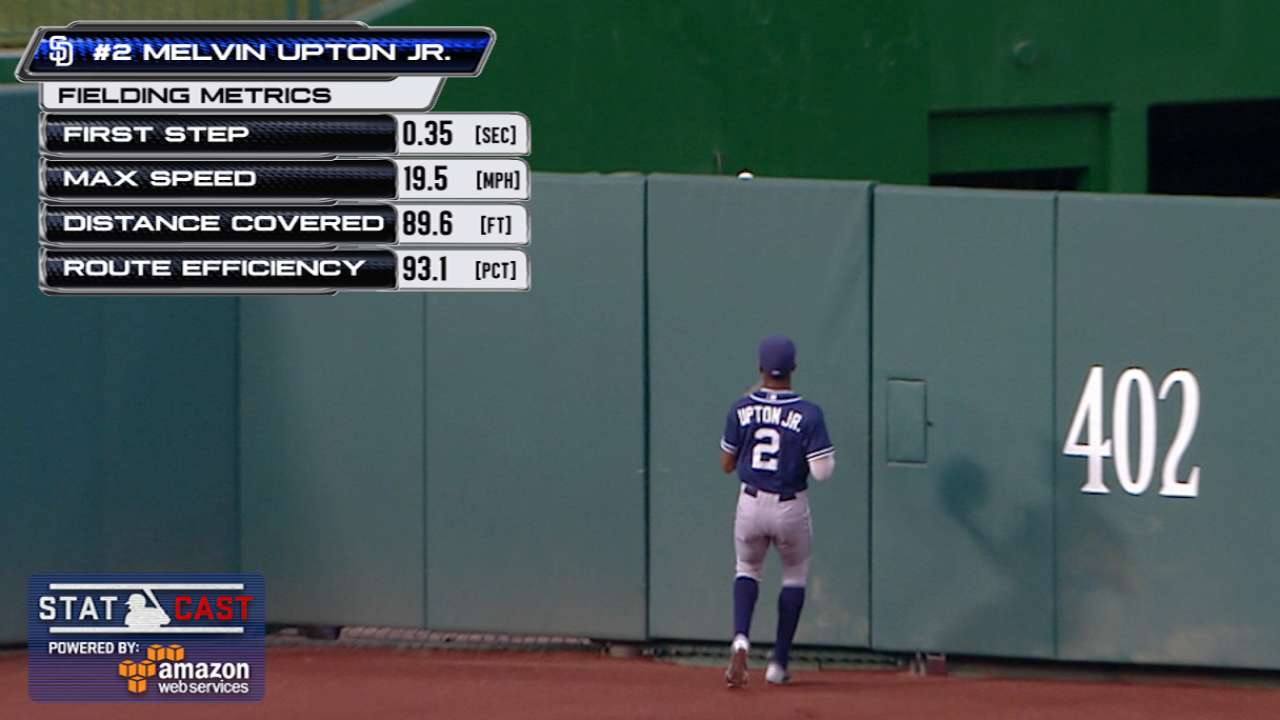 WASHINGTON -- If you've seen Nationals Park, you know that it's not a symmetrical ballpark, which actually served Padres center fielder Melvin Upton Jr. well Thursday during a 4-2 loss in his pursuit of a long fly ball off the bat of Ryan Zimmerman.
With two on and two outs in the first inning, Zimmerman jumped on a pitch from Andrew Cashner, sending it toward where the wall meets in an apex at 402 feet, its furthest point from home plate.
Upton needed all of that space, hauling in the catch with a basket grab, one of three defensive gems he made to keep the game close. According to Statcast™, he reached a max speed of 19.5 mph and covered 89.6 feet with a route efficiency of 93.1 percent.
"He's playing as good of baseball as I've seen him play. He thought he was going to have to go further, the ball kind of died on him, so he made the adjustment," said Padres interim manager Pat Murphy. "He's a great athlete, he can do that."
Upton also trapped a single off the bat of Anthony Rendon in the third inning and alertly threw to first base, which allowed first baseman Yonder Alonso to tag out Jayson Werth for the second out in the inning.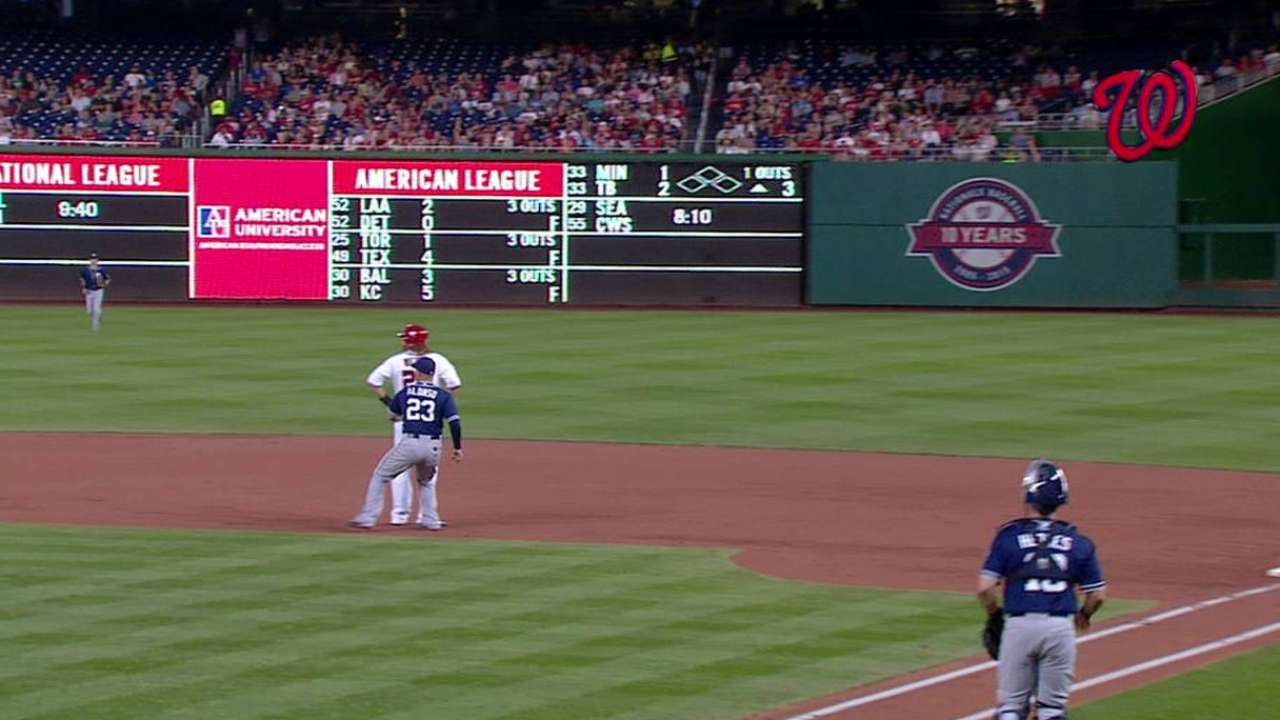 During the Nationals' two-run fifth inning, he helped prevent greater damage when he threw out the speedy Bryce Harper trying to score from second base on Zimmerman's single to center field, keeping the game at 2-1.
"For me, I take pride in my defense," Upton said. "… When you have [Cashner] out there the way he pitched, he kept us in the game. Unfortunately, we didn't score any runs for him. But we played some defense behind him and gave ourselves a shot."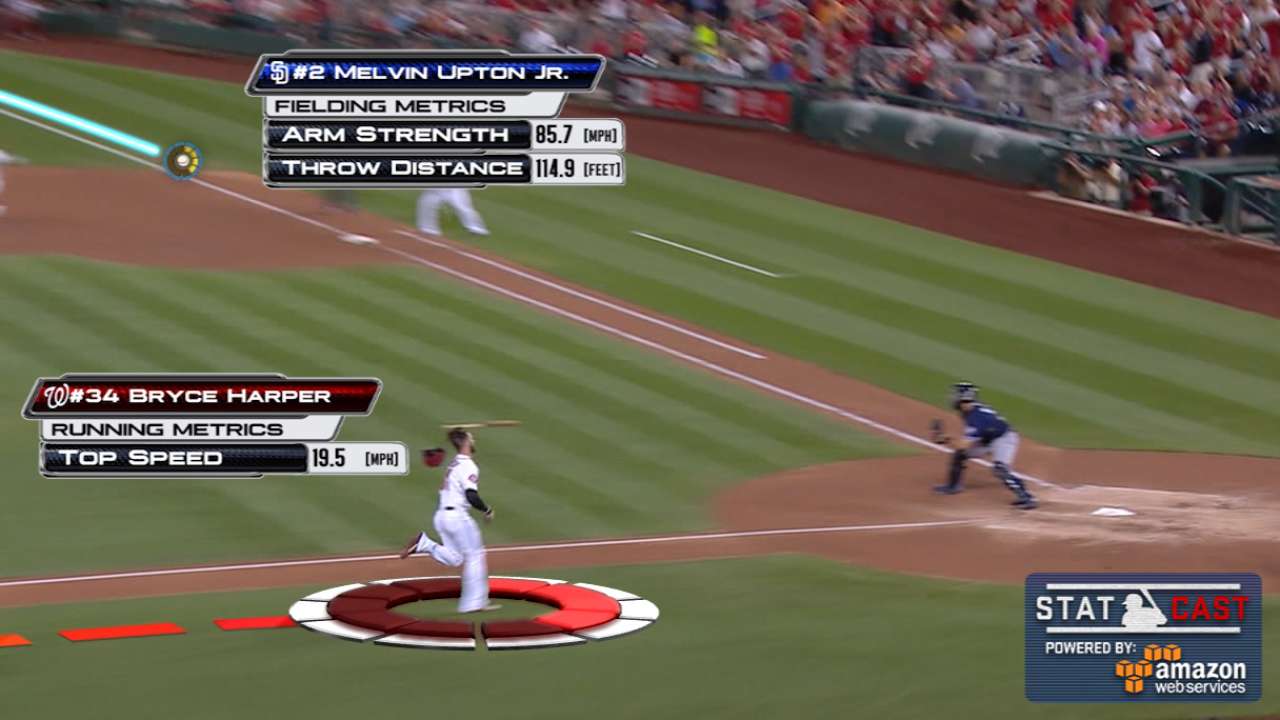 Cashner, who allowed three runs in 5 2/3 innings, came away impressed by the play of Upton in center field, especially the catch in the first inning.
"It was huge. He's a true center fielder. That was one of the best ones I've seen besides Will Venable's catch in San Francisco [in 2013]," Cashner said. "He runs like a deer out there. That and the throw out there, that was big. It kept the game at 2-1."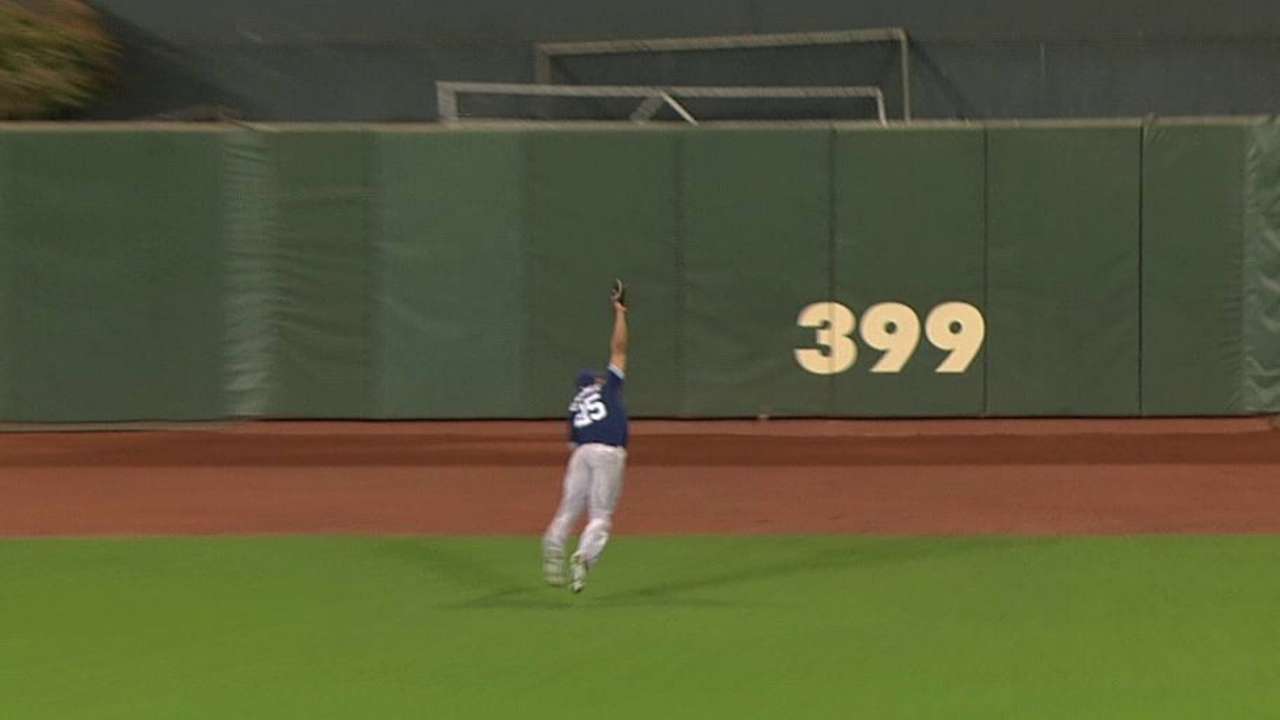 Upton said what made that catch difficult was that the ball was starting to die on him at the last moment while he was still running hard after it.
"It came off pretty hot but I knew I had a bead on it, and it kind of started to fade back toward me," he said. "I didn't plan on it doing that, but that's the way it played out. I did my best to stick with it."
And the throw home to nab Harper? He said a lot of the credit goes to catcher Austin Hedges, who made a nice play to dig the ball out of the dirt to put a tag on Harper.
"Out of the hand I thought it was going to be high, where I was positioned and how hard it was hit, I knew I had a shot at him," Upton said. "I knew it would be bang-bang if anything.
"Hedgie made a great play to pick it. Short hops are pretty tough. The stars were aligned on both ends and we came up with a big out in both situations."
Corey Brock is a reporter for MLB.com. Keep track of @FollowThePadres on Twitter and listen to his podcast. This story was not subject to the approval of Major League Baseball or its clubs.