Alvarez's solo blast reaches rare territory
Pirates first baseman's 443-foot homer shows off his power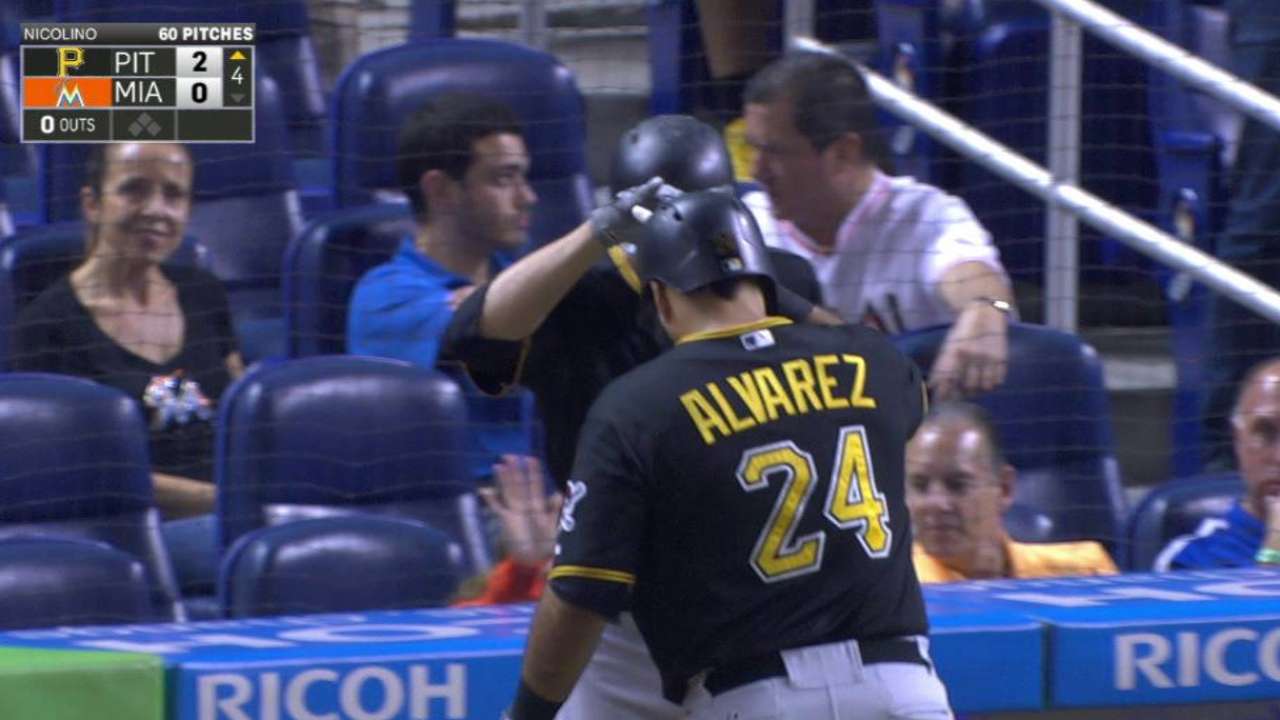 MIAMI -- Marlins Park can be a frustrating place for even the most powerful hitters. The lime-green wall in center field is 418 feet away, but it often feels like a mile. All week, the Pirates watched balls get swallowed up by the vast outfield expanse.
But Pedro Alvarez made the park's sizable dimensions look small in the fourth inning Thursday night, blasting a 443-foot solo shot off Marlins lefty Justin Nicolino that wound up being the deciding run in the Pirates' 2-1 win.
But the Bucs weren't surprised by Alvarez's display of power, even if the ball went into territory -- the bushes beyond the center-field fence -- that only Marlins slugger Giancarlo Stanton regularly reaches.
"He's got as much raw power as anybody in the game -- maybe [along with] the guy over there," Pirates manager Clint Hurdle said, referring to Stanton. "Pedro works hard to be a complete player. His run-producing ability has carried us at times in the past, and in the second half it's given us a big shot in the arm."
That's particularly true of late, as Alvarez has hit .354 with six home runs in his last 18 games. Thursday's monster shot brought Alvarez's home run total to 21 on the year, but it was just his third off a left-handed pitcher.
The Pirates are in the middle of a stretch in which they're facing five lefty starters in a six-game span. Hurdle knew he couldn't sit the left-handed Alvarez for all of those games, so he sought the matchups that best suited Alvarez's swing.
That was evidently the case Thursday night against Nicolino, whose 85-mph cutter came off Alvarez's bat at 111 mph, according to Statcast™'s tracking technology.
"It's just getting those opportunities to go up there and battle," Alvarez said. "Really just try to stick to a good approach and work with what I'm given."
Quietly, Alvarez has been better than ever against left-handers. He's batting .306 in 51 plate appearances against southpaws.
"He's shown the ability to have some good at-bats," Hurdle said. "He's been swinging the bat better. The second half, the overall package has been good. He's been producing runs.
"We're just trying to look for opportunities where we think the pitch patterns and the swing have an opportunity to match up."
Clearly, Hurdle found one Thursday night, allowing Alvarez to find rare ground in this ballpark.
"You can't think about that. You can't control where a ball goes, how far it goes," Alvarez said. "You can try to put yourself in the best position to hit a ball well, and that's sticking to an approach and trying to make good contact, square up the ball the best you can. After the ball hits the bat, it's out of your control."
Adam Berry is a reporter for MLB.com. Follow him on Twitter at @adamdberry. This story was not subject to the approval of Major League Baseball or its clubs.