MLB.com Columnist
Phil Rogers
Cruz has found a home and taking a liking to it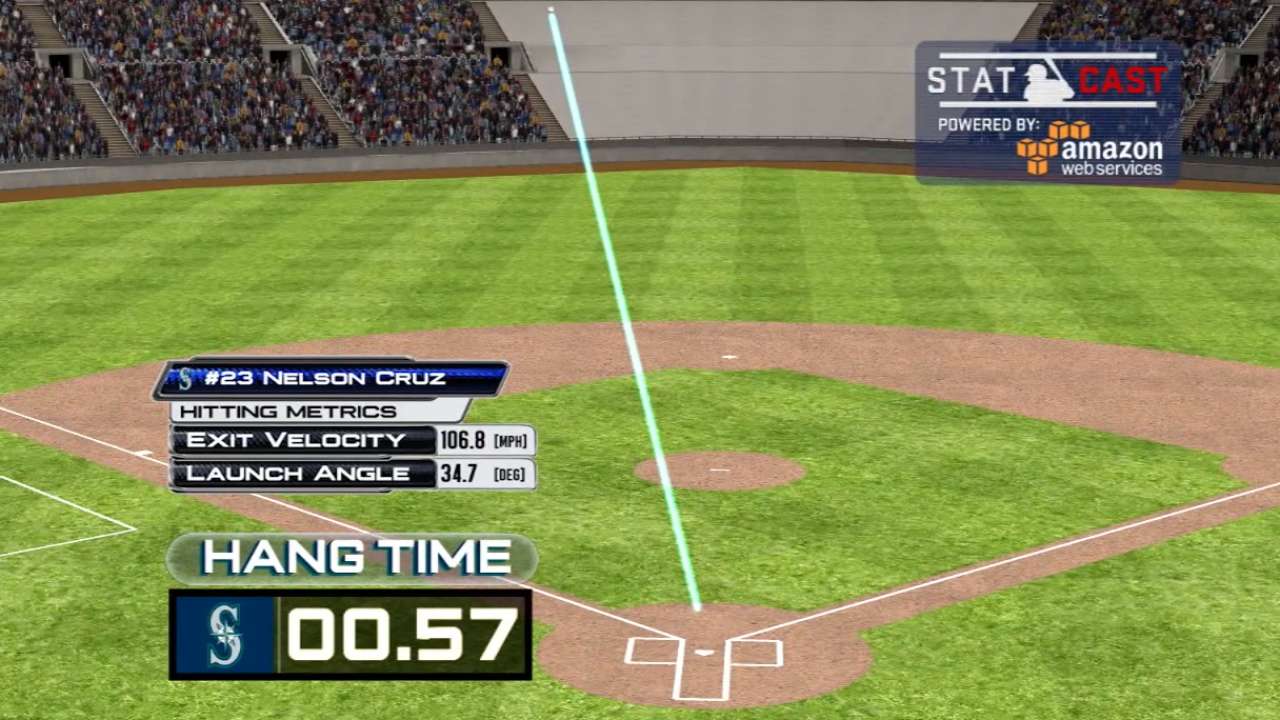 CHICAGO -- Given the difficulty of hitting a baseball, it helps to be something of an optimist.
Nelson Cruz, who was traded three times before his 27th birthday, learned long ago about the beauty of the glass half full. So here he is at 35, continuing to raise his level with the Mariners, despite them being his third team in three years.
"You find the positives about everything,'' Cruz said on Thursday before the Mariners' 4-2 loss to the White Sox at U.S. Cellular Field. "If you have a good mentality, you should focus on the positive stuff. I see it this way. I see it that I can meet more friends, meet more people. I'm fortunate enough to have friends on different teams. That's the beauty of it.''
This hasn't been the season that Seattle hoped it would be when the team signed Cruz to a four-year, $58 million contract. But after leading the Major Leagues with 40 home runs last season for the Orioles, who signed him to a one-year contract after a PED suspension ended his highly successful run with the Rangers, Cruz is having the best season of his career.
Cruz leads the American League with 39 homers and 155 hits, and no player has led the Junior Circuit in both categories since Jim Rice did it in 1978.
As a longtime member of the Tigers' coaching staff before he was hired to manage the Mariners, Lloyd McClendon had watched Cruz throughout his entire career. He couldn't have been more excited when general manager Jack Zduriencik called to tell him that Seattle had surprisingly signed Cruz away from Baltimore last December, but the skipper admitted that in some ways Cruz has surprised even him.
"Look, we knew we were going to get a power hitter, a guy who had the ability to drive in some runs,'' McClendon said. "But if I said I knew he was going to be this good, I'd be lying to you. He continues to get better every day. It's almost like he's getting younger every day.''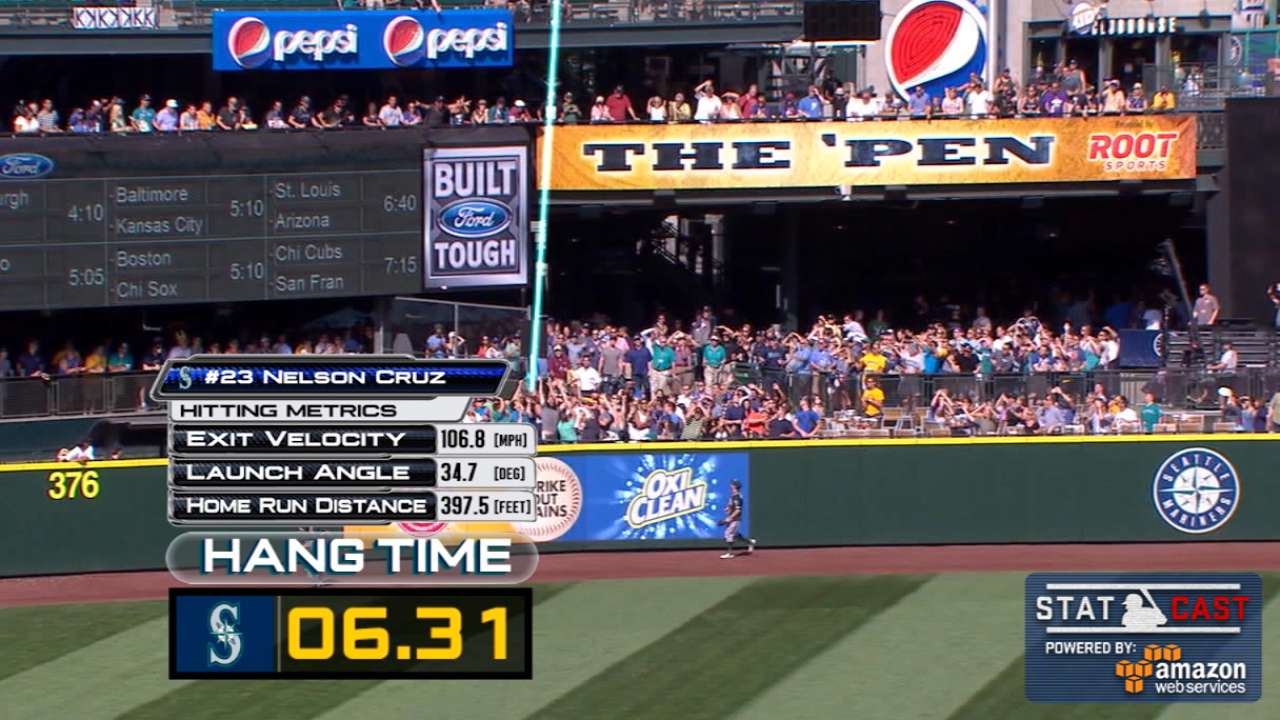 Cruz went to his fourth All-Star Game in July, elected to be the starting designated hitter. But he's done his best work since then, with 12 homers in August (the first Mariner to hit a dozen in a month since the team moved from the Kingdome to Safeco Field) along with a .349 batting average and a 1.188 OPS since the break.
Cruz's 36-game on-base streak is the third longest in the Majors this year, behind Matt Holliday (45) and Troy Tulowitzki (41). And Cruz is been doing it at a time of the year when the wear and tear of the season is catching up to everyone.
There are no secrets.
"Age, experience, you know,'' said Cruz, who is hitting .320 and has driven in 82 runs, sixth in the AL. "Preparing myself better for the situations, especially knowing what to expect from pitchers.''
Cruz is on pace to strike out a career-high 154 times, but McClendon praises him for evolving into a much more complete hitter than he was when he hit .268 over his eight seasons with the Rangers. There, Cruz was beloved for his smile and his power (14 postseason home runs with Texas), but he left as something of a pariah after letting David Freese's drive sail over his head in right field in Game 6 of the 2011 World Series and declining to appeal a 50-game suspension after he was nabbed in MLB's investigation of the Biogenesis clinic in South Florida.
Cruz was never the leading man in Texas -- guys like Josh Hamilton, Adrian Beltre, Michael Young and Ian Kinsler overshadowed him -- but he finished seventh in the AL MVP Award voting with the O's last year. He'll likely earn more votes this year, even though the Mariners have been sunk since a seven-game losing streak dropped them to 24-31, almost three months ago.
"Obviously, his average is a lot higher than it has been in past years,'' McClendon said. "I think a lot of that has to do with the ability, the willingness, to take what the pitcher is giving him, to use the whole field. He's got a lot of hits to right field, and I think that's helped the average quite a bit. He's also taking his walks.''
Cruz resists the urge to roll his eyes when he's asked about the style of hitting that is working so well for him these days.
"That's the approach you want to have from when you sign,'' he said. "That's the first step. It's what they try to teach you, but it's not that easy. Some players take a few years to figure it out. I guess that's my case. Just go on a daily basis and try to take what the pitchers give me to hit. Every year, you find a way to get it done for a period of time. The last two seasons, I've been able to stay more consistent. That's made the difference. Like any hitter in the big leagues, at some point during the year, you get hot. The hard part is to maintain that streak and be consistent.''
Cruz is hitting .310 with runners in scoring position, and he has 14 game-winning RBIs, second most in the AL.
"One thing I always knew about Cruz was the bigger the situation, the better the player he was,'' McClendon said. "He hasn't disappointed in that regard this year. In big situations, he comes through for us.''
Alex Rodriguez hit 41 homers in 2000 for Seattle, the team's first full season based at spacious Safeco. But it has been a tough park for home run hitters, with Russell Branyan's 31 in '09 the previous high for a Mariners player since Richie Sexson hit 39 in '05.
"I knew it could be a hard place to hit homers,'' Cruz said. "My concern, when I signed here, is to win games, help the team to win games. I've been in playoffs before. I know how important it is for me to be in a playoff race. That's why I chose to come here.''
Barring a 20-game win streak worthy of the 2002 A's, that's one goal Cruz will have to work on next season. But it's got to be a plus that this time around he shouldn't have to do any house hunting this winter.
"At least for four years, I can call a place home,'' Cruz said, smiling.
Phil Rogers is a columnist for MLB.com. This story was not subject to the approval of Major League Baseball or its clubs.