Inbox: Roster expansion will likely include Triple-A pitchers
Beat reporter Jane Lee answers fans' questions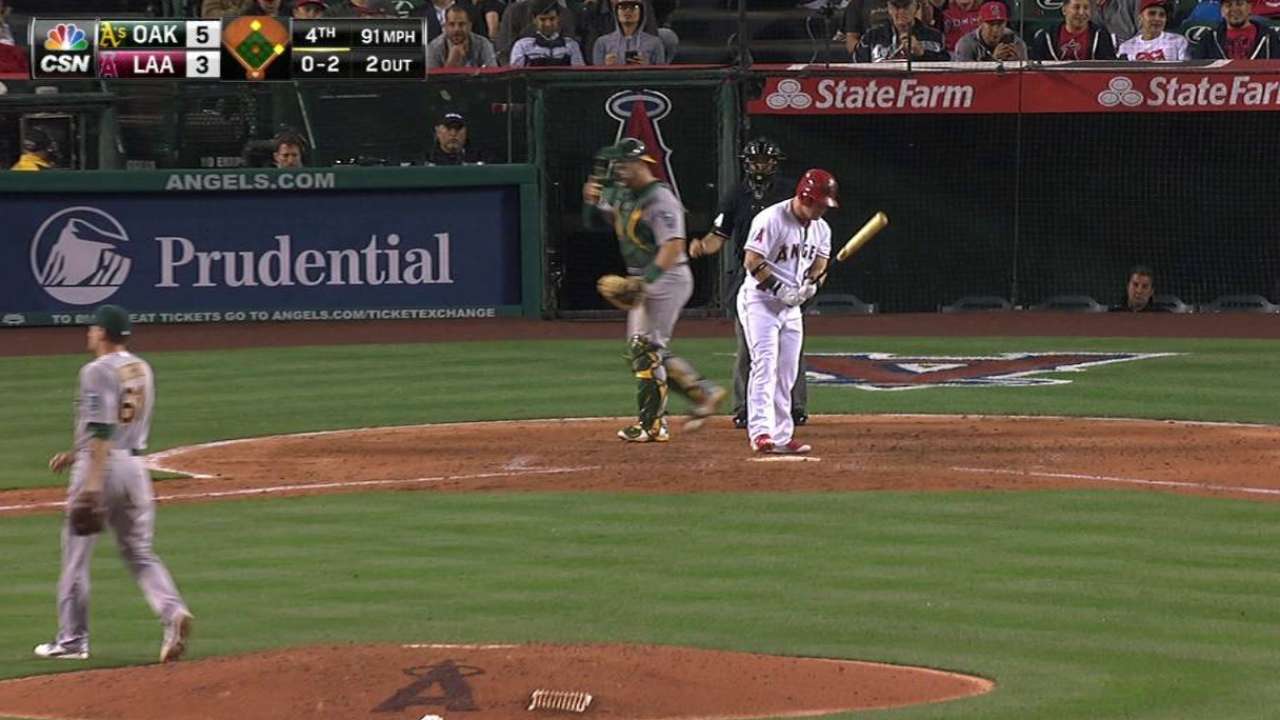 A's beat reporter Jane Lee answers fans' pressing pitching questions -- and more.
Who do you think will be called up when rosters expand? Please tell me Barry Zito will finally get to pitch in Oakland. I don't think anyone understands why he keeps getting passed over, and I'd love to see him in the green and gold again.
-- Kristina M., Livermore, Calif.
I, too, have been a proponent of seeing Zito get a chance to pitch in a big league game again, and I also think A's fans deserve to have something like that to be excited about amid a mostly disappointing season. But, at this point, the odds don't look good for Zito's return. He still remains on the Minor League disabled list and, even if healthy, the A's would have to add him to the 40-man roster when promoting him. They're more inclined to do that with a player they feel could serve a greater need.
Some of the pitchers you see on the 40-man who are currently in Triple-A -- among them Dan Otero, R.J. Alvarez, Arnold Leon and Angel Castro -- are likely to be summoned for relief help in the final weeks of play, and teams always like to have an extra catcher on hand, so look for Carson Blair to get a chance to make his big league debut. Tyler Ladendorf is also expected to join the team at some point.
When will we see Sean Doolittle back in the ninth inning? I think we're all anxious to see him closing again before the end of the season, where he belongs.
-- Jim M., Santa Rosa, Calif.
The goal all along has been to get Doolittle back in the closer's role before season's end, and perhaps he's already in there if Drew Pomeranz isn't pitching well. But Pomeranz's late-inning performance has allowed the A's to ease Doolittle back into action, which has turned out to be a good thing. The lefty has labored through each of his first two outings since returning, as his command is not all the way back yet -- which isn't atypical of any pitcher who was sidelined for several months. The velocity, too, though better than it was the first time he came off the DL, is still lacking. Without that, Doolittle isn't equipped with the overpowering stuff that makes him so effective in the ninth inning, and it also lessens the effectiveness of his secondary pitches.
When will Sonny Gray get a contract extension, or should I prepare to watch him get traded, too?
-- @Mark F., Castro Valley, Calif.
The A's are very unlikely to deal away their ace. Though I probably would've said the same of Josh Donaldson at this time last year, the A's are likely gearing to build a contender within the next two years and still have four years of club control remaining on Gray, who is their biggest asset. As for an extension -- keep in the mind the risk involved in young pitchers and long-term deals -- I wouldn't expect to see an offer on the table until next year at the earliest.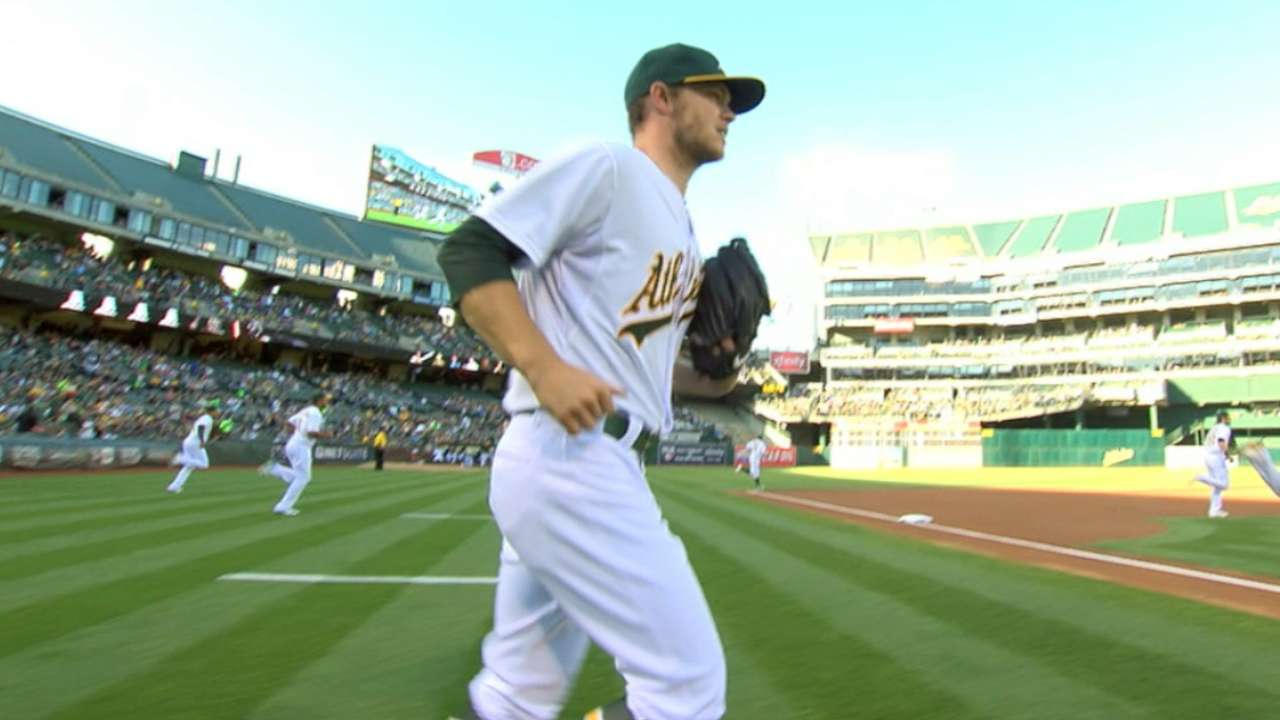 Why don't we ever hear any updates about Jarrod Parker and A.J. Griffin? Will they be in the rotation next year?
-- Chris H., Glendale, Ariz.
The updates have been few and far between because there haven't been many, though it's worth noting Parker is nearing the time to pick up a ball again and begin a throwing program. Griffin, meanwhile, has been shut down for several months with a shoulder issue and is simply in the process of strengthening it right now. The A's are obviously focused on getting them back to full health, and it's far too early to speculate about their readiness for next season. The hope is that Parker will be able to go through a somewhat normal offseason and enter camp on track with every other starter.
Why isn't Mark Canha batting third or fourth? If they want to see what all of the young guys are capable of, why not put him in the middle of the order and see what the kid can do?
-- @Rick S., Vacaville, Calif.
The second hitter has become nearly equally important as the third guy in the order, and there's something to be said about having Canha's bat behind Billy Burns, who seems to always be on base. When Burns is aboard, the pitcher is having to pay close attention to him and is also more inclined to throw fewer breaking balls to Canha in order to prevent Burns from stealing a bag. In turn, Canha is more likely to be fed a steady diet of fastballs he can drive to bring in Burns.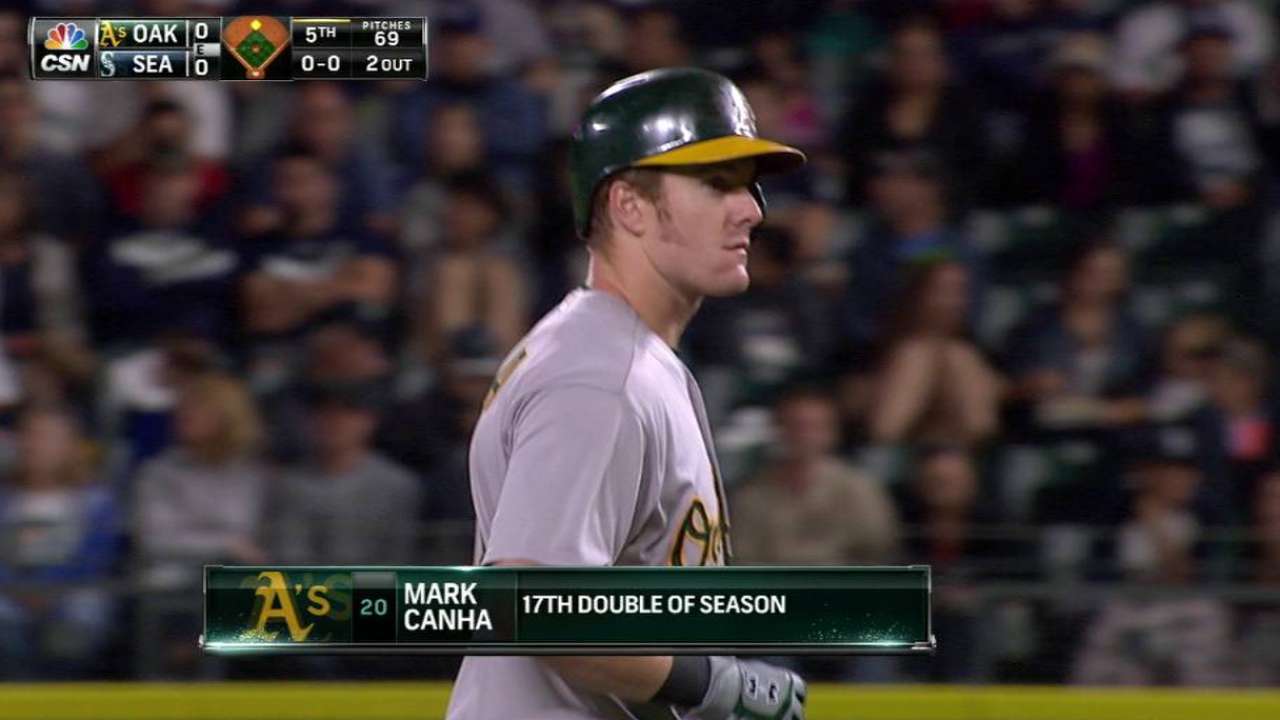 Jane Lee is a reporter for MLB.com. This story was not subject to the approval of Major League Baseball or its clubs.