Cueto effect: Ventura improves since KC trade
After Reds' ace joined Royals, righty has seen turnaround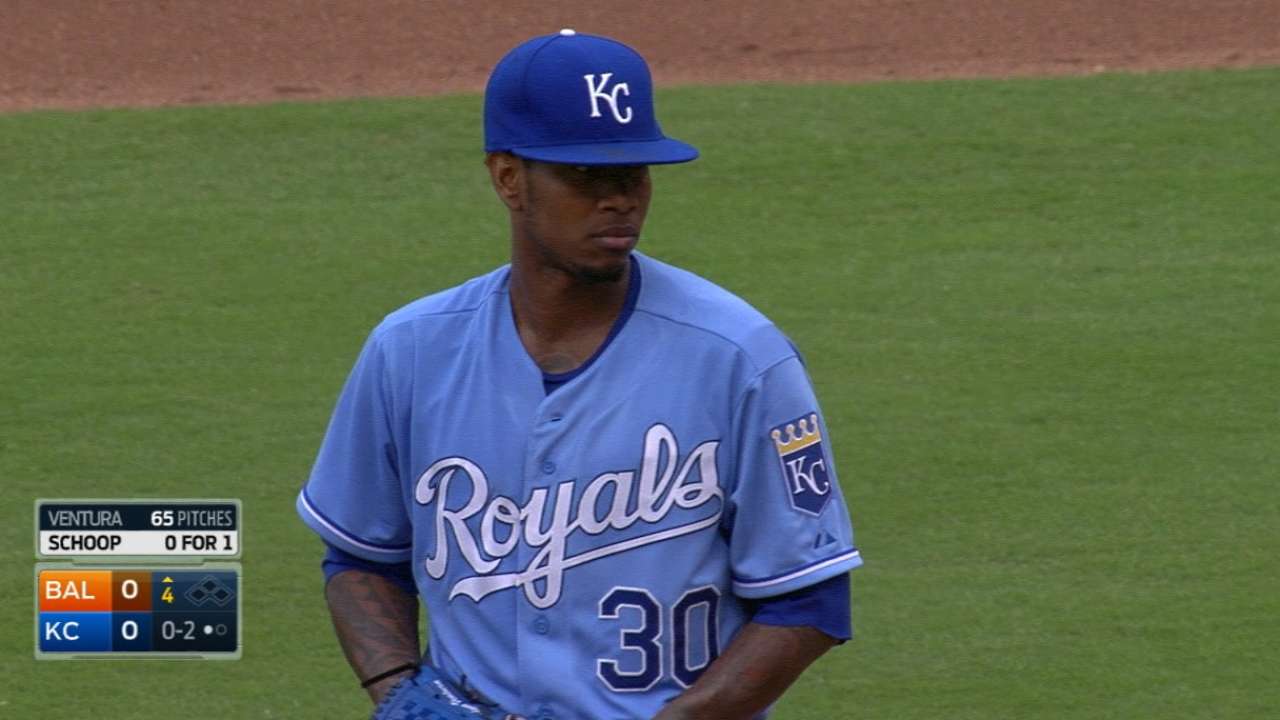 KANSAS CITY -- As Royals right-hander Yordano Ventura racked up a career-high 11 strikeouts in six scoreless innings during the Royals' 5-3 win over Baltimore on Thursday, the search was on as to what has triggered his sudden turnaround.
In late July, Ventura was struggling so badly that the Royals had optioned him to Triple-A. But then came the Jason Vargas injury, Ventura was recalled before he even left, and he's been a different pitcher since.
Actually, the turnaround coincided with the day the Royals traded for Johnny Cueto, a pitcher that Ventura admires greatly: Ventura got the win with seven innings of one-run ball on July 26 as Kansas City beat Houston, 5-1.
Since the Cueto trade -- and Cueto's locker is next to those of Edinson Volquez and Ventura -- Ventura is 5-0 with two no-decisions. And over Ventura's past four starts, he has thrown 25 innings and given up 15 hits with 12 walks and 32 strikeouts. His ERA in that span is 1.08.
"I believe Johnny has had an impact on Ventura in the last three or four starts," Royals manager Ned Yost said. "I know that Dave Eiland doesn't tell him anything different than Johnny Cueto does. But sometimes when you hear something enough times from your pitching coach, but then you hear it from a teammate, it sinks in. Cueto definitely has had an impact."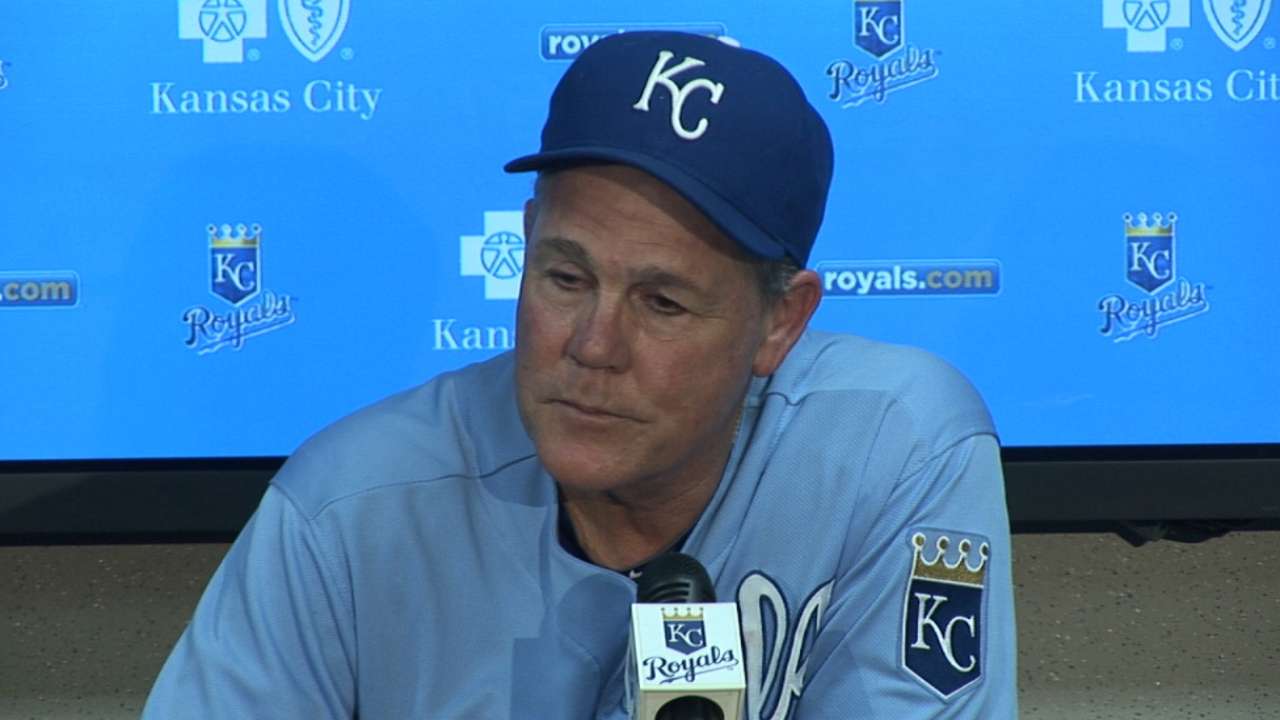 Ventura, through interpreter Pedro Grifol, said it also comes down to hard work.
"There's a lot of work that has been put in to get better," Ventura said. "I've been getting help from Dave and the guys in here. There's been a lot of work put into this, and I feel like this was one of my better outings, especially the breaking ball."
Ventura doesn't think much about his 24-hour demotion back in July.
"Things weren't going good at the time," he said. "The only thing I can do is continue to work and not worry about that."
On Thursday, Ventura suffered through a 27-pitch first inning as he walked two batters but struck out the side.
"Absolutely, my rhythm wasn't there in the first inning, but I kept working," Ventura said. "What was good was me and Salvy were really on the same page today, and that helped the rhythm and the tempo of the game. Once I was able to get that, I felt strong."
As for the career-high 11 strikeouts?
"What's important is that I was able to pitch inside today," Ventura said. "When I'm able to do that, then everything else opens up. I've got secondary pitches to be able to put hitters away, and I'm grateful that today I was able to pitch in and the secondary pitches were the ones that put hitters away."
Jeffrey Flanagan is a reporter for MLB.com. Follow him on Twitter at @FlannyMLB. This story was not subject to the approval of Major League Baseball or its clubs.