Cervelli ejected after home-plate argument
Pirates catcher exits early after not heeding umpire's warning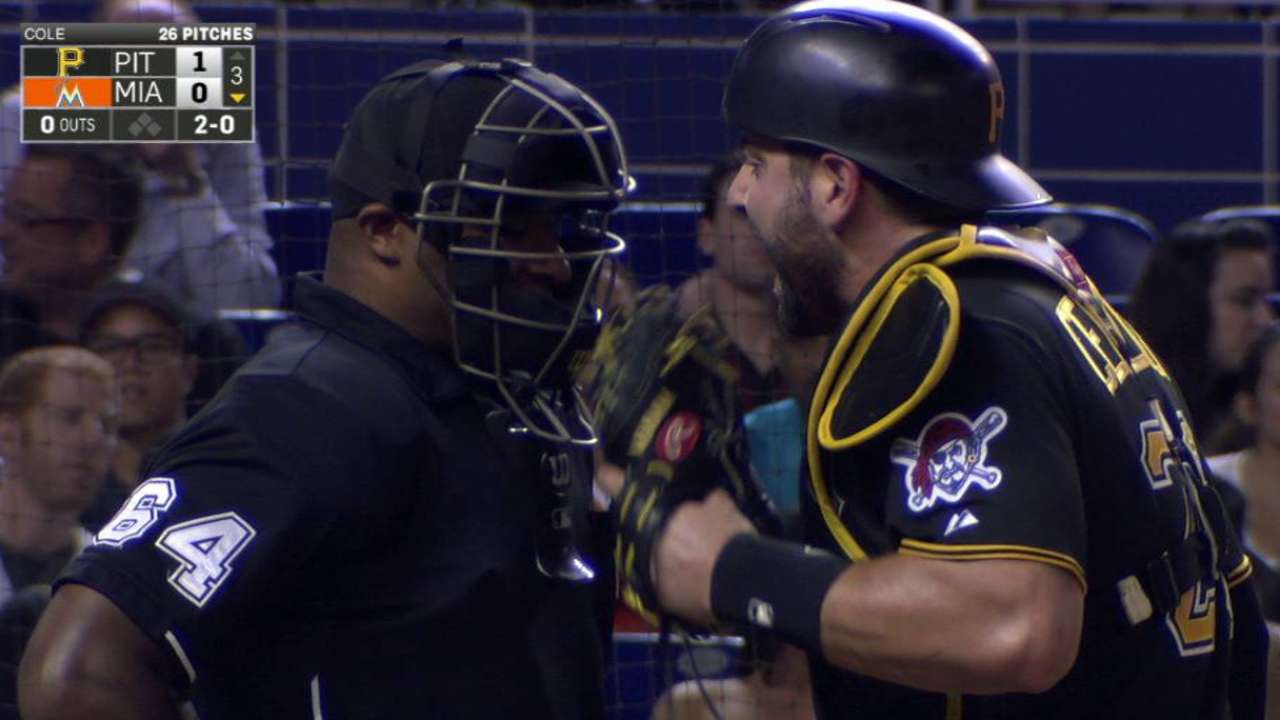 MIAMI -- Pirates catcher Francisco Cervelli caught a 94-mph fastball from Gerrit Cole, held it in his gloved left hand and waited. The strike call never came, but within a few moments, Cervelli had been ejected.
Home-plate umpire Alan Porter tossed Cervelli during the third inning of the Pirates' 2-1 win over the Marlins on Thursday night at Marlins Park. According to Cervelli, Porter said something in "not the right tone," and threatened to eject Cervelli if he turned around.
Cervelli turned around to face Porter, and indeed he was immediately ejected.
"I just didn't like the way he talked to me, and then I turned around and that's it," Cervelli said. "I got thrown out."
With a 1-0 count against Marlins catcher Jeff Mathis, Cole fired a fastball to Cervelli. The pitch appeared to cross the plate low and just outside the strike zone. Cervelli held his glove in place, presenting the pitch to Porter.
Porter then appeared to say something to Cervelli, who turned around with both hands raised. A few moments later, Porter signaled that Cervelli was out of the game.
"The voice was a little high, and I turned around," Cervelli said. "I shouldn't turn around that way, but I don't like when people talk to me in that way.
"He told me, 'Turn around and I'll throw you out.' He didn't give me a chance. But I think the next time, I'll find another way to handle this."
Pirates manager Clint Hurdle came out to talk with Porter, to no avail.
Cervelli said his frustration did not stem from a strike call during his third-inning at-bat with the bases loaded. Marlins starter Justin Nicolino threw a 1-1 changeup low and away -- in roughly the same location as Cole's 1-0 pitch -- and Porter called it a strike.
Catcher Chris Stewart came in to replace Cervelli, who tripled and scored on Neil Walker's sacrifice fly in the second inning to give the Pirates an early 1-0 lead. The midgame change behind the plate clearly didn't affect Cole, who went on to pitch 7 1/3 innings.
"Pretty seamless," Cole said.
Adam Berry is a reporter for MLB.com. Follow him on Twitter at @adamdberry. This story was not subject to the approval of Major League Baseball or its clubs.