Phils excited about future behind the plate
With Ruiz, Rupp on board for '16, club also has prospects Alfaro, Knapp waiting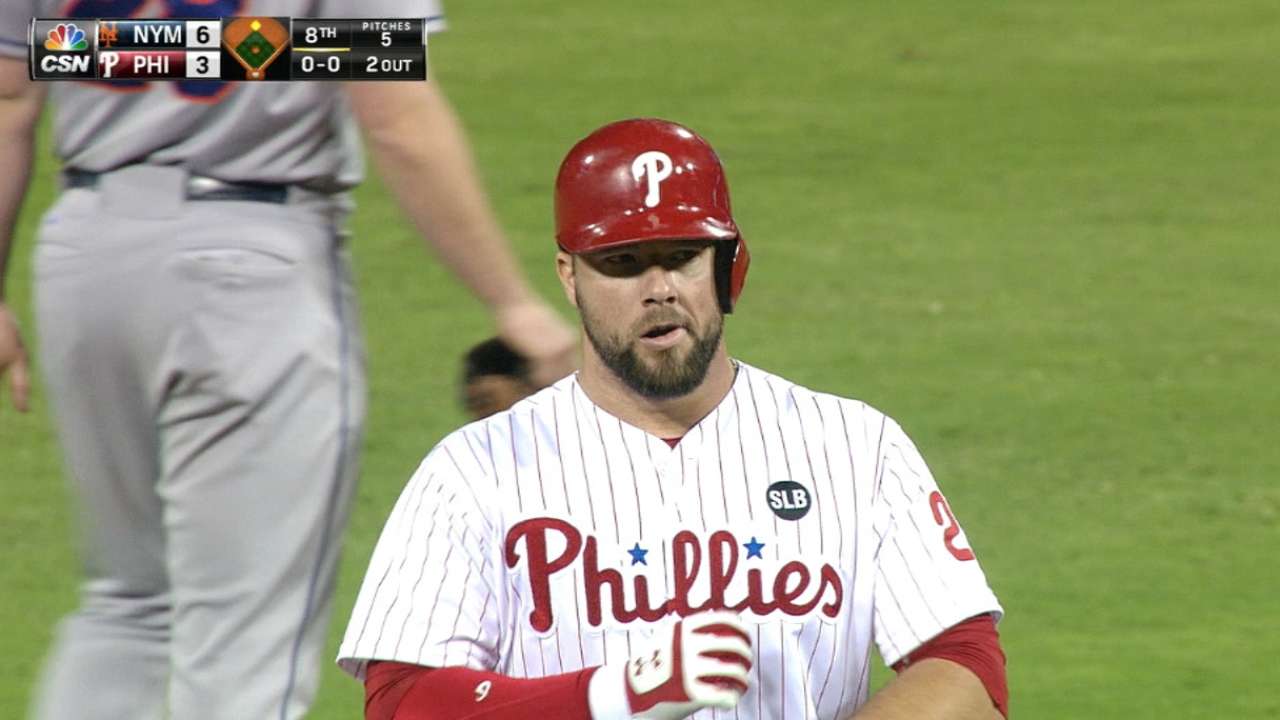 PHILADELPHIA -- The Phillies think they have a bright future behind the plate.
They acquired catcher Jorge Alfaro from the Rangers in July as part of the Cole Hamels trade. He is the No. 64 prospect in baseball and the club's No. 5 prospect, but the Phillies also have catcher Andrew Knapp, who is tearing up the Double-A Eastern League. The Phils' No. 18 prospect is hitting .378 with 19 doubles, two triples, 10 home runs, 51 RBIs and a 1.094 OPS in 205 plate appearances.
Alfaro made his debut for the organization Thursday, when he played three innings for the GCL Phillies on a rehab assignment. He went 1-for-1 and was hit by a pitch twice. He also threw out a runner at second base. Alfaro had been on the disabled list since June 11 with a left ankle injury.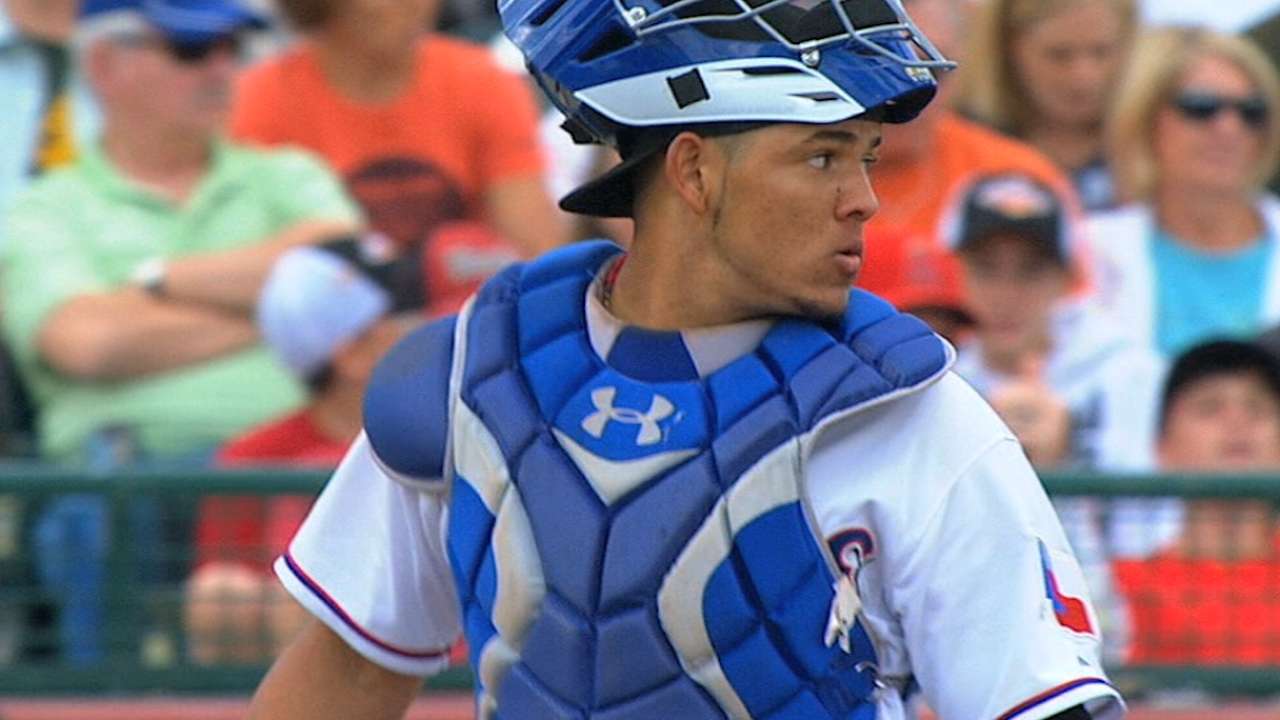 But Alfaro and Knapp aren't expected to be on the 2016 Opening Day roster. Carlos Ruiz's contract runs through next season, when he will make $8.5 million. Cameron Rupp remains under team control.
Ruiz and Rupp figure to be back behind the plate next year, although Triple-A catcher Gabriel Lino is highly regarded because of his defensive capabilities. He could be a September callup.
But if it is Ruiz and Rupp at the beginning of next season, how could it play out? Ruiz has started 73 games this year, while Rupp has started 55.
That number could be reversed in 2016.
Ruiz, 36, entered Thursday night hitting .219 with 12 doubles, two homers, 20 RBIs and a .598 OPS in 284 plate appearances. It is 22 points lower than his career-low .620 OPS in 2008. Rupp has hit .333 with three doubles, five home runs, 13 RBIs and a 1.040 OPS in his past 16 games. He has a .715 OPS in 208 plate appearances overall. If he had enough plate appearances to qualify, his OPS would rank 11th out of 25 catchers in baseball.
"He has made great strides in his hitting approach and he's a solid catcher," Phillies interim manager Pete Mackanin said about Rupp. "It looks like he's gained a lot of confidence, and I like seeing him in the lineup.
"There's no reluctance from my side [to have Ruiz back up Rupp]. If that's what it's going to boil down to, that's what it's going to be. You know, times change. I'm not saying Chooch is at that stage of his career, but if we have somebody we think is a No. 1 and should catch more than he does, that's what we're going to do."
Todd Zolecki is a reporter for MLB.com. Read his Phillies blog The Zo Zone, follow him on Twitter and listen to his podcast. This story was not subject to the approval of Major League Baseball or its clubs.