Phils plan to give Altherr more starts down stretch
Mackanin has difficult task of dealing with logjam in outfield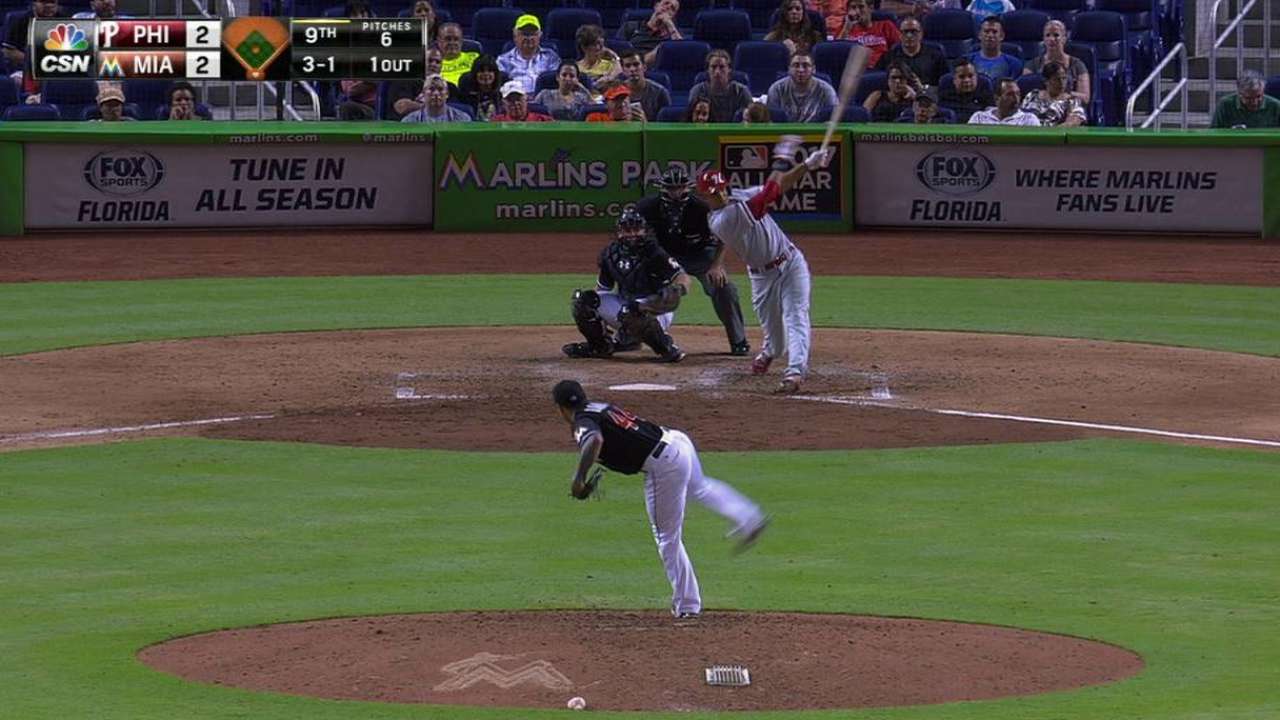 PHILADELPHIA -- Phillies interim manager Pete Mackanin finds himself in a bit of a conundrum.
How can he play everybody the Phillies want him to play before the end of the season?
The Phillies have used most of the season to play outfielders Domonic Brown, Odubel Herrera and Cody Asche. But Mackanin said before Thursday night's series finale against the Mets at Citizens Bank Park that he plans to play outfielder Aaron Altherr more often the rest of the way.
That creates a logjam in the outfield, which also includes Jeff Francoeur.
It certainly seems to reduce future plate appearances for Asche and Brown.
"I'm not eliminating them, but we want to see [Altherr]," Mackanin said of the Phillies' No. 24 prospect. "He had a heck of a good year in the Minor Leagues and we like what we see. Brown and Asche have had quite a few at-bats at this level. They've been given good opportunities and will continue to get opportunities, but we think Altherr deserves an opportunity as well."
Asche opened the season as a third baseman before moving to left field to make room for Maikel Franco. But the Phillies have no plans to play Asche at third unless absolutely necessary, despite Franco being on the disabled list.
"We don't want to screw him up," Mackanin said of Asche. "He's been showing some improvement in left field."
There is a logjam in the infield, too. The Phillies still want to see Cesar Hernandez as much as possible. He can play third base, but his natural position is second. The Phillies prefer Hernandez at second because he is more comfortable there.
But that reduces the playing time of the recently acquired Darnell Sweeney, whom they got from the Dodgers for Chase Utley. Sweeney is essentially a second baseman and center fielder, but Hernandez and Herrera occupy those two spots, respectively.
"I'd like to see Sweeney more, but at this point, he's not one of the top priorities," Mackanin said. "I like the way he swings the bat. In order to get a proper look at the guy I'd have to play him another 15 games or so. I don't think I can do it.
"This is a tough job, man."
Todd Zolecki is a reporter for MLB.com. Read his Phillies blog The Zo Zone, follow him on Twitter and listen to his podcast. This story was not subject to the approval of Major League Baseball or its clubs.