Bucs keep it loose with pregame dugout antics
Long-standing dance ritual starting to garner attention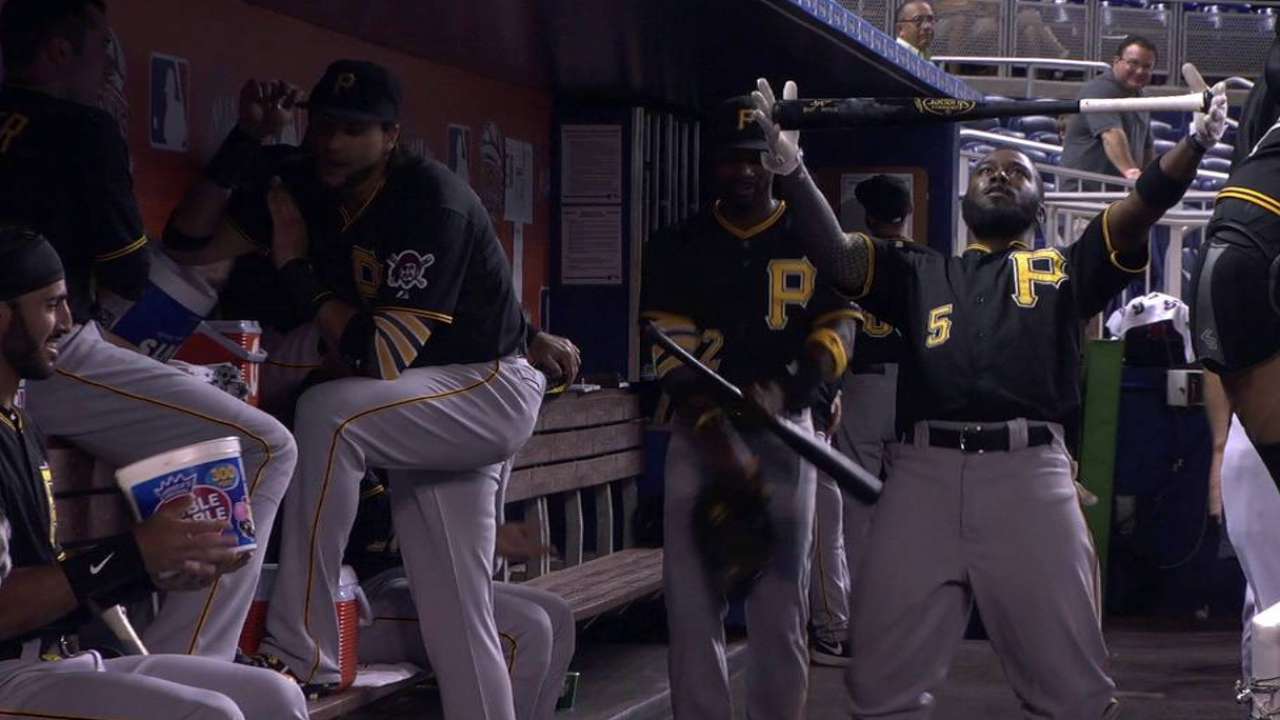 MIAMI -- Take a look into the Pirates' dugout moments before first pitch every night. You never know what you might see.
It could be Andrew McCutchen pretending to row a boat, with his bat as the oar. You might find Josh Harrison doing the limbo under his bat. Either way, odds are you will find McCutchen and Harrison dancing in the middle of a crowd of teammates, some of them stomping their feet while others bang on empty gum buckets.
These pregame dance parties have been going on for a while, McCutchen said, but they're starting to get a little bit more attention from television cameras and fans.
"I really can't pinpoint why or how it started, but it did. This team being what it is, one guy saw it and said, 'Hey, I want to jump in,'" Sean Rodriguez said. "A couple guys saw it and said they wanted to jump in. Then it's basically a whole team thing."
Pirates manager Clint Hurdle's daughter, Madison, recently brought the dancing to his attention, showing him the video of McCutchen pretending to paddle across the dugout at Marlins Park.
One thing Hurdle quickly picked up on: It's a different dance every night.
"We don't choreograph the dances before we go out there," McCutchen explained.
So Hurdle went out of his way to watch Wednesday night. Harrison did the limbo, McCutchen danced on his own and Michael Morse, Neil Walker and Rodriguez helped bang out a beat.
Harrison then grabbed his helmet and went to the plate to lead off the game. Just another day in the Pirates' dugout.
"It's fun. I use this analogy a lot, but a dog wags his tail with his heart," Hurdle said, smiling. "They're wagging their tail before the game down there. We always talk about having fun. Those are my guys, and I don't care who knows it. It's part of it. It's what you get."
Around the horn
• Hurdle said he and pitching coach Ray Searage have been kicking around ideas regarding how to set up their rotation following Monday's off-day, but they haven't decided on anything yet.
• The Pirates will likely call up another catcher in September. Hurdle said prospect Elias Diaz has emerged as an option, but mentioned Tony Sanchez as a possibility as well. The two have been splitting time behind the plate this season for Triple-A Indianapolis.
• Could top prospect Tyler Glasnow join the Pirates' pitching staff next month?
"It wouldn't behoove him or me to say that he could help us this year or not right now. I think we'll continue to let him pitch," Hurdle said. "He has done a very good job of getting better this season at both the levels he's been at. He's a very interesting and exciting young prospect to have in your organization."
Adam Berry is a reporter for MLB.com. Follow him on Twitter at @adamdberry. This story was not subject to the approval of Major League Baseball or its clubs.