Wolf not yet conceding to Father Time
Crafty lefty delivers second straight strong outing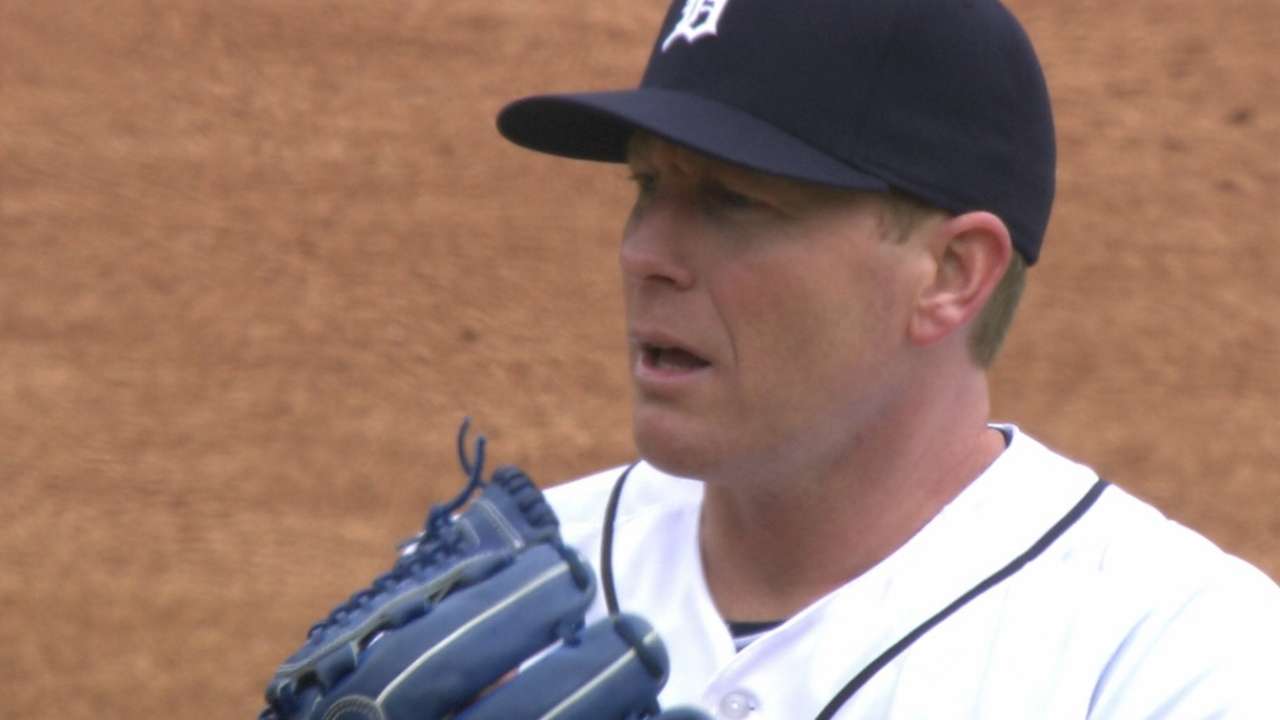 DETROIT -- Randy Wolf continues to work ahead in the count on Father Time. He doesn't need run support for that. He does need it to get a result on the field.
"I feel like every start I kind of have to, in a way, prove people wrong, that I'm not at the geriatric level quite yet," the 39-year-old left-hander said.
Sixteen years after Kevin Costner portrayed an aging Tigers pitcher trying to show he has another great game in him, Wolf continues to do his best Billy Chapel impression. He wasn't perfect Thursday afternoon at Comerica Park, but he was one pitch away from shutout material. His 2-0 loss to the Angels was more a matter of Detroit's offense being held down by Michigan native Matt Shoemaker than of Wolf making one bad pitch.
There was a thin margin for error for a pitcher who already has a thin margin of error. Yet for five-plus innings, Wolf was sticking with the 28-year-old Shoemaker in a pitching duel.
"It's impressive when anybody does that," Tigers catcher Alex Avila said. "I know he's got to pitch a little bit differently than a traditional pitcher would. He's not going to overpower you, so he's going to live on the edges and change speeds. Today, he had very good command of his pitches and really mixed it up well."
Add that to his quality start last weekend against Texas, and he's doing more than eating innings. He's giving the Tigers a chance, even though they're struggling to take advantage.
He's also giving them scouting work, taking a more active role than most pitchers in preparing a game plan. What worked for Justin Verlander in his one-hitter Wednesday night probably isn't going to work for Wolf.
"There are guys who are stuff pitchers, and their main thing is just throwing strikes," Wolf said. "For me, I need to be prepared. I need to know the hitters. Luckily, when I played with Brad [Ausmus] in 2008, he put together really good scouting reports. And I actually stole them from years on end on what I needed to do to prepare for hitters."
Wolf had the Angels read. It wasn't dazzling, but there's a beauty in what he does. He began the game by striking out Kole Calhoun on a slider, then recovered from a 3-0 count against Mike Trout with a fastball and back-to-back cutters. He caught Shane Victorino looking at an 89-mph fastball inside to end the next inning.
He retired the side in order in the fifth inning on seven pitches, and none registered harder than 77 mph on MLB.com's Gameday. He threw curveballs ranging from 66 to 70 mph, including a 69-mph breaker that caught the outside corner on Kaleb Cowart to begin the sixth.
"It's different catching a guy like him as opposed to a traditional pitcher," Avila said.
Wolf's lone run came when he couldn't induce a swing. He had a 2-2 count on Calhoun with two outs in the sixth, but couldn't finish him off. He walked Trout on five pitches after that to give the Angels their first runner in scoring position.
Up came Albert Pujols, who fell into a 1-2 count after whiffing on another slider, but took a cutter in the dirt to bring it even. With a 2-2 count and Calhoun on second, Wolf signaled to Avila to switch up the signs just in case.
The fastball that followed came in at 92 mph, his hardest of the afternoon. Pujols lined it into left field, just enough for Calhoun to score.
"That one mistake he did make, trying to go away with the fastball, kind of yanked it inside," Avila said.
Jason Beck is a reporter for MLB.com. Read Beck's Blog, follow him on Twitter @beckjason and listen to his podcast. This story was not subject to the approval of Major League Baseball or its clubs.