Reds let golden chance vs. Greinke slip away
With 1st and 3rd in 5th, DeSclafani can't get bunt down and Schumaker whiffs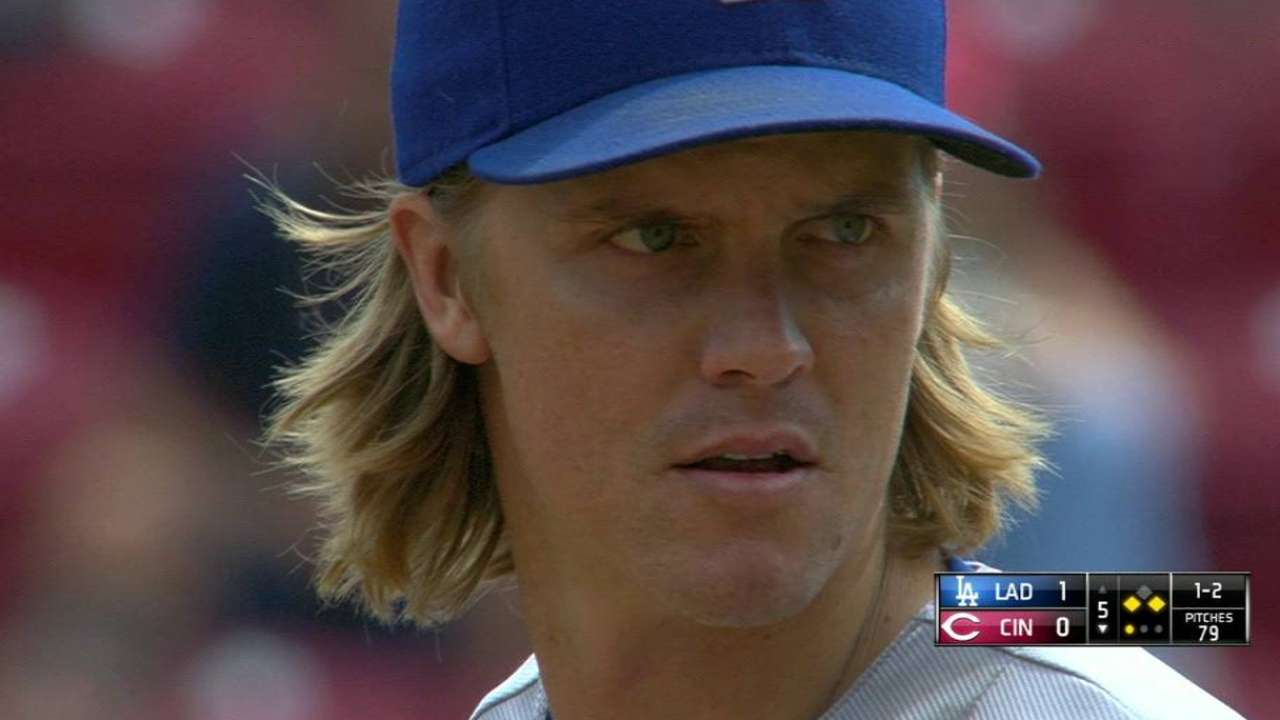 CINCINNATI -- The Reds' frustration showed in the moment Thursday when they missed a chance to break through against the Dodgers and Zack Greinke. When the final score turns out to be a 1-0 defeat -- Cincinnati's 12th loss in its past 13 games -- well, that's some added salt that burns the wound.
In the bottom of the fifth inning, Jay Bruce led off with a walk after he started in a 0-2 count. Bruce stole second base with Jason Bourgeois batting. With one out, Tucker Barnhart hit a single that put runners on the corners. Reds pitcher Anthony DeSclafani sought to get down a sacrifice bunt to get both runners into scoring position.
Seeing four pitches, DeSclafani bunted foul three times for the strikeout.
"Oh yeah, I'm definitely frustrated," DeSclafani said. "I have to get my bunts down, it's not like it's something I don't work on either, I work on it every day. It's part of my job, also. It's on me.
"It's not straight fastballs up there, it's sliders, curveball, cutters. It's tough to square up the bunt. At the same time, there's no excuse. I've got to put the bunt down, as simple as that."
Next was Skip Schumaker, who got ahead in a 2-1 count. The next pitch was a 92-mph fastball called for strike two. Greinke then pulled the string with a 78-mph curveball that Schumaker missed on for the inning-ending strike three.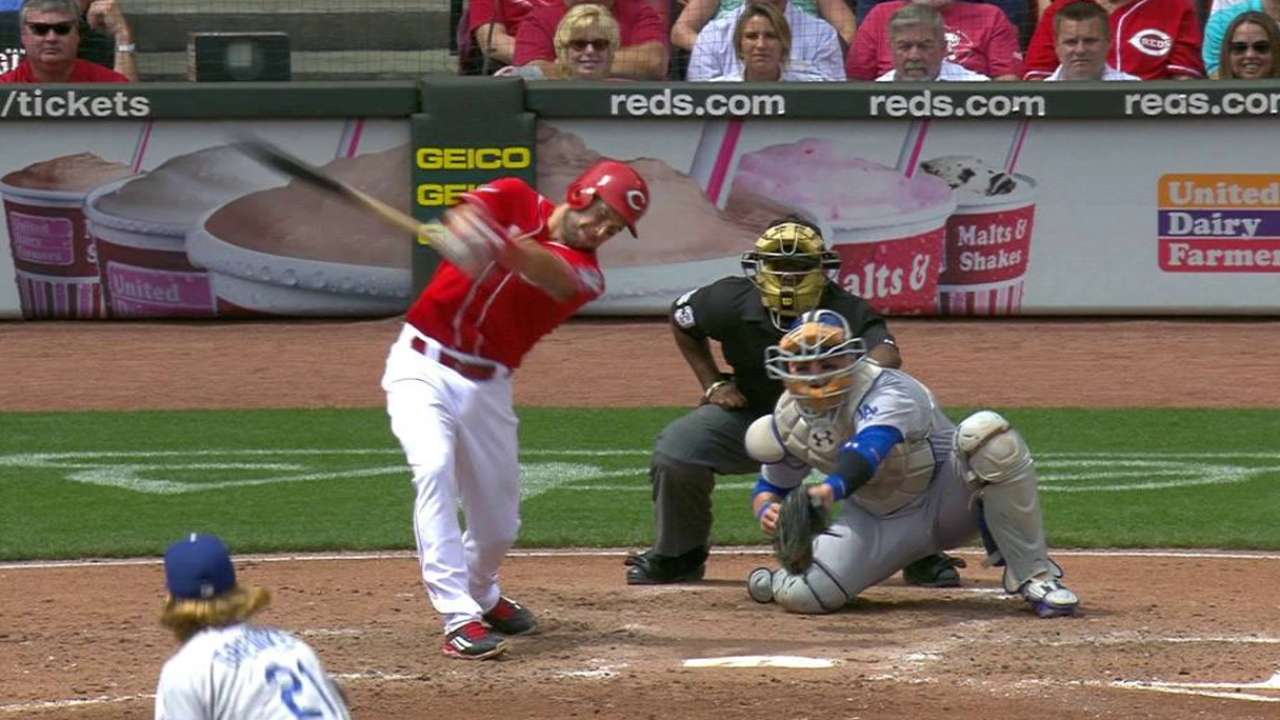 A golden chance missed. Schumaker slammed his bat to the ground in anger.
"You know you have limited opportunities against a guy like that, guys like him and [Clayton] Kershaw," Schumaker said. "You get guys on base, it's really difficult. But you've got to somehow get them in. We had two chances today. You'd like to push one across just because Disco did so great. He was battling Greinke pitch-for-pitch and he did everything he could to keep us in it."
Cincinnati, which came empty after two singles in the third inning also, only notched one more hit the rest of the day on a Bourgeois infield single in the seventh against Greinke.
DeSclafani, who pitched seven strong innings, allowed only three runs and 12 hits over his two starts and 13 innings vs. the Dodgers. Greinke wound up 2-0 with 0.69 ERA after his seven innings Thursday.
"Not a lot of times with him are there opportunity, but there was some opportunity there. We just didn't cash in," Reds manager Bryan Price said. "There are some little things we can do with bunting and baserunning that can help us win games like that."
Mark Sheldon is a reporter for MLB.com. Read his blog, Mark My Word, follow him on Twitter @m_sheldon and Facebook and listen to his podcast. This story was not subject to the approval of Major League Baseball or its clubs.