Jones exits game after crashing into CF wall
Outfielder experiences some concussion-like symptoms, but hopes to be back in lineup Friday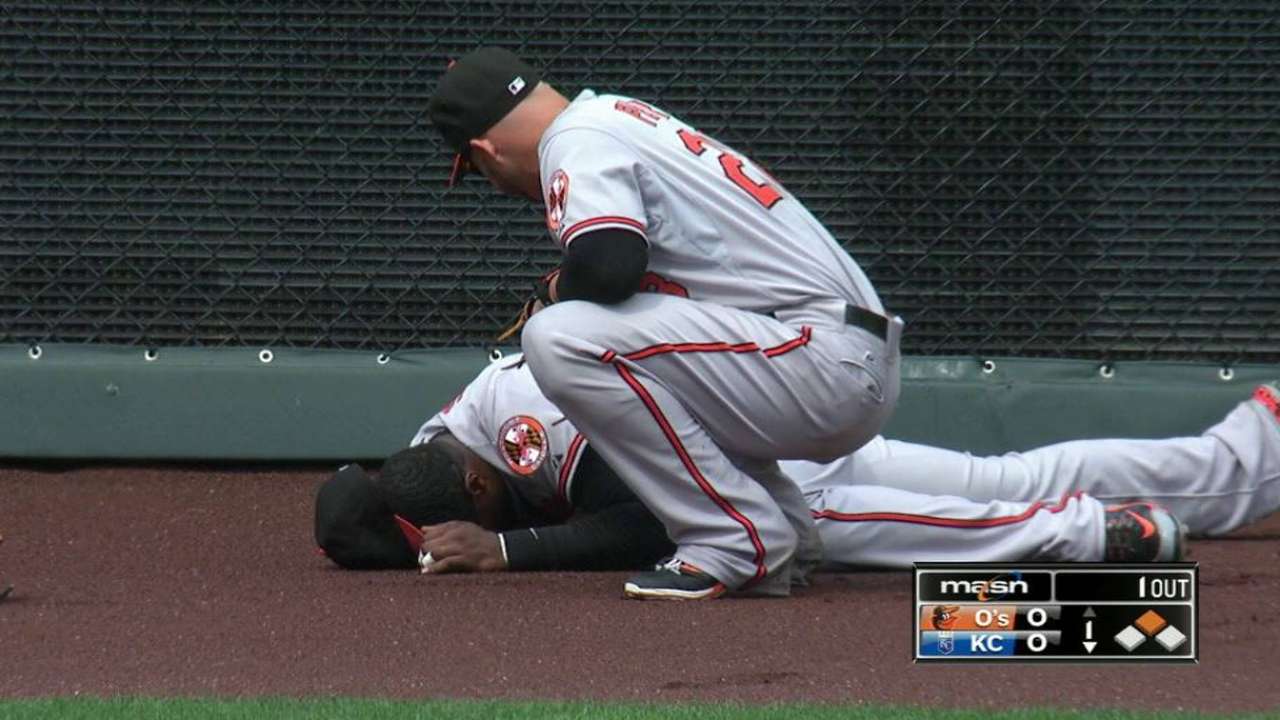 KANSAS CITY -- Adam Jones exited Thursday's 5-3 loss to the Royals in the top of the third inning after running into the center-field wall at Kauffman Stadium and suffering some concussion-like symptoms.
"His vision was a little [blurred]," Orioles manager Buck Showalter said. " … Most of it was whiplash. I don't think there's any head trauma concussion-wise. Dr. [Keith] Meister will take a look at him in Texas tomorrow, and we'll see where we are with it. Any time Adam says anything is bothering him, you better multiply it times two, because he's a tough nut."
Jones had X-rays done on both wrists, which came back negative, and had some neck stiffness. He said following the game that he's hoping to be back in the lineup Friday against the Rangers.
"That's one of [the hardest hits I've taken]," said Jones, who was trying to make a play for Ben Zobrist's first-inning double. "I don't come out of the game much, especially once the game starts. I just wasn't me. And hopefully I feel a lot better tomorrow."
Jones' injury was a scary one as he violently crashed into the wall and lay on the warning track for several minutes as head athletic trainer Richie Bancells and Showalter rushed out. Left fielder Steve Pearce was also right there and said it was a scary moment.
"It didn't sound comfortable. Let's put it that way," Pearce said. "He hit that thing pretty good, especially since it was a long run and he gave that last effort full extension to try to get that ball. Then after it went past, he couldn't slow down. It went [punches fist into hand]. It was a thud."
Bancells put Jones through some on-field tests, but he remained in the game to finish the inning.
"Most of it he took putting his wrists up there on this structure that they let them put up there so they can sell more signage. You go figure. It's plexiglass right behind it. It's like running into plexiglass," Showalter said of the Royals' outfield wall. "Of course, you've got metal in Houston. You've heard me go on and on about it, and this is a great example of it. I know why they do it, so they can sell more signage to pay more contracts. I got it. But the safety issue there, I'm not happy about it."
Jones, who walked in his only at-bat in the top of the first inning, was replaced by Paul Janish for his at-bat in the third. In his absence, the Orioles made a series of adjustments, moving Gerardo Parra over to center field, first baseman Chris Davis to right, and shortstop Ryan Flaherty to first. Janish remained in the game at shortstop.
Jones, the Orioles' team leader, entered Thursday batting .280 with 24 homers and 66 RBIs. He missed time earlier this season with a left ankle sprain and a sore right shoulder.
Brittany Ghiroli is a reporter for MLB.com. Read her blog, Britt's Bird Watch, follow her on Facebook and Twitter @britt_ghiroli, and listen to her podcast. This story was not subject to the approval of Major League Baseball or its clubs.