Rehabbing Lyles itching to return to normal routine
Out since late May, Rockies pitcher describes monotony of post-surgery activities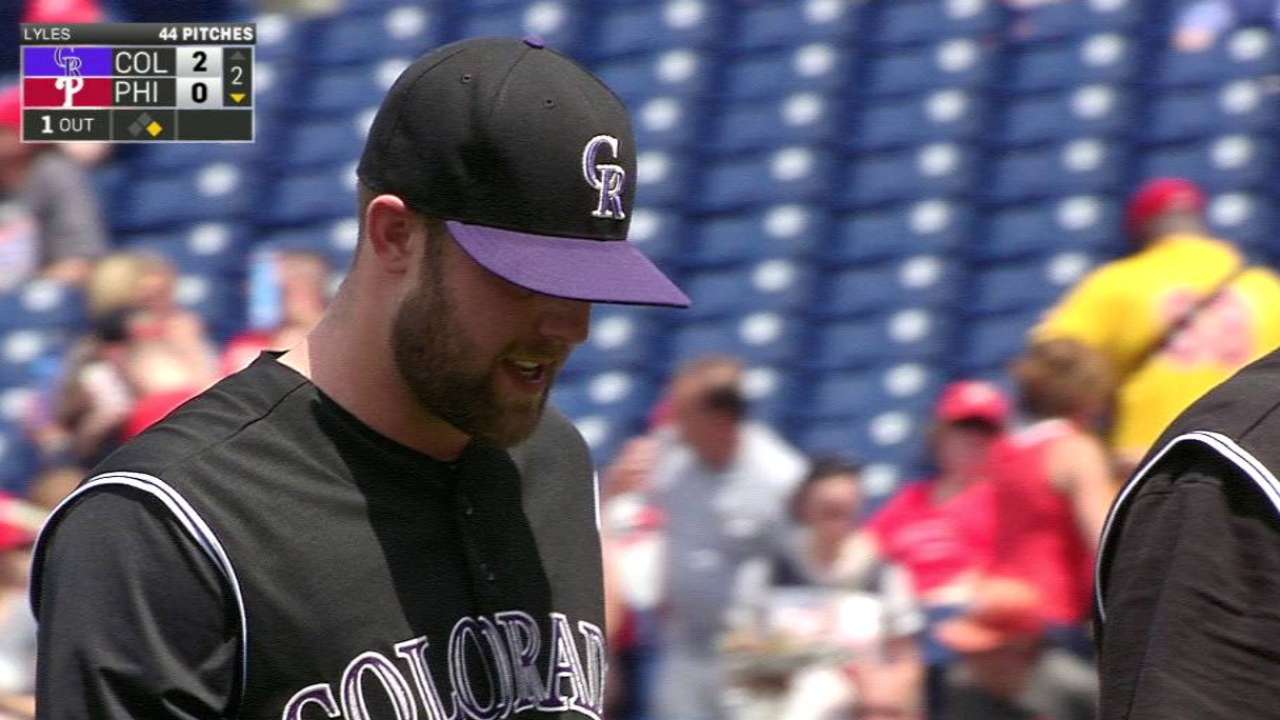 DENVER -- Jordan Lyles isn't shy about it. A season on the sidelines isn't a glamorous life.
"It [stinks]," said Lyles, who underwent season-ending toe surgery on June 10 and hasn't pitched since May 31. "It's not been fun."
Lyles, though, has seen an upswing in positivity this week. He has accompanied the Rockies on their current road trip -- the first one he's made since he last appeared in Philadelphia -- and the right-hander will be cleared to start running once the team returns home.
When asked if he still plans on being ready for Spring Training, Lyles adamantly replied, "100 percent."
"It just so happened that the time of my injury and the time needed [to recover] was exactly how much season there was [left]," Lyles said. "So after the season is done, I'm back to doing the same stuff."
The routine since surgery, though, has been tedious and often monotonous. Lyles said he's been out of a walking boot for only about two weeks, and he still has to wear special insoles inside his normal shoes.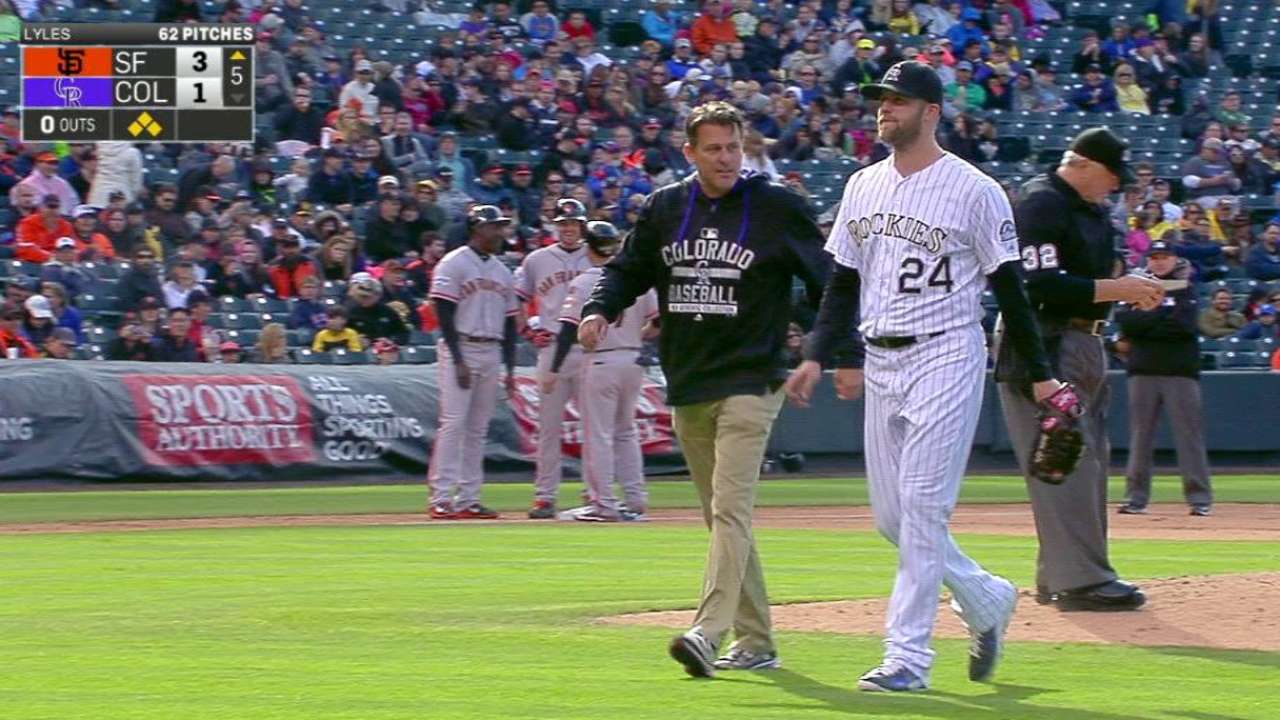 He spends a couple of hours each day at Coors Field going through his rehab process, which Lyles classifies as "the highlight of my day."
"Weird little things," Lyles said. "Standing on a little mat and trying to balance, which strengthens all the different muscles and tendons around the actual injury. Manuals, where I have to resist someone pulling on my foot. Not fun stuff. Nothing interesting."
Unlike last season -- when he was able to work on various pitches despite missing two months with a fractured non-throwing hand -- Lyles hasn't picked up a baseball for the majority of this summer. He just started throwing last week in an informal setting, and he won't have a strict throwing program put in place anytime soon.
"If someone needed a catch partner, I was out there," Lyles said. "I've been throwing with [Kyle] Kendrick on his rehab [for right shoulder inflammation] this past week. We're not going to have any schedule or anything throwing-wise and just go into the offseason normal.
"I have not decided if I'm going to do winter ball to get some more innings, but I'm able to do that if that's necessary. Definitely able to do things this offseason."
Once Lyles returns, he'll be viewed as a crucial piece in the Rockies' rotation moving forward. He turns 25 in October and is part of Colorado's young crop of starting pitchers, which the Rox hope will end a long stretch of rotational futility. As of Thursday, Colorado's starting pitching is 31-49 with a 5.31 ERA in more than 650 innings this season.
But for Lyles, making headway toward fixing that certainly beats sitting on the couch and watching television.
"This year has not been the season we had hoped for [from the starting pitchers] -- injury-wise, performance-wise," Lyles said. "But performance-wise, there is no excuse. We've got to be better. That's not acceptable. Our bullpen is hurting right now, but in the future, we have the arms, we have the talent. I think the biggest thing is staying healthy and the younger guys getting some more experience.
"But going into Spring Training next year, I think it's not going to be our weak spot with the talent that we have."
Dargan Southard is an associate reporter for MLB.com. This story was not subject to the approval of Major League Baseball or its clubs.