Rays place Jennings on DL with bruised knee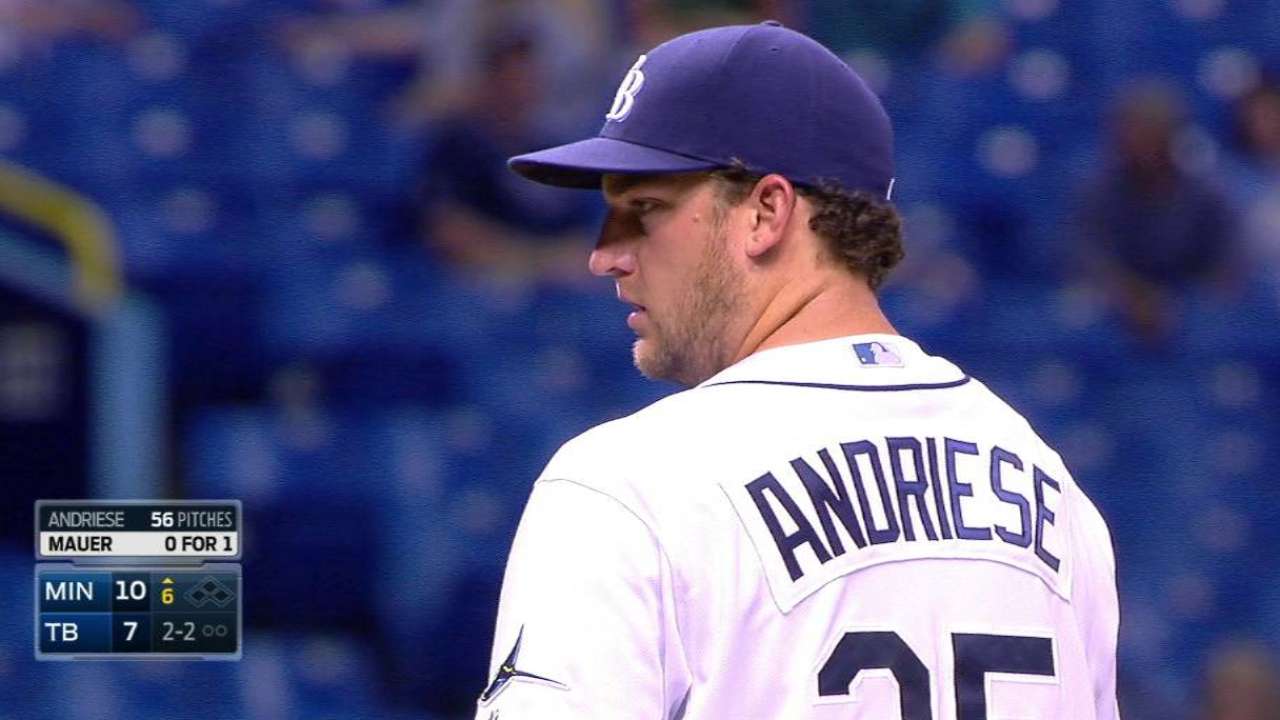 ST. PETERSBURG -- The Rays placed outfielder Desmond Jennings on the 15-day disabled list on Thursday with a bruised left knee and recalled outfielder Joey Butler from Triple-A Durham.
"It's a good thing for Joey, obviously the excitement to get him back here," manager Kevin Cash said. "I think we all saw what he provided in the clubhouse. So we're pumped for that. It's obviously disappointing, frustrating for Des. It's been a rough year for him."
Jennings bruised the knee on Tuesday and sat out Wednesday's game against the Twins. He had played in 10 games since returning from the DL following right knee surgery in June.
"I think the thought process was, we'd rather give him 15 full days off than chance it after five days and re-injure it," Cash said. "We'll take as much DJ as we can get right now, after the DL stint. I think we all saw how much he could provide in the brief time he was back.
"... I know he's frustrated with it and there's just some uncertainty. So I think our best thought was let's get him off his feet. And see if 15 days of rest can help."
Looking forward to when Jennings returns, Cash suggested that Jennings' knee might be "something he's going to have to manage the rest of the season."
"There's still some uncertainty about it," Cash said. "But once 15 days is up, hopefully whether Des is able to play three days in a row, or one and we need to manage it and sit him for one. We'll take that because he provides a ton for us when he's in the lineup."
Butler has played in 74 games for the Rays this season entering Thursday, hitting .278 with six home runs and 22 RBIs. He played his first game with the Rays on May 3 and went on to hit .329 with three home runs and eight RBIs in May before hitting .305 with three home runs and 12 RBIs in June. But after the torrid start, he hit .170 in July and .167 in August with no home runs and just two RBIs.
Butler allowed that he had gotten a little too aggressive at the plate, which resulted in him chasing pitches outside the strike zone. Since getting optioned to Durham on Aug. 12, he has 14 hits in 38 at-bats, including four home runs and nine RBIs in nine games.
"I've been playing a little better," Butler said. "I think it was just consistently seeing the ball. I think once I started consistently swinging it, things got better."
Cash said Butler will primarily be used against left-handed pitching unless he gets hot.
"I think probably, more than anything what benefited Joey was getting down there and getting some consistent at-bats," Cash said. "For whatever reason that wasn't afforded to him once our roster kind of got straightened out and guys got healthy.
"He became a little more of a role player than when he was playing every day and contributing. Now's back up here and hopefully feeling good. And like I said, we're extremely happy to have him back."
Bill Chastain is a reporter for MLB.com. This story was not subject to the approval of Major League Baseball or its clubs.