Puig exits after reinjuring right hamstring
Dodgers outfielder says it's worse than original injury; no word on how long he'll be out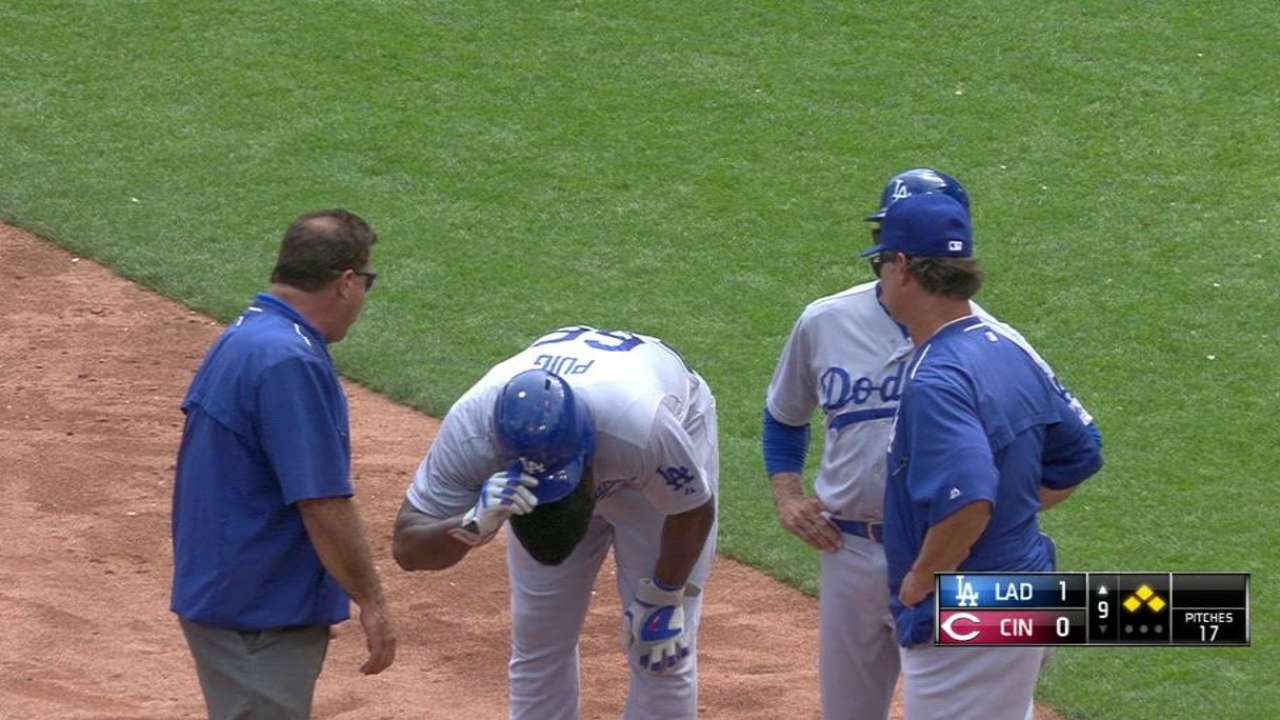 CINCINNATI -- Dodgers outfielder Yasiel Puig said he reinjured his right hamstring Thursday worse than the original injury suffered last week in Oakland.
Puig left Thursday's 1-0 victory against the Reds after pulling up in pain legging out an infield single in the top of the ninth inning.
Puig, who earlier extended his hitting streak to 10 games, pulled up as he hit the first-base bag, favoring the right leg that he injured Aug. 18, missing two more starts afterward.
Earlier this year, Puig missed nearly two months with a strained left hamstring.
Manager Don Mattingly would not guess how long Puig would be out or whether he would have an MRI on Friday.
"We know what it is," Mattingly said. "We'll see where it goes after we travel."
Puig leads the club with seven home runs since the All-Star break. But he has missed 49 games, mostly because of injuries to both hamstrings and a torn callous on his left hand.
The Dodgers can play shorthanded and carry Puig until Tuesday, when rosters expand, or place him on the 15-day disabled list. Among the position players that could be called up are infielders Jose Peraza (scratched from Triple-A Oklahoma City's lineup Thursday night) and top prospect Corey Seager (who is not yet on the 40-man roster).
Ken Gurnick is a reporter for MLB.com. This story was not subject to the approval of Major League Baseball or its clubs.