Fowler day to day; Bryant makes 1st RF start
Cubs outfielder sore after bearing brunt of multiple foul balls, questionable for LA series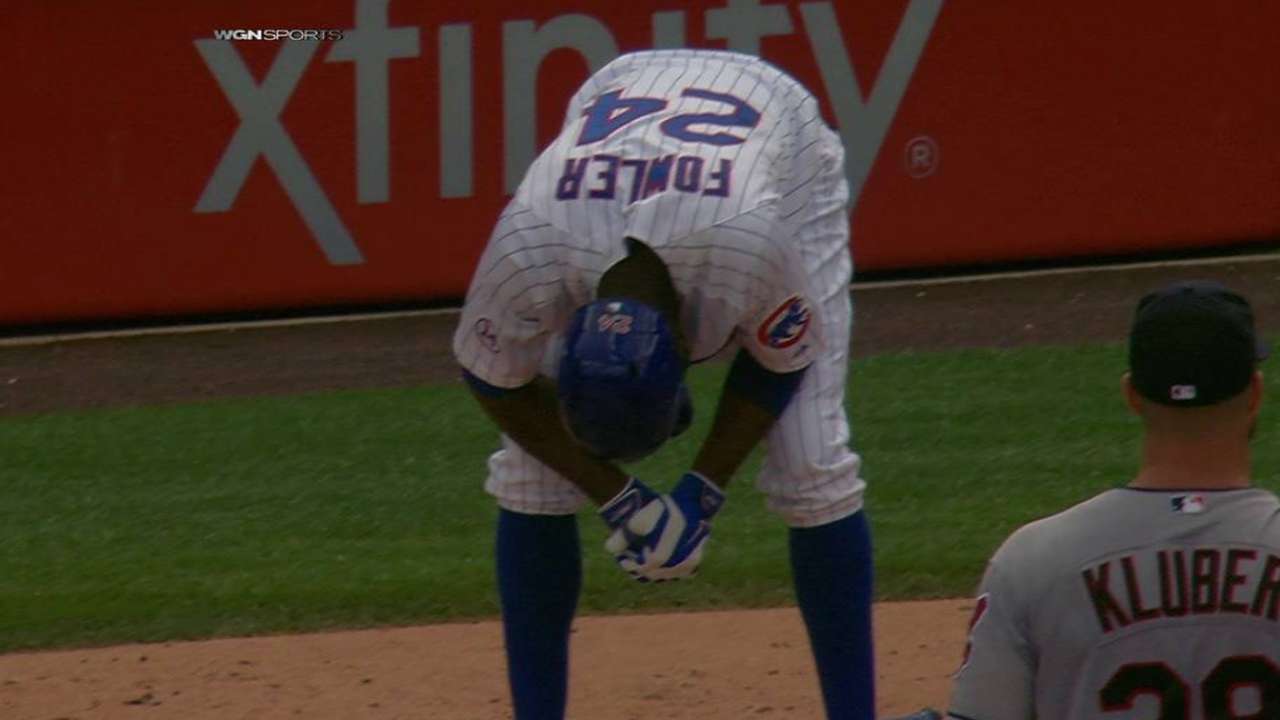 SAN FRANCISCO -- Cubs outfielder Dexter Fowler said he may borrow catcher Miguel Montero's gear to protect himself in his next at-bat. In three games over three days, Fowler has taken a foul ball off his right hand, his left elbow and his right shin, and he did not start Thursday in the Cubs' 9-1 loss to the Giants.
X-rays of Fowler's shin on Wednesday were negative, and his status for the upcoming series against the Dodgers is questionable.
"I'm not 100 percent sure yet [if he'll play Friday]," Cubs manager Joe Maddon said of Fowler. "He's still pretty sore. There's a shot at it, yes."
Maddon overloaded the outfield with right-handed hitters Thursday against Giants lefty Madison Bumgarner, which included moving Kris Bryant from third to right field for his first start there. Bryant has made one start each in center and in left.
"I know [Bryant] has not played there a lot, but he's very comfortable out there and I'm very comfortable with him being there," Maddon said. "I know it looks awkward from a distance, but internally it's not that bad."
Fowler planned on being better prepared for his next game.
"I'm just going to go up there with catching gear on," Fowler said.
• The Cubs are 5-2 so far against former Cy Young Award winners, with wins over Corey Kluber, Clayton Kershaw, Zack Greinke, Jake Peavy and Bartolo Colon. The key, Maddon said, is good pitching to counter them.
"You have to pitch well to beat really good pitching," Maddon said. "From our perspective, our pitchers know they have to go out and match [their opposing pitcher], and they have. ... You have to take advantage of moments."
The Cubs did not do that on Wednesday against Peavy, going 1-for-8 with runners in scoring position and stranding five baserunners in a 4-2 loss. Chicago leads the National League in strikeouts but also ranks first in walks.
"We're not free swingers," Maddon said. "We'll accept our walks. We strike out, but we're not chasing all the time. We're able to build pitch counts up. That's where I have a lot of confidence in this young group, is that we do that, we're not just up there hacking. We have a really good game plan. That's why I have a lot of confidence going forward with our hitters."
• One of the San Francisco-area television cameramen asked Maddon if the manager had ever been told he looked like actor Spencer Tracy. Yes, Maddon said.
"He was a pretty cool dude," Maddon said. "I'm OK with that."
Carrie Muskat is a reporter for MLB.com. She writes a blog, Muskat Ramblings. You can follow her on Twitter @CarrieMuskat and listen to her podcast. This story was not subject to the approval of Major League Baseball or its clubs.