Trades open opportunities at several positions
Beginning with Ramirez deal, retooling Brewers have spots up for grabs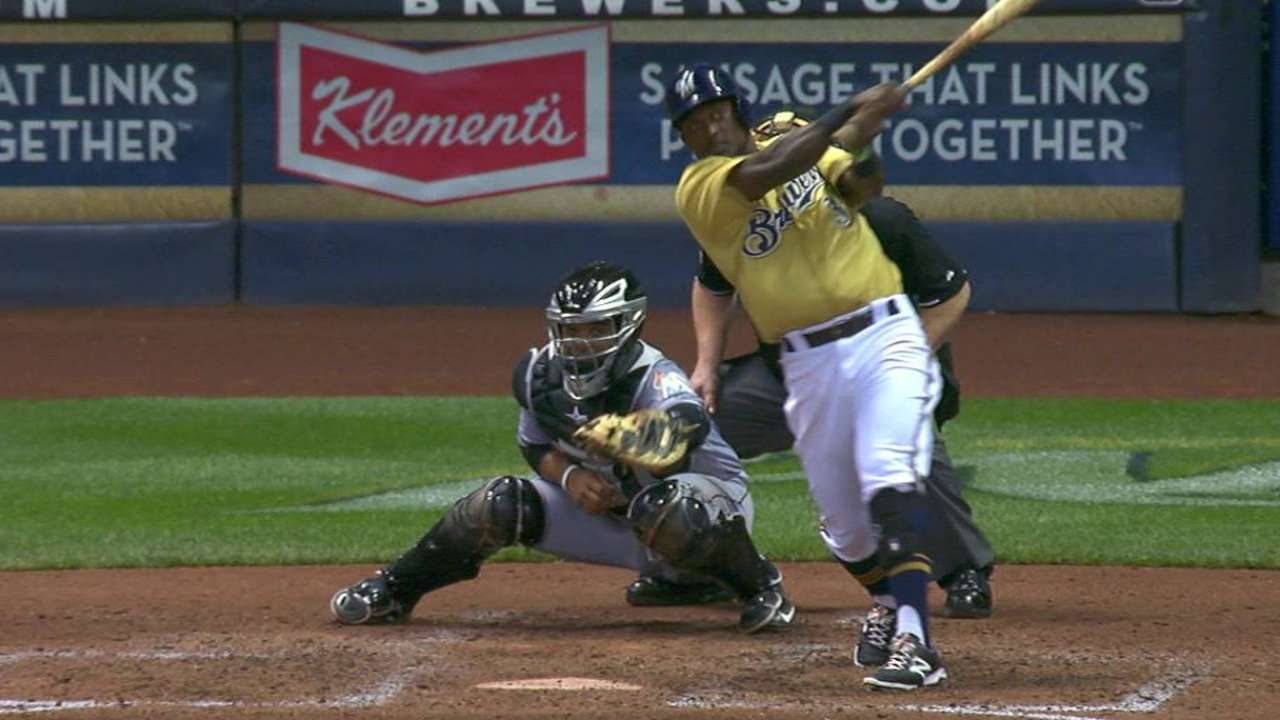 MILWAUKEE -- It has been one month and change since the Brewers began their sell-off by sending Aramis Ramirez to the Pirates. Beginning with that July 23 trade, general manager Doug Melvin has dealt away six proven players, while also announcing his own intention to transition into a different role in the front office. If you include Opening Day starter Kyle Lohse's demotion to the bullpen, more than a quarter of Milwaukee's 25-man roster has been turned over.
Club officials have resisted using the word "rebuild," but it's clear that the Brewers are in the midst of an overhaul. Manager Craig Counsell's repeated advice to players: embrace the change.
"What we've been in the process of the last month," Counsell said, "is you get new players, and it's difficult for them to assume the role of the players they're replacing. So you're trying to find different ways to fill in those cracks. Players are going to be put in different roles, expanded roles. That's what happens.
"That's where the opportunity comes in. They're really opportunities for the players, and that's a good thing. Guys have been given opportunities. And in some cases, it's worked out; and in other cases, it's been too much."
Here's a position-by-position look at those opportunities:
Third base
Who's out: Ramirez traded to Pirates
Who's in: Hernan Perez, Elian Herrera
Outlook: With Ramirez's announcement in Spring Training that he would retire at season's end, Milwaukee knew it would have to seek a long-term solution at third base. With the trade for raw relief pitching prospect Yhonathan Barrios, that search began early.
For Perez, a 24-year-old onetime Tigers prospect claimed off waivers by the Brewers on June 2, it marked an opportunity to prove he could be an everyday player after several years of sporadic playing time in the big leagues. Perez has not distinguished himself, batting .208/.218/.273 in 26 games since Ramirez was dealt, including 20 starts. Perez has a reputation as a solid defender, and he can play all of the infield positions, so he may be best in a reserve role.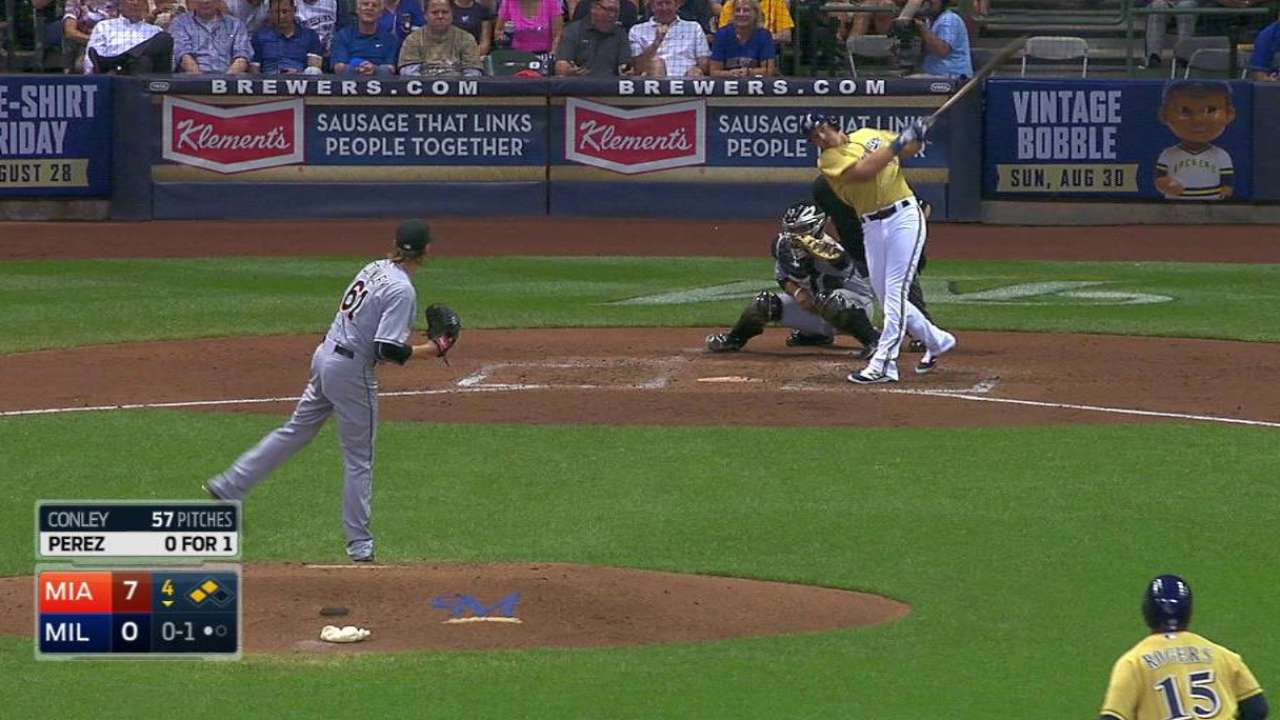 With no Major League-ready prospects at the position, the Crew will have to either acquire a regular third baseman or move someone from its deep stable of shortstops to third base. The trouble with the latter option is getting enough offense from the left side of the infield.
Center field
Who's out: Carlos Gomez traded to Mets, Gerardo Parra traded to Orioles
Who's in: Shane Peterson, Domingo Santana
Outlook: Peterson and Santana are corner outfielders who are manning center out of necessity. Peterson has impressed Counsell with his ability to make the routine plays, and he broke out during the team's recent road trip by making a special play, but some of the organization's current decision-makers think he's a better long-term fit as a versatile fourth outfielder and a proficient bench bat. Santana, one of four prospects acquired from the Astros for Gomez and Mike Fiers, was called up last week and hit a pair of home runs on the trip, but Counsell said his future is at a corner position.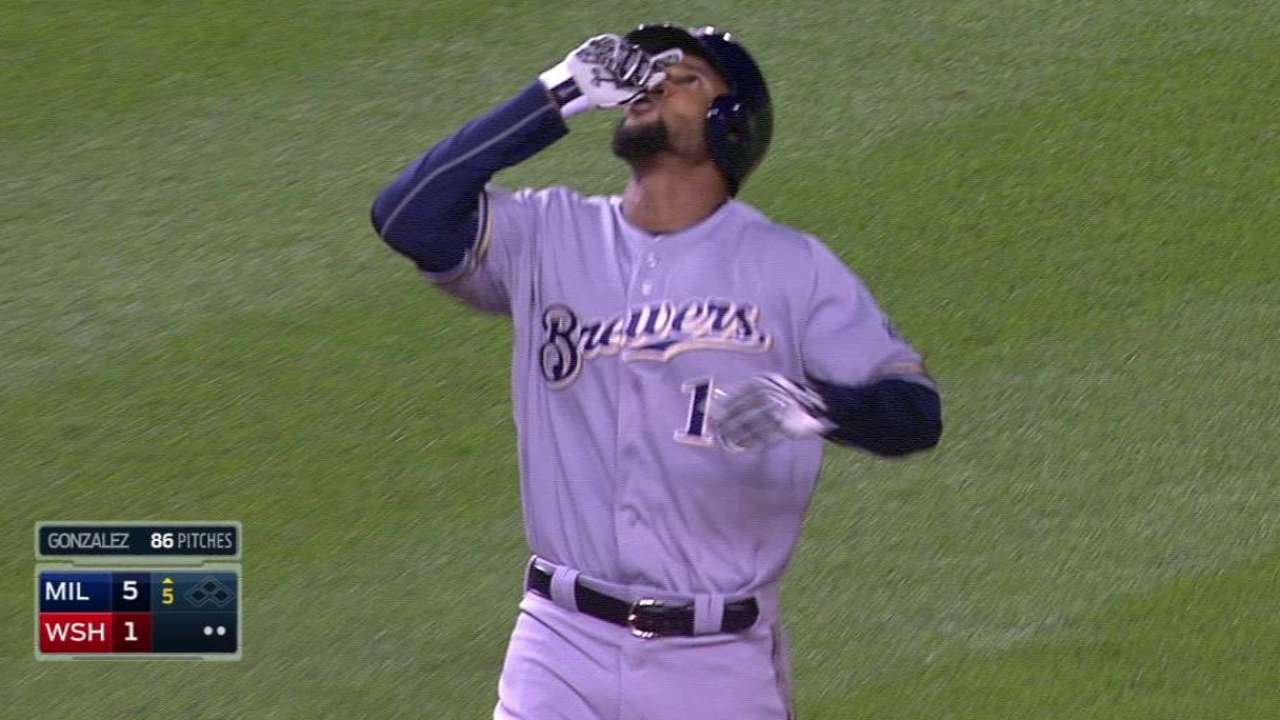 The Brewers' center fielder of the future is Brett Phillips, one of the other prospects acquired from Houston. He entered the prospect list at No. 2 and he is playing at Double-A Biloxi, meaning he might not be ready to make the jump at the start of 2016.
Starting rotation
Who's out: Fiers traded to Astros, Lohse sent to bullpen
Who's in: Tyler Cravy, Zach Davies
Outlook: Cravy was in, then out, placed on the disabled list with a right elbow impingement. He was being removed from the rotation anyway, after producing a series of poor starts entering a portion of the schedule in which numerous off-days allowed Milwaukee to get by with only four starting pitchers. The Brewers will need a fifth starter again on Sept. 5, and one candidate is right-hander Davies, acquired from the Orioles in the Parra trade.
Those four currently slated to return next season are Wily Peralta, Jimmy Nelson, Taylor Jungmann and Matt Garza. Cravy and Davies are candidates for the open spot. If Milwaukee is able to find a taker for Garza during the offseason (he is signed for at least two more years), then it would produce an additional opening.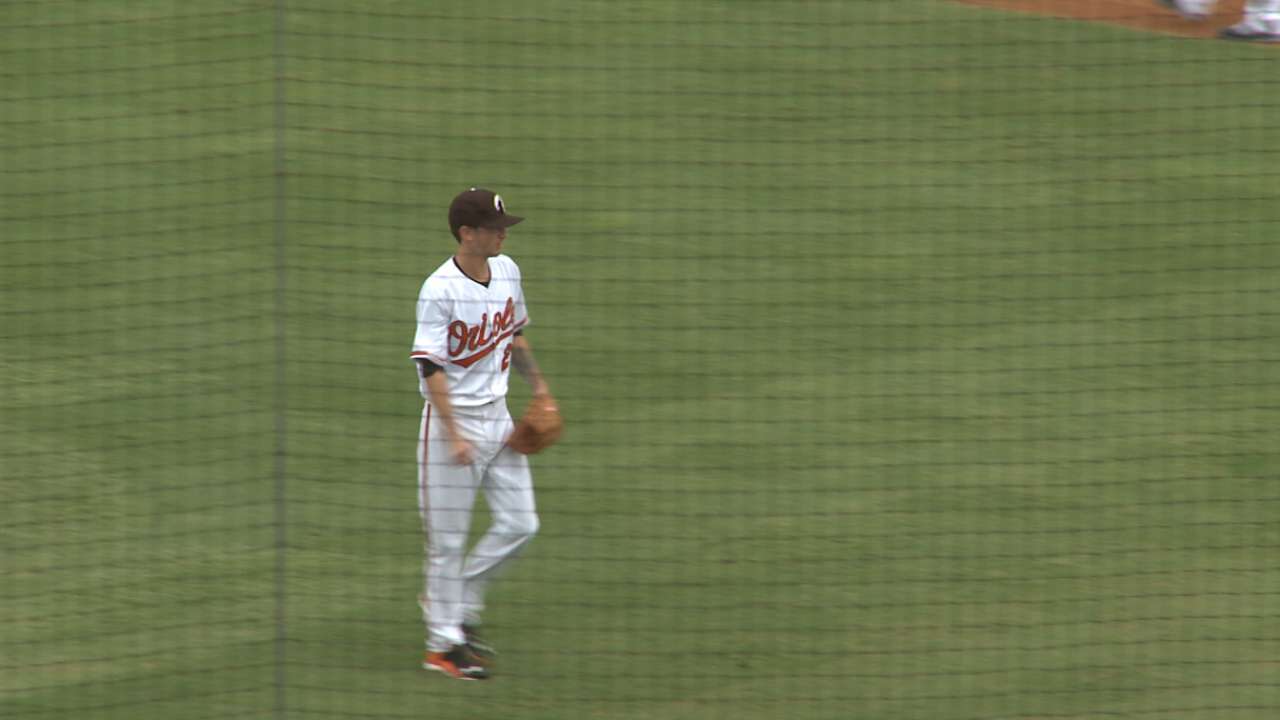 Bullpen
Who's out: Jonathan Broxton traded to Cardinals, Neal Cotts traded to Twins, Michael Blazek to the disabled list with broken right hand
Who's in: David Goforth, Cesar Jimenez
Outlook: The Brewers plucked Jimenez off waivers from the Phillies, but they looked at it as a trade for Cotts, who is a free agent to be. The Broxton trade and the Cotts trade were mostly motivated by salary relief.
The bullpen is one area that probably won't need an offseason overhaul. Reliable closer Francisco Rodriguez is signed through next year, and even if the club can trade him, it has intriguing in-house closer options in left-hander Will Smith and right-hander Jeremy Jeffress -- and maybe Corey Knebel. Blazek, Goforth, Jeffress, Knebel, Tyler Thornburg and Smith are all hard throwers who are under club control. Jimenez, a lefty specialist, also has two years of club control remaining.
Adam McCalvy is a reporter for MLB.com. Follow him on Twitter @AdamMcCalvy, like him on Facebook and listen to his podcast. This story was not subject to the approval of Major League Baseball or its clubs.