Cashman: Rest, not reinforcements, key for Yankees
GM happy to see off-day for tired club, which he feels can win with current pieces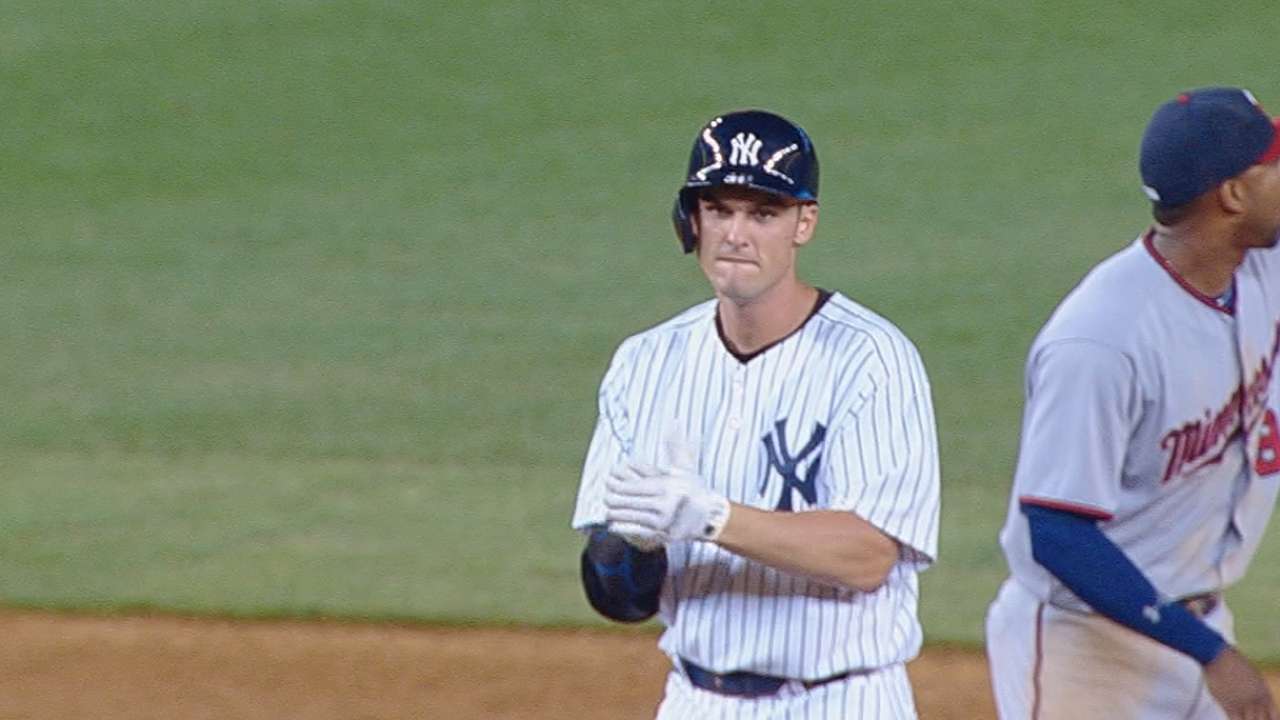 NEW YORK -- The Yankees are fighting through one of their weakest offensive stretches of the season, and as they sit two games behind the Blue Jays in the American League East, general manager Brian Cashman is hopeful that Thursday's off-day will wake up the snoozing bats.
"I didn't see anything that would encourage me over the Houston series," Cashman said. "We've got a collective slump going on. The only thing that is encouraging is the off-day that just came today; it gives us a complete timeout and gives our guys some fresh legs. We'll get a chance to tee it back up [Friday] in Atlanta."
New York was outscored, 21-4, at home by the Astros in a three-game series, and manager Joe Girardi said after Wednesday's 6-2 loss that many of his players are "beat up" physically, with Brett Gardner describing the team's energy level as "kind of flat."
Mark Teixeira has missed most of the past week with a deep bone bruise on his right leg, Jacoby Ellsbury sat out on Wednesday with a sore right hip and Girardi said that Gardner has been dealing with issues as well. Alex Rodriguez, while healthy, has just nine hits in his past 74 at-bats.
"It's a concern when there are slumps and we're banged up," Cashman said. "It's a waiting game to get through it. We've got guys that are playing through a lot of stuff and our performance is mostly high, but you're going to have some points where it's a struggle. We're in some points with a lot of guys where it's a struggle, and hopefully that'll pass us soon."
The reinforcements who will be called up after rosters expand on Tuesday -- a group that Cashman said includes second baseman Rob Refsnyder, the organization's No. 6 prospect, according to MLBPipeline.com -- should help provide Girardi with options to offer players rest.
Cashman said none of those callups are coming up to take existing jobs, squelching speculation that Stephen Drew would lose playing time to Refsnyder at second base.
"Our best players that we had have been up here," Cashman said. "If we felt that we had somebody down there -- if we felt that Aaron Judge was better than what we had up here, then we would have had him up. If we felt that Greg Bird was better than Tex, we would have had Greg Bird up. That's not what we've done."
Cashman said that while it will be "all hands on deck" for players who are on the 40-man roster, the Yanks are not planning to call up Judge, the organization's No. 2 prospect, according to MLBPipeline.com.
"He's not Rule 5 [Draft] eligible, and as of right now, there's no plan to bring Judge up," Cashman said. "He doesn't even have to be protected this winter. He'd just clog the roster."
Largely, the Yankees will continue their fight with what they already have. The deadline for waiver deals is Monday, but Cashman said that he does not anticipate making an acquisition before then.
"Most of the population has been run through the washer already," Cashman said. "I'd say it's at least 70 to 80 percent, if not more, of the Major League guys have been run through. That whole situation, for the most part, has declared itself. I don't anticipate doing anything."
Worth noting
Cashman said that he is not sure if the Yanks will have Ellsbury on Friday in Atlanta; the outfielder is listed as day to day, but Cashman said that this current situation is nothing close to the right knee injury that forced Ellsbury to miss nearly two months earlier this season.
"That was a significant issue that needed an extended period of time to rest," Cashman said. "It was a ligament sprain. This is a muscle contusion. He's day to day. It's not a disabled list situation. It's a timing issue, and how much time it'll take. Is it one day? Is it two days? Is it longer? I've got no idea."
Bryan Hoch is a reporter for MLB.com. Follow him on Twitter @bryanhoch, on Facebook and read his MLBlog, Bombers Beat. This story was not subject to the approval of Major League Baseball or its clubs.