Jirschele handles ups and downs as 3B coach
Despite heckling from fans, coach understands job requires aggressiveness
KANSAS CITY -- Royals third base coach Mike Jirschele hears the heckles all the time.
"Hey Jirsch! You got one job," a fan yells at him.
"Come on, man," another fan screams. "How can you not send him? Are you even trying?"
It's all part of the life of a third base coach anywhere. They generally only get noticed when something goes wrong, like a runner being thrown out.
"I can handle the heckling," Jirschele said. "It's part of the job. You try not to hear them, but you do. Some of them can be funny."
Jirschele knows his name was probably taken in vain by many fans last Sunday, when the Royals had two runners thrown out at home plate in the ninth inning -- a game the Royals won despite those unfortunate sends.
The one that set fans off on Twitter was when Jirschele sent Omar Infante, who already had a triple secured as Boston outfielder Jackie Bradley Jr. continued to fumble the ball in deep left-center field. Jirschele saw the distance between Bradley and home plate and saw Infante almost to the third base bag -- easy send.
But Bradley made the incredible Bo Jackson-like throw to nail Infante. Jirschele took the blame for sending a runner down by two runs.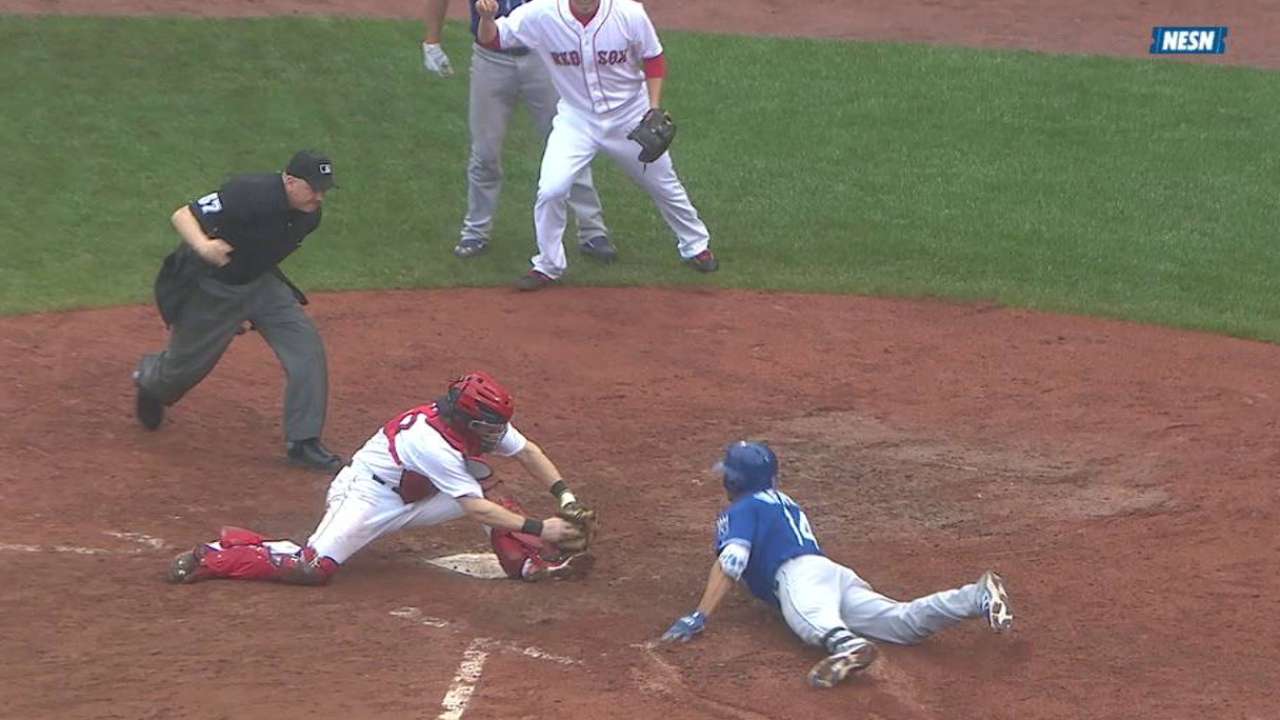 Still, when Jirschele came into the dugout during that inning as the Red Sox were making a pitching change, Royals players approached him one by one.
"They all said, 'Hey, we got your back. We're going to win,'" Jirschele said.
And that's exactly what happened, as the Royals got four runs to beat Boston, 8-6, on Sunday.
More support came from manager Ned Yost, who was a third-base coach for four years in Atlanta.
"The best advice I got as a third-base coach was to be aggressive and play to win," Yost said. "You can cover your [behind] easily by never sending anyone and never having anyone thrown out. But that's not the job. You have to be aggressive and put pressure on the defense. Just because you have someone thrown out doesn't mean it was a mistake. It's the job."
And sometimes that involves holding a runner, as Jirschele did with Salvador Perez in Monday night's 8-3 win against Baltimore. Perez was on first when Alex Rios doubled into the left-field corner. Jirschele held Perez even though there were two out.
"It's not a fast runner, and the relay man had a strong arm and handled the relay throw cleanly," Jirschele said. "Not a good situation to send."
The next hitter, Infante, tripled in both runners. But no "attaboys" came from the stands toward Jirschele for making the right call.
"It's all part of it," Jirschele said. "You got to have thick skin."
Jeffrey Flanagan is a reporter for MLB.com. Follow him on Twitter at @FlannyMLB. This story was not subject to the approval of Major League Baseball or its clubs.