Ventura leads Royals to series win over O's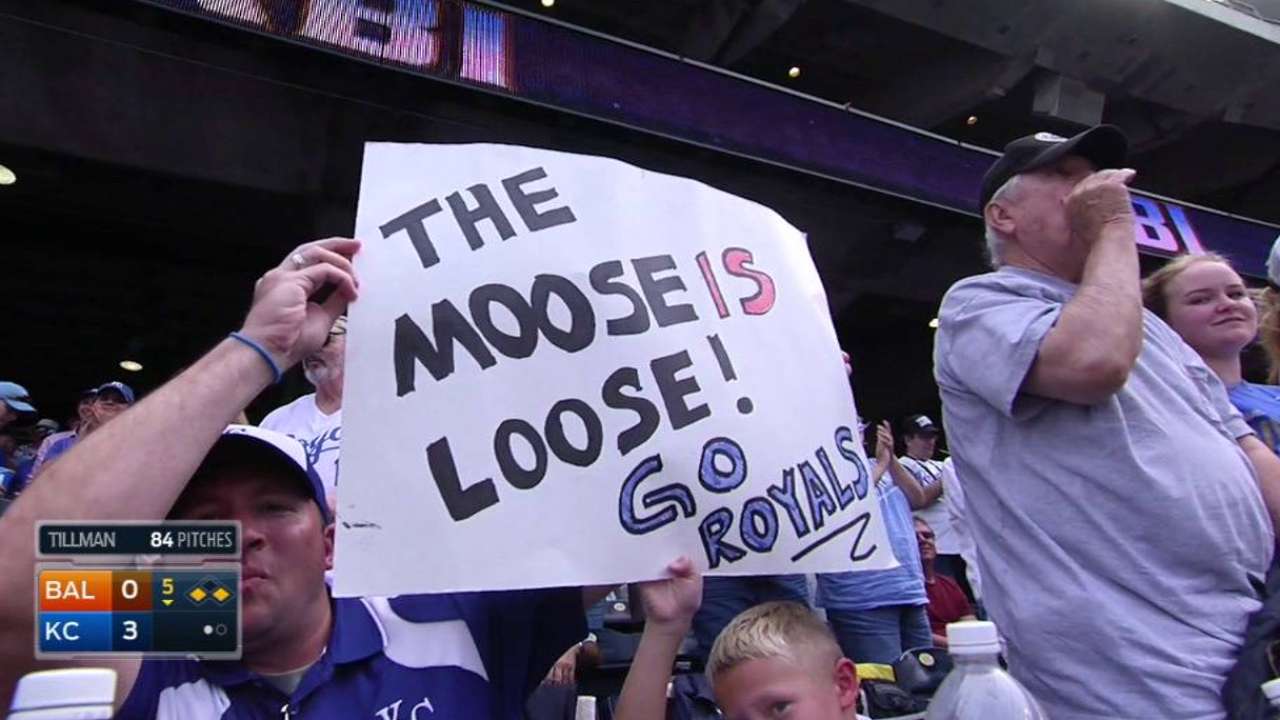 KANSAS CITY -- Right-hander Yordano Ventura threw six scoreless innings and struck out a career-high 11 batters while red-hot Mike Moustakas had three hits and two RBIs as the Royals topped the Baltimore Orioles, 5-3, on Thursday afternoon at Kauffman Stadium.
Orioles All-Star center fielder Adam Jones left the game in the top of the third inning after crashing into the center-field wall chasing Ben Zobrist's double in the bottom of the first.
"Just didn't feel myself, so there's no point in me [playing] not feeling myself," Jones, who had whiplash and blurred vision, said of exiting the game. "We got a great team, great guys that can go in there and fill in. I'm not going to be out there when I'm not myself."
Ventura gave up just two singles, both to Paul Janish, who wouldn't have been playing if not for the Jones injury.
What impressed Royals manager Ned Yost?
"His ability to make an adjustment in the first inning," Yost said of Ventura. "He was rushing it, he was flying open. His pitch count was up. But then he made an adjustment, slowed his tempo down, and he was down through the zone and got his pitch count manageable. His curveball was excellent, fastball up to 100 mph, changeup good."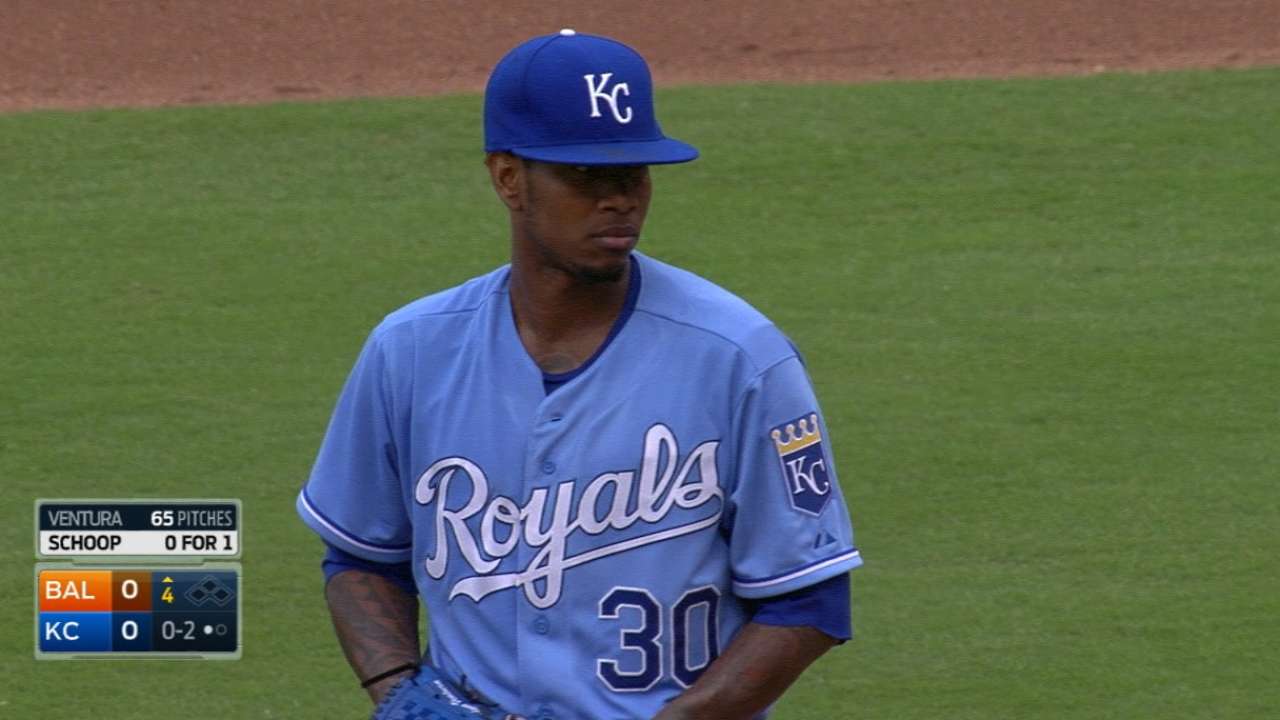 Chris Tillman started for the Orioles, who lost for the seventh time in eight games. Tillman gave up nine hits and four runs in six innings.
MOMENTS THAT MATTERED
No slowing Moose down: Moustakas continues to rake the ball, getting three more hits and extending his hitting streak to eight games. Moustakas launched an opposite-field double high off the wall in left-center to start the two-run fourth. He then lined a sharp single to right field to score Zobrist in the fifth and singled to center to drive in Eric Hosmer in the seventh. During the hitting streak, Moustakas is 14-for-31 (.452) with four doubles, four homers and 12 RBIs.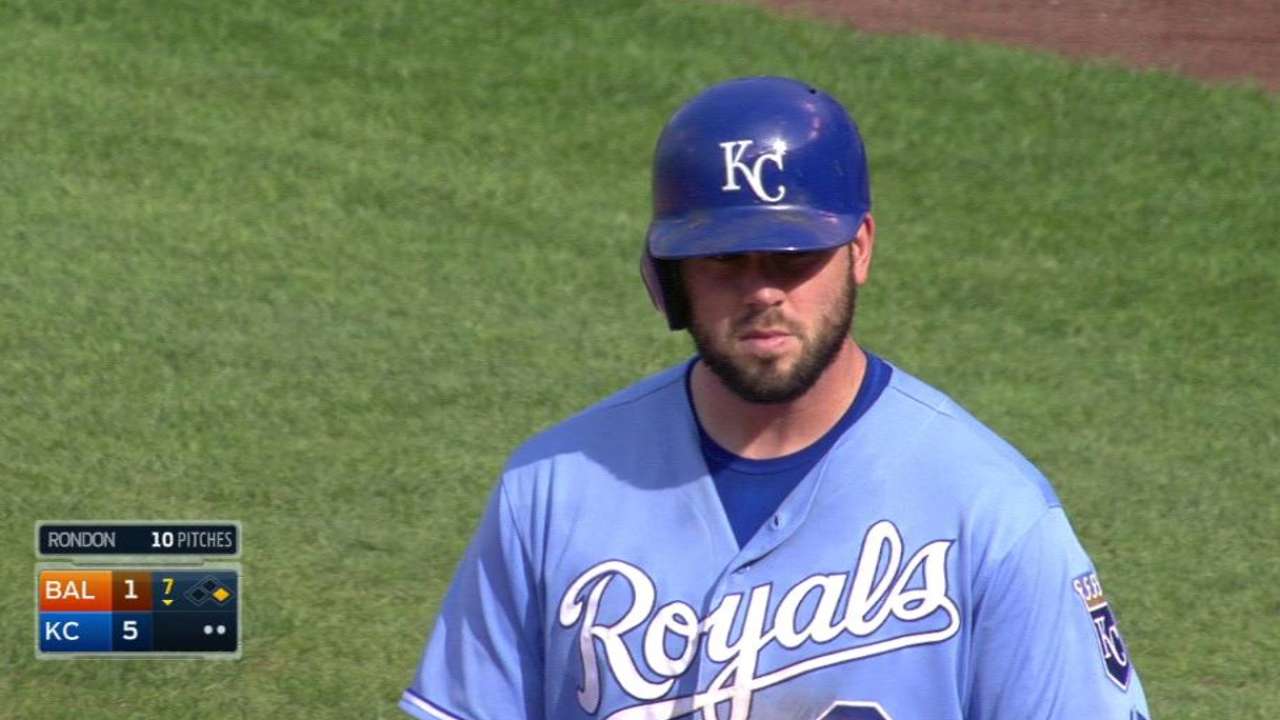 "Moose has had clutch hits, big hits," Yost said. "He's starting rallies, finishing rallies. He's just been really key for us."
Added Moustakas, "I'm just seeing the ball really well right now. It's not much more than that."
Paulo from Sao Paulo: Paulo Orlando continues to enjoy a solid rookie season. He hit a sacrifice fly in the fourth to put the Royals up, 2-0. He then launched his fifth homer of the year in the sixth. Not bad for a guy who only gets spot starts.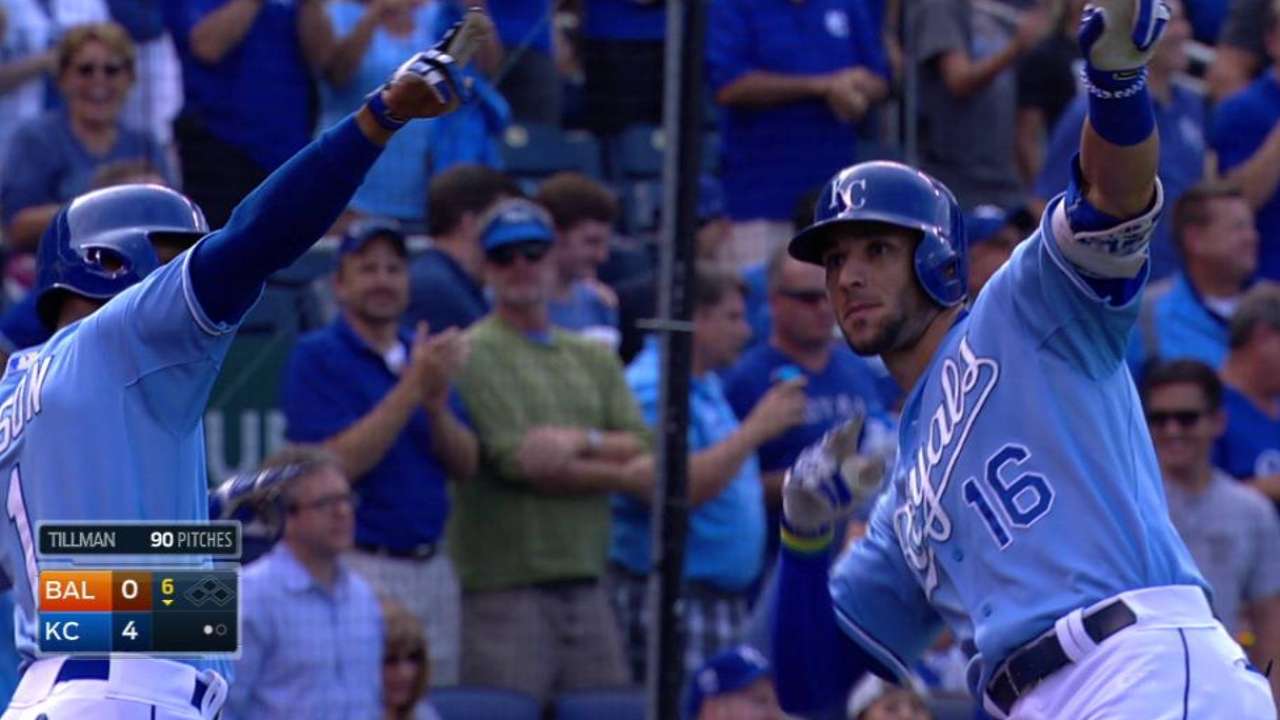 "I have to prepare when guys are in scoring position like second and third," Orlando said. "I know they're coming inside hard. That time, [Tillman] only threw one pitch inside, and then I drove it [to right field]. I just tried to put contact on the ball and hit a fly ball somewhere." More >
Jones exits: The Orioles' leader, Jones, slammed into the center-field wall trying to make a play on Zobrist's one-out double in the bottom of the first inning. The tough Jones remained in the game at the time but exited in the top of the third.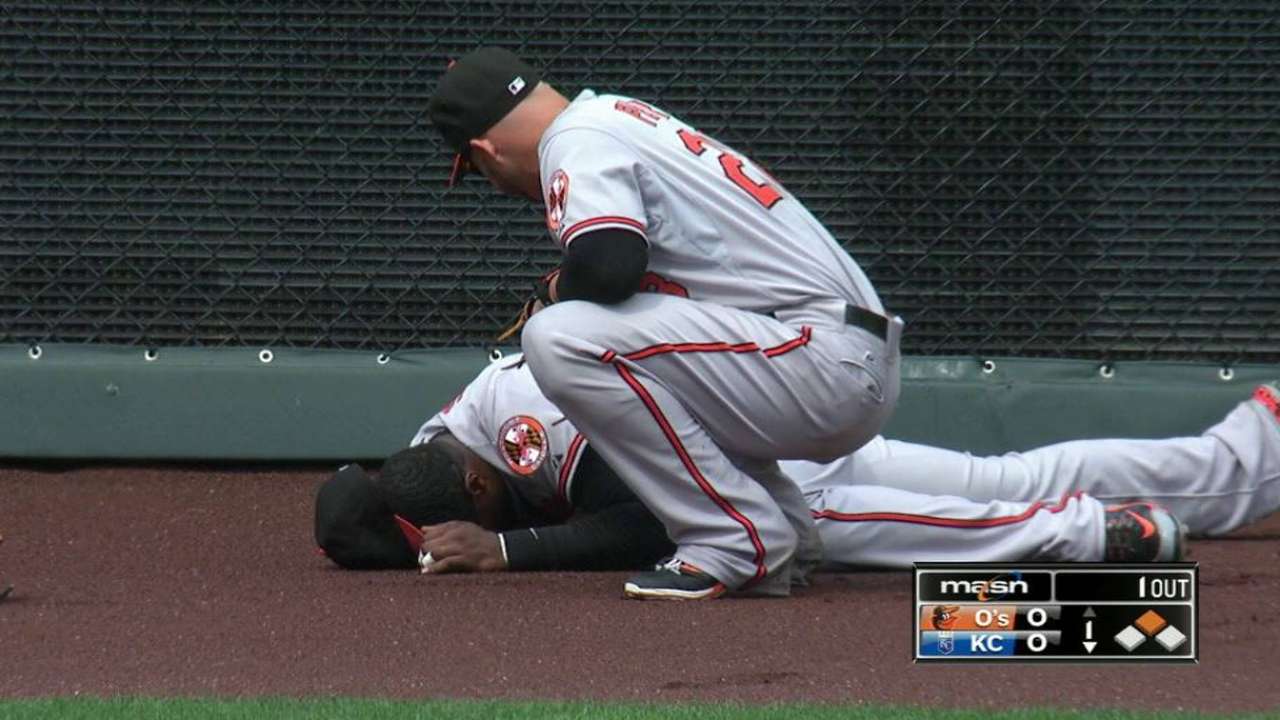 "That's one of [the hardest hits I've taken]," Jones said. "I don't come out of the game much, especially once the game starts. I just wasn't me. And hopefully I feel a lot better tomorrow." More >
Janish rare bright spot: Baltimore was nearly no-hit by Ventura, with Janish the only batter to single over the righty's six innings. Janish recorded two hits, which is more impressive considering he didn't enter the game until taking over for Jones' at-bat in the top of the third inning. He also had a pair of highlight-reel plays, making a diving stop on Salvador Perez's ball up the middle to turn an inning-ending double play in the fifth and making a diving catch on Omar Infante in the eighth.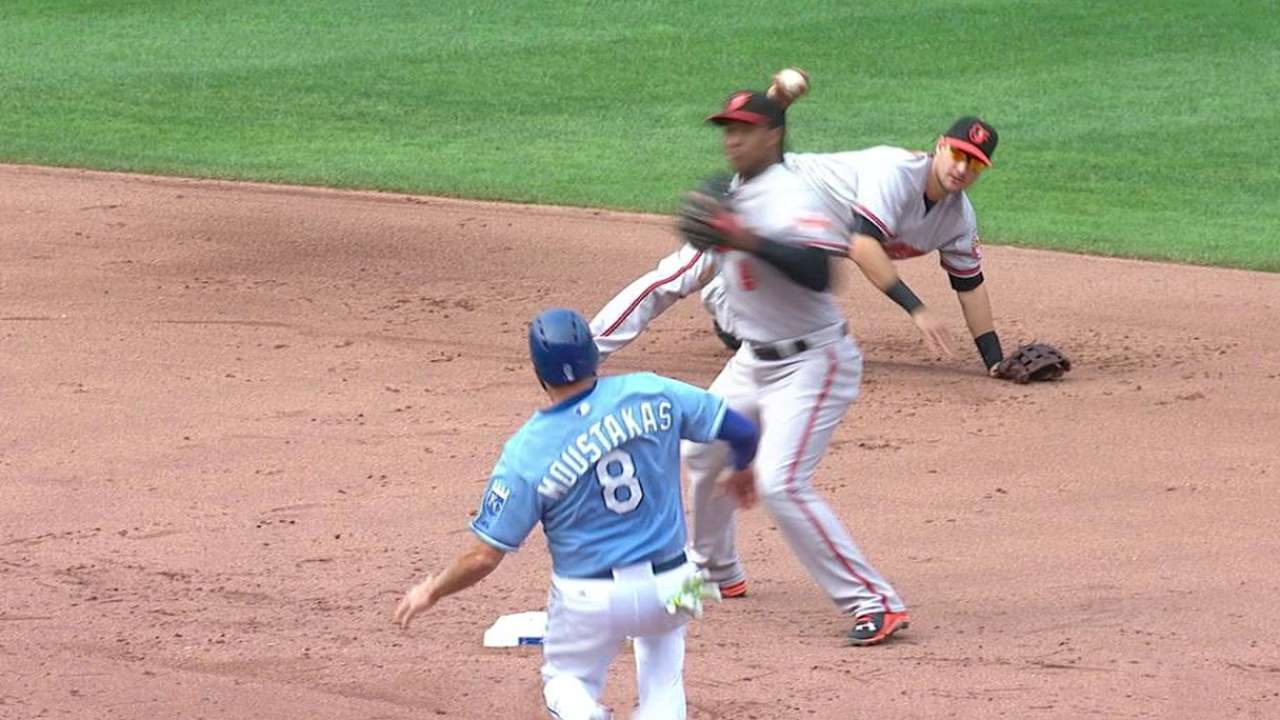 "I was not expecting to get in the game, I guess it worked out OK -- the ambush was a good tactic," Janish said. "It's unfortunate. I haven't heard about Adam, but I hope that he's OK." More >
QUOTABLE
"Most of it [Jones] took putting his wrists up there on this structure that they let them put up there so they can sell more signage. You go figure. It's plexiglass right behind it. It's like running into plexiglass. Of course, you've got metal in Houston. You've heard me go on and on about it, and this is a great example of it. I know why they do it, so they can sell more signage to pay more contract. I got it. But the safety issue there, I'm not happy about it." --Showalter, on the Royals' outfield padding
WHAT'S NEXT
Orioles: Baltimore will go to Texas for a weekend series to end the road trip. Dariel Alvarez is expected to join the O's, who are vying for an American League Wild Card spot. Kevin Gausman will get the start in the 8:10 p.m. ET game against Rangers' lefty Cole Hamels.
Royals: Right-hander Edinson Volquez (11-7, 3.40 ERA) will make his team-leading 27th start as the Royals open a three-game set with Tampa Bay on Friday at 6:10 p.m. CT. Volquez gave up a 4-2 lead in his last start and gave up six runs in 6 2/3 innings in a no-decision against Boston last Sunday.
Watch every out-of-market regular season game live on MLB.TV.
Jeffrey Flanagan is a reporter for MLB.com. Follow him on Twitter at @FlannyMLB. Brittany Ghiroli is a reporter for MLB.com. Read her blog, Britt's Bird Watch, follow her on Facebook and Twitter @britt_ghiroli, and listen to her podcast. This story was not subject to the approval of Major League Baseball or its clubs.