DeShields turns Bautista's error into 'homer'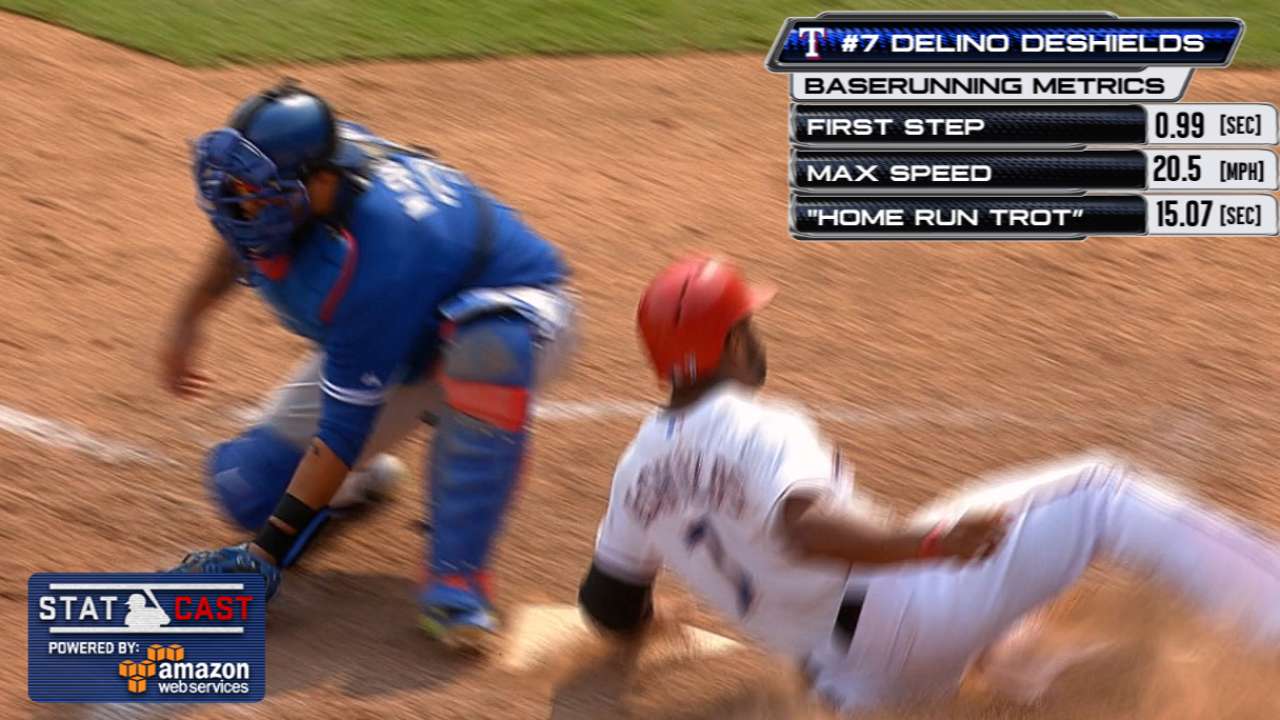 ARLINGTON -- The Rangers clung to a one-run lead through 6 1/2 innings on Thursday afternoon, mainly because of some tough, gritty pitching in the Texas heat.
Then they got a huge break on the kind of "home run" usually reserved for Little League and it gave them the margin they needed for a 4-1 victory over the Blue Jays.
The break was an error by Blue Jays right fielder Jose Bautista on Delino DeShields' seventh-inning single, coming with runners on first and second. The Rangers should have been left with the bases loaded and one out, instead three runs scored on the play.
"That was a really nice play for us. ... A nice break," Rangers manager Jeff Banister said. "We've had some go against us. It was nice to see the home field wake up and do something for us. It was a nice break, an energy boost."
The Blue Jays got the first break of the inning when Will Venable led off with a single against reliever Liam Hendriks and then got picked off first base. Bobby Wilson and Hanser Alberto responded with two more singles, putting runners on first and second.
That brought up DeShields, who grounded a single through the right side. Bautista charged the ball aggressively wanting to keep Wilson from scoring. Wilson is not a fast runner and Rangers third-base coach Tony Beasley was holding him up anyway.
But that changed when Bautista let the ball get past him and roll deep into right field.
"I think I just attacked the ball a little too hard and the outfield grass is cut kind of funky here," Bautista said. "You get a lot of ground balls that snake around. We noticed that in BP the first day. I feel like my mindset was right and everything I was doing. I knew who was running at second, I knew they were going to stop him, but I was too aggressive attacking the ball. I came in with sort of an angle and I had to get around the ball, and by the time I got to it, the ball snaked on me a little bit."
According to Statcast™, the ball came off DeShields' bat at 102.13 mph and traveled 218.558 feet. He hit a top speed of 20.546 mph and raced around the bases in 15.073 seconds.
Center fielder Kevin Pillar raced over to back up the play, but it was too late to stop DeShields from racing around the bases behind Wilson and Alberto.
"It was exciting, I was just trying to find a hole and give us a cushion," DeShields said. "It's always an exciting play. It's always fun to run around the bases like that."
DeShields deserved a break. He was the victim of a tremendous catch by Ben Revere the night before, but DeShields came back to go 2-for-2 with three walks on Thursday.
"It was a great team win," DeShields said. "They got away with one in the first game and they took it to us yesterday. But to play as well as we did and pitch as well as we did, it gives us confidence going into the Baltimore series."
T.R. Sullivan is a reporter for MLB.com. Read his blog, Postcards from Elysian Fields, follow him on Twitter @Sullivan_Ranger and listen to his podcast. This story was not subject to the approval of Major League Baseball or its clubs.