Lighting rod: Gomez an electric presence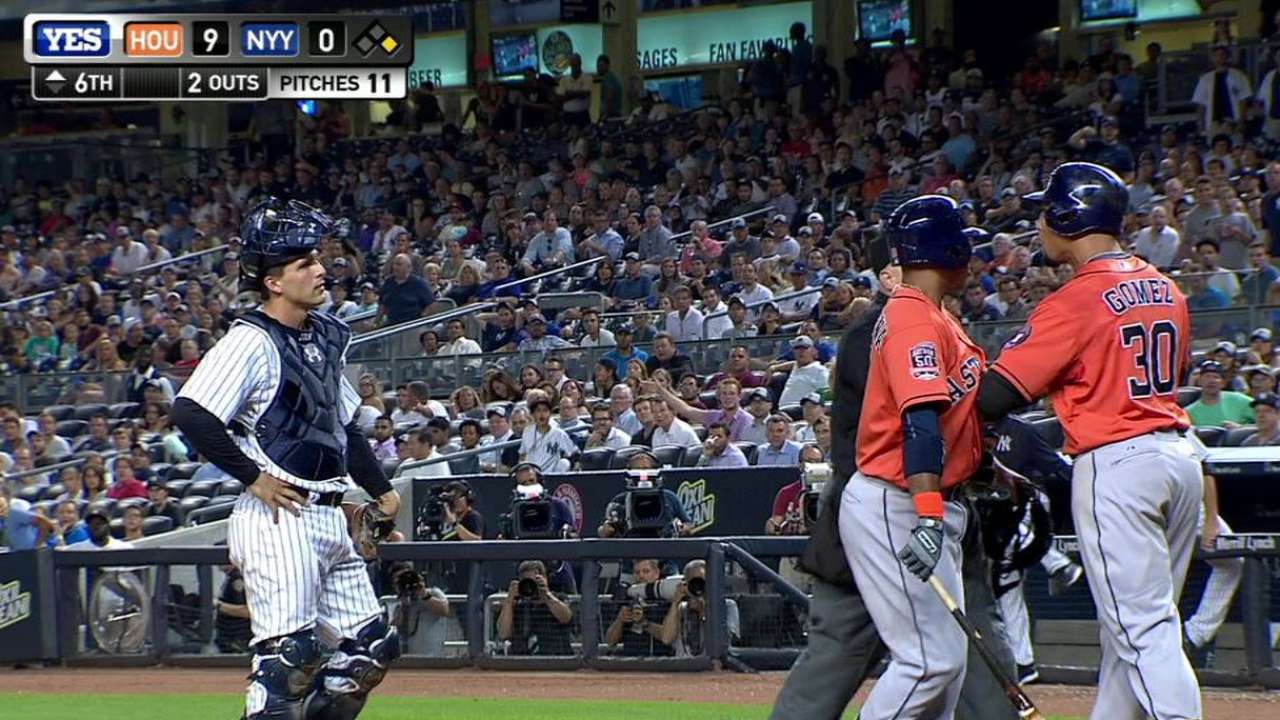 HOUSTON -- It's been nearly a month since the Astros pulled off a trade to acquire outfielder Carlos Gomez and pitcher Mike Fiers from the Brewers, and both have found themselves making big headlines.
Fiers, of course, pitched the 11th no-hitter in Astros history on Friday, while Gomez -- who has struggled mightily at the plate since coming to Houston -- was in a firestorm of controversy Tuesday when the Yankees took exception to his flashy gestures and bat slamming, igniting a benches-clearing incident.
Yankees manager Joe Girardi said Gomez should show more professionalism, while the Astros were learning Gomez's passion and showboating are a part of his game. Veteran pitcher Chad Qualls said Gomez "kind of rubs you the wrong way" if you're not on his team.
Like it or not, the Astros have added some lightning to their lineup and clubhouse in Gomez.
"He's a high-energy player, like George Springer does," Qualls said. "He doesn't mean any disrespect by it at all. That's just the way he is. He's like that on and off the field. No big deal. And obviously you're down, 9-0, your emotions are going to get the best of you."
Gomez flipped his bat and slid aggressively into second base on an RBI double early in Tuesday's game, gesturing to the Astros' dugout when he reached second. When he flied out in the sixth, with Houston ahead 9-0, he pounded his bat in the dirt and appeared to yell at himself. While Gomez was walking back to the dugout, he got in a shouting match with someone from the Yanks' dugout before being confronted by catcher John Ryan Murphy.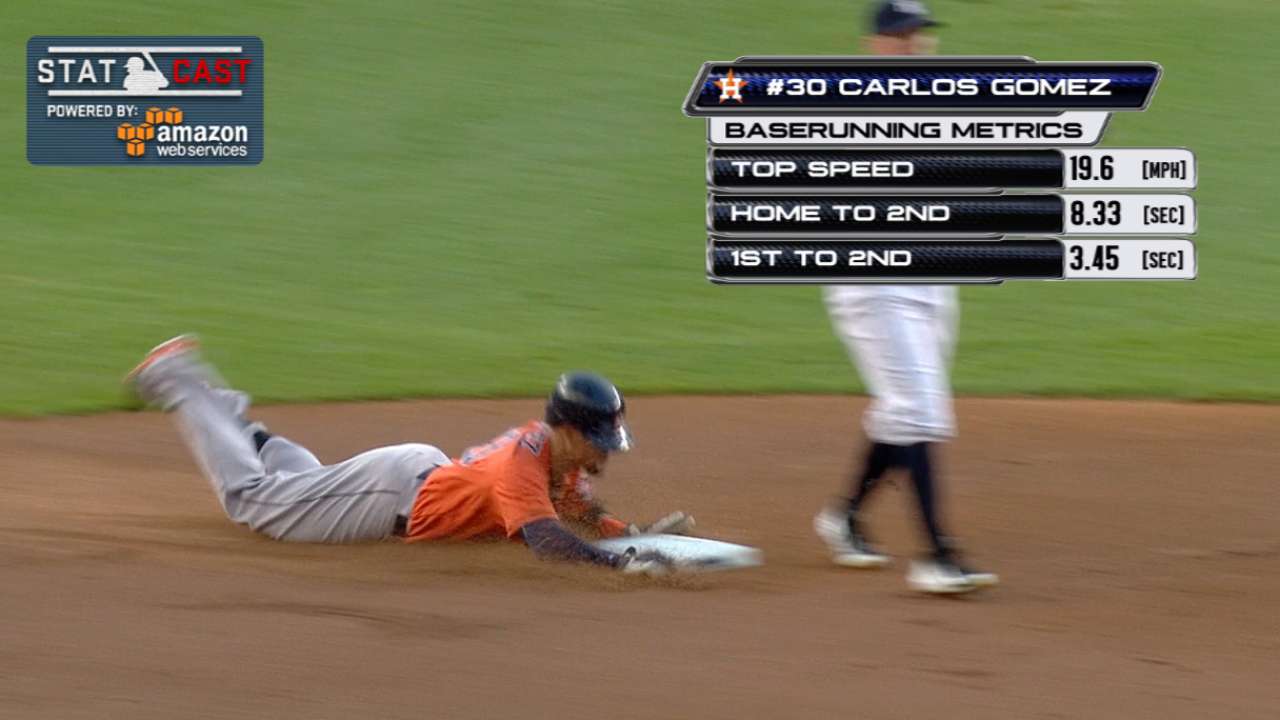 "If they feel like I disrespect them when I throw my bat for frustration, they take it the wrong way, because I don't mean to do that," Gomez said. "I'm a passion guy, even when I strike out. I broke my bat [last week in Houston], I got a lot of stuff -- it's not showing up anybody. It's a little bit of frustration. Everybody knows, like the last 2 1/2 weeks, I've been having a tough time at the plate."
Still, Astros manager A.J. Hinch said he pulled Gomez aside during Tuesday's game to make sure he was focused on the task at hand. Gomez socked a three-run homer in the seventh inning.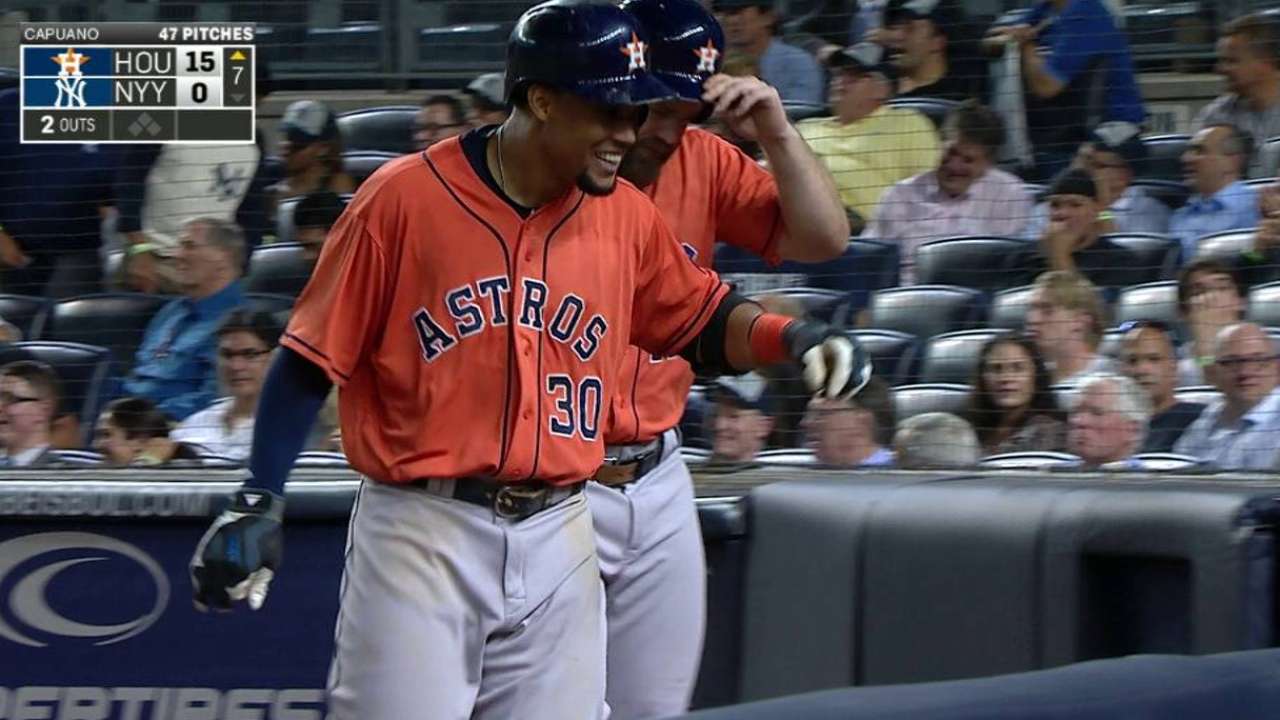 "I wanted to make sure his head was on straight and we were going to finish the game," Hinch said. "We were in the middle of a very positive game for us, and I didn't want any more attention being taken away from the score and finishing the game. I talked to him in the middle of the game, and it was a non-issue from there."
Hinch takes a diplomatic approach to Gomez's style, saying baseball is somewhere between entertainment and tradition. Players are asked to let their personalities show and be a part of the show.
"It's different than it has been over the years, and we certainly want to respect the game and respect the opponent," Hinch said. "I don't mind personalities coming out and these guys being themselves and enjoying competing. We don't want to cross the line. We don't want to disrespect our opponents."
Brian McTaggart is a reporter for MLB.com and writes an MLBlog, Tag's Lines. Follow @brianmctaggart on Twitter and listen to his podcast. This story was not subject to the approval of Major League Baseball or its clubs.