Angels monitoring stress on young arms
Santiago, Heaney and Richards approaching new highs for innings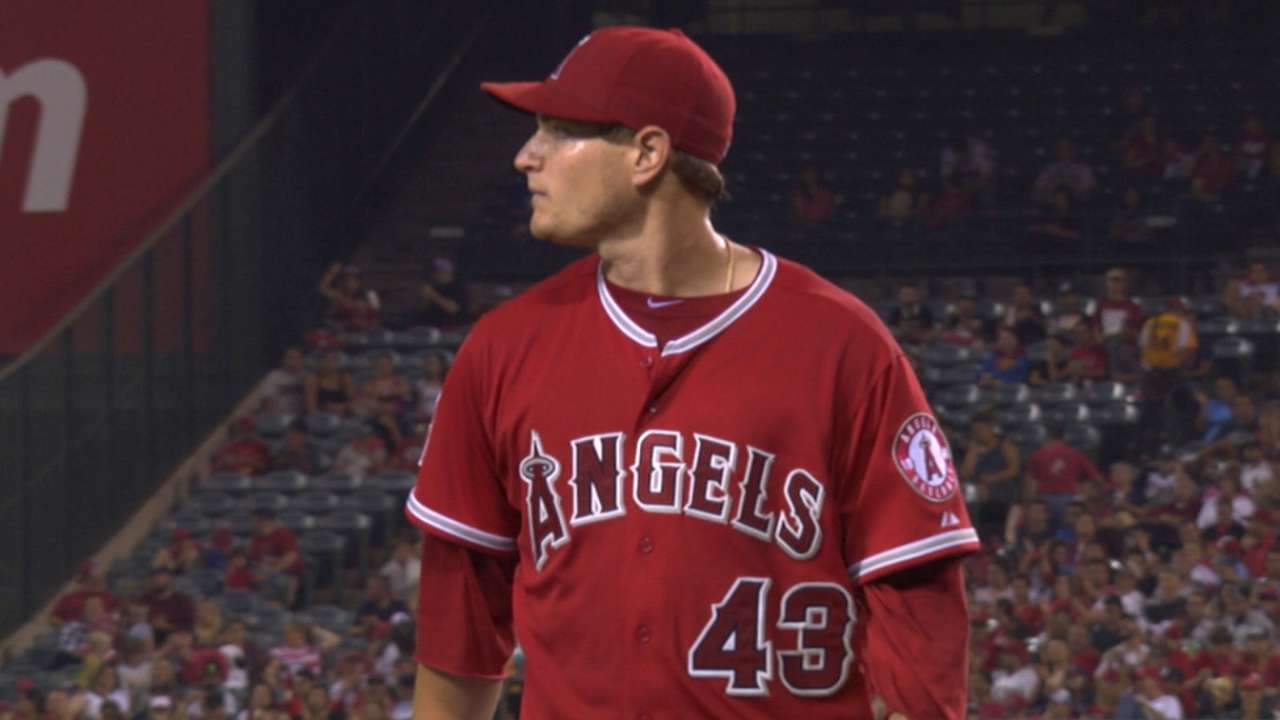 DETROIT -- The Angels will need a big lift from their starting rotation to reach the playoffs, but that's a department they'll also have to monitor closely down the stretch. Hector Santiago, Andrew Heaney and Garrett Richards, three of their key starters, are approaching dangerous territory.
Santiago, in his first full season in a Major League rotation, has thrown 149 2/3 innings, two-thirds of an inning higher than his previous career high with as many as seven starts left. At 154 innings, Richards is 14 2/3 innings shy of matching last season's total, and he's coming off an entire offseason of rehab.
Heaney, a rookie, has thrown 144 2/3 innings between Triple-A and the Major Leagues. That's still 22 innings shy of last year's career high, but he'll be counted on in September like never before.
The trio finished July with a collective 2.86 ERA.
Since then, it's 5.49.
The Angels will at least have the benefit of three days off in September, allowing them the freedom to give their three young starters some added rest.
"This was a concern in Spring Training, and obviously it's going to continue to be a concern," Angels manager Mike Scioscia said of the workload for Richards, Santiago and Heaney.
"I think you have to balance that, and hopefully these guys are going to have enough in their tank to get us to where they want to be. But that will definitely affect some of these decisions as you try to consolidate your rotation or bring guys back for matchups, which you always look at in September. You might not have as many chances, and if we don't, so be it. These guys are going to have to go out there in their regular turns and give us a chance to win."
Worth noting
• Grant Green returned to the starting lineup on Thursday, two days after exiting Tuesday's game early after tweaking his right knee. The 27-year-old is expected to be the everyday second baseman until Johnny Giavotella returns, perhaps by early September, from an undisclosed illness.
• David Freese (fractured right index finger) has gone 4-for-13 with a grand slam while serving as a designated hitter for Triple-A Salt Lake in four games. Freese is slated to play third base a couple of times over the weekend, and Scioscia is hopeful that he'll join the team in Oakland early next week.
Alden Gonzalez is a reporter for MLB.com. Follow him on Twitter @Alden_Gonzalez and listen to his podcast. This story was not subject to the approval of Major League Baseball or its clubs.