Lack of RBI chances limiting Trout's production
Slugger getting fewer opportunities with runners in scoring position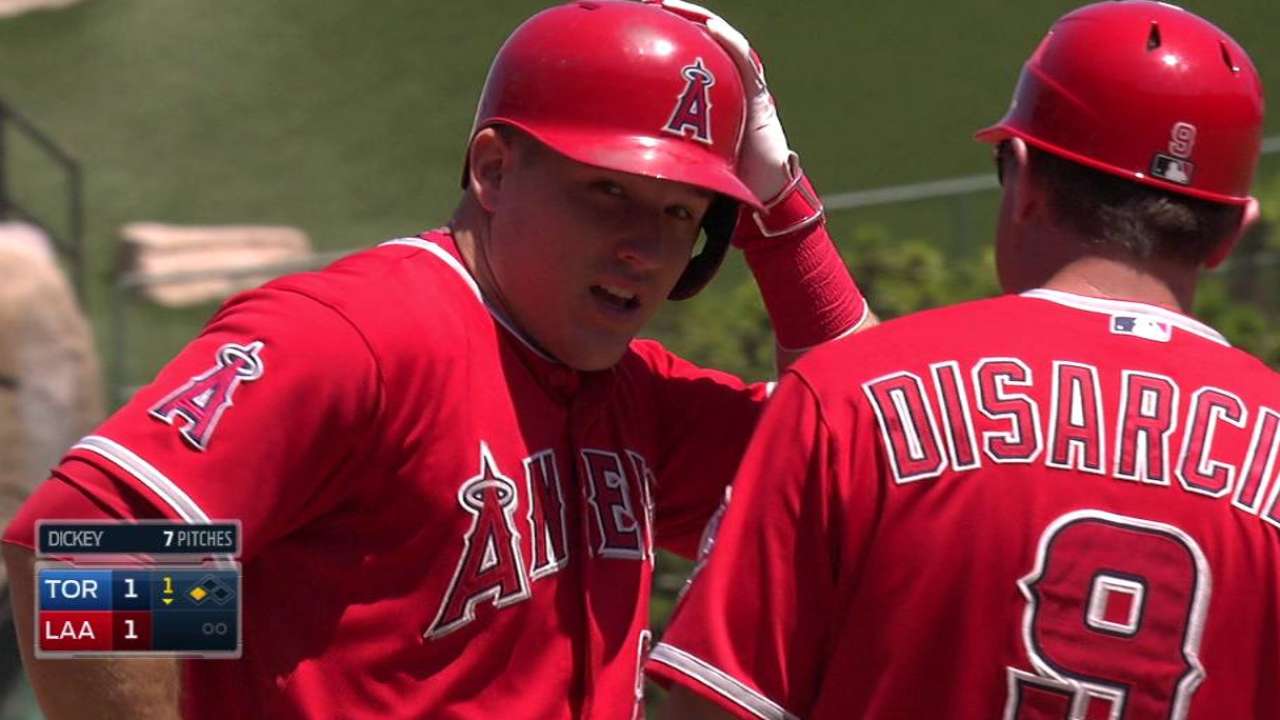 DETROIT -- After the Angels 2-0 victory over the Tigers in Thursday's series finale at Comerica Park, Mike Trout -- the consensus best all-around player in the game -- had come to bat with runners in scoring position only 102 times. One-hundred and thirty-three Major League hitters had more plate appearances in that situation.
It is perhaps the Angels' biggest hindrance this season, a flaw that could cost Trout the American League's Most Valuable Player Award.
"Really," Angels manager Mike Scioscia said, "it's amazing that he has as many RBIs as he has."
Despite being in the tail end of a bad month, and despite astonishingly limited opportunities to drive his teammates in, Trout has 73 RBIs, 14th-most in the AL, but 28 behind leader Josh Donaldson, the Blue Jays third baseman who's widely considered an MVP frontrunner.
It's no fault of Trout's, though.
The 24-year-old has improved with runners in scoring position every year he has been in the big leagues, going from an OPS of .951 in 2012 to .993 in 2013, 1.024 in 2014 and 1.208 in 2015, fourth-highest among Major League qualifiers.
Scioscia has spent the last three years searching for ways to maximize Trout's opportunities with runners in scoring position, ever since his star center fielder became the unanimous AL Rookie of the Year as a supreme leadoff hitter. Kole Calhoun has thrived hitting in front of Trout, but Scioscia has always said, "I wish we could find another Mike to bat in front of Mike."
No such luck yet.
The bottom half of this season's lineup is nowhere near as productive as it was in 2014, when Trout drove in an AL-leading 111 runs, and Scioscia hasn't been able to find a second on-base guy that would allow Trout to remain in the No. 3 spot.
Johnny Giavotella has a lifetime .295 on-base percentage, Erick Aybar is far more comfortable batting lower in the lineup, David DeJesus is 6-for-47 since joining the Angels, Shane Victorino only starts against lefties and Albert Pujols bats behind Trout.
"Mike Trout is obviously our best on-base guy, so he's really helped set the table for guys behind him," Scioscia said. "Theoretically, moving him to the No. 3 hole should get a guy more opportunities over the course of a season. But for a long time, our on-base was so poor that we paid a price for it."
The Angels are currently paying a price for a rare Trout slump. On the heels of being named AL Player of the Month for July, Trout sports a .633 OPS in August, his lowest mark for any month month since his first full season in 2012.
Since the end of July, his batting average has dropped from .317 to .295.
"Last few weeks, my front side is flying open, my swing's been getting a little long," Trout said. "I'm trying to do a little too much."
History says Trout will get hot again, but there's no precedent to suggest he'll get more opportunities to drive in runs.
Consider: The Angels are out of the playoff picture -- six games behind the Astros in the AL West, one game behind the Twins for the second Wild Card spot -- largely because they've averaged just 4.02 runs per game, fourth-lowest in the AL.
If Trout had the opportunity to produce 30 more RBIs -- within reach at his current production -- they would instead be averaging 4.26 runs per game.
It could mean everything.
Alden Gonzalez is a reporter for MLB.com. Follow him on Twitter @Alden_Gonzalez and listen to his podcast. This story was not subject to the approval of Major League Baseball or its clubs.