McCann maintains calm amid no-no bid
Rookie catcher helps Verlander navigate one-hit gem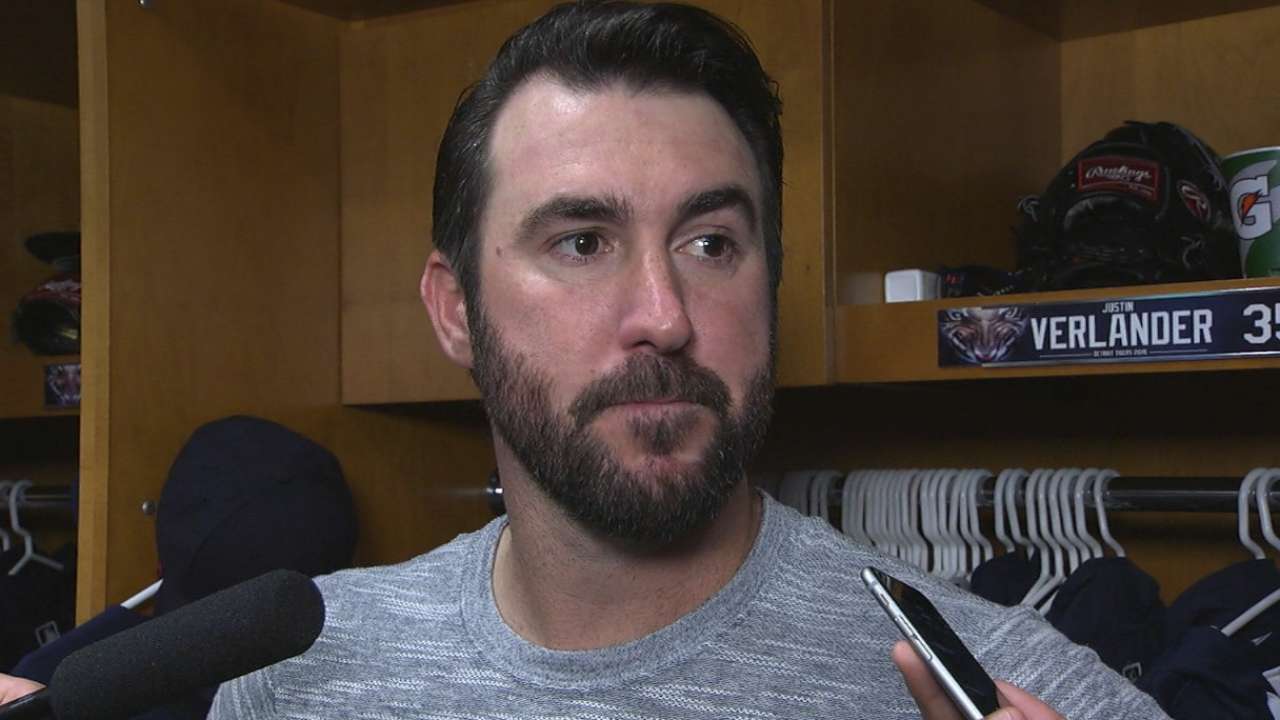 DETROIT -- James McCann learns quickly, as one would expect from the son of a rocket scientist. The way McCann handled his late-inning mound visit with Justin Verlander, one would've thought he was the son of a negotiator.
Verlander's disdain for interruptions on the mound has become well-known, which is why pitching coach Jeff Jones treads carefully when he goes out there. As Verlander struggled to find the strike zone with his initial pitches of the eighth inning, walking David Murphy on four pitches before falling behind in the count on Erick Aybar, McCann had to weigh whether to take those steps.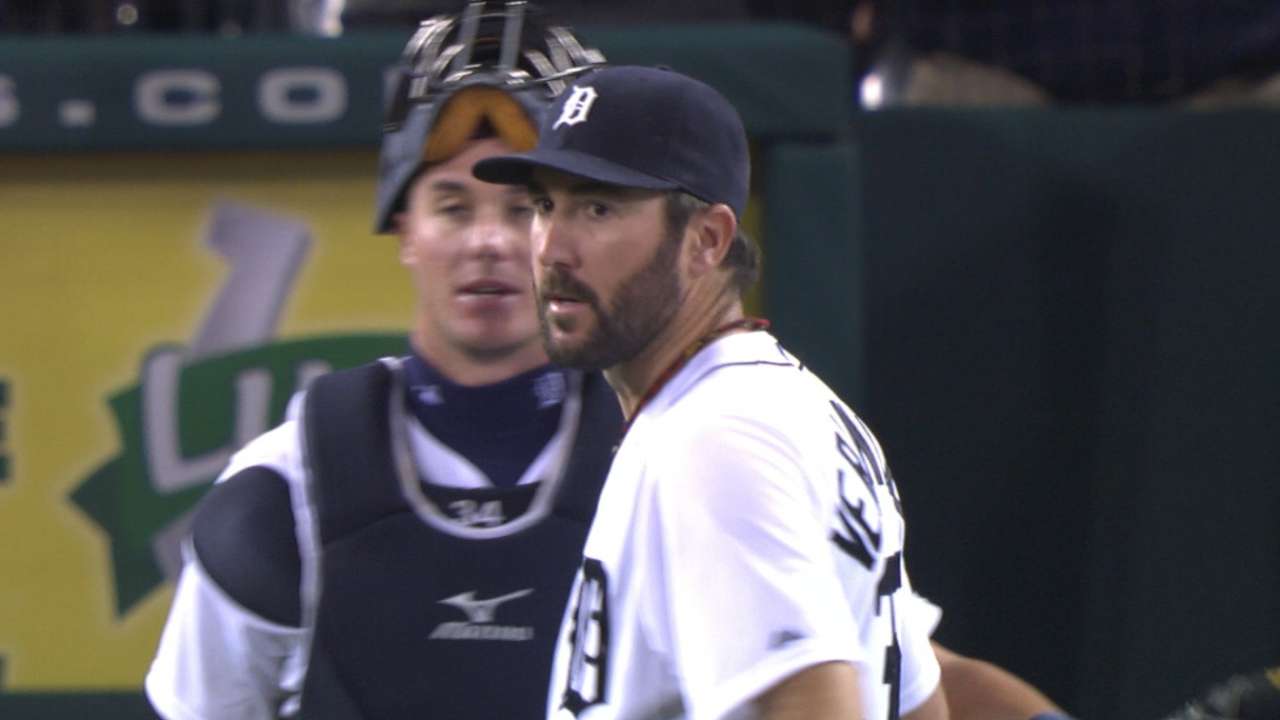 It was not without heavy consideration.
"After he threw four [balls] in a row, I didn't think of it," McCann said. "The fifth one, I kind of thought, but I said, 'You know what, he's been here before. I'm gonna let him do his thing.' After the sixth one, it wasn't as much for me to say anything as it was to give him a second to take a deep breath and just kind of gather his thoughts, gather himself."
McCann let Verlander initiate the discussion.
"The first thing he said to me," McCann said, "was, 'I'll get it there, I'll get it there.' I said, 'I know, I just wanted to give you a second, stay back over your backside, but let's attack them right here.' And he did. He got the double play."
Had Verlander completed his third no-hitter, it would've been with his third different catcher. Ivan Rodriguez caught his first no-no in 2007, and Alex Avila was behind the plate for his gem in Toronto in 2011, becoming best known for his businesslike handshake with Verlander after the last out.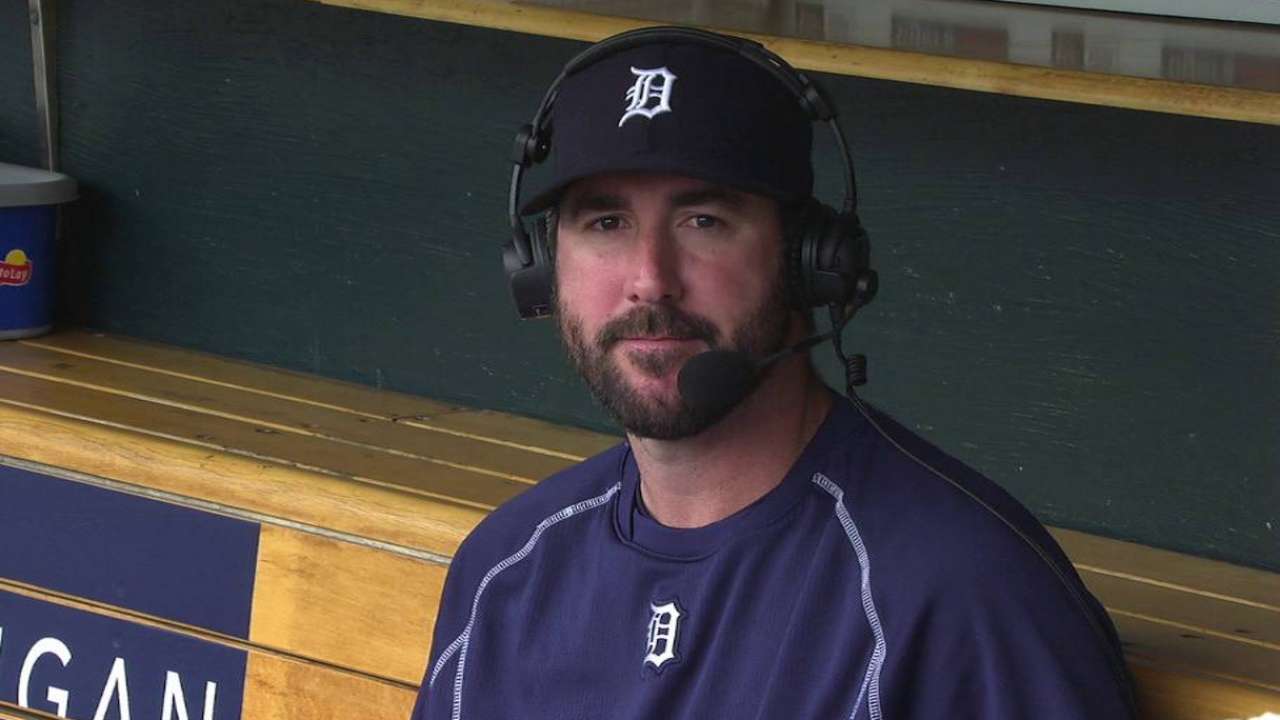 Both of them had more experience catching Verlander at the time than the rookie McCann. Wednesday was just the eighth time McCann has caught him. However, McCann has quickly earned his trust, which began when he caught Verlander for 7 1/3 innings of one-run ball at Kansas City last September.
They were on the same page for most of the game, which allowed Verlander to keep his pace on the mound. They were of the same mindset when McCann decided to drop a curveball on Mike Trout with a 3-2 pitch in the seventh, and change speeds on Erick Aybar with a runner on in the eighth.
"McCann and I were on the same page pretty much the whole night," Verlander said.
That didn't mean McCann didn't have his moments.
"I knew all along, but it really became something probably in the seventh inning, when the fans really started to get loud. They really got into it," McCann said. "That's really when it sank in. Up to that point, it was just kind of, 'Let's just follow the game plan, make sure you can keep putting up zeros.' Next thing you know, he's given up no hits, and it's the eighth inning.
"It's nerve-wracking, especially that ninth inning. You start thinking, almost second-guessing your pitch calling, but after a little while, you just kind of relax, line up, and keep doing the same thing we have been doing."
Jason Beck is a reporter for MLB.com. Read Beck's Blog, follow him on Twitter @beckjason and listen to his podcast. This story was not subject to the approval of Major League Baseball or its clubs.