Shoemaker leads Angels over hometown Tigers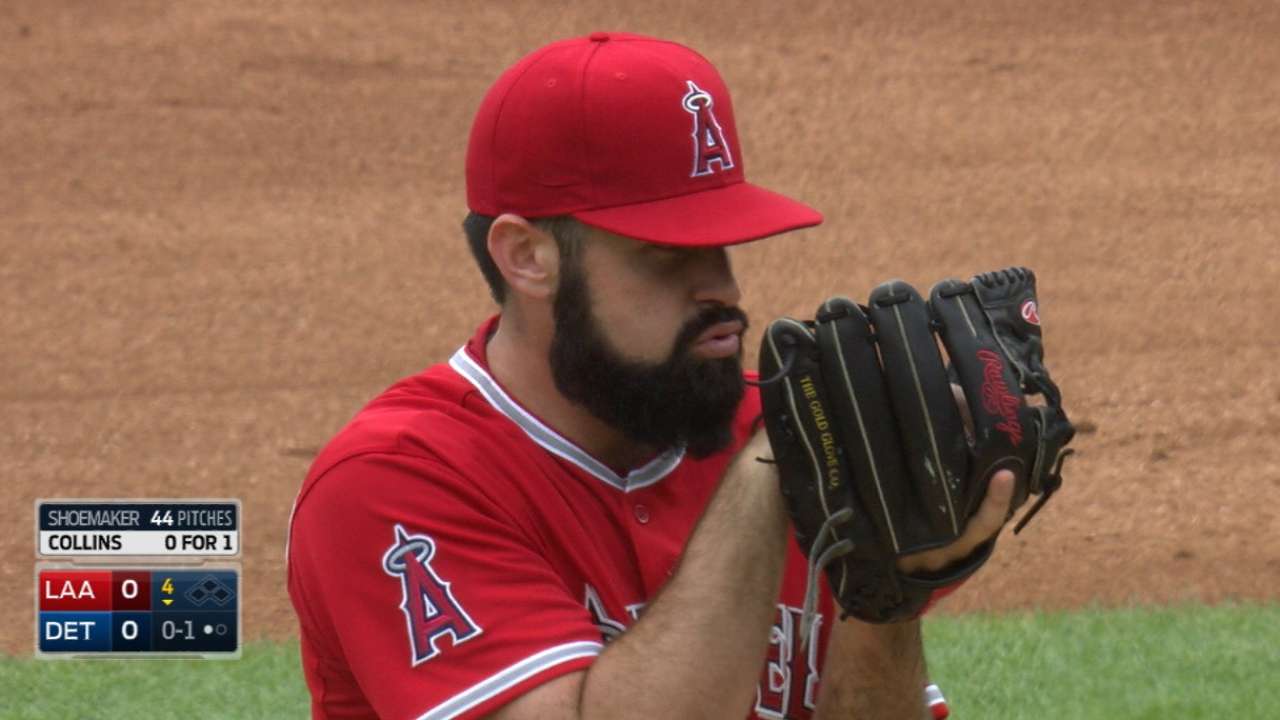 DETROIT -- Pitching in his hometown for the first time, with at least 50 friends and family members in the stands, Matt Shoemaker dominated the Tigers at Comerica Park on Thursday afternoon, throwing 7 1/3 innings of one-hit ball while leading the Angels to a 2-0 victory.
"It's incredibly special," Shoemaker said. "Family and friends, tons of them here. It means a lot, definitely special, getting a win for this ballclub in a tight playoff race."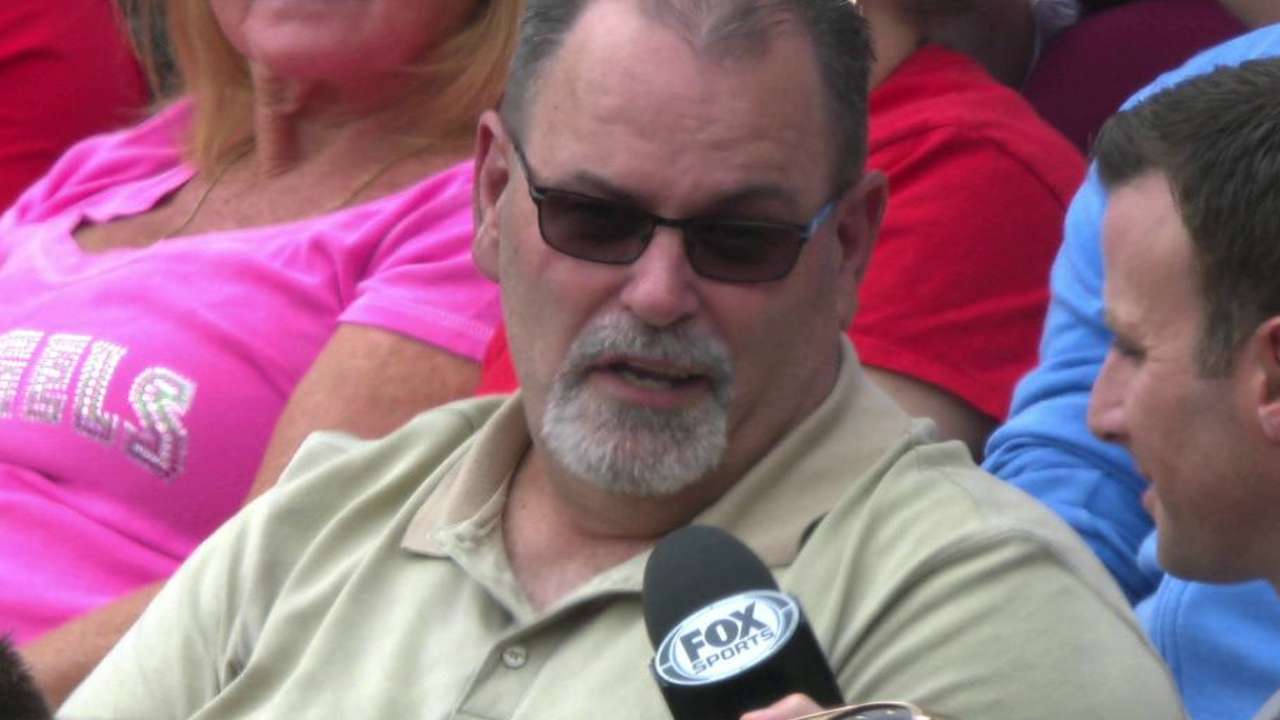 With that, the Angels -- losers of 22 of their previous 32 games -- won their first series on the road since July 7-8 in Colorado.
Shoemaker grew up a Tigers fan in Trenton, Mich., roughly 20 miles from Comerica Park, and attended nearby Eastern Michigan University. In his first game back from Triple-A, he retired 20 of the 22 batters he faced, striking out five, and turned in his best start of the season.
"That's as good as it gets from Matt," Angels manager Mike Scioscia said. "That's a tough lineup to go through. You can't say enough about the adjustments he made. You saw great fastball command, great glove-side fastball command, good slider. He used his split when he needed it. He really wasn't in too many bad counts."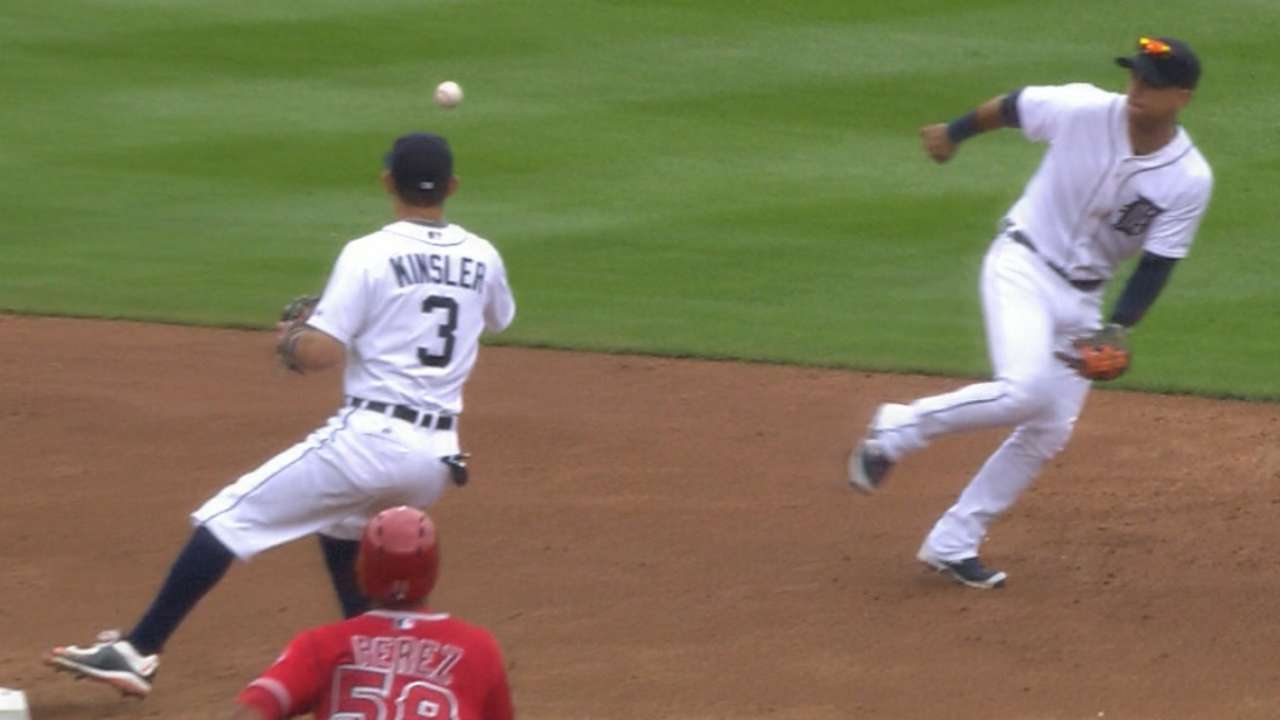 Shoemaker, who has allowed just one earned run in 19 2/3 career innings against the Tigers, got a chance for the win when Albert Pujols came through with a two-out RBI single in the sixth inning. That was all the Angels could muster against Randy Wolf, the soft-tossing left-hander, who gave up just four other hits and a couple of walks in seven innings.
The Angels picked up an insurance run on a sacrifice fly by Shane Victorino in the top of the ninth, and Huston Street earned his 31st save.
MOMENTS THAT MATTERED
The Shoe fits: Optioned to the Minor Leagues after giving up 13 runs over a two-start stretch -- a move made largely because the Angels needed extra bullpen arms -- Shoemaker came back after one Triple-A outing and turned in his best start of the season. The 28-year-old right-hander had just two baserunners -- on a walk and a clean single -- and he worked efficiently, requiring only 95 pitches.
"I thought his split-finger was really tough on our hitters," Tigers manager Brad Ausmus said. "I think they had trouble picking up the rotation on it, recognizing it. And that's what happens with split-fingers -- you end up swinging at pitches that look like strikes, and then they fall out of the strike zone." More >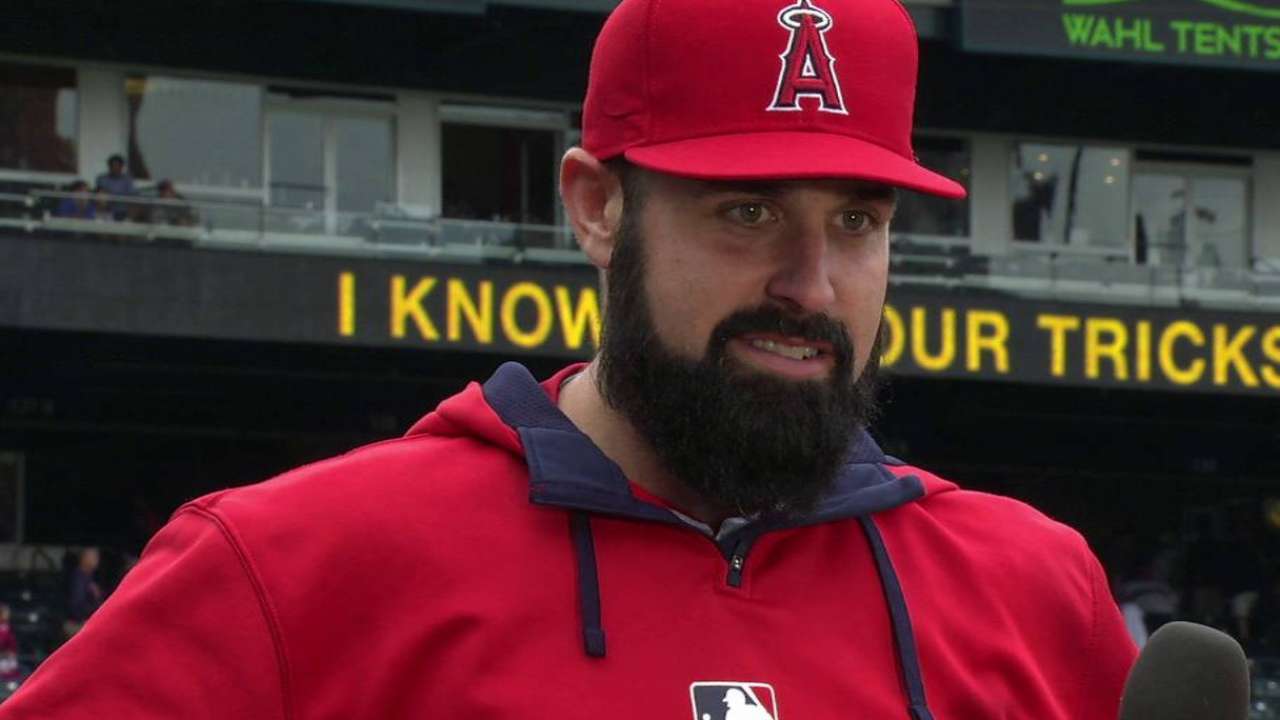 Without breaking a sweat: Tigers shortstop Jose Iglesias and second baseman Ian Kinsler routinely make difficult double plays look easy, but few have seemed as effortless as their combination in the third inning. Kaleb Cowart's grounder looked destined to bounce into center field, but Iglesias reached the ball and flipped it from his glove to Kinsler. The second baseman made a barehanded catch and calmly completed the relay to first.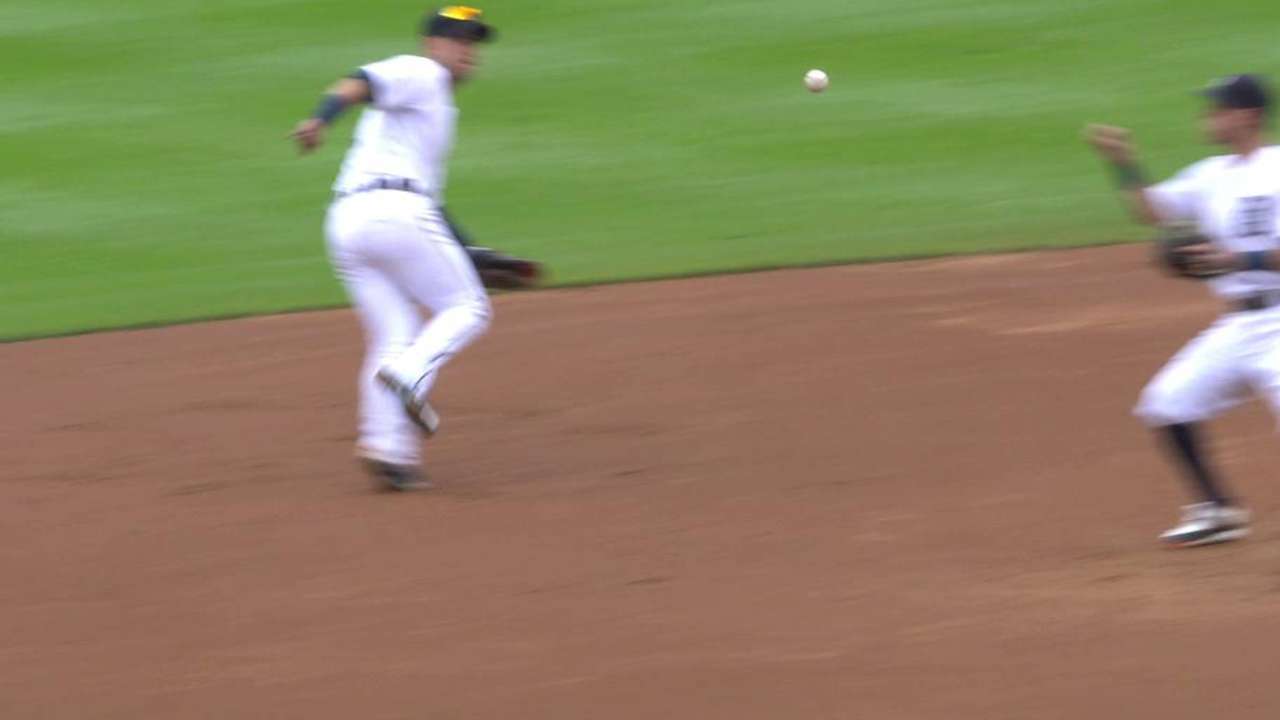 Escaping trouble: Shoemaker has only reached triple-digit pitches four times this season and hasn't thrown more than 103. So with his pitch count at 95 and the right-handed-hitting J.D. Martinez up with one out and none on in the eighth, Angels manager Mike Scioscia went to his setup man, Joe Smith, who gave up a triple on the very first pitch. With the tying run 90 feet away, though, Smith struck out Nick Castellanos and got Alex Avila to ground out.
"I'm like, 'Really?'" Smith said of his thoughts after giving up Martinez's triple. "'Shoe just came back up, was absolutely dealing, and now you're going to give it up in two swings of the bat?' Get that out of your system. All right, I gotta get a punch out.' Fortunately, we got a good sequence to Castellanos and we got it, 2-2 slider. I didn't want to give Avila anything good to hit. Hoped he chase a pitch, got a fastball down and he rolled it over. I was pumped."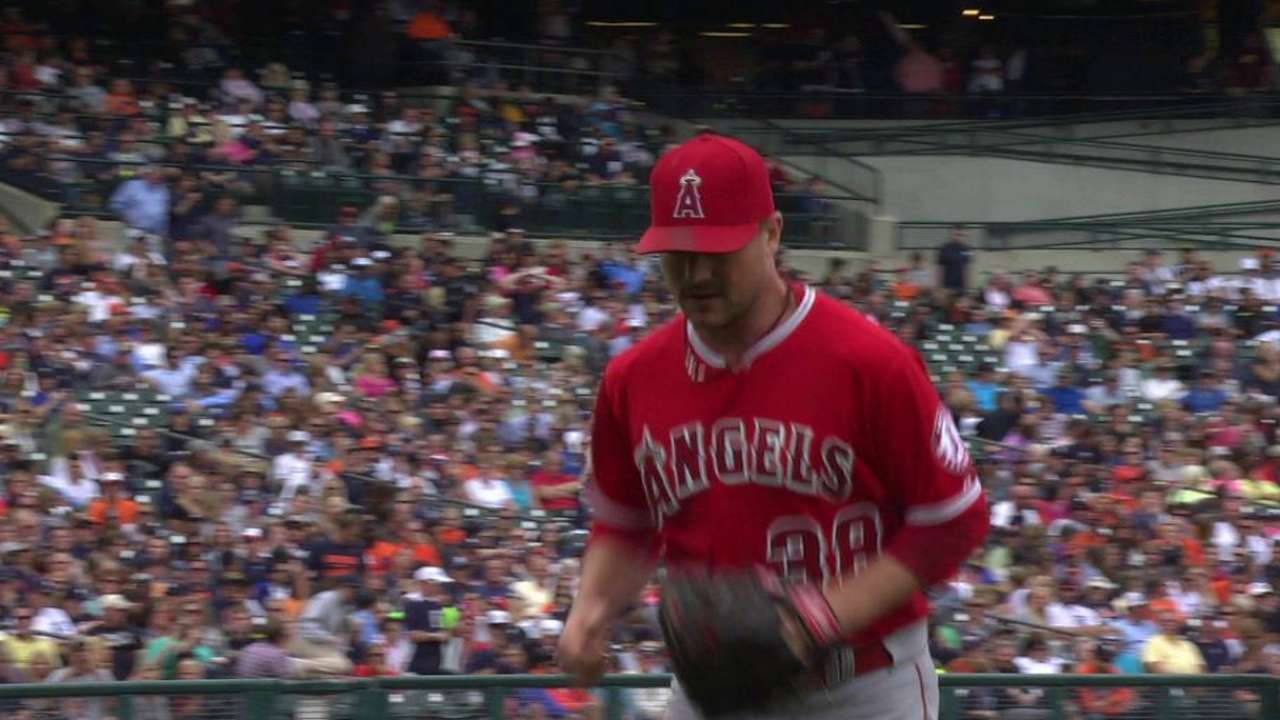 Gose-runner: Center fielder Anthony Gose was the only Detroit player to reach safely against Shoemaker, but he didn't last long on the basepaths. Moments after singling in the third inning, he was picked off first by catcher Carlos Perez. Gose drew a walk in the sixth but again recorded the final out of the inning when he was thrown out on a delayed steal.
"I would say he's still fearless on the bases," Ausmus said. "I do think basestealing is more than just raw speed. There's a little bit of feel to what the pitcher is doing, what the situation is, when the best time to go is. I think he's still learning that." More >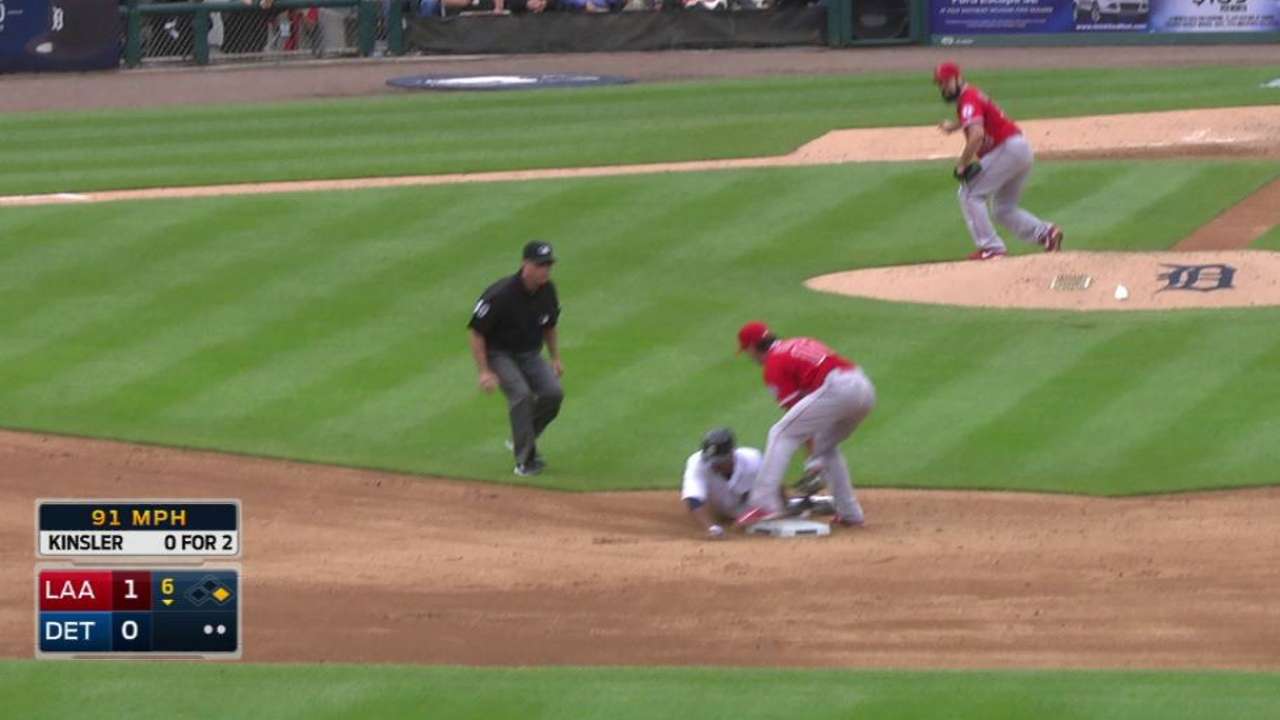 QUOTABLE
"They all knew I wanted to, but a lot of people didn't necessarily think it. It's crazy, you know? When it came out [that I was starting on Thursday], all the messages you start getting, text messages and social media, people you haven't heard from literally since high school, saying, 'Good luck.' It's awesome." Shoemaker, undrafted out of high school, on returning to pitch in his hometown
SOUND SMART WITH YOUR FRIENDS
• The performance marked Wolf's first Major League start since 2012 in which he pitched seven or more innings and allowed one run or fewer.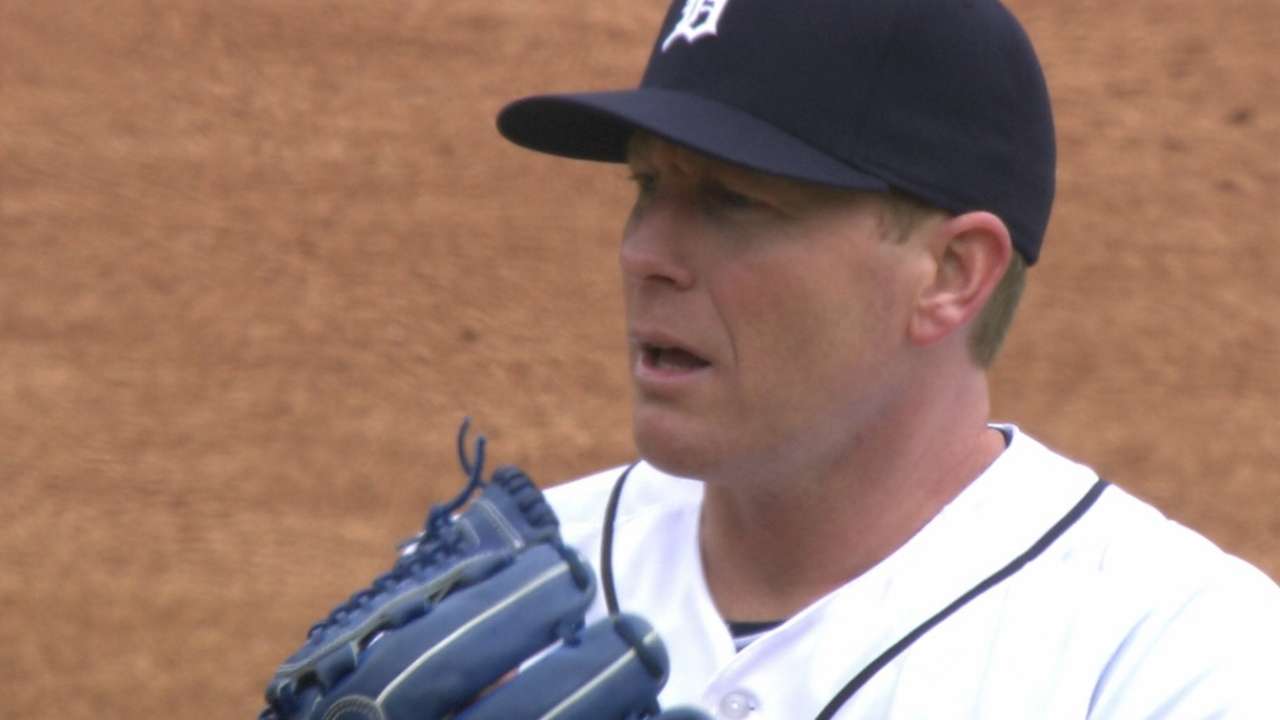 • Despite the win, the Angels have already locked up their first sub-.500 month since July 2013. Their 15 losses in August (10 wins) is their most in any month this season. More >
WHAT'S NEXT
Angels: Andrew Heaney (5-2, 3.39 ERA) takes the ball when the Angels open up a three-game series in Cleveland on Friday opposite Indians right-hander Danny Salazar (11-7, 3.30 ERA). Heaney gave up eight runs in 3 1/3 innings to the Blue Jays on Saturday. First pitch at Progressive Field is 4:10 p.m. PT.
Tigers: Matt Boyd (1-4, 7.04 ERA) will make his first start against his old team when Detroit faces the Blue Jays on Friday night. The lefty was traded to the Tigers in the deal that sent David Price to Toronto. First pitch at Rogers Centre is scheduled for 7:07 p.m. ET.
Watch every out-of-market regular season game live on MLB.TV.
Alden Gonzalez is a reporter for MLB.com. Follow him on Twitter @Alden_Gonzalez and listen to his podcast. Alejandro Zúñiga is an associate reporter for MLB.com. This story was not subject to the approval of Major League Baseball or its clubs.