Ready nearly made history with 1991 triple play
Former Phillies second baseman played 13 years in Majors, may return to coaching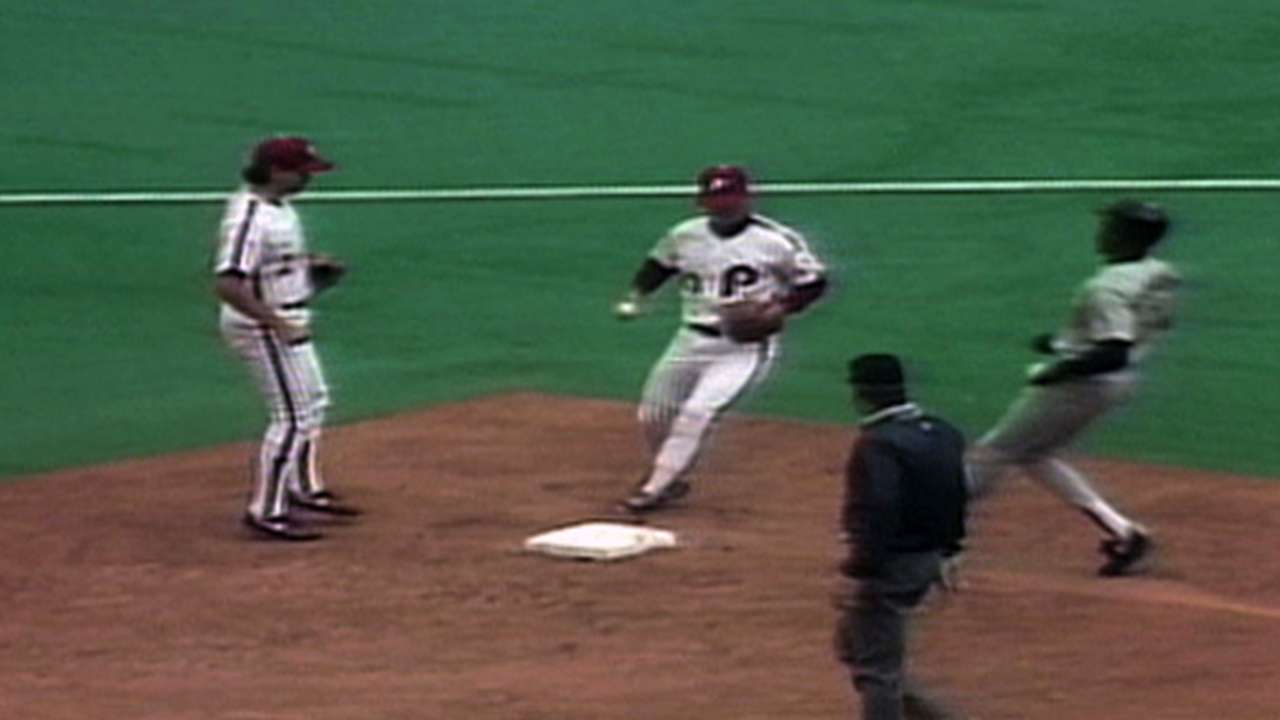 Phillies starting pitcher Jason Grimsley was in trouble early, even before the big Sunday crowd had a chance to settle in at Veterans Stadium. It was April 28, 1991. Padres leadoff hitter Paul Faries walked and stole second. Tony Fernandez walked, bringing future Hall of Famer Tony Gwynn to the plate.
Sure enough, Gwynn ripped a line drive up the middle. But second baseman Randy Ready was playing at double-play depth and snagged the liner. One out. He stepped on second, doubling off Faries. Two outs. Ready threw to Ricky Jordan at first to easily retire Fernandez. Three outs.
It all happened so quickly, and when it was done, all Ready was thinking about was that the top of the first was over and now Philadelphia would bat in the bottom of the inning.
What Ready could have been thinking about, and what didn't occur to him until it was too late, was that if he had simply tagged Fernandez, he would have become just the ninth player in Major League history to complete an unassisted triple play. It has now been done 15 times.
"I wish I had tagged Tony Fernandez. I never realized how close he was to me. I had never been in that situation before. I never rehearsed it," Ready said with a laugh. "I knew when I snared the line drive and stepped on second and threw to Ricky, I knew it was going to be three outs and we were going to hit. I was more anxious about that than trying to think about that how to make an unassisted triple play.
"Nobody kicks me better than me. But I'm kind of over it."
Ready is 55 years old. He's held a variety of positions in baseball since his playing career ended in 1997, including Padres hitting coach, Rangers Minor League hitting coordinator and nine years as a Minor League manager. In Ready's first six years, he took his team to the postseason, including a Texas League championship in 2007. The following year, Baseball America named him the Pacific Coast League's Best Manager Prospect. He was also named New York-Penn League Manager of the Year in '02.
Ready stepped away from the game in 2014 to focus on his family, especially his six sons, and he is now looking for a chance to return.
"I had some opportunities [after the 2013 season], but I just wanted to kind of go in a different direction and get the kids out of the house," he said. "Now I think everything has kind of stabilized and I'm anxious to get back in the game," Ready said.
Ready is open to whatever might be available. After 31 years on the field, maybe there would be something in the front office. Possibly scouting. Or Ready could go back in uniform as a coach, hitting instructor or manager.
"I can do a lot of things. I could wear many hats," Ready said.
As a player, Ready was known as "Spikey," a reference to the hairstyle that was popular. He was fun-loving. But he took baseball seriously. Ready carried a hand-written notebook in which he jotted down the pitches each pitcher used and what their tendencies were. That sort of study is common now, but it was the exception then.
Ready lives in the Dallas area. He also played for the Padres, Brewers, Athletics and Expos, and he spent a year in Japan with the Chiba Lotte Marines. But being traded by San Diego to the Phils (along with John Kruk, for Chris James) on June 2, 1989, had a big impact on Ready's life. He ended up playing 289 games with the Phillies, more than he did for any other team, and he signed back with the team in '94. He played his last big league game with Philadelphia the following season.
Though Ready is probably best remembered for the triple play, he also played a significant role in one of the greatest comebacks of all time. Less than a week after he was acquired, manager Nick Leyva gave him a rare start at third base and batted him leadoff. But by the time Ready came to the plate in the first, the Phillies already trailed Pittsburgh, 10-0.
Most fans recall that shortstop Steve Jeltz homered from both sides of the plate as Philadelphia eventually won, 15-11, and that Pirates broadcaster Steve Blass promised to walk back to Pittsburgh if the Bucs didn't hold that lead.
But Ready also went 3-for-4 with two walks and scored three runs.
"I love the Philadelphia vibe. I enjoyed playing here," Ready said. "I enjoyed all my teammates and the camaraderie. It's a traditional baseball environment here. I miss it."
Paul Hagen is a reporter for MLB.com. This story was not subject to the approval of Major League Baseball or its clubs.