Cubs' kids given tough test by veteran Giants
'It's a learning process,' Schwarber says of making adjustments
SAN FRANCISCO -- No matter how well the Cubs have played lately, they weren't going to go undefeated the rest of the season. And Wednesday's game showed how the rookies still have some growing up to do.
The Giants snapped the Cubs' six-game winning streak with a 4-2 win at AT&T Park, only Chicago's fifth loss in the last 26 games.
Rookie Addison Russell, who turned a nifty double play in the third, found himself facing hard-throwing Hunter Strickland with one out and runners at second and third in the seventh. Strickland started Russell with a curve, then threw three straight fastballs at 97, 98 and 96 mph to strike him out.
"He challenged me and I tried my best to put the ball in play," Russell said.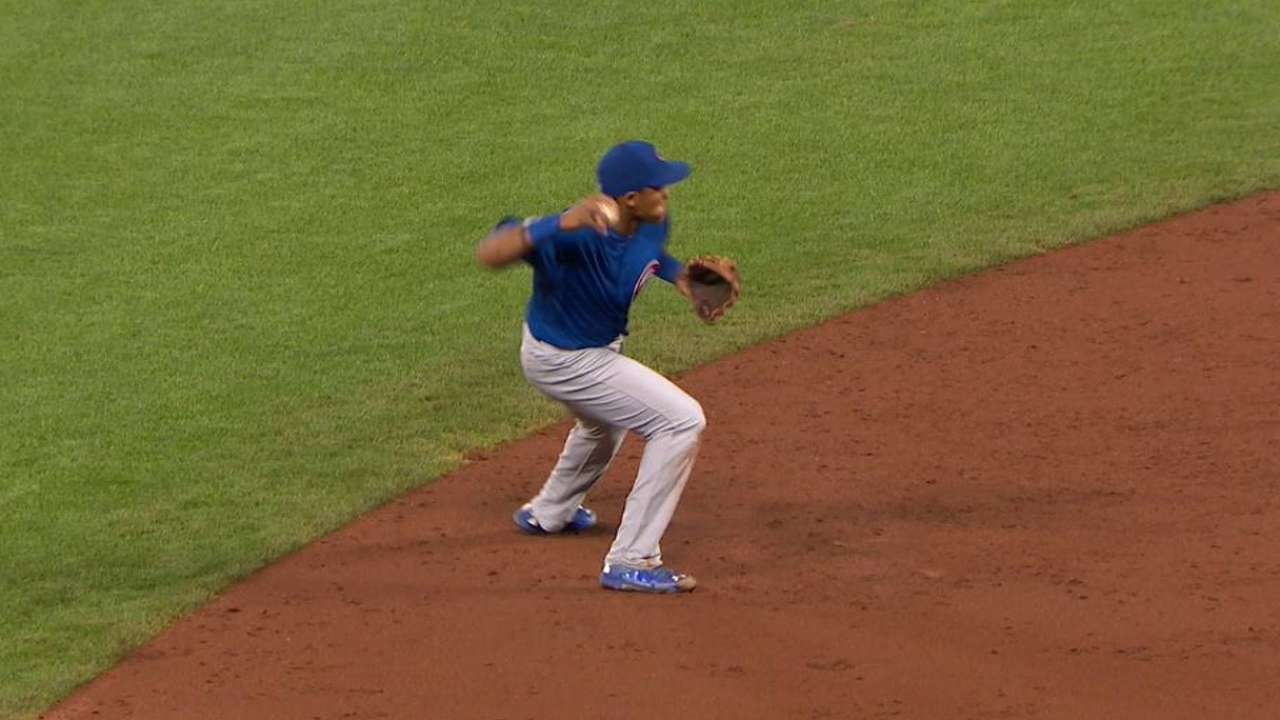 The Giants then called on lefty Javier Lopez to face rookie Kyle Schwarber, who saw four pitches, and struck out swinging.
"I did get a hit off him once, and I just had to get him up in the zone, and I didn't get him up in the zone," Schwarber said. "I wasn't taking very good swings up there. It goes back to me having to slow down the situation and not let that change the way I feel in the box."
Schwarber had a tough day Monday against Indians ace Corey Kluber, too, when he struck out four times in four at-bats.
"It is a learning process and as you get to face these guys again, you get an idea," Schwarber said. "You have to make that continuous adjustment as you keep facing those guys."
The Cubs are trying to secure a playoff spot with at least three rookies in the starting lineup in Russell, Schwarber and Kris Bryant.
"We have some really inexperienced people who are learning on the fly right now," Cubs manager Joe Maddon said. "There's nothing to be worried about or talk negatively about. We're learning, and I give our guys credit. We fought again."
Russell, who has had a crazy few days with the birth of his son, Aiden, in Chicago on Monday, knows there will be ups and downs.
"We're trying to do our best to help the team win," Russell said. "If we don't come through, maybe we get them the next time or the guy behind us will pick us up. We're getting tested. That's what we came here to do. Whenever we get called up, we just want to do our job and help the team win."
Carrie Muskat is a reporter for MLB.com. She writes a blog, Muskat Ramblings. You can follow her on Twitter @CarrieMuskat and listen to her podcast. This story was not subject to the approval of Major League Baseball or its clubs.