Statcast on Cespedes, other big moments
From homers to glove work, highlight reels examined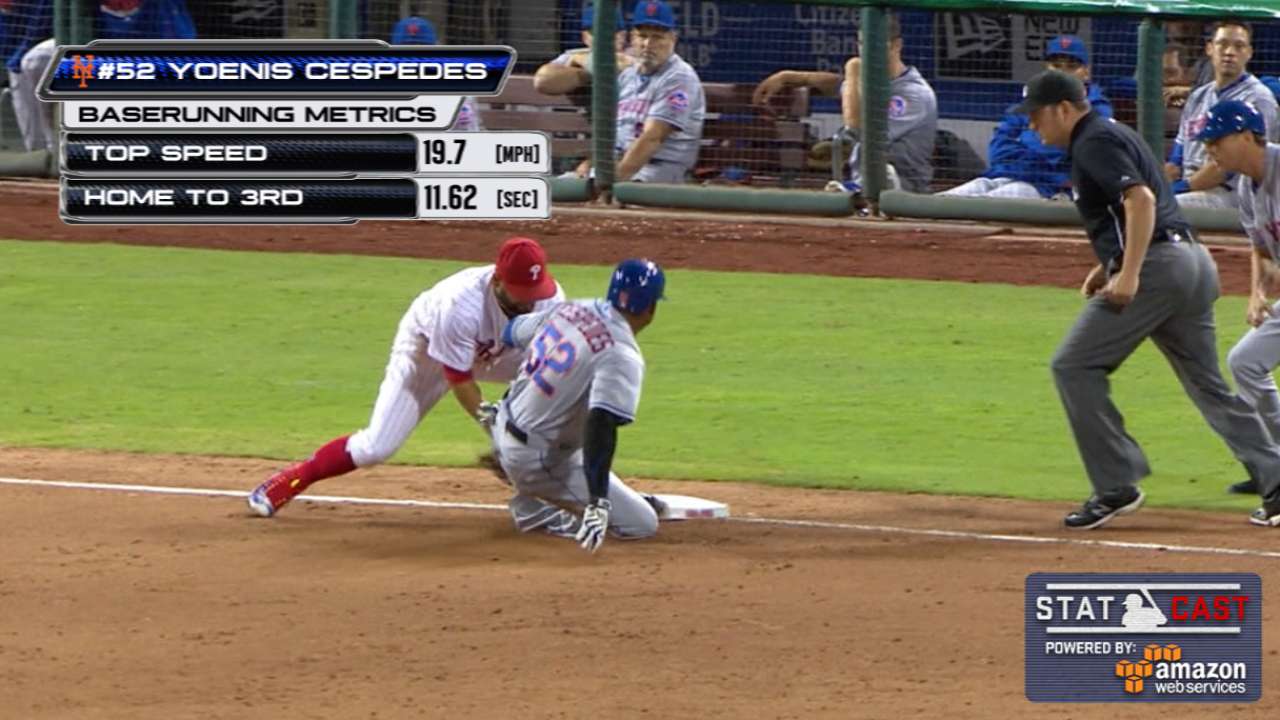 Postseason races continued to heat up across the Majors on Wednesday, a day that seemed to have a little bit of everything.
From multiple no-doubter home runs to highlight-reel defensive plays to a well-struck line drive that ended one player's bid for history, there was no shortage of dramatic moments on Wednesday -- and Statcast™ was there to track them all.
Statcast™'s wide array of capabilities was put to the test throughout the day, and some of the highlights are below. The list breaks down a trio of home runs, two incredible defensive plays, one frantic dash for a triple and a more in-depth look at the play that ended a no-hitter.
Cespedes races his way to a triple
Mets outfielder Yoenis Cespedes put his full offensive arsenal on display with a ninth-inning RBI triple in Wednesday night's 9-4 win over the Phillies. Cespedes' dash around the bases began when he smoked an opposite-field line drive that jumped off his bat at 109.6 mph. He then reached a top speed of 19.7 mph on his way around the bases, helping him get from the batter's box to third base in just 11.618 seconds.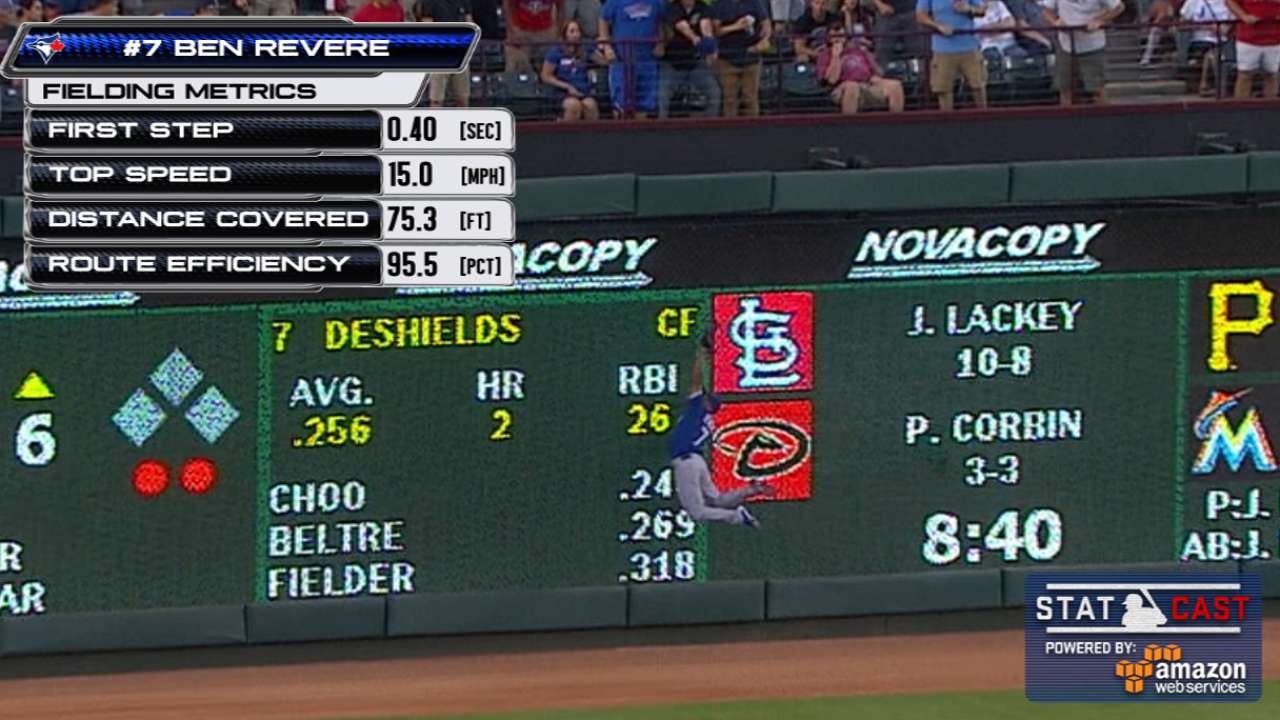 Revere makes leaping grab at the wall
Though it was the Blue Jays' offense that once again stole the show Wednesday in a 12-4 rout of the Rangers, outfielder Ben Revere also flashed some defense when he made a leaping catch to take a hit away from Delino Deshields to lead off the bottom of the third. Revere took his first step just 0.402 seconds after contact and needed only 3.071 seconds to accelerate to his top speed of 14.96 mph. That quick acceleration allowed Revere to reach the wall in plenty of time to perfectly time his jump.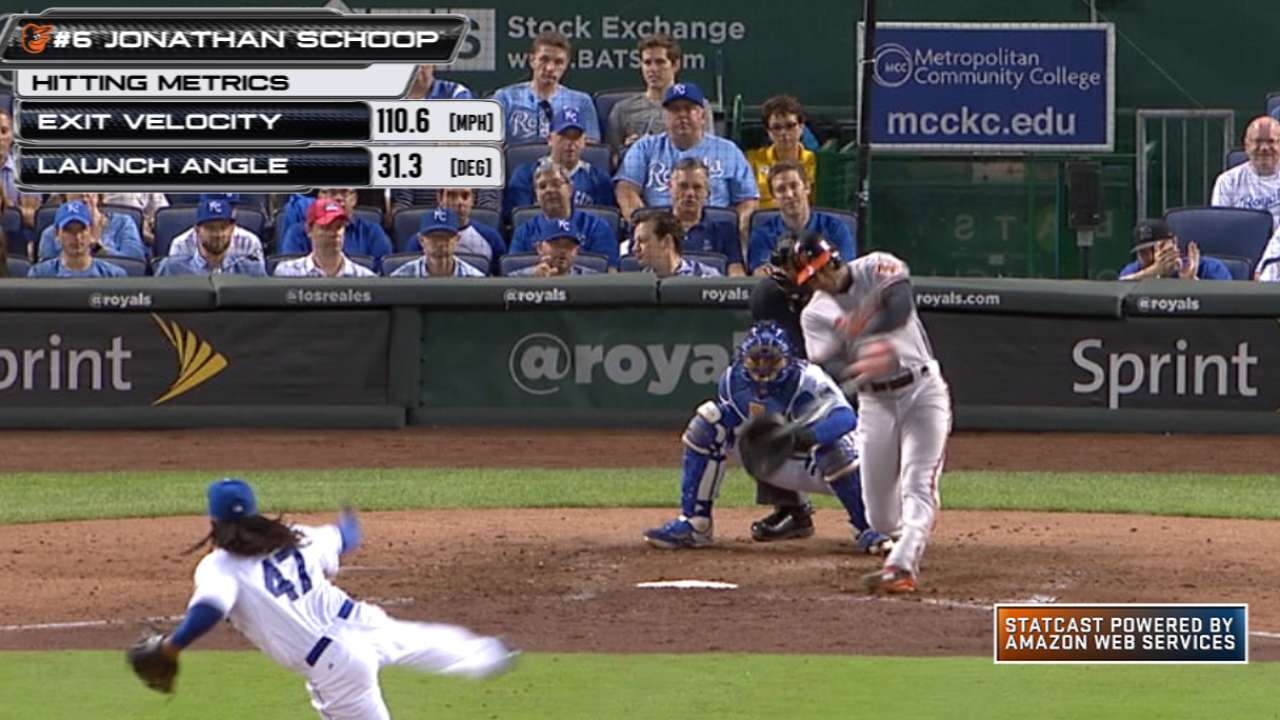 Schoop hits a mammoth homer off Cueto
Orioles second baseman Jonathan Schoop delivered an absolute no-doubter against Royals ace Johnny Cueto in the fourth inning of Baltimore's eventual 8-5 victory. The two-run shot jumped off Schoop's bat at 110.6 mph and a launch angle of 31.3 degrees. That combination produced a jaw-dropping projected distance of 484.5 feet on the homer that put the O's ahead for good.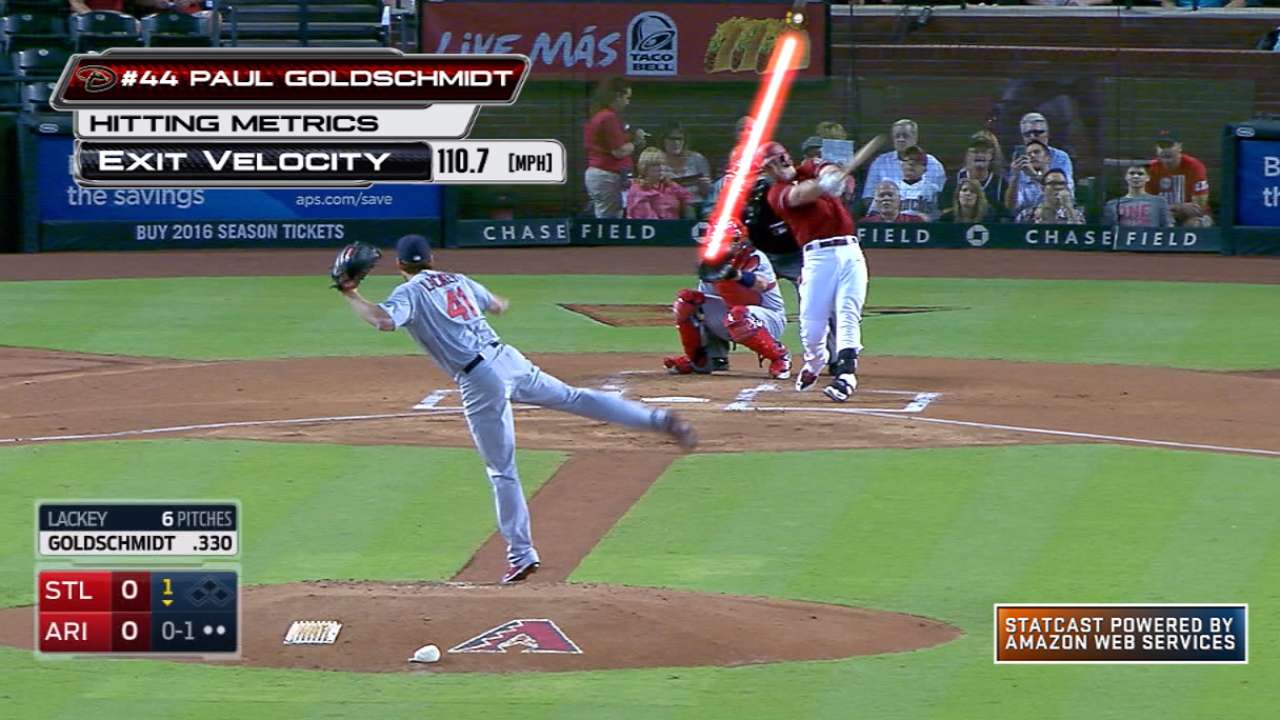 Goldschmidt tees off for monster blast
Though hitting home runs is nothing new for Paul Goldschmidt, the D-backs' slugger put an extra charge into his first-inning homer in Wednesday night's 3-1 loss to the Cardinals. Goldschmidt crushed a 92-mph fastball from John Lackey, turning it around at 110.7 mph off the bat and sending it a projected 470.6 feet. Statcast™ had captured 17 of Goldschmidt's previous 24 homers, and none had an exit velocity greater than 107.6 mph or had traveled more than 442 feet.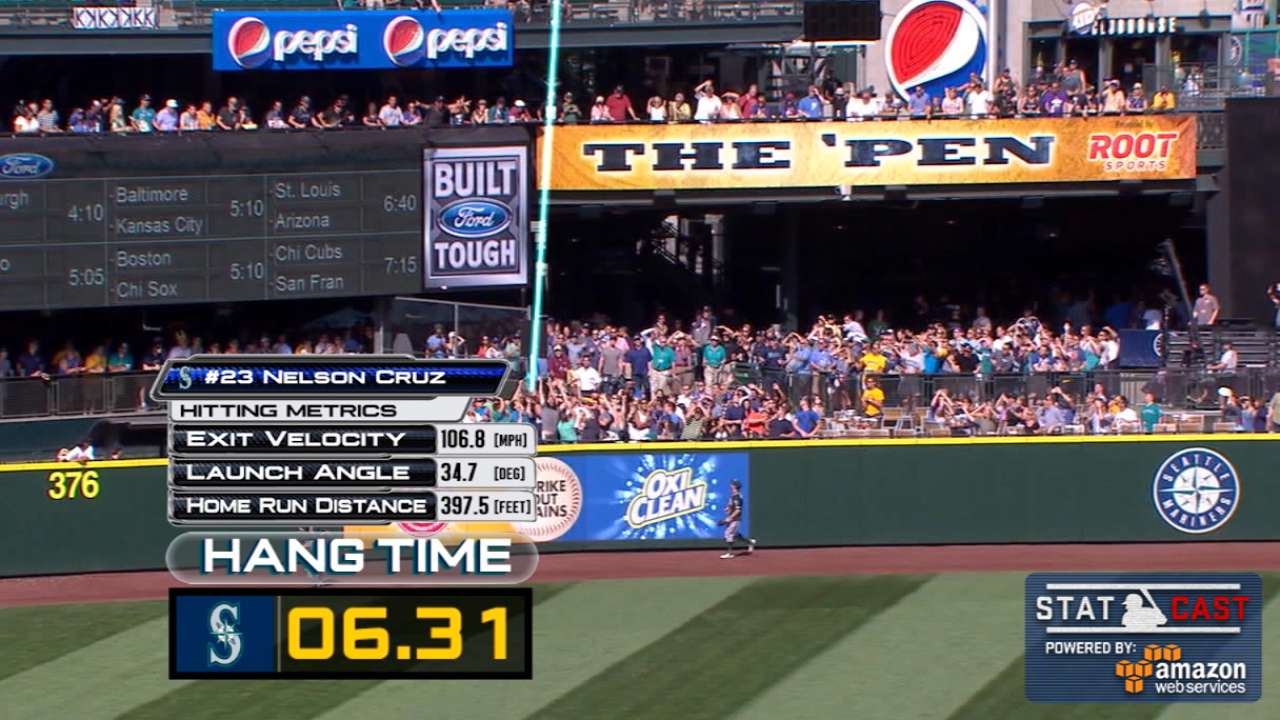 Cruz hits a moonshot
Mariners slugger Nelson Cruz hit his 39th home run in Wednesday afternoon's 8-2 win over the A's, moving him to within one of the career high he set a season ago. The main aspects of Cruz's eighth-inning homer may not jump off the page compared to his others, as this one had an exit velocity of just 106.8 mph and a projected distance of 397.46 feet -- by no means his hardest or longest of the season. That said, it came off his bat at an angle of 34.72 degrees, resulting in the ball reaching a maximum height of 130.87 feet. For comparison, Goldschmidt's blast reached a max height of 115.27 feet.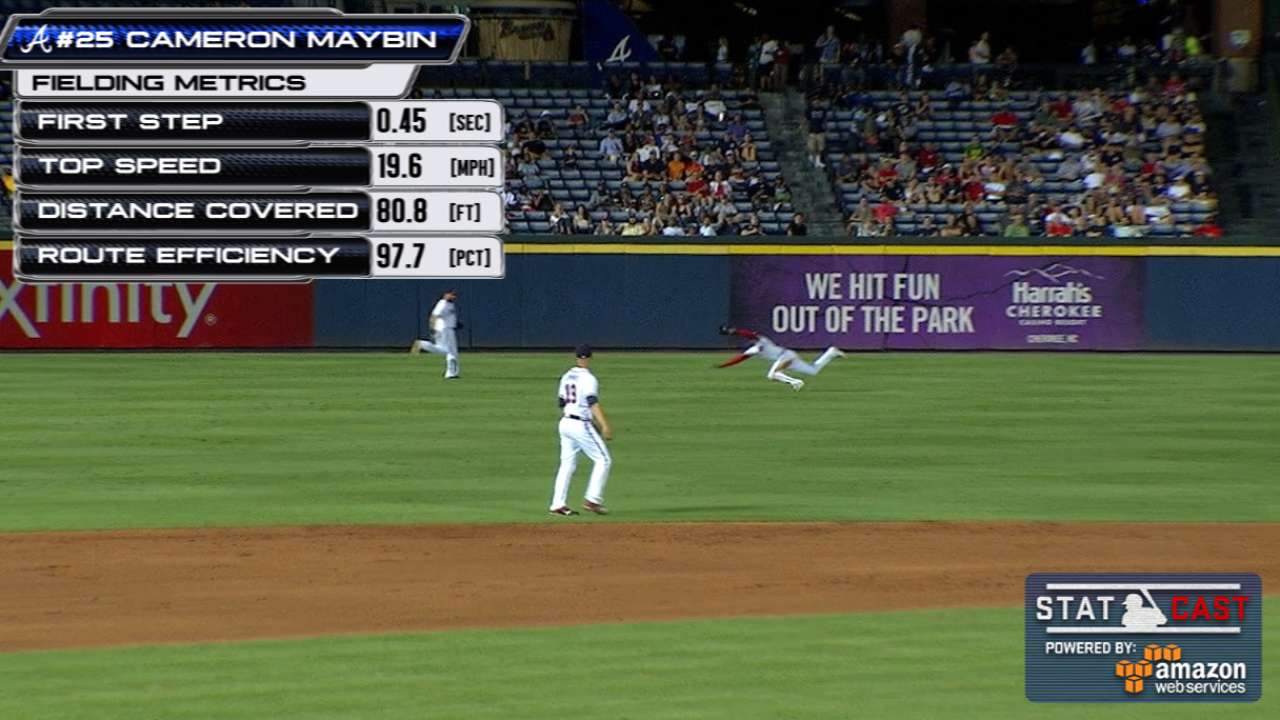 Maybin makes terrific diving catch
Braves outfielder Cameron Maybin used his elite speed and a near-perfect route to make a diving catch that took a hit away from Rockies second baseman D.J. LeMahieu to close out the sixth inning. Maybin reached a top speed of 19.6 mph on the play, all while logging a route efficiency of 97.732 percent. Those metrics put Maybin in the perfect position to make the diving grab to cap off a play on which Maybin covered 80.815 total feet.
Iannetta breaks up Verlander's no-no
Verlander carried a no-hitter into the ninth inning for the Tigers on Wednesday night before Angels catcher Chris Iannetta spoiled his no-hit bid with a leadoff double. Iannetta's liner, which kicked up chalk down the left-field line, came off a 97.1-mph fastball and jumped off his bat at a scorching 108.8 mph.
Paul Casella is a reporter for MLB.com. This story was not subject to the approval of Major League Baseball or its clubs.